More than 1.9 million residents called Nebraska home as of July 2021, and more than 16% of those living here were seniors aged 65 and above. A cost of living that's more than 10% below the national median makes the state financially comfortable for many seniors, particularly those with limited incomes. Those living here can also feel secure knowing that Nebraska Medical Center is nearby — the hospital was named one of the best in the world by Newsweek in 2019.
Many seniors in Nebraska require extra help at home. While in-home care can provide services such as housekeeping, meal preparation and personal care, home health care offers the added benefits of physical or occupational therapy, health monitoring by a licensed nurse and medication administration. In Nebraska, the average cost of in-home care is $5,148 per month while home health care costs approximately $5,339.
This guide provides an overview of in-home care costs in Nebraska and surrounding states, as well as programs such as Medicaid and Medicare that can help cover associated costs. It also includes a list of resources that are offered in Nebraska to help seniors live independently and with dignity.
The Cost of In-Home Care in Nebraska
According to the Genworth 2021 Cost of Care Survey, Nebraska seniors pay an average of $5,158 per month for in-home care. This is just under $200 more than the national average, and a little over $500 more than the cost in Kansas. Surrounding states have seniors paying more for in-home care. In Iowa and Wyoming, the average cost is the same at $5,529 per month. In South Dakota, seniors pay a much higher rate of $5,911, which is $763 higher than what those living in Nebraska pay for in-home care.
Within Nebraska, costs vary depending on the location. While Grand Island doesn't have any reported costs for in-home care or home health care, seniors in Lincoln paid an average of $5,148 per month in 2021. Conversely, Omaha's senior residents paid a higher monthly rate of $5,529.
In-home care is less expensive than nursing care in Nebraska. Nursing home residents in the state pay an average of $7,483 for their care and residential costs. At $5,148 per month for home care and $5,339 per month for home health care. This is a less affordable option than assisted living, which costs seniors an average of $4,076 per month, including room and board. Adult day health care is the least expensive option for seniors at $1,842 per month; however, this type of care doesn't provide the same high-level support as in-home care or residential senior care options.
Does Medicaid Cover Home Care in Nebraska?
Although regular Medicaid doesn't offer coverage for standard home care services in Nebraska, the state does offer one Medicaid waiver to help seniors access the care they need to remain safely in their own homes.
Home Care Waiver Programs in Nebraska
Aged and Disabled Waiver
The Aged and Disabled Waiver is a home and community-based services waiver that helps Medicaid eligible seniors access necessary long-term care services in the comfort of their own homes. This waiver is designed to enhance the quality of life for seniors who wish to maintain their independence.
The program provides a service coordinator who is responsible for determining the services each beneficiary is eligible for and ensuring they have access to the support they need. Covered services on this waiver include home and vehicle modifications, companion care, assistive technology, non-medical transportation, personal care and home-delivered meals.
To qualify for this waiver, seniors must be eligible for Nebraska Medicaid and be at least 65 years of age. They also must demonstrate a need for the services provided by this waiver and meet a nursing facility level of care.
To apply, seniors can contact (877) 667-6266 to request an application. Once completed it can be emailed to DHHS.HCBSWaiverApp@nebraska.gov or faxed to (402) 328-6257.
How to Know if You're Eligible for Medicaid in Nebraska
Medicaid eligibility depends primarily on income and need. Applicants can't earn more than $13,596 per year or own more than $4,000 in countable assets if they live alone. Those living with their spouse are limited to $18,312 in annual household income and $6,000 in countable assets.
2022 Medicaid Income Limits for Seniors in Nebraska
Income Limits*
Asset Limits
* per year
Additional requirements include seniors must be:
At least 65 or older, blind or legally disabled
A U.S. citizen or legal resident
How to Apply for Medicaid in Nebraska
To apply for Medicaid in Nebraska, seniors can visit ACCESSNebraska online.
What Information You Will Need
Nebraska's Medicaid application requires several official documents that prove who you are and your economic situation. These documents include:
Proof of citizenship or immigration status
Federal tax returns or other proof of income
Proof of resources and assets
A detailed list of monthly expenses
How to Get Help Applying for Medicaid
Medicaid applications can be complicated to navigate. In Nebraska, there are several resources available to help seniors better understand their eligibility requirements and the application process.
Does Medicare Cover In-Home Care in Nebraska?
In general, Medicare does not cover the cost of non-medical home care. That being said, there are situations in which Medicare provides some coverage for medical home care, referred to as "Home Healthcare." There are several eligibility restrictions for coverage, including that individuals must be homebound and have a referral from their doctor specifically for home healthcare services.
Below is an overview of some of the skilled medical professionals whose in-home services are typically covered by Medicare – for more in-depth information, refer to our Guide to Home Healthcare.
Physical Therapists: Physical therapy is used to help patients recover from injuries (broken bones, knee injuries, etc.), treat ongoing conditions such as arthritis, and assist in recovery from surgeries and procedures such as a knee or hip replacement.
Visiting Nurses: Licensed nurses can provide a number of medical services for those who don't need to stay in the hospital, but do need regular medical services such as wound care, changing feeding tubes, etc.
Occupational Therapists: Occupational therapists help seniors regain or maintain the ability to accomplish normal, daily tasks, such as bathing, dressing, eating, and other daily activities.
Speech Therapists: Speech therapists help seniors who are struggling to adequately communicate due to a stroke, dementia, or any other cause regain the ability to functionally communicate using a variety of means. Additionally, speech therapists help to keep seniors independent by modifying diets, teaching special techniques to swallow safely, and retraining associated muscles.
As mentioned above, in-home care is distinctly different from home healthcare. But, there can be some overlap in services between the two types of care. So, while Medicare doesn't cover non-medical in-home care, there are in-home care services that may be covered in special circumstances when they're provided in conjunction with home healthcare (such as an occupational therapist helping with eating or dressing)
Other Financial Assistance Options for In-Home Care in Nebraska
While the above programs help many people finance in-home care, they will not cover all costs for everyone. There are other ways to pay for in-home care, including out-of-pocket arrangements with siblings, annuities, reverse mortgages, private insurance and more. Read Caring.com's Guide to In-Home Care Costs to learn more about these alternative payment options.
Free and Low-Cost Resources for Seniors in Nebraska
Seniors living at home in Nebraska have access to a variety of supportive services and resources that are designed to enhance the quality of life while keeping expenditures low.
COVID-19 Rules for In-Home Care Providers in Nebraska
All home care workers in Nebraska must have two doses of an approved SARS-CoV-2 vaccine and recommendations to keep up with the most recent recommendations surrounding boosters. Compliance with this regulation was required by January 27, 2022, while enforcement of the rule was initiated as of March 28, 2022.
These guidelines are current as of April 2022; however, as the Centers for Disease Control continues to further understand the evolution of this virus, recommendations surrounding vaccinations may change. For the most up-to-date advice, it's best to check with local public health departments.
Home care agencies may also have additional regulations in place for workers, which can be obtained by contacting agencies directly.
In-Home Care Laws and Regulations in Nebraska
Home health agencies are licensed and regulated by the Nebraska DHHS Licensure Unit with the provisions outlined in Title 175, Chapter 14. In-home care agencies that provide non-medical care, such as homemakers and companionship, aren't bound by these regulations. A summary of important points is included here for convenience.
In-Home Care Laws and Regulations in Nebraska
Scope of Care
The individual's needs must be assessed and deemed appropriate and safe for management outside of an institution. Home health agencies may provide all manner of services, including skilled nursing, whereas home care agencies are restricted to non-skilled services such as assistance with activities of daily living.
Care Plan and Coordination
Care must be provided following a written plan that is developed by an appropriately qualified professional and based on an assessment in the recipient's home. This plan must be updated every 62 days at a minimum. Home health agencies that provide multiple services must coordinate and ensure each service is safe and effective when combined.
Medication Management and Administration
In-home care includes medication reminders and basic assistance. Home health agencies are permitted to administer medication.
Staff Background and Training
All home health agency staff must receive pre-employment screening that includes a criminal background and various statewide registry checks. The agency must maintain evidence of staff employment records, initial orientation and ongoing training that is relevant to each individual's job.
Medicaid Certification
Nebraska Medicaid and the Aged and Disabled Waiver covers home health agency services for eligible residents.
Reports and Complaints
Nebraska DHHS handles complaints and allegations of abuse via the Adult Abuse and Neglect Hotline on 800-652-1999. The
complaints page
also has information on specific issues such as Medicaid fraud.
Frequently Asked Questions
How much does in-home care cost in Nebraska?
In-home care has an average monthly cost of $4,671 in Nebraska. Home health agencies cost $4,957 per month and provide additional services. The differences between the two styles are described below.
Does Nebraska Medicaid pay for in-home care?
Yes. Seniors and people with disabilities may be eligible for coverage of in-home care and home health agency services under Nebraska Medicaid and the Aged and Disabled Waiver.
Are there programs to cover home modifications in Nebraska?
Yes. The Disabled Persons and Family Support program detailed in this guide covers up to $300 per month in services, including home modifications, for eligible Nebraskans. Local assistance programs may also be available via Area Agencies on Aging.
What are "Activities of Daily Living"?
ADLs are common tasks that make up everyday life. Many of these tasks are universal, such as meal preparation, eating, cleaning, hygiene and mobility, while others such as wheelchair assistance, medication reminders and other forms of hands-on assistance are appropriate in certain situations.
What is the difference between in-home care and home health care?
In-home care is focused on maintaining or improving independence by assisting with activities of daily living, as outlined above. Home health care refers to skilled nursing or therapeutic services such as physical, speech and occupational therapy.
How to Find an In-Home Care Provider in Nebraska
Whether you are looking for yourself or a loved one, finding a quality home care provider can be a stressful process. When you hire an in-home care aide you're placing a lot of trust in the hands of the person by inviting them into your home, so you'll want to be diligent in your search. At Caring.com, we're here to help – we've created a helpful checklist below that can help guide you through the process of both determining your needs and finding a home care agency that will provide the best care possible.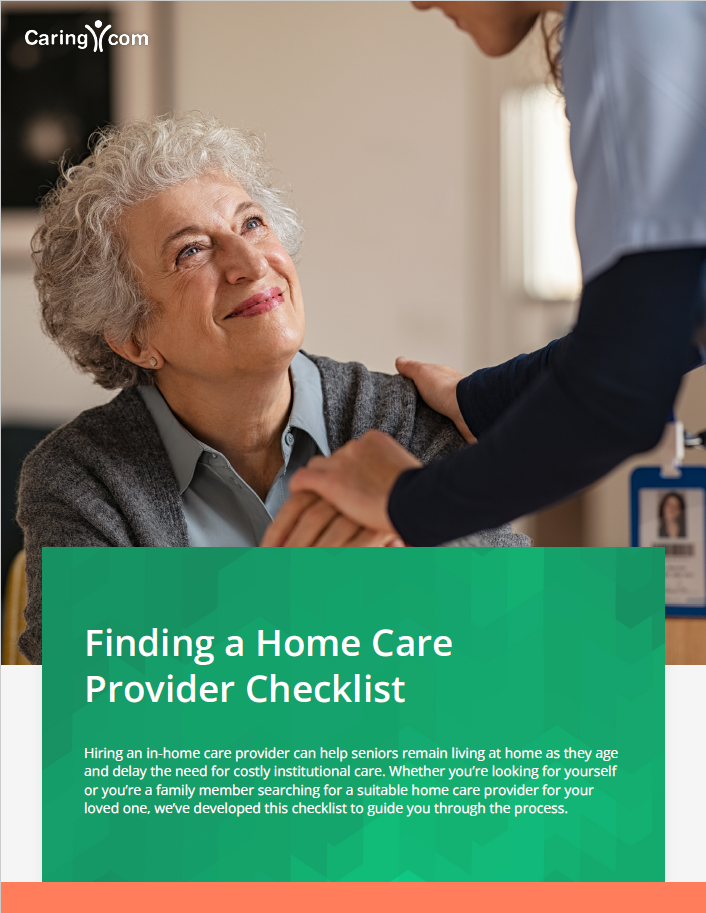 Find Home Care Agencies Near You
To find quality home care providers near you, simply input the zip code or city where you would like to start your search. We have an extensive directory of home care agencies all across the nation that includes in-depth information about each provider and hundreds of thousands of reviews from seniors and their loved ones.
Home Care Services in Nebraska (88)