Home Care in Maple Heights, OH
Maple Heights is a small town roughly 35 minutes south of Cleveland with approximately 23,700 residents, 13.3% of whom are seniors aged 65 and up. This is less than the national average of 16.5%, making for slightly fewer senior-oriented opportunities than in other cities. Seniors pay an average of $4,362 per month for in-home care, which differs from home health care in that it does not provide skilled clinical nursing services. Although Maple Heights isn't home to any hospitals, its proximity to Cleveland offers nearby access to three of the state's top five hospitals, including the best-ranked Cleveland Clinic.
Below we've compiled a comprehensive directory of every home care provider in the Maple Heights area – complete with services offered and reviews from families who've actually used the service. In addition to our in-depth provider listings, we've compiled resources to help seniors and their families to access all the tools they need to age in place safely and gracefully.

Paying for Home Care in Maple Heights, OH
The Cost of Home Care in Maple Heights, OH
According to Genworth's 2020 Cost of Care Survey, seniors living in Maple Heights typically pay $4,362 per month for in-home care services. This is lower than the Ohio and U.S. averages of $4,481 per month. It's also less expensive than in many other cities, such as Columbus or Lima, where monthly home care costs average $4,576. In Dayton, home care is also costlier, at $4,763 per month.

The Cost of Home Care vs. Other Senior Care Options in Maple Heights, OH
Home care services provided to seniors living in Maple Heights average $4,362 per month. A similar service, home health care, costs just $48 more at $4,410 per month. Home health care includes clinical nursing services such as intravenous nutrition therapy and wound care management. Adult day health care, ideal for families who struggle to care for senior family members during the day, costs $1,246 per month. Seniors who are unable to live at home may opt for assisted living care, averaging $3,950 per month. Nursing home care is also an option, with semiprivate rooms costing an average of $7,848 per month.

Nursing Home Care (semiprivate room)
Note: Data for Maple Heights was unavailable, so data for the nearest city, Cleveland, was used instead.
Financial Assistance for Home Care in Maple Heights, OH
Given the high cost of in-home care, many people use one or more forms of financial assistance to cover the expenses. Below, we explain some of the most common sources of financial help for paying for in-home care. If none of these options are available to you, you can reach out to your Area Agency on Aging or Aging and Disability Resource Center to learn about local resources.

Free & Low-Cost Home Care Resources in Maple Heights, OH
As part of the greater Cleveland area, Maple Heights is home to many resources that help seniors. Provided by 501(c)(3) nonprofit organizations and local government agencies, such resources include meal delivery and senior home improvement.

Determining Your Loved One's Need for In-Home Care
Aging can be a difficult process, and loved ones may not always ask for help – often times it's up to their family to evaluate their need for help around the house. While no two situations are exactly alike, this checklist can help you and your loved ones determine when it's time to start the search for a home care provider.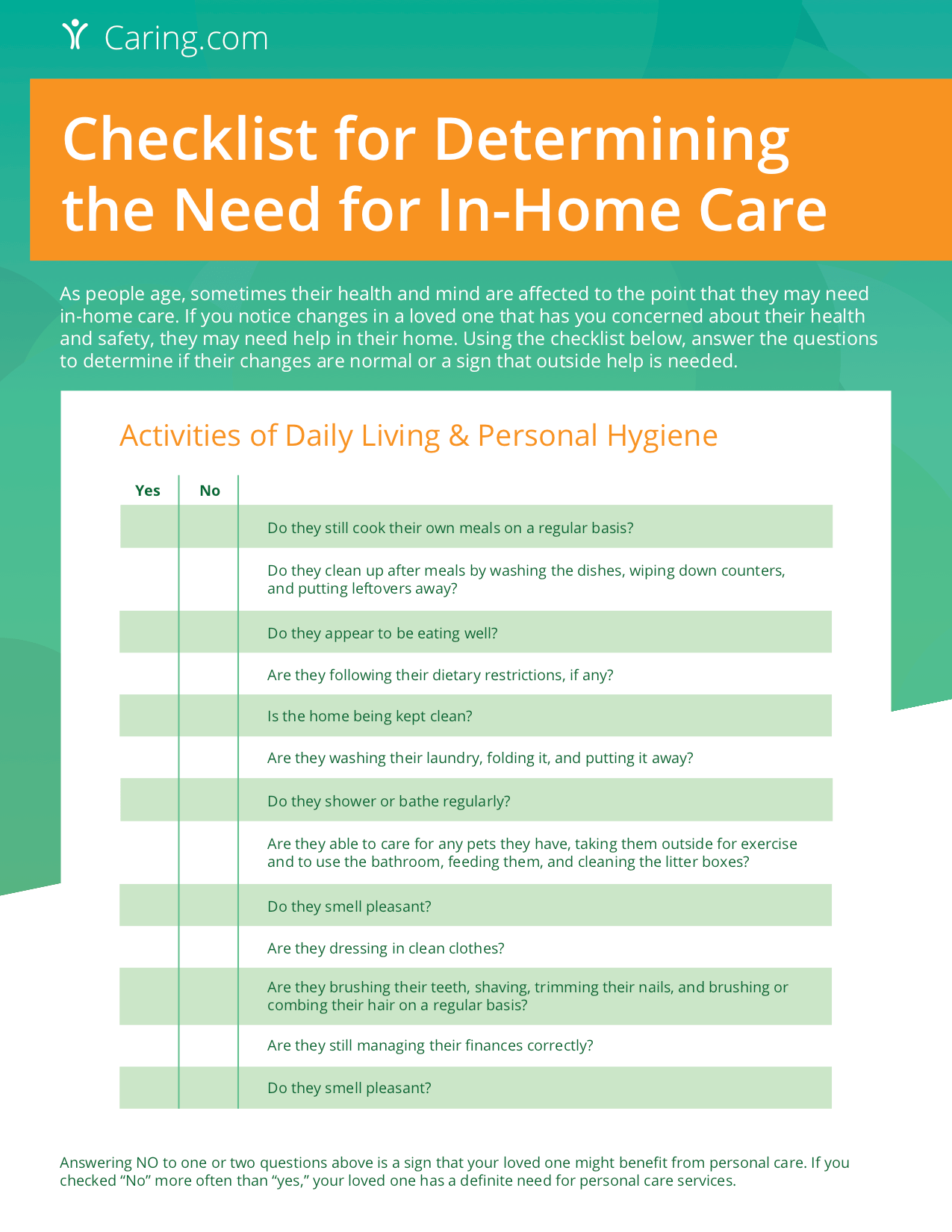 Guidelines for Talking About In-Home Care
If you've determined that your loved one needs the assistance of a care provider in their home, it may be time for a difficult conversation. Handled correctly, however, this process can bring a family together and ensure that everyone's concerns are addressed. Use this PDF as a starting point to help the conversation stay as positive and productive as possible.

Frequently Asked Questions
What types of services can a home care agency in Maple Heights provide?

Home care service providers all share the goal of assisting seniors with the duties required for independent living. Agencies help seniors with personal care tasks such as bathing, dressing, eating and walking. Personal care attendants usually take care of basic household chores such as washing clothes, sweeping and mopping floors and doing laundry. Home care agencies may cook meals using seniors' kitchenware and groceries; they can also pick up and deliver meals from restaurants or food banks. Lastly, seniors can expect assistance with basic financial management tasks such as paying bills on time and filling out tax returns.
What should I look for in a good home care agency near me in Maple Heights?

When searching for home care agencies, families should always look through online reviews, taking time to read them and ensure they seem to be written by real customers. Families should never feel pressured into selecting one provider over another, as our list of local home care providers indicates that Maple Heights is home to 24 home care agencies. Agency representatives should make families feel welcome and take plenty of time to answer questions. Reputable home care agencies will also provide references of satisfied customers.

What is the average cost for in-home elderly care in Maple Heights?

In-home elderly care can refer to in-home care or home health care. Home care services, the more basic of the two options, costs $4,362 per month in Maple Heights. Home health care services, which include clinical nursing supervision, cost an average of $4,410 a month.

Assisted living homes vs. home care: how to decide?

Over time, older family members may start to struggle with basic living activities. Seniors who seem to be happy living at home and can almost take care of themselves independently are usually best paired with in-home care services. Those who can't reasonably live on their own or who don't enjoy living at home any longer are better off living in one of Maple Heights' assisted living facilities. Families should consider cost: In Maple Heights, home care services typically cost anywhere from $400 to $500 more per month than assisted living facilities, where living dues are all-inclusive of housing and dining costs.

What is a home care assessment?

After potential clients request service from home care agencies, experienced professionals conduct thorough in-home care assessments. These assessments evaluate seniors' current living situations and determine their specific needs. Home care agency representatives ask seniors about what chores or tasks they anticipate needing help with — personal care attendants make sure to meet these needs above all else. To best tailor services to clients' individual situations, home care assessments include basic medical tests and mental and behavioral health screenings. Home care professionals also assess seniors' immediate environments, searching for independent living aids such as lift chairs and grab bars.