Home Care in Overland, MO
Overland is a tight-knit community just a short drive from downtown St. Louis. It is surrounded by parks and recreational areas, which makes it ideal for seniors who enjoy being outdoors. Seniors make up 14% of the city's population of almost 16,000 people. The cost of living is low, and Mercy Hospital, which provides treatment for stroke, cardiac issues and trauma, is just five miles away. Seniors in Overland who prefer to remain in their homes but still need assistance with basic needs and activities may choose to receive home care, which costs on average $4,481 per month. Home health care, which includes skilled nursing, costs the same in Overland.
Below we've compiled a comprehensive directory of every home care provider in the Overland area – complete with services offered and reviews from families who've actually used the service. In addition to our in-depth provider listings, we've compiled resources to help seniors and their families to access all the tools they need to age in place safely and gracefully.
The Cost of Home Care in Overland, MO
Home care costs in Overland are comparable to the national average of $4,481, according to Genworth's 2020 Cost of Care Survey. Both are $109 more than the state average. The cost of home care in Overland is variable depending on where an individual lives, how many hours of care are needed and what types of services need to be provided. St. Joseph residents pay $4,338, while those in Springfield pay $4,290. Columbia is one of the most expensive cities with costs of $4,576.
The Cost of Home Care vs. Other Senior Care Options in Overland, MO
If cost is an issue, it's important to consider all the available options for long-term care. Home care and home health are both the same cost at $4,481 per month in Overland. Adult day health care is the cheapest option, at $1,842, and is ideal for seniors who live with family or have assistance at night. Assisted living costs $3,750, and a semiprivate room in a nursing home is $5,355 per month.
Nursing Home Care (semiprivate room)
Note: Data for Overland was unavailable, so data for the nearest city, St. Louis, was used instead.
Financial Assistance for Home Care in Overland, MO
Given the high cost of in-home care, many people use one or more forms of financial assistance to cover the expenses. Below, we explain some of the most common sources of financial help for paying for in-home care. If none of these options are available to you, you can reach out to your Area Agency on Aging or Aging and Disability Resource Center to learn about local resources.
Long-Term Care Insurance: Long-Term Care Insurance covers expenses related to senior care, including in-home care. Depending on the policy type, beneficiaries may receive a cash payment to use towards long-term care or reimbursement for qualifying long-term care expenses. Note that there are limitations- typically a maximum benefit of $150 per day- and exact coverage terms vary depending on the exact policy, so always check the details.Medicare: Medicare does not cover in-home care because it is classified as custodial, or non-medical, care. However, some Medicare Advantage and Medicare Supplement plans, which offer expanded benefits, may cover in-home custodial care.Medicaid: Medicaid coverage of in-home care varies between different states because it is not a federally mandated benefit. Currently, all states cover some in-home care either through their standard Medicaid or a waiver program. The specific coverage rules are set individually by each state.Veterans' Benefits: The Aid and Attendance benefit is a monthly cash payment that beneficiaries can use to pay for senior care, including in-home care services. To qualify for A&A, Veterans must already receive the VA pension and meet several additional requirements, including needing assistance with the activities of daily living.Contact the Department of Veterans Affairs to learn more.Reverse Mortgages: Home Equity Conversion Mortgages (HECMs) are federally insured loans that are available to homeowners age 62 and over. Reverse mortgages allow you to access a portion of your home's equity in cash, tax free. Many seniors use reverse mortgages to finance their care expenses, including in-home care. Note that although there are no monthly payments due on reverse mortgage loans, borrowers do have to repay the loan once the last surviving homeowner passes away, moves, or sells the home.
Free & Low-Cost Home Care Resources in Overland, MO
Seniors who need help maintaining their homes and aging in place have access to many different options for assistance in Overland. This list provides an array of services, both free and low-cost, that help address these needs.
Determining Your Loved One's Need for In-Home Care
Aging can be a difficult process, and loved ones may not always ask for help – often times it's up to their family to evaluate their need for help around the house. While no two situations are exactly alike, this checklist can help you and your loved ones determine when it's time to start the search for a home care provider.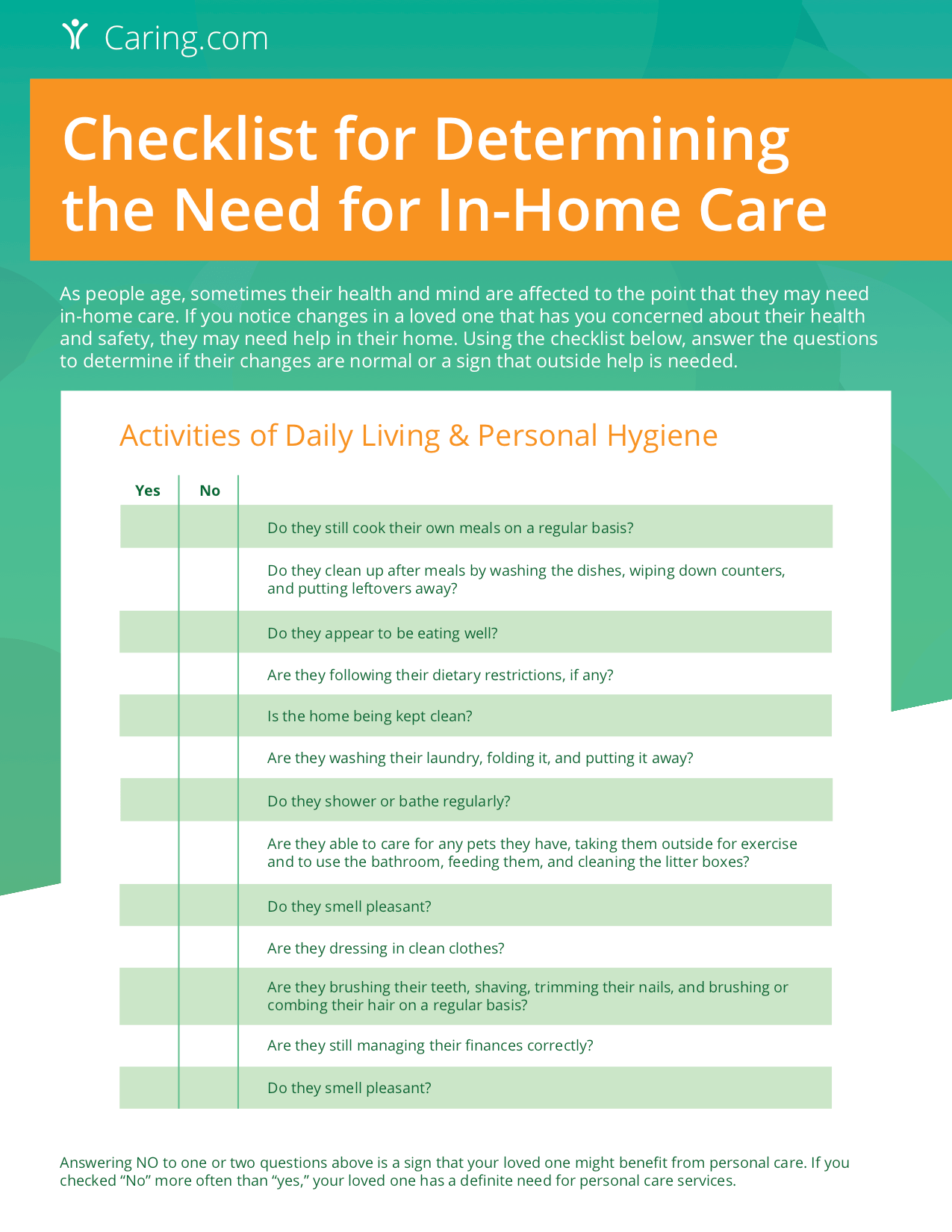 Guidelines for Talking About In-Home Care
If you've determined that your loved one needs the assistance of a care provider in their home, it may be time for a difficult conversation. Handled correctly, however, this process can bring a family together and ensure that everyone's concerns are addressed. Use this PDF as a starting point to help the conversation stay as positive and productive as possible.

Frequently Asked Questions
What should I look for in a good home care agency near me in Overland?

When choosing a home care agency, seniors or their caregivers should first consider the reviews. Discover what others are saying about the agency. Then, make a list of required care needs and make sure the agency provides assistance with those. Confirm that the agency is fully licensed, and check the cost to see if it falls within budget.
What is the difference between in-home care and home health care?

In-home care provides for the basic needs of an individual. This includes grooming, bathing, meal preparation, grocery shopping, transportation, housekeeping and companionship. Home health care can include everything that home care covers but also provides medication management and monitoring, wound care, rehabilitation and skilled nursing.
What is the average cost for in-home elderly care in Overland?

According to the Genworth Cost of Care Survey, in-home elderly care in Overland costs around $4,481 per month. This is the same as the national average, which may make the city an attractive place to live for those on a budget. In-home care in Overland is just slightly more expensive than in other areas of the state.
What is a nonmedical home care service?

A nonmedical home care service is also referred to as home care. Typically, home care providers are certified caregivers. Although they don't possess a degree in the medical field, these professionals are trained to provide care and support for seniors who remain homebound. Nonmedical home care services provide help with activities of daily living, including housekeeping and companionship.
What is in-home respite care?

In-home home respite care is a temporary service that provides relief for caregivers. Respite care gives caregivers a break to handle personal matters. This break can last for several hours a day, multiple days at a time or even weeks.