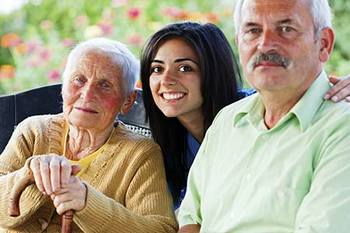 All Rights Reserved
If you're choosing a caregiver for an aging parent or loved one, you've probably heard the advice that your caregiver should be licensed and bonded. The implication is that being licensed and bonded means the caregiver is more trustworthy. But what do these terms actually mean?
What kind of licensing/certification programs do caregivers take?
Licensing is a general term that can cover many different kinds of certifications. And the rules for certification vary according to which type of care a caregiver is providing. They also vary from state to state. As a general rule, caregivers who help with the tasks of day-to-day living, such as cooking, companionship, and personal care, may not need to be licensed; licensing or certification is required for home health aides (HHAs), certified nursing assistants (CNAs), and others providing medical care.
Many states are in the process of changing their training and licensing requirements. For example, the state of Arkansas will require 40 hours of training and certification for all paid in-home caregivers.
Who offers licensing/certification programs for caregivers?
Hiring a caregiver who has completed a certification course gives you the peace of mind of knowing that she has received a certain level of training and completed a testing process. Licensing and certification programs are provided by community colleges and other educational institutions and by national organizations. The American Caregiver Association and the National Caregiver Certification Association both offer online certification programs for nonmedical in-home care providers such as home care aides or personal care assistants.
SEE ALSO: Find In-Home Care Help Near You
The American Red Cross offers a number of safety certifications, including a Family Care Program for caregivers -- whether informal or paid -- who care for the elderly in their homes. It includes training in home safety, including how to accident-proof your home, how to move someone safely, and safe bathing. It also includes guidelines for healthy eating and safety instructions for those caring for people with dementia or Alzheimer's. Another American Red Cross program is the certified nurse assistant (CNA) training course, which covers caregiving in both assisted living and in private homes.
Does licensing/certification differ across different types of home care?
If you hire a caregiver through an agency, you can ask for information on any certifications a caregiver has received. In many states, the agency itself also must be licensed and/or accredited by the state in which it operates. If your home care will be paid for by Medicare, then you are required to use a Medicare-certified home health agency in order to qualify for payment coverage.
One more thing: You can generally assume a caregiver hired through an agency will have undergone medical screening and be certified that her vaccines are up to date. If you are hiring a caregiver privately, you may need to verify this information yourself.
What does "bonding" mean for in-home caregivers?
Now, on to bonding. Bonding is used as a means to reassure you that you don't need to worry about theft. So what does it really mean to be "bonded?"
SEE ALSO: Find In-Home Care Help Near You
Bonding is a legal term for a type of insurance taken out from a bonding company that covers theft by an employee. If you hire a caregiver from an agency, it's very likely that they have bonded the caregivers in their employ. Independent caregivers also can bond themselves, though this not as common.
This means that the agency has purchased a bond that will compensate you (the client) should you be the victim of theft by a caregiver. The bonding company would repay you the value of the items stolen up to the amount of the bond. The bonds issued for caregivers are typically $5,000, which means you could theoretically be reimbursed up to $5,000.
Does bonding assure that all missing items are covered?
Bonding is not, however, as strong a protection as it sounds. This is because typically the bonding company does not have to reimburse you unless the theft you've reported has been validated in a court of law. This means the caregiver has to be arrested, charged, and convicted in criminal court before the bond is paid out. As you can imagine, only a small percentage of caregiver thefts get this far in the legal system. And even when they do, theft is very difficult to prove, meaning that convictions aren't guaranteed.