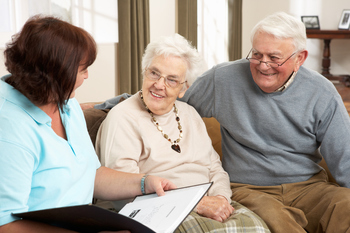 All Rights Reserved
So you've made the decision to help your aging loved one find in-home care help so he or she can still live at home while getting the proper assistance. The next step is finding and hiring an in-home care agency that can help provide the right care for your loved one.
When hiring an in-home care worker through an agency, these questions should help you find a reliable match for your loved one. Involve the person you're caring for in the interview process as much as possible. It's really your loved one's interview, with you asking the questions for him or her (if he or she can ask the questions themselves, even better).
What follows are the key questions to ask to find the right agency and caregiver(s) for your loved one.
Consider your personal needs
Before calling any agencies, make a list of what the job will entail and what your expectations are for hiring a professional caregiver. Be as detailed as possible.
When and how often do you need a caregiver? Is it likely to change soon? If so, will it be a problem?

What duties would you like the caregiver to perform and how often? List out the duties and frequency (e.g, light housekeeping weekly, driving to doctor's appointment as needed, and aiding with bathing every morning).

Do you need any specialized care, such as for dementia or incontinence?
The agency you choose will help you determine how many hours a week are needed as well as figuring out the best timing, but it's up to you to identify subtler personal needs. Make a note of any strong preferences that you have regarding your caregiver. Also consider the following issues:
Determine if the agency is legitimate and operating above board
Is your agency licensed by the state?

Do you have a business license in your city?

Are your care workers bonded and/or insured?

Are your care workers legal residents of the U.S.?

Which types of services do you provide?
Ask about the care staff
Do your care workers receive regular immunizations for influenza, hepatitis B, tuberculosis, and other communicable illnesses?
Ask to see documentation.
How do you screen your care workers?
Ask for specifics. It's best if the agency runs a national, fingerprint-based background check for all workers, along with checks on references, credit history, and driving record, plus drug screenings and checks against sexual offender databases.
What training do you provide?
Ask for details. Training can differ greatly, from sessions with an outside expert to a quick online course.
How do you retain great employees?
Ongoing training, paid vacation, and medical benefits can all help a company attract and keep the best staff members.
What supervision do you provide?
Ask specifically whether there are nurses or social workers on staff to provide support and advice to the care workers.
Can we interview different care workers and choose which one we'll work with?
How the agency charges for in-home care services
Make sure to ask if there are any additional charges or fees that might apply in your situation.
Do you accept payment from insurance companies?

Do you offer a payment plan or other types of financial assistance? Do you accept credit cards?

Are your care workers employees or independent contractors?
Ask if the agency will take care of all payroll paperwork (including taxes, insurance, or benefits), or if that will be your responsibility.
More questions to work out the details and narrow the list
What kind of service agreement is required?

Do you have guidelines or standards of conduct for your care workers?
Ask to see a copy.
Do you have consistent assignments, or will the care workers change on a regular basis?
Consistency is especially important for someone with dementia.
What happens if my normal care worker is sick or on vacation?
Ask if the agency will automatically send a replacement.
What happens if my normal care worker leaves the agency?
An agency should be able to provide consistent care even during staff transitions.
How do you handle conflicts between a care worker and a client?

Am I expected to provide meals for the care workers we hire?

Can your employees drive my loved one to appointments or social outings? What, if any, mileage charges apply?

Can I talk to former or current clients?
Finding the right home care for your aging loved one can be daunting, but it's a crucial process to ensure that he or she gets the the support and care they need to stay at home. The better informed you are, the more quickly you're likely to find a care option that fits your loved one's needs.