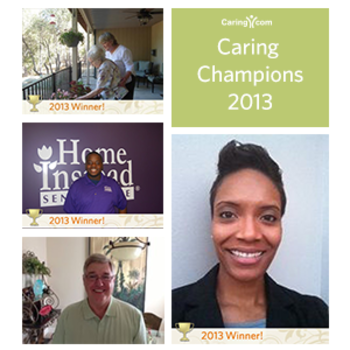 All Rights Reserved
Perhaps you've been caring for an aging parent for years, or you recently visited and realized that your loved one needs some extra help with personal hygiene, preparing meals, or recuperating after a surgery. You know it's time to ask for professional, in-home help. Opening your home and your heart to a new person who will be your loved one's aide and, in many ways, a companion, can stir some concern -- and questions.
How do you know if this person is the right fit? Will he or she be able to provide quality care and balance it with compassion, patience, and even a sense of humor? What will the reaction be if your elder decides to be a bit stubborn that day? What qualities should an in-home caregiver demonstrate -- where do you even begin your search?
Over the years, we have heard countless stories of in-home cargivers who stand out in their communities. These caregivers share many common traits: initiative, enthusiasm, great communication skills, and being an elder advocate when necessary. These qualities remind us of what to ask for when choosing a in-home caregiver, and they remind us that there are dedicated professionals who have a passion for what they do and will treat our loved ones with the honor they deserve.
1. They Show Sound Judgment and Confident Care.
Great caregivers have a sense of what an elder might not be able to communicate verbally. This ability takes focus, courage, and confidence. Speaking up and sometimes speaking out to meet the needs of our aging population is vital to the well-being of our elders.
Selena B., of Rest Assured Nursing, Inc., in Marina Del Ray, California, exemplifies what it means to be a truly outstanding caregiver. Not only did the young Selena help care for her grandmother, she then joined the U.S. Army and served our country with the same integrity that she now gives to elders in her care. After her time of military service, Selena became an active and integral part of her community at Rest Assured Nursing. "Each registered nurse is always confident with Selena's abilities and judgment when it comes to providing the quality, personalized, one-on-one care that our clients need and deserve," says Chelsea Smith, Selena's supervisor. "Some people were born to really have the love and drive to succeed as a caregiver and help our senior community by providing nothing less than the best care possible. . . . Selena is one of those people."
2. They Show Initiative and Quick Response.
Good caregivers know what needs to be done. They have the energy, the capability, and the drive to take action. They're always aware of the physical and emotional needs of those in their care, noticing when something is "off," and they don't give up until they figure out how to address the problem. Our elders need caregivers with these traits, because often they can't communicate themselves, or they simply don't know what's wrong. These caregivers possess the courage and tenacity to make sure our elders receive the best of care.
Nanette R. is known at Right Choice Personal Assistance in Oklahoma City, Oklahoma, for being the kind of caregiver who goes where she is needed and responds quickly and appropriately to emergency situations, as well as to the routine changes that come with caring for the elderly. A true caregiver has to adapt and make sound decisions, often under difficult situations. Nannette is an asset to Right Choice and to her community. When it comes to our elders, Nanette says, "We can't care enough!"
3. They Have Enthusiasm for the Work They Do and for Those in Their Care.
Exceptional caregivers love what they do -- and it shows. They know that elders face many challenges, from isolation and loss of personal freedom to pain and confusion to depression and financial worries. Exceptional caregivers light up the room. They smile, listen, laugh, hug, and do all they can to get their folks up and moving.
Home Instead's Linda M., formerly in Billings, Montana, is known for her enthusiasm and thoughtfulness. She recently brought flowers to a couple celebrating their 65th wedding anniversary. She designs and creates thoughtful cards for her clients. One said that Linda pays attention to the little things. The families notice her tender touch. "I cried the first time Linda gave Mom a bath," said one, who marveled at Linda's gentleness.
4. They're a New Generation of Caregivers.
The world of eldercare is changing. With approximately 10,000 baby boomers turning 65 today and every day for the next 19 years, the need for caregivers is growing. America is a land of diversity, and families of all ethnicities and lifestyles need help caring for their aging family members. Women, traditionally caregivers, aren't the only ones answering the call. The need is tugging at the hearts of our youth, our men, and even seniors who are finding second careers caring for our nation's elders.
Joseph O., a CNA for Home Instead in Huntsville, Alabama, is a great example of this new generation of caregivers. Right out of high school, Joseph knew he wanted to work with seniors. He overcame a downsizing economy and persevered even when jobs were hard to find. Still a young man, Joseph has found his niche. His clients and their families adore his outgoing and can-do attitude. The wife of a client with ALS (Lou Gehrig's disease) calls Joseph her lifesaver. "I have several joint injuries that make it impossible to take care of my husband myself," she says. "Having a caregiver like Joseph makes all the difference." Another client's family remembered that the first time Joseph came to her home, he asked, "Do y'all hug?" She responded, "Of course we do, now get over here and give us a hug." He's never left their home without giving each of them an embrace at the end of his shift. Joseph is a wonderful example of the new generation of caregivers entering the workforce today.
5. They Help Make Your Home Your Haven.
When our elders lose their ability to keep house because of physical or memory issues, they don't realize that their homes lose some of their hominess. Great caregivers know just what's needed to give our seniors a place of warmth and hope. It's the little touches that make a big difference. Whether it's serving a nutritious meal, placing a cozy lap blanket over chilly legs, or scooping a bowl of their favorite ice cream as an afternoon treat, great caregivers combine excellent care with thoughtful details.
Eve B. of Seniority Lifecare at Home in Sonora, California, is known for her attentive care and for the amazing meals she prepares for her clients. She makes sure that each of her seniors feels like the only person in her world during the time she is with them. Eve pays attention to what brings the elders in her care comfort and joy. It's easy to let medical equipment clutter the rooms and pill bottles pile up on the counters, and to forget that your loved one needs an inviting haven to aid healing. In every home, she has won her clients' hearts with her special touches. One of them said, "If even half your staff were as competent and excellent a caregiver as Eve, you wouldn't have a care in the world. She treated our home with as much TLC as her own and cared for my wife as well as she would her own mother." Eve knows how to incorporate a tender touch with excellent care -- and that makes her a Caring Champion.
6. They Look at the Whole Picture.
Sometimes things just don't add up, and it takes a good caregiver supersleuth to look past the obvious and find out what's really going on. Many factors must be considered when it comes to elder care: Medications and their interactions, dietary needs, underlying "silent" issues that haven't been diagnosed, and emotional and cognitive concerns can all be at play. Good caregivers step back and look at the whole in order to better understand their clients' needs.
Weini B. of A Hire Source Home Care in San Rafael, California, approaches her clients from a whole-health perspective. She assesses, prioritizes, and gets to the root of issues. Weini looks at everything from home safety to diet. She takes inventory of medications and looks for any side effects that are affecting her clients. If they suffer from a UTI or have digestive problems, she's determined to find out why and alleviate the problem. Her client Jane was not happy about losing her independence and was generally in ill health when Weini first met her. Weini placed Jane on a low-sugar, high-fiber diet, suggested needed safety-related upgrades to her environment, and asked that Jane's medications be reassessed by her doctor. Today, Jane is more relaxed, comfortable, taking far less medication, and has adjusted to living with other family members. Jane and her loved ones consider Weini part of their family. By looking at the whole picture, Weini was able to pinpoint several concerns that were contributing to Jane's health and emotional issues, and that makes Weini a Caring Champion.
7. They Complement Family Care.
Stepping into a family during the time when care is needed for a loved one can be tricky. It's important to complement the family and become part of the elder's circle of care. Sometimes that means slipping in quietly and finding out what needs to be addressed without adding stress to already strained family dynamics. It's important to be diplomatic and to quell family disagreements whenever possible. At other times, an exceptional caregiver knows intuitively when to step up and do the right thing even when it's not easy.
Two Caring Champions who know how to complement family care are Bob L. of Homewatch CareGivers in Orlando, Florida, and Denice M. of From the Heart Elder Care in Sussex, New Jersey. The families under Bob's care say he treats them like family. He's always finding ways to surprise them. He's even taken their dog to the groomers and knows what they need before they need it.
Denice is known for her discrete manner and the kind, unassuming way she cared for the family of one of her clients in his final days. Denice did all she could to help the family during this delicate time. She took care of their father so that the family could rest and make necessary preparations. She quietly did their dishes and laundry so that the house could continue to run smoothly and they would be free just to sit with their dad. She even assisted with his two-year-old grandson, allowing his parents the peace of mind to be with their loved one during his passing. Both of these Caring Champions are at the heart of the caring movement.
8. They Get Elders Back in the Game.
The golden years are supposed to be golden! Yet too many of our elders have forgotten that they are still amazing and have much left to give. A good caregiver sees our elders for the fabulous folks they are. They get them up, talking, dancing, and doing the things they love to do.
Pearl H. at Acappella in Home Care in Dallas, Texas, is a senior as well as a Caring Champion nominee. Pearl was facing some difficult life challenges. She had recently lost her job, so she decided to volunteer at a Dallas food pantry called Brother Bill's Helping Hands. The owners at Acappella in Home Care met Pearl at a church gathering and were impressed with her generous spirit at a time when her life was less than easy.
One of Pearl's clients at Acappella was a gentleman who had lost the love of his life. When his wife passed, so did his joy. No matter how the family tried to cheer him, nothing worked. Pearl asked him if he'd accompany her to Brother Bill's and help her serve meals, stock shelves, and care for others in need. Within two months her client had found a zest for living. Due to Pearl's example, this elderly gentleman found a renewed purpose in giving to others. He also loves to dance, and Pearl encouraged him to get back on the dance floor. Within two months, he was no longer using his wheelchair!
9. They Take Control When Needed.
Sometimes it takes a strong person to get the job done, and Caring Champions will do whatever is necessary to protect and provide for elders in need. They'll do what they have to do and won't back down until their elders receive proper attention.
Heather B. at Griswold Home Care in Sacramento, California, is a take-control kind of caregiver. One of Heather's clients is in an assisted living home. Heather's role is to supplement her client's care and make sure that her needs are met, even if it means walking to the front desk and talking with someone directly. Heather's compassionate heart comes from caring for her own mother, who suffered from MS for more than 30 years. This experience gave Heather the strength and the voice to speak out when necessary.
10. They're Great Communicators.
Good care relies on good communication. Caring Champions know just how important it is to be able to connect with elders and their families and convey important information in way that's clear, concise, and creates an atmosphere of trust for everyone involved. Caregivers must also be able to communicate effectively with their employers and others in the elder-care field. Many misunderstandings, overlooked issues, and even serious health and safety issues can be avoided with clear communication.
Beth M. of Home Helpers in Londonderry, New Hampshire, is known for her communication skills and her natural ability to calm clients. Her soothing approach is just what's needed for those who suffer with the anger and anxiety that often accompanies dementia. Beth's care notes are known for being precise and detailed and for impacting the quality of care her clients receive. They're even used for training other caregivers. Beth's excellent communication skills complement her ability to redirect elders with memory loss who have become agitated.
Charity N. of Homewatch CareGivers in Northbrook, Illinois, has the philosophy that "everybody dies, but not everybody lives. I want to make sure they live." Charity embraces treating the physical ailments of the human body and compassionately treating the emotional side of the human spirit. "I firmly believe that you cannot heal one without the other," Charity says. She approaches her work with reverence. One of her clients says, "Charity has a deep understanding and embodies the true and sacred nature of this work with a deep knowing and awareness of the many challenges that arise when individuals and their families are confronted with the aging process."
Perhaps Charity learned empathy during her childhood as she helped her parents care for her 12 siblings in Ghana, Africa. Her father dreamed of his daughter becoming a nun -- but Charity had another calling, one just as important. Early in her 18-year career, Charity came across a woman in a London hospital who had only a week to live. Charity's mission became giving this woman the sweetest, most memorable week of her life. Charity never left her side. She considers it a privilege to be invited into the lives her patients. "They have all enriched my life in ways most people do not get to experience," she says. "If you are a caregiver, you too will learn that while the patient says they couldn't get through it without you, you will be the one who gets the biggest gift of all."