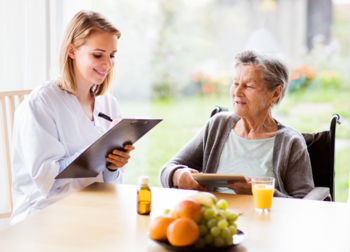 All Rights Reserved
As your loved one grows older and the ravages of age become apparent, one question frequently comes up. Should my aging loved one stay at home with the help of a caregiver or move to an assisted living facility? There is no simple answer. Each elder is unique, and so are the circumstances of each person's life.
The first thing to do is find out is what your loved one wants. Does he or she want to stay at home, known as "aging in place"? Or perhaps living in a community of older people, known as assisted living, is appealing. Getting buy-in from your loved one is important, since it's their life you're dealing with. There are pros and cons on either side, and financial concerns to weigh.
"With private home care, you get to stay at home, which is great, but it cannot provide the social activities that a facility can," Ryan McEniff, owner of Minute Women Home Care in Lexington, Mass., said. "Comparing these two is not an apples-to-apples comparison because you are paying for two totally different services."
Staying at Home
Most Americans say they aim to age in place. Nearly 90 percent of Americans 65 and older say they wish to stay in their homes as long as possible, according to a report by the National Conference of State Legislatures with the AARP Public Policy Institute.
To do this successfully and avoid the harmful effects of loneliness and isolation, seniors need a great deal of support -- from family members, caregivers and their community, said Anabel Pelham, gerontology professor at San Francisco State University and founding director of the Center for Age-Friendly Excellence in Los Altos, Calif.
Let's say that Mom wants to remain at home, but recently suffered a fall and had to be hospitalized. She's on the mend and the hospital wants to discharge her. Now what? How can she return home safely? In-home care may be the right choice. This type of care consists of non-medical assistance provided by a caregiver in the senior's home. This hourly paid care can include assistance with dressing, cooking, eating, bathing, light housework and providing medication reminders.
Some professional caregivers may also transport elders to medical appointments or other outings. This non-medical care doesn't require a physician's order, nor do caregivers provide nursing care. For instance, caregivers can remind mom to take her medication but are not allowed to administer it. Each state has its own rules and regulations that determine which tasks in-home care workers are or are not permitted to do in a client's home.
Long-term care insurance policies can help pay for in-home care, but it's important to check the policy carefully for guidelines and rules. In-home care may be a cost-effective solution for someone who doesn't need round-the-clock care (though some folks still opt to pay for 24-hour care at home if cost is not an issue).
For example, in the pricey San Francisco Bay Area, a home care agency can charge as much as $792 for a 24-hour block of time. While some agencies give discounts for all-hours care, many simply charge their hourly rate multiplied by 24 hours. The hourly rate is about $25-$36 in the San Francisco Bay Area. Nationally, the median cost is $20 an hour, according to Genworth's 2016 Cost of Care study. That hourly rate can add up quickly if mom needs full-time care.
For an elder receiving 44 hours of in-home care per week, the national median price tag is $3,813 per month, according to the study. Costs can vary widely depending on which state you're in. In North Dakota, the median cost for 44 hours a week is $5,331 a month, according the study. In Louisiana, it's $2,908 for the same amount of care, Genworth found.
But what if Mom doesn't need as much as 44 hours of care per week? Maybe she wants to stay at home and agrees to having a caregiver four hours each day, Monday through Friday. Her grown children can help out on weekends and some weekday nights. That means she needs 20 hours of paid care a week. If she's living in an area where the cost of in-home care is around the national median of $20 per hour, it would cost about $400 per week, or $1600 per month. As long as her care needs don't increase, this is more affordable than paying for assisted living, which has a national median price tag of $3,628 per month for a one-bedroom unit, according to the Genworth study.
"You have to do the math," Pelham said.
Amanda Lambert, an aging life care professional and certified care manager in Salt Lake City recommends using a bonded and insured home care agency when hiring caregivers. Background checks, which many agencies perform when hiring in-home care workers, are also important, Lambert said.
"Be careful. Do your homework … about who you're getting in the home," Lambert said. "A friend or neighbor" may not be the best choice.
When assisted living is more cost-effective
What if Mom needs a lot more care to be safe at home? If family members are willing to help out on weekends and nights, she may still need 50 hours of paid care per week. That's $1,000 a week if the care costs $20 an hour, the national median. That comes out to $52,000 a year. Compare that with the median monthly cost of assisted living, which is $3,628 a month for a one-bedroom unit, or $43,536 a year.
For many families, when the cost of hourly in-home care exceeds the cost of an assisted living facility, they start to think about moving mom to an assisted living facility. Assisted living communities -- which may be covered by long-term care insurance but not Medicare -- are senior living communities where residents can live with roommates, spouses or in their own apartment.
Assisted living facilities are not licensed to provide nursing care and are not nursing homes or skilled nursing facilities. You might think of an assisted living facility as a hotel with housekeeping, caregiving, shared meals, activities, transportation and medication management. Meals are served in a common room or dining room, and in larger facilities, there are often group outings and more organized activities.
"In an assisted living, even if you have a private room it is usually small, so there is going to be downsizing involved in this process and that person is going to have to part with a lot of items that they cannot bring to the facility," said McEniff of Minute Women Home Care.
Assisted living communities can be as small as six beds to more than 100. Some of the things caregiving staff can help residents with include: toileting, dressing, managing medications, getting in and out of bed and assistance getting around the facility.
Costs are generally lower in smaller facilities that don't include all the bells and whistles. In some areas, such as New York City, it can cost more than $10,000 a month, especially if a resident requires a great deal of care or lives in a special memory care unit for those with advanced dementia.
In some facilities, additional care costs are added on top of the rent bill. In others, residents pay a single flat rate for care and rent. Like in-home care, prices vary depending on location. In Utah, the median cost of a one-bedroom unit is $2,950 a month, while in Alaska it runs $5,750 for the same, the Genworth "2016 Cost of Care Survey Study" found. Nationally, the median cost is $3,628, according to the Genworth study.
"Residents tell us they want to make decisions when they're able," said Michael Smith, corporate director of communications for Acts Retirement-Life Communities in West Point, Pa. "It's the best gift they can give their kids."
Perhaps the best thing an adult child can do for an aging parent is to heed their parents' wishes as much as possible when making important decisions about where the parent will spend their final months and years.