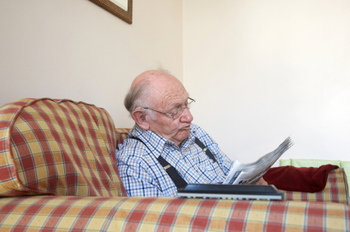 All Rights Reserved
Assess the situation for independent living
The great majority of older adults say they'd prefer to live out their days in their own home. The likelihood of making independent living work is much greater, though, if everyone involved does some conscious planning -- the earlier the better. These eight steps will set you on your way.
1. Have a group or family meeting.
This is the first step toward building what Ann Cason , author of Circles of Care: How to Set Up Quality Home Care for Our Elders, calls a "circle of care." This network may include paid caregivers, health care providers, friends, and neighbors as well as family members. With planning, you can all work together to provide a web of support for older adults as they continue to age.
Such a meeting is also a good opportunity get clear early on about what care-giving duties the older adults in your care may -- perhaps unconsciously -- expect you to assume as they get older, and what you and other caregivers or siblings are (and aren't) willing or able to take on. A frank conversation about this upfront can help avert potential resentment or disappointment down the line.
2. "Future-fit" their home for independent living
Take a tour of their home, perhaps with them, and think about how to make it safer and more navigable. Everything from a grab bar in the bathroom to a variety of new high-tech gadgets aimed at helping elders live independently at home safely are worth a look.
Your local Area Agency on Aging or a private geriatric care manager can refer you to an occupational therapist who can help identify hidden hazards and ways to make their home easier to navigate as they get older. The occupational therapist may also be able to recommend companies or tradespeople who can make necessary renovations.
This is also the time to think about downsizing -- helping them get rid of decades of accumulated belongings that can make their home harder to maintain as they age.
Create an independent living care plan
3. Observe and then put together a plan
A family member or caregiver should start by spending a day with them, suggests Cason, writing down their daily routine. This will let you know when they are most alert and active, and also when they're most likely to be tired, depressed, or anxious. Then you can help plan activities for when they're at their best, and perhaps extra care du ring the low points of the day, when they may be more vulnerable to accidents or just feeling blue.
Practical needs to consider might include:
Transportation Do they plan to continue driving? What are the options in their area if they need to stop driving at some point?
Finances Do they have the income to cover their needs, including in-home care if they could use it? If not, what public or private resources can they or their family draw on to help? Do they plan to manage their own finances, or do they need or want help? If they do, how do they find that help ?
Health care Do they live near their doctors and a hospital? What do they plan to do if they have a medical problem on the weekend or on a holiday?
Household maintenance Which tasks can they still handle, and which do they need help with? Who is available -- volunteer or professional -- to help out?
4. Explore all the options
Options for independent living have changed just as much in recent years as those for out-of-home care. As you plan, consider some of the less-obvious solutions, such as a home share , putting in a specially designed backyard cottage called an ECHO , or helping them turn their neighborhood into a naturally occurring retirement community , in which older neighbors organize, sometimes with the help of a community agency, to provide collective services.
5. Learn about in-home care resources for independent living
Independent living doesn't have to mean going it alone. In-home care options run the gamut from basic services such as housekeeping and meal delivery all the way to live-in nurse's aides.
Examine independent living alternatives
6. Make a contingency plan
Don't get caught unprepared by an illness or sudden change in health in those you're caring for. Get to know local senior communities and skilled nursing facilities. Ask the older adults in your care where they'd prefer to go should the need arise. If possible, visit those communities and keep a file with information about eligibility requirements, costs, and application processes.
7. Re-assess regularly
Age -- and the decline in ability that often comes with it -- happens gradually, so those closest to an older person can sometimes miss signs of deterioration. Jot down some baseline notes about how they're doing -- physical mobility, capacity to take care of themselves and their home -- and then reevaluate every six months or so to make sure you aren't missing a new need or issue.
8. Build in joy
Sometimes, says Ann Cason, we spend so much time worrying about protecting older adults' health and keeping them safe that we forget to help them plan their lives around the things they enjoy. They chose to live independently for a reason. Find out what pastimes and pleasures are most important to them -- whether it's a meal with the grandchildren, a drive in the country, or a weekly card game wit h friends -- and try to find ways to help them continue to pursue those things they enjoy.
 
CARING RECOMMENDS
Need help with senior-friendly home remodeling? Enter your zip code: