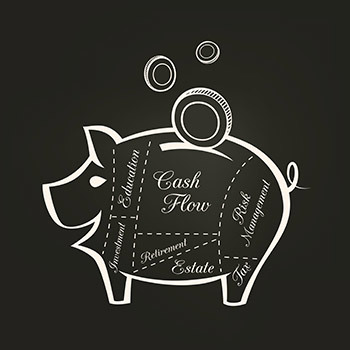 All Rights Reserved
Paying for long-term senior care is a challenge for all families, no matter what your circumstances. There are, after all, so many unknowns. Of course you can't know how many years you or your family member has left, nor whether they'll be lived in good health. We all hope to get lucky and stay strong and healthy until the end, but most people will at some point face health challenges that will increase their need for assistance. And unfortunately, surveys show, the majority of Americans significantly underestimate the both the amount of care they'll need and how long they'll need it.
"People are outliving their resources as they're living longer," says one senior care advisor. "A lot of people who look into senior care aren't thinking realistically about the future; they're only thinking about the next few years. Then they're hit with such an unpleasant surprise when their money runs out."
Surveys back up the idea that Americans aren't planning realistically for the help they'll need when they can no longer live independently. According to the American Society of Actuaries, a 65-year-old man in average health has a 40 percent chance of living to 85, while a woman the same age and health status has a 53 percent chance of living that long. But when asked to estimate the average American lifespan, 4 in 10 people underestimated by more than 5 years, the Society of Actuaries found. People with better-than-average health have an even greater likelihood of making it to 85; half of all men and 62 percent of healthier women will live that long.
It's not just lifespan that most Americans underestimate, experts say; they also underestimate the help they'll need in their twilight years. According to the U.S. Department of Health and Human Services, close to 70 percent of Americans over age 65 will need long-term care during their lifetime, while a much smaller percentage actually plan and save for that need. Then there's the cost of that help; a poll of baby boomers (those currently between the ages of 51 to 69) by Nationwide Financial found they underestimated the actual yearly cost of long-term care by more than three times.
So when making a choice to move into independent or assisted living, how do you make sure you have the funds you need and make them last as long as you need them to?
1. Make a List of Your Assets
According to senior care advisors, the place to start is a careful accounting of all the sources of funds you have available. You'll start with your monthly income, of course, but you'll also want to total up all savings accounts and may want to look at other sources of funds, such as life insurance and annuities. Look into the full spectrum of government benefits, too. For example, if you're a veteran of the armed forces, you'll want to research your eligibility for veterans' benefits, which can go a long way toward covering long-term care costs.
One note of caution: Selling your house can be a good source of funds, but renting it may be a better choice to stretch your money. "People look at their home and see a backup plan, but once you sell the house, it becomes a limited source of funds that's going to run out eventually," explains a Caring.com family advisor. "I suggest that people first consider renting, because then the rent becomes a continuous stream of money that won't run out."
Likewise, reverse mortgages can be problematic as a source of funding for senior care. For one thing, a reverse mortgage typically requires you to live in the home, and your options also become much more limited once you sign such an agreement with the bank.
2. Take Marital Status Into Account
In the case of married couples, it's important to plan for the increased likelihood that at least one member of the couple will live to an advanced age. According to the Society of Actuaries, in any married couple of average health over 65, there's a 72 percent chance that at least one of them will live until age 85. In couples of better-than-average health, there's an 81 percent chance that at least one will live to 85. If you think about it, that means that 8 out of 10 healthy couples of retirement age need to plan for a 20-year retirement.
3. Figure on Inflation
All senior care communities raise prices each year to account for inflation. The good news is that these increases are typically moderate, averaging about 4 percent. Still, over a longer horizon, cost of living increases can make a big difference -- one that most people fail to account for, studies show. According to a 2013 Harris Interactive poll, baby boomers correctly estimated their yearly long-term care costs to be approximately $75,000 a year, but nearly two out of five respondents failed to factor for inflation. In reality, according to Nationwide, the cost of residential nursing home care is estimated to reach $265,000 per year by 2030, the year baby boomers will retire.
4. Anticipate Escalating Health Needs
Assisted living communities have a price scale based on a host of factors affecting a resident's ability to live independently. In some communities, these costs are added into the base rate, which is stratified into levels of care; in others, additional services such as medical care and assistance with activities of daily living (ADLs) are priced separately.
"It's important to find out what the higher levels of care cost, because it's likely your costs are going to go up," says a Caring.com family advisor. "You might start out planning for $3,000 a month, because that's your initial cost, but it could go up to $10,000 a month depending on your health needs." Ask the assisted living communities you're interested in for detailed price information, so you can calculate your care costs at higher levels of care and be prepared. "They should be able to give you a minimum and maximum cost, so you're fully prepared," says the family advisor. Once you know this, ask to have it written into the contract that costs won't exceed the maximum stated. This way you have something to refer to in the case of a staff or management change.
6. Ask About Medicare Policies
If you think there's a chance your funds won't last as long as you or your loved one requires care, ask about a community's policy regarding Medicare before you make your choice. Some assisted living communities accept Medicare patients, but many don't. Others will allow a private-pay resident to remain on Medicare or will help residents transition to nearby facilities that do accept Medicare. You'll want to know all of this up front, so there are no unpleasant surprises down the road.
7. Become Familiar With the Assessment Process
When your loved one makes a decision to move into assisted living, the facility's medical staff will perform an assessment to determine how much care she needs. The results of this assessment may differ from your own perception of how well your parent is able to live independently, experts say. Memory issues, in particular, often catch families by surprise, since many older adults are successful at hiding them. Some assisted living communities can't accept residents with memory care needs; others are set up to do so but typically charge $1,000 to $2,000 more per month for this level of care.
8. Give Advance Notice of Limited Funds
Finding yourself in a situation in which your money is running out is never pleasant. But discussing this situation with staff ahead of time will go a long way toward alleviate the stress. If possible, try to get a sense of a community's flexibility before moving in. Some will work with you to reduce costs, while others are less accommodating, experts say. And when funds do begin to run low, let the staff know as soon as possible. "With enough advance notice, you may be able to come up with a plan, such as moving into a shared or lower-priced room," says a family advisor. And if you need to apply for veteran's benefits and Medicare, this process can take many months.
9. Be Conservative in Your Choices
Spend some time researching assisted living options in your region, and you may be surprised at the wide range, both in amenities and price. And one nice surprise: Cost doesn't necessarily dictate quality. "There are some really nice communities at the lower end of the price scale," says a Caring.com family advisor. When making your "wish list," be as flexible as you can -- would you give up a balcony or patio if it meant feeling more relaxed about finances? In many areas, extending your search by 5 to 10 miles outside your preferred area can cut costs considerably. If you're worried that friends and family won't drive the extra distance to visit, ask them. In most cases, when families recognize the overall cost savings, they're happy to spend a bit more on gas.
10. Don't Be Afraid to Ask for Help
When it comes to making funds last, families who pull together are most successful, experts say. Certainly there are many cases in which cash-strapped adult children are unable to help as much as they'd like to. But in many cases, parents are simply reluctant to ask, and when they do they discover family members are ready and willing to help. And even relatively small contributions can make all the difference. With two or three siblings, each contributing a few hundred dollars a month, you might be able to provide the care your parents need for as long as necessary.