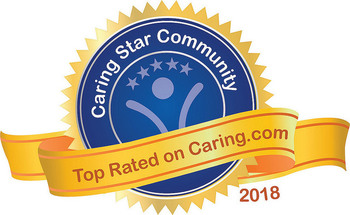 All Rights Reserved
If you or your aging loved one is searching for the right senior living community to call home, you probably have lots of questions. For starters -- What type of community will provide the care my loved one needs? What types of options are available in my area? How do I decide which ones to visit?
Since Caring.com was founded a decade ago, we've strived to provide answers to those questions for millions of family caregivers and older adults across the U.S. Now, we're harnessing the latest of the more than 150,000 reviews from senior living residents and their loved ones to bring you the Caring Stars of 2018 -- our annual list of the top-rated senior living communities in the nation.
This year, more than 260 different senior living communities in 40 states made the cut. We hope the list below helps you in your search for the best senior care community for you and your family.
Best Senior Living By State
Click the state links below to see which home care agencies earned the Caring Stars distinction in your state this year.
Alabama | Arizona | California | Colorado | Delaware | Florida | Georgia | Idaho | Illinois | Indiana | Iowa | Kansas | Kentucky | Louisiana | Maryland | Massachusetts | Michigan | Minnesota | Mississippi | Missouri | Montana | Nebraska | Nevada | New Jersey | New Mexico | New York | North Carolina | Ohio | Oklahoma | Oregon | Pennsylvania | Rhode Island | South Carolina | Tennessee | Texas | Utah | Virginia | Washington | Wisconsin
Looking for top in-home care agencies? See our list of home care agency winners.
---
Best Senior Living in Alabama -- 2 Caring Stars of 2018
Baldwin County
Homestead Village of Fairhope
Shelby County
Best Senior Living in Arizona -- 16 Caring Stars of 2018
Maricopa County
Atria Chandler Villas
Mountain Park Senior Living
Sunshine Village Assisted Living
The Heritage Tradition
The Stratford
Thunderbird Senior Living
Tuscany at McCormick Ranch
Pima County
Atria Campana Del Rio
Atria Valley Manor
The Country Club of La Cholla
The Forum at Tucson
Pinal County
The Garnet of Casa Grande
Yavapai County
Country Care Assisted Living
Highgate Senior Living
Yuma County
Best Senior Living in California -- 64 Caring Stars of 2018
Alameda County
Heritage Estates
The Parkview
Waters Edge Lodge
Contra Costa County
Eskaton Hazel Shirley Manor
The Heritage Downtown
El Dorado County
Eskaton Lincoln Manor
Eskaton Lodge Cameron Park
Eskaton Village Placerville - Assisted Living
Eskaton Village Placerville - Independent Living
Fresno County
Lake County
Eskaton Clearlake Oaks Manor
Lassen County
Los Angeles County
Belmont Village Hollywood Heights
Brookdale Antelope Valley
Glen Terra
Pasadena Highlands
Sunrise of Claremont
Welbrook South Bay
Nevada County
Eskaton Village Grass Valley - Assisted Living
Eskaton Village Grass Valley - Independent Living
Orange County
Brookdale Anaheim Hills
Fullerton Gardens
Irvine Cottages 1
Kirkwood Orange
Sunrise of Huntington Beach
Sunrise of Yorba Linda
Vivante on the Coast
Placer County
Eskaton Lodge Granite Bay - Assisted Living
Eskaton Lodge Granite Bay - Independent Living
Eskaton Roseville Manor
Riverside County
Atria Park of Vintage Hills
Estancia Del Sol
Integrated Care Communities - Assisted Living
Magnolia Grand
Pacifica Senior Living Riverside
The Camelot
Valencia Terrace
Sacramento County
Atria El Camino Gardens
Crosswood Oaks
Eskaton Care Center Fair Oaks
Eskaton Care Center Manzanita
Eskaton Jefferson Manor
Eskaton Monroe Lodge
Eskaton Village Carmichael - Assisted Living
Eskaton Village Carmichael - Independent Living
San Bernardino County
Brightwater Senior Living of Highland
Mission Commons
Sunrise at Alta Loma
Valencia Commons
San Diego County
Sunrise at La Costa
Vista Gardens Memory Care
San Francisco County
Kindred Nursing and Rehabilitation - Golden Gate
San Joaquin County
Santa Clara County
Carlton Senior Living San Jose
Merrill Gardens at Campbell
Shasta County
Siskiyou County
Sonoma County
Trinity County
Tulare County
Ventura County
Cypress Place Senior Living
Yolo County
Best Senior Living in Colorado -- 6 Caring Stars of 2018
Adams County
Keystone Place at Legacy Ridge
Arapahoe County
Chelsea Place Memory Care
Highline Place Memory Care
Denver County
Brookdale Tamarac Square
HighPointe Assisted Living and Memory Care
Larimer County
Best Senior Living in Delaware -- 1 Caring Star of 2018
Sussex County
Brandywine Living at Seaside Pointe
Best Senior Living in Florida -- 26 Caring Stars of 2018
Brevard County
Inspired Living at Palm Bay
Palm Cottages
The Brennity at Melbourne
Broward County
Pacifica Senior Living Forest Trace
Duval County
Hillsborough County
Sun Towers Retirement - Assisted Living
Sun Towers Retirement - Independent Living
Lee County
Fountain Crest
Grand Villa of Fort Myers
Pacifica Senior Living Fort Myers
The Rose Garden of Ft Myers
Manatee County
Marion County
Pacifica Senior Living Ocala
Miami-Dade County
Okaloosa County
Belvedere Commons of Fort Walton Beach
The Meridian at Westwood
Orange County
Plantation Oaks Senior Living
Palm Beach County
Atria Park at St. Joseph's
Grand Villa of Delray Beach East
Pacifica Senior Living Palm Beach
Pasco County
Atria Park of Baypoint Village
Atria Windsor Woods
Pinellas County
Grand Villa of St. Petersburg
Sarasota County
Autumn of Sarasota
Desoto Beach Club
Seminole County
Best Senior Living in Georgia -- 6 Caring Stars of 2018
Chatham County
Buckingham South Assisted Living
Cobb County
Columbia County
Dekalb County
Traditions Health and Rehabilitation
Fulton County
Summerset Assisted Living
Hall County
Morningside of Gainesville
Best Senior Living in Idaho -- 2 Caring Stars of 2018
Bonneville County
Kootenai County
North Star Retirement Community
Best Senior Living in Illinois -- 10 Caring Stars of 2018
Cook County
Porter Place
Senior Suites of Garfield Ridge
Smith Village
The Breakers at Edgewater Beach
Kane County
Mchenry County
Bickford of Crystal Lake
Three Oaks Assisted Living & Memory Care
Peoria County
Winnebago County
Crimson Pointe Senior Living
Best Senior Living in Indiana -- 2 Caring Stars of 2018
Lake County
St Joseph County
North Woods Village at Edison Lakes
Best Senior Living in Iowa -- 3 Caring Stars of 2018
Linn County
Polk County
Woodlands Creek
Illahee Hills
Best Senior Living in Kansas -- 2 Caring Stars of 2018
Sedgwick County
Reflection Ridge
The Regent
Best Senior Living in Kentucky -- 2 Caring Stars of 2018
Fayette County
Oldham County
Best Senior Living in Louisiana -- 3 Caring Stars of 2018
Ascension County
Azalea Estates of Gonzales
Caddo County
Azalea Estates of Shreveport
Iberia County
Azalea Estates of New Iberia
Best Senior Living in Maryland -- 1 Caring Star of 2018
Anne Arundel County
Best Senior Living in Massachusetts -- 6 Caring Stars of 2018
Berkshire County
Devonshire Estates
Wingate Residences at Melbourne Place
Norfolk County
Worcester County
Benchmark Senior Living at Shrewsbury Crossings
Dodge Park Rest Home
Oasis At Dodge Park
Best Senior Living in Michigan -- 7 Caring Stars of 2018
Genesee County
Macomb County
American House Sterling Heights Senior Living
Pine Ridge of Plumbrook Senior Living
Villas of Shelby Senior Living
Oakland County
Saginaw County
Best Senior Living in Minnesota -- 1 Caring Star of 2018
Washington County
Keystone Place at LaValle Fields
Best Senior Living in Mississippi -- 1 Caring Star of 2018
Jackson County
Best Senior Living in Missouri -- 3 Caring Stars of 2018
Jackson County
Senior Star at Villa Ventura
Saint Louis County
Crestview Senior Living
Orchid Terrace
Best Senior Living in Montana -- 1 Caring Star of 2018
Yellowstone County
Best Senior Living in Nebraska -- 1 Caring Star of 2018
Douglas County
Best Senior Living in Nevada -- 4 Caring Stars of 2018
Clark County
Atria Sutton
Sunrise of Henderson
Washoe County
Atria Summit Ridge
Sky Peaks
Best Senior Living in New Jersey -- 8 Caring Stars of 2018
Gloucester County
Juniper Village at Williamstown
Monmouth County
Brandywine Living At Howell
Brandywine Living Reflections at Colts Neck
Sunrise of Lincroft
Morris County
Juniper Village at Chatham
Regency Grande Post-Acute Rehabilitation and Nursing Center
Ocean County
Brandywine Living at The Gables
Somerset County
Best Senior Living in New Mexico -- 2 Caring Stars of 2018
Sandoval County
Fairwinds - Rio Rancho
Harmony Residential Care, Inc
Best Senior Living in New York -- 4 Caring Stars of 2018
Monroe County
Suffolk County
The Bristal Assisted Living at East Northport
Westchester County
The Country House in Westchester
The Fountains at Rivervue
Best Senior Living in North Carolina -- 1 Caring Star of 2018
New Hanover County
Best Senior Living in Ohio -- 6 Caring Stars of 2018
Cuyahoga County
Gardens at Westlake Senior Living
Fairfield County
Reflections Retirement Community
Lorain County
Independence Village of Avon Lake
Montgomery County
Brookdale Miami Township
Spring Hills Singing Woods
Warren County
Best Senior Living in Oklahoma -- 2 Caring Stars of 2018
Jackson County
Tamarack Assisted Living Center
Tulsa County
The Parke Assisted Living
Best Senior Living in Oregon -- 2 Caring Stars of 2018
Lane County
Sheldon Park Assisted Living
Washington County
Best Senior Living in Pennsylvania -- 10 Caring Stars of 2018
Allegheny County
Brookdale Mt. Lebanon
Juniper Village at Forest Hills
Berks County
Chestnut Knoll Personal Care and Memory Care
Carbon County
Heritage Hill Senior Community
Erie County
Lancaster County
Montgomery County
Arbour Square of Harleysville
The Birches at Arbour Square
Northampton County
York County
Country Meadows - Leader Heights (South York)
Best Senior Living in Rhode Island -- 1 Caring Star of 2018
Providence County
The Village at Waterman Lake
Best Senior Living in South Carolina -- 8 Caring Stars of 2018
Anderson County
The Legacy of Anderson Senior Living Community
Berkeley County
Summit Place of Daniel Island
Charleston County
Greenville County
Haywood Estates
Westminster
Horry County
Lexington County
Oconee County
Belvedere Commons of Seneca
Best Senior Living in Tennessee -- 4 Caring Stars of 2018
Hamilton County
Manorhouse Assisted Living
Loudon County
Morning Pointe of Lenoir City
Rutherford County
Creekside at Three Rivers
Shelby County
Town Village Audubon Park
Best Senior Living in Texas -- 20 Caring Stars of 2018
Atascosa County
Argent Court Atascosa County
Bexar County
Seasons Alzheimer's & Assisted Care (Old Tezel Road)
Watercrest at Alamo Ranch
Collin County
DaySpring Assisted Living
Dallas County
Appletree Court Assisted Living
Brookdale Club Hill
Brookdale Grand Prairie
Cambridge Court
Meadowstone Place
El Paso County
Solstice Senior Living at Rio Norte
Fort Bend County
Galveston County
The Cottages at Clear Lake
Village on the Park - Friendswood
Harris County
The Abbey at Westminster Plaza
Tarrant County
Legacy at Bear Creek
Solstice Senior Living at Grapevine
Travis County
Williamson County
Sedro Trail Assisted Living & Memory Care
Tiffin House
Best Senior Living in Utah -- 6 Caring Stars of 2018
Davis County
Salt Lake County
Pacifica Senior Living Millcreek
Utah County
Courtyard at Jamestown Assisted Living
Highland Glen
Osmond Senior Living in Lindon
The Seville
Best Senior Living in Virginia -- 3 Caring Stars of 2018
Arlington County
Chesapeake County
Commonwealth Senior Living at Georgian Manor
Henrico County
Best Senior Living in Washington -- 7 Caring Stars of 2018
Clallam County
Clark County
King County
Pierce County
Merrill Gardens at Tacoma
Peninsula
Solstice Senior Living at Tacoma
Snohomish County
Best Senior Living in Wisconsin -- 3 Caring Stars of 2018
Kenosha County
The Addison of Pleasant Prairie
Milwaukee County
Meadowmere and Mitchell Manor Oak Creek
Racine County
St. Monica's Senior Living