The Hidenwood Assisted Living and Retirement Community
Offers Assisted Living, Independent Living, and Memory Care
50 Wellesley Drive, Newport News, VA 23606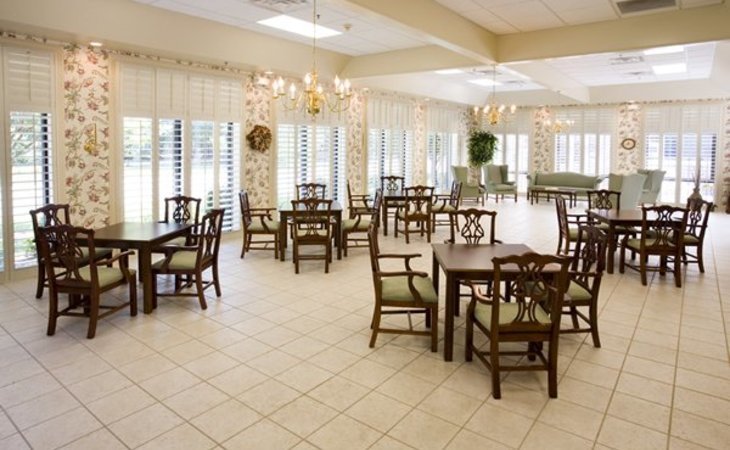 Top Nearby Assisted Living
---
Reviews of The Hidenwood Assisted Living and Retirement Community
Assisted Living Reviews for The Hidenwood Assisted Living and Retirement Community
May 10, 2022
I visited this facility
Everything was great and all questions were answered. Great tour!!!
April 04, 2022
I visited this facility
Zsavonne was incredibly thorough and answered all of our questions, even the ones we didn't think to ask! She was very sensitive to learning about my dad's needs and personality and sharing (where appropriate) past experiences of her own of residents at The Hidenwood that might be relevant to our situation. The tour was very thorough and covered all aspects of the community that we were concerned about. Overall this is a great community and we are glad that the tour experience reflected the good things we had heard about The Hidenwood from others.
February 28, 2022
I visited this facility
The tour was very informative and answered all of our questions. The inside was clean and bright and love that all the things are included. The apartment was a perfect size.
February 08, 2022
I visited this facility
Very knowledgeable. Directed tour toward the specific needs of my parents. Thank you!
December 26, 2021
I visited this facility
Everyone was so nice and friendly on my tour. The reviews were right. I hope my mom does get the "fuzzy wuzzys" coming to The Hidenwood.
October 21, 2021
I visited this facility
The entire community impressed me. Staff is pleasant and friendly. All areas are furnished beautifully to provide a welcoming, homelike area for residents. Individual rooms are well sized and designed for resident comfort. Overall, awesome place for a loved one.
October 20, 2021
I visited this facility
lovely, clean, lots of activities nice apartments
May 31, 2021
I am a friend or relative of a current/past resident
Very friendly staff, nice, caring facility.
March 13, 2021
I visited this facility
Presentation Was great, very detailed, cleanliness, activities offered, Extracurricular activities, staff pleasant, more like a community.
February 24, 2021
I visited this facility
Very thorough with info & tour. Very informative and friendly.
December 30, 2020
I visited this facility
The Hidenwood is a very nice community and there's so much to do! The staff and residents are very friendly. Everyone was very welcoming. The apartments are a good size, even the studios are quite spacious. Pricing is good and they give an honest assessment of care needs.
December 30, 2020
I visited this facility
Very thorough and patient with our loved one. Everything looks very clean and well maintained. We're so glad there was a choice of openings.
March 02, 2020
I am a friend or relative of a current/past resident
I'm happy there are nurses here 24/7. The new memory care unit is very clean and I like that there is a nurses station in the common area. The renovations look great to the building, in general. Everyone is smiling and greets you when you pass in the hall.
February 20, 2020
I visited this facility
Community is very nice & updated. Apartments have full size appliances, walk in tubs and plenty of closets. Ms. Perryman was very knowledgeable and answered all my questions. I hope this will be my mom's new home!
January 30, 2020
I am a friend or relative of a current/past resident
I visited recently and was disappointed. The hallways are so narrow that 2people in wheelchairs cannot pass unless they open a door to go around. Seems quite unsafe especially if there's a fire. It was 10 am and I was there an hour. Not once did I see a nurse , an aide or a medication tech. This is a busy time of day but I saw no staff. Makes me believe they keep staff at a very bare bones level which is NEVER good for the patients. Then when I was leaving a patient was going out to an appt . She had no coat on, just shirt sleeve shirt. A lady called out to get her a coat but the person there (Amanda S.) told her just go outside , her ride was there. She didn't even care that it was 35 degrees out . She was too lazy to go get the lady her coat! So disgusting.
October 07, 2019
I am a friend or relative of a current/past resident
My father is in The Hidenwood, and it's been good. The biggest problem there has been staff turnover, but it's getting better. It's a very nice facility, and they have a lot of activities. The dining is above average. They have a new director who is making some very positive changes. They have assisted living and a memory care unit. They have exercise programs for different levels of activity, music programs on a regular basis, entertainment, outings to restaurants once a week, and art and creative activities.
August 29, 2019
I am a friend or relative of a current/past resident
I would like to thank the Hidenwood staff for the excellent facility that you take care of. My mother was a resident for 2 years. She felt safe and loved by the nurses and the entire staff her final days over the past two years were fun and active and as she said "too much good food". We lost our mom on 7-24-2019 to an aneurysm at the age of 90. She was pampered and spoiled and enjoyed her life at The Hidenwood. The staff was so attentive And friendly. I highly recommend the Hidenwood for your loved ones. We have Peace knowing her last days were filled with joy. So grateful to all of you.
August 15, 2019
I visited this facility
My mother will move into the Hidenwood Assisted living and Retirement Community. She's going to be in assisted living, and I've seen everything there including the memory care section. It seemed nice, some of it has been remodelled and some are in the process of going to be remodelled. It has nice activity rooms, living rooms, dining area, and it has a full menu for 3 meals a day. It has a garden out back with flowers. The staff seemed to be helpful and friendly and I haven't seen anything negative. I think the food is good, it's almost like going to a restaurant, you can order, and they have a section in the menu where if you don't like the menu, you can always get grilled cheese or hotdog.
January 02, 2019
I am a friend or relative of a current/past resident
I am very disappointed in The Hidenwood because my mother (a resident) and I were both accosted by one of the residents there while trying to have lunch on New Year's Day, January 1, 2019. Upon entering the dining room and after selecting our table (before even sitting down), I observed another resident, in a loud voice and rude tone, telling my mother she had to move her walker to the wall. She repeated this statement three times, each time raising her voice louder in a show of apparent power and domination. I intervened and said to the woman, "Excuse me, but you are being very rude." She then yelled at me in an even more uncivil tone, "Who the [expletive] are you?!" I responded, "She is my mother." The resident then brushed past me and placed her walker directly in front of my husband's chair, making it impossible for him to get in or out of our table. I said to her, "You can't put your walker there because my husband won't be able to get in or out of his chair." She again yelled at me, "I put my walker there every day!" At that point, I suggested to my mother that we move to another table on the other side of the room. My mother has told me about this resident harassing her several times in the past, and that the other residents commonly refer to this resident by putting the word "Nasty" in front of her name. I have never been so viciously treated by any adult, and feel this behavior is completely inappropriate, unacceptable, and should not be tolerated. I do not feel like my mother is safe or being cared for in this type of hostile and toxic environment, especially considering how much money we're paying. I filed a written complaint with the Director of Nursing and requested a written response.
December 26, 2018
I am a friend or relative of a current/past resident
Our loved one is a new resident. So far, we are very pleased with the professionalism of the staff but most importantly the kindness and loving care provided to our loved one. The activities offered and dining options are awesome!
December 26, 2018
I am/was a resident of this facility
My wife Lynne, was in a nursing home near Nashville for a year and a half suffering from a tumor at the brain stem. I was in an assisted living facility. I was able to visit her daily. My Son and Daughter and I were with her when she passed. I decided to return to my roots in Virginia. My Son and I flew in to check out facilities. We decided on one, but wanted to check out The Hidenwood where my mother stayed in 2007. I immediately fell in love with it and disregarded the previous selection. The Staff and the Residents won me over. The layout is absolutely beautiful. The apartment I selected is more than adequate. There is a theater (big screen), activities room. The dining room is great. A Chef who is world class. Selections planned ahead on a monthly basis to satisfy any palate. Many substitutions available for lighter fare. Occasionally he will set up in the dining room for special meals you don't want to turn down. I play the piano, so I now play twice a week for the Residents. One day a week in Memory Care and one day a week for Assisted Residents. A new baby grand piano is on order for January, to update facility. An exercise room is available with loads of equipment (treadmill and assorted bikercise units). A full library is available. The nursing staff is great and two doctors are here once a week. I have a large family that lives here locally, so plenty of visitors. And I have an older sister (don't tell her I said older) who is looking to move in here soon. The other Residents are becoming To Be like family. This is Home.
November 29, 2018
I am/was a resident of this facility
I am always very proud to show off The Hidenwood. The landscaping around The Hidenwood is beautiful. The flowers beds and gazebos make the outdoors very inviting. I enjoy playing Jeopardy and going to the coffee socials. It gives me a chance to interact with the other residents.
November 29, 2018
I am/was a resident of this facility
I like living at The Hidenwood because it is close to my daughter and her family. The nursing staff is wonderful. My favorite thing, I love sitting in the courtyard listening to the crows. I enjoy the outdoors. The flowers and landscaping are very pretty outside. it is very peaceful.
October 03, 2018
I am a friend or relative of a current/past resident
Melissa - On behalf of our family, I thank you for all that you do to ensure our mother, Joyce Brittingham, has accurate billing and accounting of finances. It really helps when I need to explain details to my three sisters! Qudsia - Thank you. Thank you. THANK YOU! On behalf of our entire family, I thank you for everything you do to direct the huge staff at The Hidenwood. The immensity of your job is mind-boggling, and you show gracious compassion and respect for everyone, residents, staff and families.
September 21, 2018
I am/was a resident of this facility
There are a lot of different reasons why The Hidenwood is special to me. I don't have to leave the building to enjoy great music programs. Chef Lee always has a variety of food to pick from for every meal. When I cannot decide they give me a sampling of both.
February 08, 2018
I am a friend or relative of a current/past resident
Nice place, I'd live here when I get older.
January 22, 2018
I visited this facility
I really enjoyed my visit here, I would definitely recommend this place.
December 26, 2017
I visited this facility
Beautiful place, very warm and the staff are great.
November 27, 2016
I visited this facility
The Hidenwood Retirement Community feels like home when you walk through the door. Best of all you can tell everyone who works there really cares about helping Residents and Visitors. They work as a team and their passion for caregiving shines through!
November 30, 2014
I am a friend or relative of a resident
The Hidenwood was a more attractive community. The rooms were a little more attractive. The menu and food was better. It had pretty much the same activities as the other facility. It also had nurses on the staff, and it had a nice area outside for people who live there to go and enjoy the outside. They had a little garden. It was very nice, and they have updated everything. They had more of a variety of rooms to choose from. They had two bedrooms, one bedroom deluxe, and also a studio. Aesthetically, I thought it was nicer.
November 14, 2013
I am a friend or relative of resident
My Mother moved into the Hidenwood in September of 2012 at the age of 93. She passed away in her apartment at the Hidenwood in July at age 94. I was her primary care provider and I lived over 400 miles from her former residence. My Mother lived alone in her home as a widow for 15 years. Upon changing her residence to the Hidenwood along with her favorite pieces of furniture and her most cherished personal belongings, she immediately felt "at home" at the Hidenwood. My family and I were able to afford the assisted living care package for her, and although she initially rebelled at the idea of compromised independence, she came to rely on the extra personal attention from the most competent, caring and attentive personal staff my family and I could have ever hoped for. My Mother wasn't crazy about weekends at the Hidenwood because weekends, rightfully so, were more about the residents visiting with family, and since I was so far away, these became lonely times for her. But, during the week, with all the activities and movies and visits with her new friends and of course with the staff, and the busy dining room, I think the quiet weeknds were good for my Mother to finally get some rest! And maybe the best thing about the Hidenwood, at least from my seat, was the level of competence and compassion and professionalism shown by the the professional and managerial team at the Hidenwood. Their team exceeded my expectations, and I had pretty high standards and expectations when it came to my Mother's care. Looking back, my biggest regret was the serious conversation I should have had with my mother years before her life ended and to have encouraged her to consider to move into the Hidenwood much sooner than she did. As the saying goes, "if I knew then what I know now..." A five star rating is easy to offer, and I would highly recommned the Hidenwood as the care provider for your elderly loved ones and in exchange, the Hidenwood will give you comfort and peace of mind to know you did the right thing...at least that's how it worked out for me.
May 14, 2013
I am a friend or relative of a resident
We chose The Hidenwood Assisted Living and Retirement Community for two reasons. The location was convenient to where my brother lived and the cost was just within my mom's income. The initial visit was difficult because my mother was not ready to move in a facility yet. The staff we met was very understanding and she showed us around. We were impressed with the renovations they made. We had lunch and the food was really good. On our second visit, mom was more receptive and everyone made it a point to make her feel welcome. When she finally moved in, my brother said the nursing staff was so nice and they came in to give her medicines. Everyone just seemed accommodating. All the staff even the aids were extremely friendly and made you feel welcome. And they seemed to care for the residents genuinely. She was in a small studio and it handled everything she needed. She was happy with the space. There were a lot of activities like coffee hour every morning, crafts a couple of times a week, bingo, Scrabble, and planned trips weekly for grocery or general shopping. During holidays, they also had special events. My mom seemed happy.
March 26, 2013
I am a friend or relative of resident
Our mother has been a resident here for 3 years and we have been very satisfied with the facility and the level of care she has received. She has made so many friends and is close enough so that we can visit her often. The apartments are clean and well-kept. Maintenance issues are addressed quickly. The nursing assistance is generally good. I haven't eaten there, but she complains about the food served - usually about its preparation, such as being too spicy or over-cooked. But, that has been her only real complaint. The staff have been wonderful to all of us and they go above and beyond to offer her activities, enlist her help with setting up for events and programs, decorating, etc., This has helped make her feel needed and has kept her busy. It's been a good fit for her and we feel good about her being there.
March 20, 2013
I am a friend or relative of a resident
My mother-in-law is at Hidenwood Retirement Facility. I wouldn't recommend this place though because patients just go eat and sit down. They don't have any activities. They have a gym but nobody's manning it. If they give you physical therapy, they charge you extra. Most of the workers are terrible. They don't do what they're supposed to do. A lot of times the place is nasty and crazy.
Provider Response
Ms. Madison, I am sorry to hear that your experiences at our community did not meet your expectations. I would welcome the opportunity at any time to address these experiences with you. Please feel free as always to call us or stop in. 757-930-1075.
May 04, 2012
I visited this facility
The facility was amazing. The landscape was gorgeous, very well kept gardens and clean parking lot. The staff were all friendly and obviously made the attended feel at home. What amazed me the most was the food that is served are actually meals, not like hospital food. The price was steep, but for what you are receiving that is expected.
April 20, 2012
I visited this facility
It's a very nice facility. It was great and close. The proximity was wonderful. Couldn't move mom in here because they didn't have that many levels of care. My mom had dementia. Not really equipped for people with dementia or special needs. People who can feed themselves and toilet themselves would be perfect candidates for Hidenwood.
January 20, 2012
I am a friend or relative of a resident
My great grandmother lived at the Hidenwood. She had a really good relationship with the staff. Her favorite activities were getting her hair done and playing bingo. Before moving in, she was really hesitant to leave her home but he facility made her feel comfortable. She got along with all the residents and even had a "boyfriend" for a short time while living there.While all nursing homes and assisted living facilities have that hospital smell, Hidenwood countered this with a pleasant and well kept grounds. My great grandmother enjoyed the gardens and many species of birds were attracted to the feeders outside her window. The residents were also kept entertained with frequent day trips to areas of interest in Newport News and the surrounding areas.The Hidenwood helped my great grandmother feel comfortable in her final days. While I can't comment on the day to day operations of the staff, I can saw my great grandmother felt comfortable in a vibrant and engaging community.
See all Assisted Living reviews (37)
See fewer reviews
Independent Living Reviews for The Hidenwood Assisted Living and Retirement Community
March 31, 2022
I visited this facility
Cons: small two-bedroom layout; small activity room Pros: good location, dining, RUI options, theater, activity schedule
November 29, 2021
I visited this facility
Ms. Perryman was wonderful and answered every question we had. We toured the community for our mother and feel like it will be a good fit for her.
September 11, 2020
I am a friend or relative of a current/past resident
My sister and I had to do an emergency move of our 89-year-old mother's belongings out of The Hidenwood last week. We went to her apartment on Monday (31 Aug) to clean & downsize (while our mom was staying at my house) because we were planning to move her out on 30 Sep. When we got there, we discovered that the apartment had been flooded. The Hidenwood did not notify us of the flooding, so it was a complete shock to us. However, when we called the maintenance man to come and look at the damages, he said he knew exactly what happened because they had renovated the plumbing in the apartment above our mom the Thursday prior (27 Aug). Our mom's apartment was wet, damp, moldy, and smelly. The carpet was soaked, including inside a main closet. All of her belongings that were touching the floor were soaked and many things had to be thrown out. Her kitchen drawers were full of water and her kitchen sink and counter was full of soot. Several of her precious and prize life-long possessions (including her grandfather's personal things) were ruined, and they were irreplaceable. The maintenance man vacuumed 2 gallons of water out of the carpet while we were working. We spent 7 hours cleaning and packing her things, and my sister's husband made an emergency drive from NC to pick it all up on Friday (7 Sep) so it wouldn't be damaged any further. We asked The Hidenwood for our security deposit back, to cover the damages, but they said no. We asked The Hidenwood for the September rent back, since the apartment was uninhabitable from the flood, but they said no. They simply showed us the contract we had signed as proof that they weren't responsible for any damages, even from a flood they caused themselves. To make matter's worse, we asked The Hidenwood last week if they had checked the apartment below our mother's apartment for similar flooding, and they said they hadn't even thought about it. While moving our mom out, we also discovered that The Hidenwood had charged our mom for 8 baths that the nurses told us she never received. We are still trying to get a refund for 3 of those baths. Our advice to anyone considering The Hidenwood is to have a lawyer review the contract before you sign it, or better yet, find a community that takes better care and responsibility and holds themselves accountable for their client's safety, welfare, and property. Very disappointing, disheartening, and frustrating.
Get Costs
---
Services and Amenities of The Hidenwood Assisted Living and Retirement Community
Dining options
In Room Kitchenette
Room Service For Meals
Features
Beauty Barber Shop
Computer Room
Resident Transportation
Garden And Patio
Resident Parking
General
Resident Capacity:

112

Pets:

All Pets
Get Costs
---
About The Hidenwood Assisted Living and Retirement Community
The Hidenwood Assisted Living and Retirement Community is a senior living provider in Newport News, Virginia that offers residents Assisted Living, Independent Living, and Memory Care. Contact The Hidenwood Assisted Living and Retirement Community for more details on services and rates.
Get Costs
---
Map of The Hidenwood Assisted Living and Retirement Community
---
Senior Living Communities near Newport News City, VA
Senior Living Communities near Newport News, VA
Other Senior Care in Newport News, VA