Gaslight Village Assisted Living & Memory Care
Offers Assisted Living and Memory Care
2625 N. Adrian Highway, Adrian, MI 49221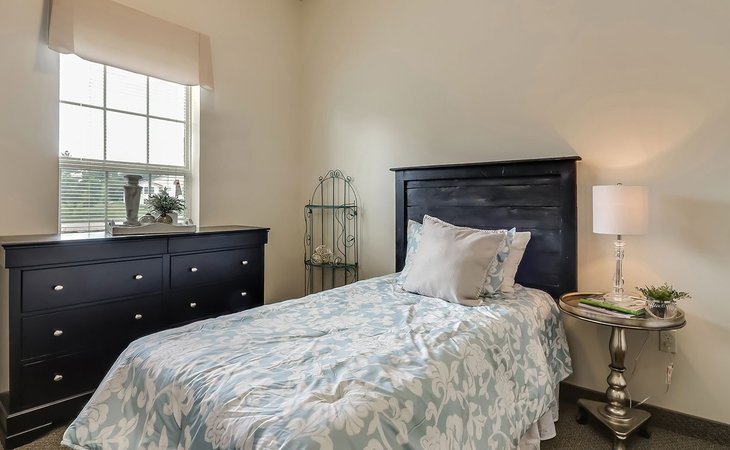 ---
Reviews of Gaslight Village Assisted Living & Memory Care
Assisted Living Reviews for Gaslight Village Assisted Living & Memory Care
February 28, 2022
I am a friend or relative of a current/past resident
Care and attention is always available when needed. I highly recommend Gaslight for Assisted Living and Memory Care.
November 02, 2021
I visited this facility
We're going to move mom into the Gaslight Village Assisted Living. I really liked it. I thought it was a really nice place. I toured the dining room and the activities room. They were doing exercises when we were there. The staff showed me the different rooms that they have. Some of the rooms were larger than others. It was very nice. They showed us all the different activities that they like to do and the courtyard outback, where they plant vegetables in the summer and stuff like that. It was very well done. I was very impressed. I could live there. All the staff was incredibly nice. I feel very good about being able to have my mom get to go there. I think they have a lot of activities. I was totally pleased with Gaslight.
August 10, 2021
I visited this facility
We moved our family member into Gaslight Village at the beginning of the Covid lockdown, so it was difficult. Our family member struggled to adjust to this new lifestyle but was greatly helped by the caring and patient staff. Every one was very responsive to our families questions and concerns as well. It continues to get even better since the lifting of Covid restrictions, we can visit again and more activities are available to the residents. Our family member especially enjoys playing bingo and the musical entertainment . Every one there continues to be very helpful and understanding. The rooms are nice, kept very clean. Bathrooms are large and functional for disabilities. Food is good, both in taste and appearance. We looked at multiple assisted living residences before choosing Gaslight Village. We are pleased with our choice.
August 10, 2021
I am a friend or relative of a current/past resident
The rooms are very clean and spacious. A staff member is always available to answer questions. They have activities on a daily basis. The residents can participate or not depending on there choice. They have a nice courtyard. The lounge and dining area very clean and spacious.
August 10, 2021
I am a friend or relative of a current/past resident
My father has only been a resident for a short time. The staff that I have had contact with have been amazing. They show great compassion for the residents and have answered all my questions and have accommodated dads needs, I personally feel that staff has helped dad settle in with compassion and care . The activities are great and will keep dad the social butterfly that he is. The food looks outstanding and plenty of it ( dad states it's good ) I have been greeted with Warmth every time I've visited.
See all Assisted Living reviews (5)
See fewer reviews
Memory Care Reviews for Gaslight Village Assisted Living & Memory Care
May 06, 2022
I visited this facility
Gaslight Village Assisted Living & Memory Care was very nice. The lady took us in and we did a whole tour. We were actually in the memory care unit, so we were able to see the functions of what was going on with the nurses and the staff. We saw the size of the rooms and they were very clean. The tables were all cleaned off where they had their meals as well as the floors. It's very presentable. They have an activities director and there was a function going on in one of the rooms when we were there and we were able to see it. They also do some functions in the memory care area to help those individuals out too that can do something. Then they provide three meals a day, snacks, juices, and that kind of thing. The staff were all very friendly, very, very concerned, very cordial, and very open about everything. They were willing to make suggestions.
September 02, 2021
I am a friend or relative of a current/past resident
Overall I have been pleased with the quality of care provided for both of my parents at Gaslight. The facility itself is quite impressive, inside and out. When I have had concerns or complaints they have been due to faulty communications within the facility, some of it due to changes in personnel brought on by corporate decisions and some related to pandemic. Administration has always been receptive to hearing my concerns and working together to find corrections to identified problems.
Provider Response
Thank you for your review. We are pleased to hear that you are happy with the community and that your concerns have been quickly addressed. If you would like to further discuss ways in which we can improve our communication, please reach out to the community and ask to speak with the Executive Director. Thanks.
August 30, 2021
I am a friend or relative of a current/past resident
Gaslight Village is a welcoming, homey environment. The "apartments" are available with different floor plans to choose from. All can be decorated, within reason, to have that "at home" feeling. Those who work at Gaslight Village are dedicated, caring, compassionate people. The caregivers work hard to meet the needs of the residents and appreciate input from family. Activities? Most everyday is filled with a special activity in the morning and a second activity in the afternoon, planned and implemented by a very creative activities director. Food? Kudos to those in the kitchen. They prepare meals that are pleasing to the eye, healthy, generous, tasty and impressive. Gaslight Village is a "home, sweet home."
August 30, 2021
I am a friend or relative of a current/past resident
Adrian is located on a very nice country property with plenty of fields, trees and wildlife for the residents to see. The inside of the facility is always clean and neat and smells fresh. I appreciate that. The outside grounds are very well taken care of as well. The employees that I have had the pleasure to interact with are kind and respectful not only to my Dad but to me as well. If I have any questions or concerns, they respond quickly. My Dad is always clean and neat and appears to be well taken care of (I understand that with memory care residents you sometimes need to choose your battles day by day). I live several states away so Gaslight offered to set it up for me to have weekly FaceTime calls with my Dad. That is so valuable to me! Thank you!!!! I'm super impressed that Gaslight goes out of their way to encourage the involvement of the residents in activities. They also bring in outside Show & Tells (so to speak) to make opportunities for them to have other fun experiences. Well done! Overall, I am impressed with Gaslight Adrian and am truly thankful that my Dad is being taken care of there. Thank you.
August 19, 2021
I am a friend or relative of a current/past resident
The rooms are nice & roomy - closets are huge. The grounds are beautiful. The most of the staff seems friendly & helpful - although it doesn't seem to be enough of them to go around. When my mom was in the memory care unit the staff was good - especially liked Dorian who is no longer there. I think it depends on the needs of the residents on how well the staff is...when my mom moved in - it was a more docile/quiet bunch..i hardly heard a complaint from mom. As residents changed there were more "active/rambunctious" residents in the unit and this resulted with problems for my mother. A particular resident would just open her door & go into her room - whether she was there or not - sometimes laying on the bed - going into the bathroom - etc. There was probably just not enough staff to help this situation. Each resident can't have thier own staff member. My aunt & myself were extremely pleased that gwen & sam had a solution to our problem even before we asked to have her moved. She seems to be much more relaxed and happy in the assisted living unit. food - i would rate average - based on mom's opinions - some she likes - some she doesn't. housekeeping - not sure what all of their duties are but we noticed when we moved mom to her new room - everything had layers of dust. activities - i am sure they are fine - my mom is not a joiner and may wander out when she feels like. Her first answer is no Events - nice events/parties although nothing for a while due to covid - it would be nice to see that happen again. overall a great place - i like that the facility is not too large - it seems homey.
Provider Response
Thank you for your review and all of your kind words. We are glad that you like the community and find the staff to be friendly. We are disappointed about the incident with your mom in memory care but are glad to have found a solution that worked. Memory care can be a fluid environment at times, and we always strive to best meet the needs of every resident. We have worked hard to keep our residents both engaged and safe during the pandemic and look forward to returning to all of our regular events as well. Thank you again for your feedback, and if you would like to discuss the details of your review any further, the executive director at the community would be happy to talk.
August 11, 2021
I am a friend or relative of a current/past resident
My mother has been a resident at Gaslight for 5 years. The staff is kind, respectful and competent in there care of the residents. They have seen my mother through her progression of dementia and now physical limitations. The facility is clean and we'll maintained. The activities offered keep the residents entertained and engaged which is priceless.
August 10, 2021
I am a friend or relative of a current/past resident
Facility is clean, residents appear to be treated with respect. The freedom of the court yard is great for an outdoor lover. During the shutdown was nice to see that activities were still going on just reworked to keep distance. They were then shared on Facebook so the ones at home could see how loved one was handling the serious event. The routine of the place seemed to slow the progression of the dementia since it took away the anxiety the resident had trying to fit in on the outside.
August 10, 2021
I am a friend or relative of a current/past resident
What makes Gaslight Village Asst Living & Memory Care in Adrian, MI, so unique, is their quality Care Team members. It's the People! Choosing elder care was not an easy decision, and Gaslight continues to give us peace of mind in knowing that at each new stage of our our journey, our mom is surrounded and cared for by her very talented Gaslight Family. Their enrichment activities, menus, and beautiful living environment are second to none! In addition, their ongoing community approach to creating an interactive Home within the greater community is what makes them a shining star in our hometown. But most importantly, theirs are the arms that hold and tend to our loved one in our absence, and for that there are no words to express how truly blessed and grateful Our Family is for that!
August 10, 2021
I am a friend or relative of a current/past resident
Rooms are very nice and well kept. My father says the food is great. The activities are very engaging and he really enjoys them. Staff is very caring and friendly. They have a church session which he really enjoys. Great place! I know my father is very well taken care of.
See all Memory Care reviews (9)
See fewer reviews
Get Costs
---
Services and Amenities of Gaslight Village Assisted Living & Memory Care
Licenses
State Licenses:

AH460361737
Costs
Assisted Living Starting At:

$4075/month
Memory Care Starting At:

$4650/month
Get Costs
---
About Gaslight Village Assisted Living & Memory Care
At Gaslight Village, a Leisure Living Community in Adrian, MI, residents can relax under the pergola on a warm summer day or keep warm next to the fireplace in the winter. With assisted living and memory care options, our residents experience the joys of everyday life in a continuing care environment – living in the local community that is familiar to them, so they and their families will feel at home. Our community provides each resident with open, comfortable spaces that encourage everyone to fully enjoy each day.
Amenities:
Nutritious meals designed to meet a variety of dietary needs
Multiple floor-plan options
Wheelchair-friendly
Walk-in showers with safety bars
Interior walking areas
Life enrichment activities
Housekeeping and laundry services
Peaceful outdoor spaces
And more
Assisted Living:
Our Assisted Living community provides personalized care in a comfortable, home-like environment. Assisted Living residents stay active and engaged with robust life enrichment programs and maintain as much independence as possible while being supported by around the clock care. Residents are provided with freshly prepared meals and housekeeping services to meet their needs and allow for a worry-free lifestyle.
Memory Care:
Moments Memory Care™ is Michigan's first trademarked Memory Care Program. We focus on providing a safe, comfortable environment for those experiencing memory loss. Our Moments program balances residents' physical and emotional needs with individualized care planning and specially trained care team members.
Get Costs
---
Map of Gaslight Village Assisted Living & Memory Care
---
Senior Living Communities near Lenawee County, MI
Other Senior Care in Adrian, MI