Four Chaplains Nrsg Care Center
Offers Nursing Homes
28349 Joy Road, Westland, MI 48185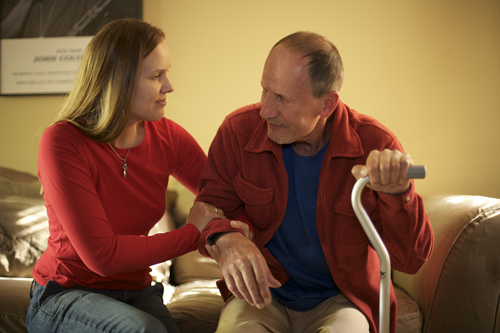 Reviews of Four Chaplains Nrsg Care Center
Nursing Home Reviews for Four Chaplains Nrsg Care Center
May 08, 2021
I am/was a resident of this facility
Went in for physical therapy. No therapists very dirty, bathroom was dirty.
August 20, 2020
I am a friend or relative of a current/past resident
Hello! A family member was recently staying at the Four Chaplains Nursing Care Center for temporary care. My Grandmother received excellent care while there and her room was nice and very clean. The staff were caring and took great care of her and I felt very comfortable with her there. I would highly recommend this place for my family and yours!
August 13, 2020
I am a friend or relative of a current/past resident
My great aunt stayed here for a short time after falling and injuring herself. The facility is clean, the staff was so kind and courteous, they treated my aunt like she was a member of their family, and that was so important to me, to know she was cared about when we weren't present. My family owe a lifetime of gratitude to the staff of this facility. Hopefully we wont need them again but if we do I am more than confidant in saying we will be happy.
April 15, 2020
I am a friend or relative of a current/past resident
THIS HOME IS GOING TO ACCEPT COVID-19 PATIENTS. My mother has been a patient at the home. The staff has been great. Management has decided to accept active Covid-19 patients. The home is not set up to effectively separate the sick from the healthy. This is in complete disregard for the safety of the patients.
August 01, 2019
I am a friend or relative of a current/past resident
The facility itself is ok not the best. My number one complaint is I have never been to a facility where the staff does not greet family/visitors. NEVER! The nurses, most of the aides and administrator is rude they walk right past you and won't say not one word. I've never experienced that at any facility I've visited. God forbid if you ask the nurses in the hall a question! So like I said the facility is ok but could definitely be better..
January 23, 2019
I am a friend or relative of a current/past resident
Had we known of the knowledge deficits of the staff (from the top on down) at this facility to properly manage health conditions of the ill we would not have sent our loved one to Four Chaplains. Also lacking was the willingness to work with the family of the patient.
October 23, 2018
I am a friend or relative of a current/past resident
I couldn't say enough about Four Chaplains Nursing Care Center. It's was where my mother passed away. The staff was very good to us and to her. Even the morning that she passed, they called us at 2:30 in the morning. They were very respectful of her, and our time with her, and they just did a wonderful job. The staff was extraordinary, they absolutely made us feel like we were part of their family. They're very caring and very supportive. They had bingo, they had an ice cream social, and a lot of activities going on for the residents, although my mom couldn't take part in all of that.
January 17, 2017
I am a friend or relative of a current/past resident
Four Chaplains Nursing Care Center was able to care for all of my mother's needs. I was confident in their care and was grateful that the staff was always willing to address concerns and answer any of my questions.
December 20, 2016
I am a friend or relative of a current/past resident
The facilities and the nursing and rehab staff at Four Chaplains Nursing Care are both good. I would feel confident recommending them to friends or family that had a need.
November 22, 2016
I am a friend or relative of a current/past resident
Four Chaplains Nursing Care Center have provided a safe and comfortable environment for recovery for my mother and father on multiple occasions. They have done everything really well and made my parents comfortable.
October 26, 2016
I am a friend or relative of a current/past resident
Four Chaplains Nursing Care provides a comfortable and safe environment for your loved ones. My mother has stayed here twice and its been great. I really like all of the people here.
July 07, 2016
I am a friend or relative of a resident
There are some good things about Four Chaplains Nursing Care Center. They have wonderful physical therapy and occupational therapy there, but the food is awful. You have to wait forever for the care, and they didn't do the prescriptions right. The one thing they did for us which was nice was that they gave us their wheelchair, but I am very unhappy with the rest of the care there. If you go back and forth for physical or occupational therapy, I will give them a high rating. If you have to stay there and endure the horrible meals and the poor care, I wouldn't recommend it.
December 07, 2014
I visited this facility
Four Chaplains was also a nice place. It was an older nursing home, but it has been redone and is very well-kept. The staff was very nice in there as well, and the activities were good. They do a lot of exercising too, as much as the residents can do. I knew people there, so I know my mother will be secure in this facility.
March 29, 2014
I am a friend or relative of a resident
My mother seemed pretty much satisfied with the care at Four Chaplains. They keep bringing me up to date on what they are doing. The care has been a big help. Some of her visitors so far have all been satisfied with it. Plus, I think one of the key things was that it's not that far from where I am, so it's not a long distance. It's a combination. The staff is responsive, plus my wife had worked for some of those assisted living places, so she checks on my mom, and that pretty much takes care of everything. They are clean; they keep it up to par. It's a day-by-day thing, so I'm satisfied. I seem to be happy with that.
October 14, 2011
I am a friend or relative of a resident
I visited my grandmother at Four Chaplains every week over the span of many years. It always appeared to be clean and the staff were usually pleasant. I often saw the staff members, especially nurses, joking and being friendly to the residents there. My grandmother felt like she had a family-like bond with some of the staff. The rooms were quite small - but the residents were allowed to decorate and personalize their own space. There were activities. which the residents were encouraged to attend. Overall it was not an unpleasant experience, considering the circumstances.
October 14, 2011
I visited this facility
When I visit the facility I was training as a CNA. the staff there was okay but I wouldn't say the were super happy or anything. They seem over worked and a few seem to have a bad attitude. As for the residence one sticks in my mind a woman who wasn't so happy, she would tell us that they didn't care about her. She seemed lonely. I felt so bad. As far as the facilities I have seen better. They had a salon and a nice sitting room for the residence which was nice and the halls were semi clear.
July 27, 2011
I am a friend or relative of a resident
The Four Chaplains Nursing Care Center is a small facility located in Westland near the boarders of Redford, Dearborn Heights, Livonia and Garden City Michigan. The center appears to focus on short term care for those in need of rehabilitation and long term care for those with conditions such as Alzheimer's or Dementia. Although the common areas (lobby, courtyard, tv rooms) are aesthetically pleasing, much is left to be desired in the patient rooms which are small, difficult to maneuver with a wheel chair (which everyone is in) and leave much to be desired in the way of privacy (shared restrooms) and storage of belongings. Many services are provided (as stated on the website) http://www.4chaplainsncc.com/services but must be inquired about, pursued and followed up on. As is in most cases those with patient advocates appear to have their needs addressed over those without. Nursing care while focused and attended to is primarily limited to dispensing medication. Follow up care is lacking. Aide to patient ratio seems to be a stretch and busy periods are rushed and stressful for both patient and caregivers. Food is adequate and "mistakes" such as forgetting meal items are not uncommon. Activities are directed toward those without mental and physical limitations. I would recommend this facility with moderate caution. It works best for short term care with a patient who can clearly report and respond to treatment. Those who cannot are unfortunately often on their own.
See all Nursing Home reviews (17)
See fewer reviews
Get Costs
---
Services and Amenities of Four Chaplains Nrsg Care Center
Medicare
Health:
Overall:
Quality:
Staff:
Medicare Provider Number: 235467
Ownership Type:

For Profit Corporation

Date Certified:

10/01/2020
Get Costs
---
About Four Chaplains Nrsg Care Center
Four Chaplains Nrsg Care Center is a senior living provider in Westland, Michigan that offers residents Nursing Homes. Contact Four Chaplains Nrsg Care Center for more details on services and rates.
Get Costs
---
Map of Four Chaplains Nrsg Care Center
---
Senior Living Communities near Wayne County, MI
Other Senior Care in Westland, MI