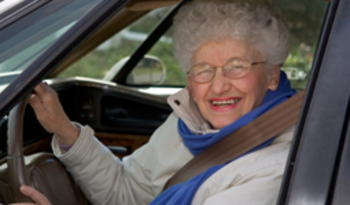 All Rights Reserved
Caregivers say that talking to an older adult about giving up the car keys is one of the most difficult -- and important -- tasks they face, according to a 2008 survey by Caring.com in partnership with the National Safety Council. The full survey results are available for download here (PDF). One fourth of the adult children surveyed would like to see their parents limit their driving; others wish their parents would stop driving altogether. Many caregivers also want to see some type of mandatory testing for drivers over a certain age.
If you're having trouble talking to a parent or older friend or relative about driving safety, you're not alone. People are living -- and driving -- longer than ever before. According to Caring.com expert Elizabeth Dugan, most drivers will outlive their driving ability by about ten years. Accident statistics bear this out: Elderly drivers have more accidents than any other group of drivers except teenagers.
When it comes to raising it with someone they're close to, many people hope to avoid the topic as long as possible. More than a third of adult children surveyed said they'd prefer to talk to their parents about selling their home, or even about their funeral wishes, than about giving up driving.
Preparing to Talk About Driving
Before even broaching the subject, it's a good idea to consider the issue from the older adult's point of view.
You may also want to assess the quality of his driving.
You can give yourself a driving quiz to better understand the risk factors for older drivers.
Once you've assessed the situation, it's time to bring up the discussion, approaching it with a careful plan of attack (so to speak).
To prepare yourself for the conversation -- and to prevent it from becoming a battle of wills -- familiarize yourself with some of the inevitable back-and-forth dialogue that's bound to ensue.
When Driving Laws Can Help
Despite their dread of discussing driving, the survey shows that caregivers' concern runs deep -- and they either want the person to limit his driving or wish he'd stop altogether. Getting backup on the issue from a higher power is iffy, however: Some states require various forms of testing for older drivers, while many don't.
Identify Alternative Transportation Options
Perhaps the greatest challenge facing older drivers and their caregivers is the limited transportation alternatives for older adults. More half of survey respondents said that public transportation wasn't available where their parents lived. A mere one in seven reported that public transportation would meet their parents' needs.
The fact is that for many older adults, giving up the car keys means increasing isolation and dependence. It's no surprise, then, that this is a subject both older drivers and those concerned about them would prefer to avoid as long as they can.
What you can do:
Find out about paratransit options for older adults and how to sign up for them.

Look into other alternatives to driving -- some of them obvious, others not.
About the study: Interviewing for the Mature Drivers Survey was conducted online by Knowledge Networks among a national sample of 1,011 adults who had one or more living parent aged 65 and older who still drove. Interviews were conducted April 15 through April 21, 2008. Members of the Knowledge Networks Internet panel were initially recruited by telephone to join the panel; panelists who were not online were provided with Internet access. The findings reflect a nationally representative sample of the target population.