The 10 Best In-Home Care Services in Allen, TX for 2023
After researching 70+ diverse factors key to seniors' well-being for its 2022 Senior Living report, Caring's investigators determined Allen the 7th best Texan city for older citizens. Factors included an above-average number of primary care physicians and highly regarded medical facilities, such as the PAM Health Rehabilitation Hospital of Allen. The typical cost for home care was a contributing factor, as supported by the 2021 Genworth Cost of Care Survey, which found Allen's seniors pay $4,862 per month, a fee below the national average, although above the norm for Texas. Home care — a non-medical service — shouldn't be confused with home health care, which specializes in medical support within the home.
Below we've compiled a comprehensive directory of every home care provider in the Allen area – complete with services offered and reviews from families who've actually used the service. In addition to our in-depth provider listings, we've compiled resources to help seniors and their families to access all the tools they need to age in place safely and gracefully.
Paying for Home Care in Allen, TX
The Cost of Home Care in Allen
The 2021 Genworth Cost of Care Survey revealed Allen's home care costs of $4,862 to be below the national average of $4,957 but at the higher end of the scale for Texas ($4,576). The city's seniors pay more than in some other nearby cities, such as Sherman ($4,767), Tyler ($4,376) and Waco ($4,668). However, when compared to large metro areas in the state, such as Austin ($5,196), Allen's costs are competitive.
The Cost of Home Care vs. Other Senior Care Options in Allen
Despite home care and home health care agencies offering different services, non-medical and medical, respectively, each averages the same monthly fee of $4,862. Both are often costlier than assisted living facilities, which typically charge $4,195. Adult day health care centers offer the lowest average fees, at $1,517, while nursing homes are the most expensive, typically charging $5,627 for a semiprivate room.
Nursing Home Facility (semiprivate room)
Note: Data for Allen was unavailable, so data for the nearest city, Dallas, was used instead.
Financial Assistance for Home Care in Allen, TX
Given the high cost of in-home care, many people use one or more forms of financial assistance to cover the expenses. Below, we explain some of the most common sources of financial help for paying for in-home care. If none of these options are available to you, you can reach out to your Area Agency on Aging or Aging and Disability Resource Center to learn about local resources.
Free & Low-Cost Home Care Resources in Allen, TX
There are many free and low-cost resources in Allen that can support seniors living in their own homes. This list includes help with home repairs, transportation, tax relief and freshly prepared meals.
Determining Your Loved One's Need for In-Home Care
Aging can be a difficult process, and loved ones may not always ask for help – oftentimes it's up to their family to evaluate their need for help around the house. While no two situations are exactly alike, this checklist can help you and your loved ones determine when it's time to start the search for a home care provider.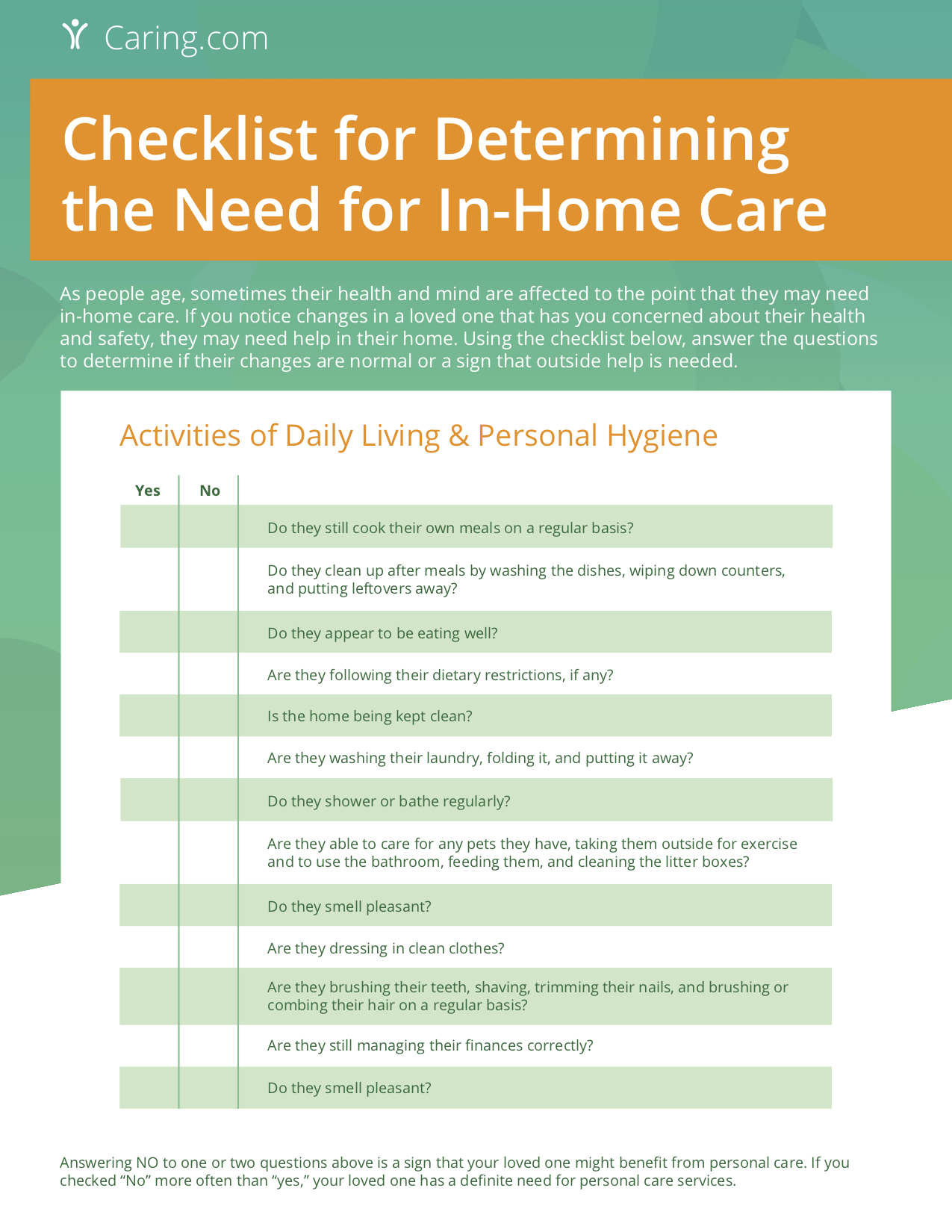 Guidelines for Talking About In-Home Care
If you've determined that your loved one needs the assistance of a care provider in their home, it may be time for a difficult conversation. Handled correctly, however, this process can bring a family together and ensure that everyone's concerns are addressed. Use this PDF as a starting point to help the conversation stay as positive and productive as possible.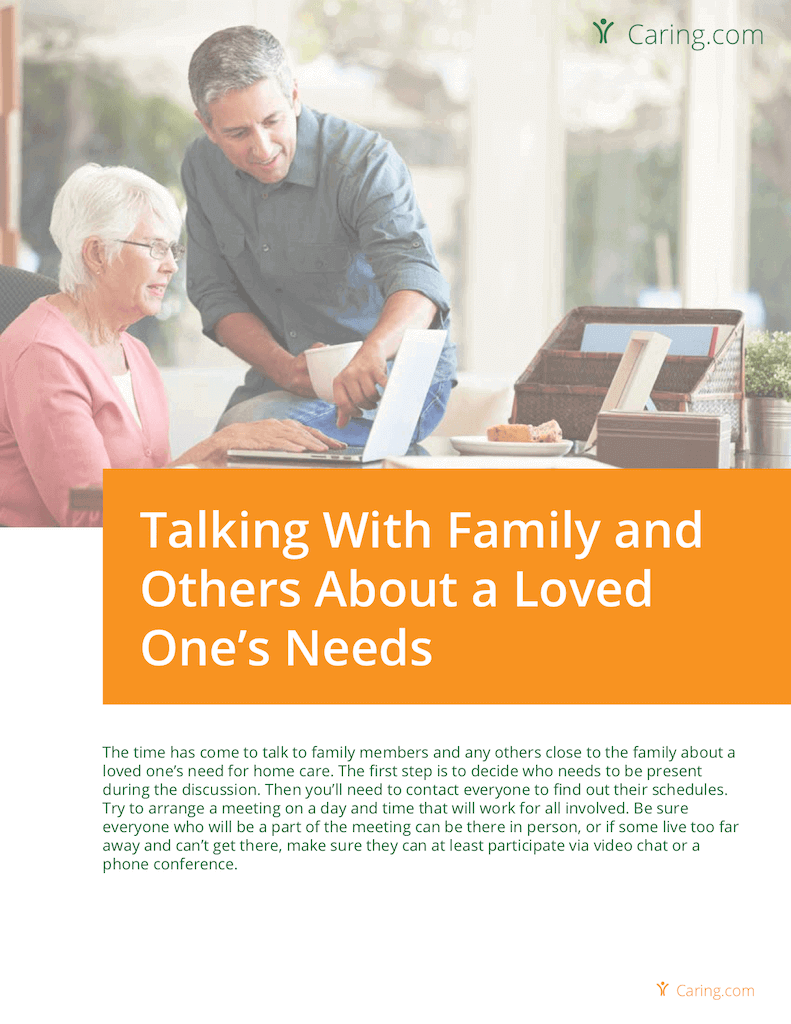 Frequently Asked Questions
What should I look for in a good home care agency in Allen?

First, you should download a copy of the latest Texas Home and Community Support Service Agencies list to ensure the providers you add to your shortlist are licensed to deliver home care services in Allen. Then, you visit the Caring.com page for Allen to read reviews and check the prices of the area's agencies. It's useful to ask around because someone within your circle may have personal experience with an agency you're considering. When you do contact a potential provider, ask lots of questions about their policies and procedures. A good agency will have this information on hand, such as its hiring practices and how it responds to emergencies.
What's the difference between in-home care and home health care?

Although both services assist seniors at home, they address different needs. In-home care is a non-medical service tailored to each client. It may include personal care, such as helping with bathing, as well as general housekeeping, shopping for groceries and companionship. Home care agencies provide a medical service for seniors recovering from hospital stays and those with long-term health care needs that can be addressed at home. Physicians, skilled nurses and therapists typically deliver the care required.
How do you pay for senior care at home?

The most common way to pay for home care is by using savings and income, which often means the senior liquidating some of their assets as well. This method is frequently referred to as private pay. Reverse mortgages are also common, which is when a senior relinquishes equity on their home in exchange for regular payments they use to pay their care provider. Seniors with Medicare may also get help in the short term, depending on their plan, while those with Medicare Advantage can get more help over longer periods. Seniors eligible for Medicaid, known as STAR+PLUS, may be able to receive financial help through its HCBS waiver.
Who is eligible for the veterans' home care program?

The veterans' home care program supports U.S. military vets with complex medical needs that can be dealt with at home. To qualify, the vet must be in receipt of a VA pension. There are several other determining factors, however, so it's prudent to contact Collin County Veteran Services for advice and assistance with your application if you're eligible.
Can you write off in-home elderly care?

Yes, you can. However, it's normally medical services delivered by a paid home care worker that apply, as per IRS Publication 502. That isn't to say some non-medical services can't be written off. For example, a senior assessed by a licensed physician who certifies they have a serious cognitive impairment or cannot perform daily living tasks without help may be able to write off some expenses. If the senior pays for their home care worker's meals. they may also be able to deduct that cost.