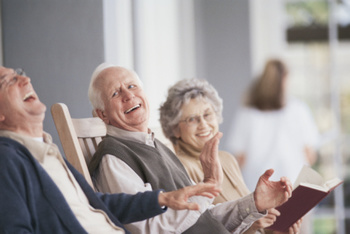 Best Assisted Living of 2016
It's time. Whether it's due to a recent fall, a trip to the emergency room or it's been a slow decline, you're ready to search for a senior living community for your loved one (or maybe for yourself or a dear friend). You may have just a handful to choose from nearby, or there may be dozens in your area. You go online or look at the brochures and you just feel…overwhelmed. How do you find a good one, the right one? What qualities matter the most?
Consumers have a voice when it comes to what you want and need in today's care communities. According to the latest statistics from the Administration on Aging, people over 65 represent 14.1% of the population, and those numbers are on the rise. By 2040, the aging segment of the population is projected to grow to 21.7 %. Today's senior living communities are listening and responding to the growing needs of an aging population.
Family members of those in assisted living or memory care communities have shared what they value in these communities. They want their loved one's needs and concerns promptly addressed. They're looking for a homey atmosphere, pet-friendliness and opportunities for their loved one to to practice their faith. Connections matter, too. Staff members who know everyone's name and bring a smile to work every day make a major difference.
Some communities are nestled in cities with nearby cultural opportunities, others have built their own village atmosphere with luscious grounds, golf courses, fishing ponds and more activities than the local Y. What really matters is that more care communities today are investing in connecting with residents. Staff members at Caring Star communities are applauded for considering their residents a part of their extended family and treat them with the compassion, kindness and care they would want their own loved ones to receive.
Choosing an assisted living or memory care community is a big decision, so it helps to have first-hand information. Finding a home where your loved one (or you) "click" can take some trial and error, but no one wants to go through the hassle and adjustment of moving their loved one from place to place.
What's the alternative? First-hand knowledge from someone who lives at the community, someone who's visited or has a friend or loved one living there. Someone willing to share much-needed insight on what makes a community a Caring Star.
Caring.com's Senior Care Directory includes communities across the country and consumer reviews that can offer the insights you need to make an informed decision. Family members and residents have let us know how the 2016 Caring Stars take it a step further than your average assisted living or memory care community. The reviewers have spoken: these communities are the best. What matters most when it comes to senior living communities today? Here are the top trends in reviews of Caring Star communities for 2016:
1. A small (ish), "homey" atmosphere
Garden homes. Cottages. Ranch-styles. More and more seniors and their family members are considering small(ish)-style senior living arrangements. Why? Because it feels more like home. It's not just about the size of the community or its floor-plan, it's about the atmosphere—from the care staff, to the food and maintenance staff, neighboring residents and visitors. Many communities provide a common area where residents can get to know one another by sharing communal space such as a living room, back porch or garden area.
Every community has its own feel. You sense it when you drive onto the grounds, step into the foyer, sit down for a meal in the dining room, go for a walk or visit a room. It's home -- a place where residents and staff are connected. A place to treasure old memories and make new ones.
"My first thought when my husband and I saw New Day Cottages was that we really could live there. It's small which I really like," says Sherry, a recent visitor of New Day Cottages in Colorado Springs, Colorado. "The place was just very nice. It's clean, open, and bright. I can say that it's very inviting and home-like." She also found that the staff had a lot to do with the feeling of hominess. "I think they truly have a heart for their residents. I have been there when crises come up with a resident. The staff maintain a calm and welcoming attitude."
Smaller communities can help to ease the transition of moving. William, a visitor of Acacia Springs in Las Vegas, Nevada comments, "I visited Acacia Springs, and it's a very clean and welcoming environment. It is small enough that it would not be overwhelming to someone new to that environment."
Providing much-needed support and thoughtful details matter. "They were garden homes…People came and mowed the lawn and shoveled the sidewalks," a relative of a resident at Robin Run in Indianapolis said. "There was a pond out back with ducks and there were two elderly sisters that were living together."
2. Issues dealt with promptly
It's awful to wait, to wonder if your message was received, to worry if your concerns will ever be addressed. Today's top-rated senior living communities know that dealing with issues promptly and professionally is important. Whether it's pain or medication issues, food or minor repair and improvement issues, nothing feels better than knowing you've been heard and that the situation is being addressed. That's why 2016 Caring Stars like Brookdale Chatsworth in Chatsworth, California, get high marks—they're quick to respond. Marilyn shares her mom's experience:
"We asked for a couple of things to be added like an extra bar in the bathroom for the shower, and they have it done on the same day. When we have something that needs to be repaired, the person comes in and fixes it the same day."
Azalea Gardens of Gonzales in Gonzales, Louisiana receives high marks for their thoughtful interactions with their residents, shares one visitor.
"The staff at Azalea working together are hands-on, compassionate and patient care givers. They strive to give each resident personal individual attention to encourage a resident's growth in self-esteem, self-worth to become a part of the assisted living community."
Family members of loved ones with dementia, Alzheimer's and other memory disorders rely on staff to keep them informed. Heritage Green Assisted Living and Memory Care at Lynchburg, Virginia is one community known for impeccable care.
"Staff members encourage participation and the medical team responds efficiently to questions and concerns. The overall cheerfulness and happy feel of the facility is welcoming to Mom and makes her feel proud of her home," one family member shared.
3. Pet-friendliness is preferred

Growing numbers of seniors can't imagine a meaningful life without their pets. A "fur baby" provides a sense of comfort, continuity and security to a senior's (and anyone's) life. As a reflection of this, more and more communities are welcoming residents' furry friends. That's a huge bonus for many seeking a senior living community, shares one family member of Sterling Aventura care community in Sterling, Florida. "What first attracted me to the place was they accepted pets -- dogs specifically -- and my aunt has two dogs."
More and more communities have a pet all the residents and families can enjoy. "They also had a little dog, which really got them 200+ points in my opinion," says Eric, a visitor at Sunrise of Fresno in Fresno, California. What if you find your pet's needs challenging? Some communities today will help out.
"The place is animal-friendly, so if you have a pet or a dog, they will walk them there, which is unusual," says Keith, who has a family member residing at Belmont Village Green Hills in Nashville, Tennessee. Keeping a beloved pet can help ease the transition to a new place, and it's something families mention time and time again.
"Our uncle has a little cat, and we were relieved to see that he could keep her with him. We really liked that each resident is treated as an individual. The care levels are adjusted as necessary -- and the environment seemed caring and warm for all the residents that we saw," shared a niece of a man living at the Cottages at Quail Creek in Amarillo, Texas.
4. Opportunities to Practice Your Faith

Practicing a religious faith is something valued by many, and the communities featured as Caring Stars this year offer ample opportunities to do so with religious services and celebrations. Family and friends are invited to attend, and these special days are something everyone looks forward to.
"There's a chapel, so the opportunity to practice their faith and work within the community is an important factor for them [my parents]," shares a recent visitor of the Brothers of Mercy Sacred Heart Home in Clarence, New York. Being able to practice their faith is something the residents at Heritage Elm Grove of Elm Grove, Wisconsin, appreciate, too.
"They were offering cooking classes and a Catholic service every Friday, which is something that my grandma was very interested in… They have a good relationship with the churches and a couple other organizations right in the community," said one resident's granddaughter, Maureen.
"And one thing which I like a lot is when I went to my church, the one they hold that The Brennity the bus came and dropped people off. It was impressive. In case I could go there, I know I could go to Sunday mass," shares Joyce, a recent visitor of The Brennity at Tradition in Port Saint Lucia, Florida.
5. It's Connection that Counts…Where Everybody Knows Your Name

Isn't it amazing when someone's face lights up at the sight of you? Or you hear your name being called from across the room? Nothing matters more than to be known. When someone really knows you, they're more likely to be able to tell when your color is off, listen to your voice and realize you're struggling with depression, or intuitively know it's time to call a family member or doctor. It's these people-to-people relationships that matter most---the friendly care staff, or maintenance person who knows everybody's names, doles out hugs, breaks out in song, and makes sure little details don't go unnoticed.
Kathy, the Activities Director at Massey Springs in Bowling Green, Kentucky, is among those praised for making sure her residents are spoiled.
"She approaches the residents as if they are her own family. Kathy provides a great variety of activities that meet the specific and unique desires and needs of the residents, understanding that one size does not fit all. She is warm and affectionate with residents, knowing that often older folks are lonely or have outlived many of their friends or close relatives and lost their past active lifestyles," shares Linda.
And oftentimes, that affection is mutual. Many staff members love their job and adore their residents and families. They remember birthdays, dress up for holiday events, and take the time to play a board game or pick out a special outfit for an upcoming event. EPOCH Assisted Living at Brewster Place in Brewster, Massachusetts, is one community that sets the bar for this personal approach.
"My soon to be 88-year-old mother transitioned from her home in the Berkshires to Epoch this past June. I kid her that she now lives in a beautiful palace where many nice people accommodate her every need. She jokingly reminds me when her "crown" requires polishing! The amazing staff know all the residents (and their families) by name," the granddaughter of a current resident shared. "It's not my job" isn't something you're likely to hear at a Caring Star community.
A family member of a resident at one Caring Star community, Sunrise of Blue Bell in Blue Bell, Pennsylvania, applauded one particularly attentive staff member named Elaine. Elaine happened to be in the kitchen one morning when she noticed a resident in need. Caring Stars often get enthusiastic reviews. Why? Families appreciate when the staff goes above and beyond. The care staff of Walden Place in Cortland, New York are praised for their thoughtful care.
"Mom is happy and feels she is home! Thank you…for giving me peace of mind and accepting mom as one of the family. If you are looking for a loving place with fun, laughter stimulation, wonderful care, great food, and sense of family; you will find it all at Walden Place," shares an adult child. Abby and Michelle of Caring Star Abby's Place in Grand Prairie, Texas, are another example of the premium placed on compassionate senior care.
"Abby and Michelle have been consistent, compassionate, professional and very caring in dealing with mom. They understand her needs and ours and have allowed us to establish trust in their work, training and experience. They maintain an open line of communication regarding mom's care and all her needs whether they be physical or emotional," said one adult daughter.
It's a great feeling when you finally find a senior care community that feels like home. There's a reassurance that comes with knowing your loved one is safe and thriving, and knowing what you and your loved one values is the first step in finding a caring community that fits your needs. These are just some of the qualities reviewers have shared that makes a community a Caring Star. Finding a caring home that will be just that—a home—is worth the effort. To peruse the full list of 2016 Caring Stars and find one near you or your loved one(s), click here.