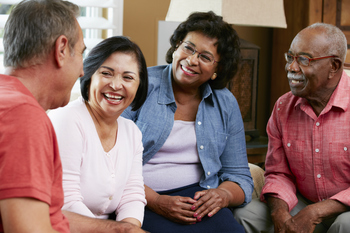 All Rights Reserved
There's no doubt that American perceptions of senior living communities have changed and evolved in significant ways. The stereotype of drab, impersonal nursing homes are fading into the distance as more and more seniors embrace the vibrancy of 21st Century senior living communities. But that change is slow, and a new study suggests demographic disparities may play an important role in how attitudes toward senior living communities continue to progress.
A new Caring.com survey shows that Caucasian Americans are much more likely than African Americans and Hispanics to consider a senior living community for their aging parents. The study, conducted by Princeton Survey Research and Associates International in February, asked 1,002 adults how they felt about placing either themselves or their loved ones in an assisted or independent living community when they get older. According to the survey's findings, 49 percent of Hispanics and 46 percent of African Americans would consider living in one of these communities themselves one day. However, just 37 percent of African Americans and Hispanics said they would consider placing a parent in a senior community compared to 64 percent of Caucasian Americans.
This disparity—along with some interesting generational differences uncovered by the survey—suggests that while American perceptions of senior communities vary, an attitude shift may be underway.
"In some cultures, senior living facilities have been seen as taboo, as in: 'I would never put Mom in a home," says Dayna Steele, Caring.com's Chief Caring Expert and author of Surviving Alzheimer's with Friends, Facebook and a Really Big Glass of Wine. "But most of today's assisted living communities are really nice and nothing like the negative stereotypes of the past. As these places get more diverse, I think that will encourage even more Hispanics and African Americans to move in."
SEE ALSO: Find Assisted Living Near You
The Demographic Divide
When it comes to a lack of diversity in senior communities, the Caring.com survey echoes recent findings from other sources. For instance, in 2010 the CDC reported that 91 percent of assisted living residents were Caucasian, highlighting a perplexing incongruity between ethnicities and cultures.
The reasons behind this divide are varied and nuanced, says Debra Carter, director of the senior services employment program for the National Caucus & Center on Black Aging, a nonprofit that advocates for the inclusion of minority seniors in national assistance programs and policy decisions.
"I think the biggest piece of the puzzle for African Americans and some Hispanics comes down to finances," says Carter. "When I worked for an assisted living facility the entry fee alone was a non-refundable $6,000. That's a lot of money to pay out of pocket, and generally speaking I think you're finding that Caucasian Americans are in a place to be able to afford that when compared to a lot of blacks and Hispanics in this country."
To be sure, economics are an important factor in how people think about the possibility of placing themselves or a parent in an assisted or independent living community, and according to the survey Americans' interest in senior living communities does increase with both income and education.
SEE ALSO: Find Assisted Living Near You
"There's certainly a socio-economic component to what we're seeing here," says Andrea Doherty, a Massachusetts-based senior living expert who works with families to help them determine appropriate living choices for their aging loved ones. "Not only are those with greater financial stability more likely to see senior living communities as an option for their parents, but they're also probably coming from families who have dual incomes and therefore less of an ability to care for aging relatives at home."
Interestingly, when asked for the main reason they wouldn't consider moving to a senior living community, only eight percent said it was because they're too expensive. And that leads Carter to wonder whether there may be a cultural component to the way African Americans think about this topic.
"Whether people want to hear it or not, I think mom's pension or social security may be part of the household income for a lot of African Americans," says Carter. "So the thought might be that they want to hold onto mom for as long as they can because she is contributing to a multi-generational household. This could also inform how they think about their own futures as well and what they can expect as they get older."
Finally, Doherty suggests that the demographic divide in perceptions may be the result of where senior living communities are predominately built in the U.S.
"I think unfortunately these communities are being built mostly in communities where people can support $5,000 a month in rent, as opposed to lower income communities in America's cities," says Doherty.
The Generational Divide
According to the survey, age plays a significant role in how one perceives senior living facilities. For instance, 64 percent of respondents between the ages of 30 and 64 said they would someday consider a senior living community for themselves. However, that number drops to 53 percent for Americans 65 and older.
According to Tim Blattel, CEO of Twin Oaks Senior Living in Missouri, this disparity probably comes from an increasing fear of change as we get older.
"When we're young we don't see change as that significant. So when a 30-year-old considers the possibility of one day moving to a senior living community he basically sees it as just a change of address," says Blattel. "However, when you get older it's more than just a change of address. It's a change in lifestyle, and that can be intimidating."
Differences in generational attitudes may also play a role here, says generational expert Ann Fishman, author of Marketing to the Millennial Woman and a former member of the U.S. Senate Special Committee on Aging.
According to Fishman, Generation X (those between the ages of 35 and 55) are "a very practical demographic" that perceives senior living communities as an obvious and perhaps necessary part of the aging process.
"Right now they're looking ahead and thinking, 'Okay, mom and dad aren't going to leave me anything, which means I'll need to take care of myself as I age.' So they look to senior communities as a way to survive," says Fishman. "They see these communities as a great option for doing what they've always done, which is take care of themselves."
As for Americans over the age of 65, Doherty says many in this age group may still harbor negative stereotypes about senior communities while also aspiring to leave an inheritance to their descendants.
"That generation still holds onto the idea of leaving something behind instead of spending it on a senior living community. What's more, the older you are, the more likely it is that you think opening the door to a senior living community means you're being put in a nursing home, but younger people know that's not the case," says Doherty. "Over time younger and younger generations are seeing the good lifestyle these communities offer, but it hasn't completely caught up to older Americans just yet."
The survey findings support some of these hypotheses. When asked for the main reason they would never consider moving to an assisted or independent living community, only 18 percent of respondents said it was because they "have a bad impression of them." Meanwhile 41 percent said it was because they would prefer to live on their own, and 29 percent said it was because they would prefer to live with a family member.
"The bottom line here is bridging the gap between home and long-term care, no matter who you are," says Blattel. "Why does someone want to stay at home even into old age? Well, because home is where you're most comfortable. So the more we continue to make senior communities feel like home, the less fear Americans will have about making that change in their lives."
_ Note to readers: The number of respondents surveyed who identified themselves as Asian or Pacific Islander was too low to be statistically significant, which is why their responses were not highlighted._
Below, Caring.com's Chief Caring Expert Dayna Steele takes a deeper dive into the issue of millennials' perceptions of senior living, and how parents can talk to their millennial kids about their wishes for senior care.