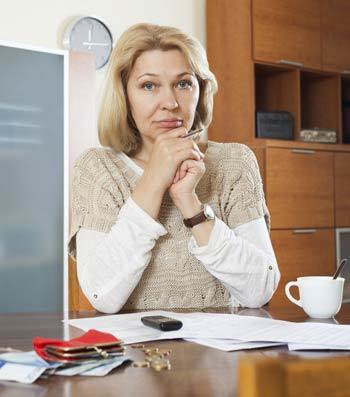 All Rights Reserved
When your aging parent begins to seem frail, muddled, lonely, or less able to take care of herself, one of the main decisions you're going to face is whether to help her "age in place" and continue living in her home with the help of in-home care, or whether it would be a better idea for her to move into a senior care facility.
Aging in place, as senior care experts call it, is the first choice of the majority of older adults, but it may not always be the best, safest, or most cost-effective option. In fact, one of the many surprising discoveries that adult children often make is that as time goes on, in-home care can become as expensive -- or even more expensive -- than residential care in some circumstances. And, of course, cost is not the only factor to consider; there are many good reasons for older adults to remain in their homes, and many good reasons to move.
How Much Care Does Mom Really Need? We Can Help
So how do you evaluate your aging parent's needs and compare the various options available? Here are some insights into the pros, cons, and costs of assisted living as compared with in-home care.
SEE ALSO: Find Assisted Living Near You
Pros of Moving to Assisted Living
Flexibility to adapt to changing needs
Things can change quickly as an older adult's health declines, and many adult children are caught by surprise and find themselves playing catch-up as their parent's needs accelerate. "The very essence of aging is that it's degenerative," says Mary Kay Buysse, executive director of the American Association of Senior Move Managers. "So the way things are now is not how they're going to be. You can buy yourself some time, but eventually big decisions have to be made."
And you don't want to be making these decisions in a hurry, says Maria Basso Lipani, a licensed clinical social worker in New York who runs www.geriatriccaremanagement.com. "For adult children, it's like they are standing on the edge of a pool and they don't know it," says Lipani. "They're about to get shoved in, and they don't have a bathing suit or water shoes or a towel -- they're totally unprepared for what's to come." With the flexibility of multiple levels of care, assisted living offers you a variety of options so your family is not caught unprepared in a crisis.
Availability of expert assessment
"Is Mom really OK?" It's the most common question experts hear from adult children -- and one that's not easy to answer without careful assessment. Unfortunately, family members may have trouble getting an accurate picture of an older adult's true situation, especially if they are primarily seeing their loved one during short social visits. "You have to look for red flags such as not eating well, financial issues, or no longer being able to drive safely, " says Bunni Dybnis, a Los Angeles-based geriatric care manager and spokesperson for the National Association of Professional Geriatric Care Managers.
Compare Senior Living Options Near You
SEE ALSO: Find Assisted Living Near You
Even when you identify causes for concern, it's not easy for adult children to confront their parents about such private matters. "It's a huge change psychologically to try to take control when your parent was always the one taking care of you," says Dybnis. "There can be a great deal of fear about changing the family system." A professional evaluation, on the other hand, looks at how well your loved one is coping with the activities of daily living (ADLs), so you know how much care your parent really needs.
No need for home maintenance
Another thing families often forget to factor in, senior experts say, is the cost of maintaining the home. As people get older, often they can't do even routine household tasks, much less repairs, yard work, or serious cleaning.
Availability of full-time and 24-hour assistance
For many older adults, the riskiest times are in the evenings and at night, when falling danger is higher and someone with Alzheimer's or dementia may experience the behavior issues of sundown syndrome. In some situations, assisted living may be the most practical solution if your loved one needs someone with her overnight.
Access to government assistance benefits
If your loved one is eligible for financial assistance, such as Medicaid or veterans' benefits, moving to assisted living or a skilled nursing facility may offer access to significant financial benefits, some of which aren't available for home care. While some government benefits will pay for in-home care -- and in some cases will even pay a family caregiver to provide that care -- the application and approval process is quite complicated. Many assisted living communities have financial specialists who will help you with the application process -- or even do it for you -- which may result in your family member receiving more benefits.
Cons of Moving to Assisted Living
High cost of personal care
One thing many families don't realize is that most assisted living facilities don't include personal care in their basic fees but treat it as an add-on for an additional cost, says Dybnis. So while the facility's starting bill of $3,000 to $4,000 a month might seem reasonable, those costs can mount quickly as you add hours of care assistance.
Underestimating growing costs
Assisted living communities periodically reassess the needs of residents to determine whether they need more assistance, and as a result they may require a move to a higher, more expensive tier of care. If families aren't prepared for these rising costs, says Lipani, they may find they can no longer afford a living situation that they'd intended to be permanent.
Lack of or high cost for dementia care
Some assisted living facilities offer a dementia care option, but many do not. And in facilities that do provide specialized dementia care, there are typically steep charges.
Problems adjusting to group living
Many seniors want to stay in their homes, pure and simple, says Mary Kay Buysse of the American Association of Senior Move Managers. They are so strongly set against moving to assisted living that adjustment would be difficult. "They just want to be in their own bed, in their own house, and nothing is going to change their minds." In other cases, an older adult may have personality, behavior, or health issues that would make it difficult for them to assimilate to or be accepted into assisted living.
Cost Comparison for Assisted Living
For most adults, the most affordable option is to live independently, as long as they are able to care for themselves or can get by with family help or a few hours a day of paid help. But according to calculations by some senior care experts, once your loved one needs full-time daily care, and especially continuous 24-hour care, the cost comparison between aging in place with an in-home caregiver and moving to an assisted living facility or nursing home becomes more equivalent. This is especially true if you live in an area where in-home care costs are higher, such as in or near a big city or on either of the coasts.
Find Senior Living Near You -> Search Here.
"Depending where your parent lives, the cost for 12 hours per day of a home health aide and the cost of an assisted living facility may be about the same," says Lipani.
In urban areas, home care can easily run you at least $20 an hour, says Lipani, which adds up to $240 for a 12-hour day or $7,200 for a 30-day month. (Many adult children think of care on a 40-hour-a-week basis, forgetting about weekends and evenings, experts say.) Compare that with assisted living, which would cost somewhere between $4,000 and $8,000 a month, depending on the level of care your parent needs.