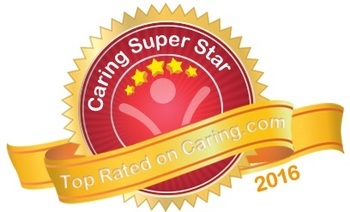 -By Anthony Cirillo, Caring.com guest contributor
Tina Turner's Song "The Best" contains these lyrics: "You're simply the best. Better than all the rest."
As part of our annual Caring Stars program recognizing the best assisted living and memory care communities nationwide, we have a special honor for those who've demonstrated excellence over several years. Known as "Caring Super Stars," this elite group represents the 'best of the best' in senior living, having met the rigorous Caring Stars criteria for three or more years. Considering that the Caring Stars program is five years old, that's quite a feat. While there were 33 Caring Super Stars in 2015, for 2016 nearly 100 made the list! Let's take a look at what makes these Super Stars stand above all the rest in 2016.
1. Online Reviews Are More Significant Than Ever Before
The 2016 list of Caring Super Stars tripled to 97 communities -- that points to both an increase in providers building stellar online reputations year after year and increased engagement among senior living consumers in submitting reviews. And that's good news because people are more likely to buy from a company that has positive online reviews than a company with no review. This is true for prospective assisted living residents and their loved ones too, and the communities looking to serve them are catching on.
Online reviews help communities' listings rise to the top of the search engines -- where family caregivers and older adults find them more easily. A combined 93% of senior care searches say online reviews are trustworthy and helpful for researching local providers, according to Caring.com research. And Caring Stars communities on average receive double the volume of inquiries and two times more move-ins as well -- people want the best care for their loved ones, and these communities earn their business.
The fact that the number of Caring Super Stars tripled this year also shows that communities are embracing transparency and proactively developing strategies to bolster online reviews while contributing to their brand's reputation. More importantly, family caregivers and older adults are turning to those reviews as a trusted source of information.
2. Warm Climates Still Dominate and Cold-Weather Climates Gain Traction
This year's Caring Super Stars were decidedly in warm climates. In fact, Southern California is home to the most Caring Super Stars -- Los Angeles is the number one city on the list. It's not surprising, since warm climates allow for year-round outdoor activities at senior living communities, contributing to a better experience and better reviews.
Meanwhile, more communities located in cold weather climates earned the Caring Super Star distinction this year than last year. Engaging residents in meaningful activity whether rain or shine is perhaps a better indicator of quality.
For example, in a review of Brookdale Gaines Ranch, one visitor noted that the staff "devote more energy and attention towards keeping the 'shut-in' residents entertained by matching them with other residents who might visit and play puzzles, listen to music, offer pet visits, etc."
3. Chains Still Reign Supreme, but Share of Small Businesses on the Rise
Nearly 16% of communities on this year's list are small businesses or single-community care providers. Senior living chains still appear to provide consistent experiences of excellence but more and more consumers are also delivering high praise for smaller service providers too. Marketing sophistication is not limited to chains with big resources. As more providers -- large chains and small businesses -- see the value of reviews, their culture reflects a commitment to making the overall customer experience at their community a top organizational priority. Places like Mustang Creek Estates Residential Assisted Living in Texas, where a family member noted: "What I like most about Mustang Creek Estates is it has six individual homes instead of a large institution. The staff is very friendly, very kind, and very knowledgeable. They are very likable people." Or Solterra Senior Living at Chandler, Arizona, where one family member said: "the staff and the tenants are visible everywhere. It is very friendly, very warm, and family-owned. The owner's grandmother is there, so there is a level of service and caring that I did not see anywhere else."
4. Caring Super Stars Garner Praise from Respected Health Professionals
When health professionals take the time to review a community favorably, the reviews carry more weight. And that was the case with this year's Caring Super Stars. As a family member of residents at Sterling Aventura Assisted Living in Aventura, Florida commented, "Sterling Aventura has a high recommendation from the private CNAs that we hire when my dad comes home from rehabilitation." And here's what a home health professional had to say about Chester Street Residence in Royal Oak, Michigan:
"I am a home care nurse who has been going to this facility since they opened in 2012. As a nurse, I really notice when excellent care is given by staff members. I can tell you from someone who has visited a lot of assisted living facilities; Chester Street is truly among the very BEST. I've been so impressed with the wonderful, loving and personal care each staff members gives to the residents. They have a genuine concern and take a keen interest in their well-being."
5. Personalized, Customer-Centric Responses to Reviews
This year's Caring Super Stars stood out from other communities by taking the time to respond to criticisms with specific answers and actions. Family caregivers, future and current residents respect that transparency and that contributes to even more positive reviews.
Take Spring Hills Lake Mary in Florida where a reviewer expressed displeasure in the price and size of the community, in addition to complimenting the community on other features. Their response: "Dear Pam, Thank you for your positive feedback. We thrive on our reviews to keep up our high standards of care and services. At Spring Hills Senior Communities, we pride ourselves on our teams who are dedicated with a commitment to quality. We strive to exceed expectations with cutting edge technology and innovative programs. We are a leader in the industry and in the communities we serve."
Caring Super Stars don't just respond to negative reviews only -- they also show appreciation for praise as well, such as this response from Oxton Court of Savannah, Georgia: "Dear Dean, Thank you so much for taking the time to write such a nice message. We will definitely share your kind words with the Oxton Court of Savannah team! We are proud of our team for always stepping up and not batting an eye. Thank you for your continued trust in us to care for your mother."
--
Excellence in senior care today means not just providing a safe environment and quality care. It is also about telling your story. And when satisfied residents and their loved ones tell that story for you, you create an army of influencers who spread positive word-of-mouth. After all, the experience of residents and their visitors drives marketing for the organization. Family members, residents, prospects and caregivers have unanimously told the story of assisted living and memory care facilities through consistent, year-over-year, high quality online reviews. The Caring Super Stars continue to thrive and outshine their competitors. And that means families have more high-quality senior care options.
Caring Super Stars of 2016 (listed alphabetically)