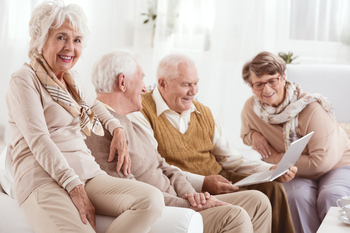 All Rights Reserved
The glow of spending time with your family over the holidays may have been dimmed by concerns about aging relatives. Perhaps your older loved one is living on their own but you recognize that they might need to move soon, or maybe they're already living in a residential facility and you're wondering if that's the best place for them.
"The holidays are a wonderful time of year, but if you have an aging parent, the holidays can also reveal your parents' need for additional care. If the family is concerned, or has that little bit of a 'spidey sense' that something might not be quite right or their parents might need a little support, in my experience, 99 percent of the time, they are right," says Vassar Byrd, CEO of Rose Villa Senior Living in Portland, Oregon.
She recommends taking a deep look at how your aging loved one is doing – think about what is working well for them and where they are struggling. Perhaps their health is good overall, but they are isolated or need a small amount of help with routine medications. Or maybe they have difficulty with mobility or driving but are otherwise socially engaged and mentally sharp –and maintaining their own home is just becoming too burdensome.
"Many people wait until there is a serious safety concern with a parent living independently. Often this means waiting for something bad to happen rather than proactively planning for a parent's well-being," Byrd says. Making decisions about assisted living during a crisis also might not result in the best possible fit for your aging parent.
SEE ALSO: Find Assisted Living Near You
Considering assisted living options can feel like navigating a difficult emotional and logistical minefield, but there are a number of underappreciated things about this living arrangement that are important to keep in mind. Note: It's best to do your own research to ensure that the communities you're considering are a good match for your loved one and that you understand what is included in the cost.
1. Apartment-style living
"The number one benefit to a family or a potential resident that is assisted living at the core is an approach to living in an apartment setting as opposed to having a room or a shared room in a skilled nursing facility," explains Steve Carr, Director of Sales and Business Development at Centers Health Care in New York.
"Apartment living affords an opportunity to personalize their space more, as opposed to a room in a nursing home," he says. "You can have your own furniture, decorations, and personal effects." At the same time, assisted living offers an additional layer of support beyond that of senior living apartments.
2. Community
"It's really a communal form of living. There are daily activities, restaurant- style meals, movies, shows, trips they do to theaters," says Carr. Your aging loved ones in assisted living have the option to spend time alone or on their own interests – or join in planned activities.
SEE ALSO: Find Assisted Living Near You
3. Variety
If the only people your aging loved one sees on a daily basis are you and any other caregivers, assisted living could give you both a needed break. "Many caregivers underestimate the importance of seeing more than one or two people on a regular basis. While caregivers get tired of the older loved ones they care for, the older loved ones are likely also getting sick of you too," says Jennifer L. FitzPatrick, MSW, a gerontological social worker and author of "Cruising Through Caregiving: Reducing The Stress of Caring For Your Loved One." Making it possible for your aging parent to have more people in their daily life is just as much an act of love as devotedly caring for them on your own.
4. Privacy
"Often, older persons worry that they lose independence and privacy by going to assisted living. But the alternatives in the community are frequently much more invasive," says Fitzpatrick, who explains that when aging parents live in community they may be stuck with a set schedule of aides and others coming to their home, even when they're not needed. This can feel a lot more disruptive.
5. Basic medical assistance
"If you need assistance with basic medical needs, in most settings, you can get that," says Carr. This usually means help with some medications. "As medical needs progress, that's usually the tipping point that determines whether assisted living is still appropriate," he adds.
6. Parking
It's not uncommon to see parking spots designated for residents at assisted living. "There's certainly a much higher level of independence than people think, and that includes the ability to drive and do things on your own," says Carr.
7. 24-7 Staffing
Almost all assisted living communities offer round-the-clock support. That's the big difference from a senior apartment complex. "You don't have to worry if there's a snowstorm in Buffalo that your mom or dad is going to have to get to a supermarket. They are going to be taken care of," Carr says. Understanding staffing levels is part of the research your family should do before selecting a facility.
8. Some communities are billable to Medicaid
"There are multiple states where you can qualify for Medicaid funding for assisted living," says Carr. If you need help figuring out the options for getting help paying for assisted living, consider meeting with a financial advisor or social worker who specializes in gerontology for their insights.
Many Ways to Calculate Costs
Carr acknowledges that the expense of assisted living can seem daunting, but he suggests comparing the total cost of assisted living with the distributed costs of having your loved one stay in their home. Once you add up the cost of groceries, transportation,, help with personal care, medical care, cleaning, landscaping or cooking, as well as the hidden cost of lost work hours and benefits for family caregivers who have to work less or quit their jobs , you may find that the overall price is comparable.
And, Carr adds, there are two key elements you can't really put a price on. The first is the improved quality of life that many older adults find, especially if they've been feeling increasingly isolated. The second is the peace of mind that friends and relatives feel knowing that the person they care about is in a place where they have help and support whenever they need it.
If your loved one is already in assisted living, and you worry that they're not getting the full benefit of this kind of residential living, schedule a time to talk to the staff.
"We encourage families to share their parent's interests with the community staff and ask them how they will support the person to continue to explore those interests," says Byrd.
Many assisted living communities will either help connect your loved one with existing programs or develop a new program or activity if they feel there is a demand. But you won't know what is possible or how the staff can meet your loved one's needs until you ask.