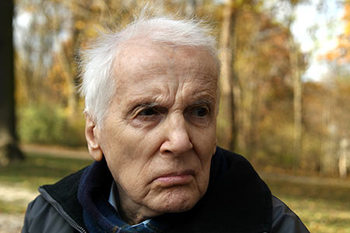 All Rights Reserved
When home care is no longer an option for an older adult, the next choice is often assisted living. How would your loved one adjust there?
"It's almost an impossible question because there are so many variables," says Linda Adler, founder and CEO of Pathfinder Medical, a provider in Palo Alto, California. Health status, the level of assistance needed, finances, and the quality of care at the facility all factor in, as does personality.
Expectations matter, too. Since every family situation is different and conditions are always changing, it's best to go into transitions expecting both the best and the worst, eldercare experts say, and taking what steps you can to ease the way.
Here, 6 types who adjust well in assisted living, and how to make the transition even smoother.
SEE ALSO: Find Assisted Living Near You
Who does better in assisted living?
1. Appreciative realists
Why: Assisted living isn't for everybody. But those who recognize that they've reached a point where they need the added eyes, ears, and strong helping hands of facility tend to make a better adjustment -- especially if they feel grateful for the assistance.
"Some people are relieved to not feel responsible anymore for the logistics of shopping, cooking, and cleaning -- all those things that have become a struggle," says social worker Lisa P. Gwyther, education director of the Joseph and Kathleen Bryan Alzheimer's Disease Research Center at Duke University and coauthor of The Alzheimer's Action Plan.
What helps: Make sure that assisted living is the right fit from a physical perspective. It's a good option for a loved one who needs some help with functional tasks -- dressing, bathing -- but doesn't need constant medical monitoring or care.
2. Extraverts who've become isolated
Why: When you're a homebound older adult, "you're basically incarcerated in your home," says geriatric care manager and eldercare consultant Kay Paggi of Dallas. "A lot of people are very isolated and understimulated at home alone with a single caregiver," adds Gwyther.
SEE ALSO: Find Assisted Living Near You
Providing a high level of support is burdensome and stressful even for loving family members. And paid caregivers can't always provide the level of stimulation needed, especially if they speak a different language or come from a different social class, culture, or educational background, says Paggi.
"People with a basic social tendency tend to thrive in assisted living," says Gwyther. Social butterflies find it easier with so many peers nearby.
What helps: Look for ways to help your loved one get connected socially, within the assisted living community and outside it. Choose a community with activities that will be interesting and engaging, or one that provides access to off-site events and locations -- cultural outings, shopping, hobby groups, church or synagogue, or a senior center.
3. Adaptable types used to life's transitions
Why: Those who've moved easily in the past tend to fare somewhat better moving to assisted living, says Adler. A military wife who lived in many different houses might find this move easier than someone who lived in the family home for 60 years.
Some people just have more resilient approaches to life. Agreeableness was associated with a positive adjustment to assisted living, found University of Florida PhD candidate Wendy L. Mills in a 2010 study of 64 residents (average age: 86). Those who adjusted well reported that they entered assisted living with the intention of "making it work."
What helps: If your loved one's affect changes dramatically when he or she transitions to assisted living -- from sunny to depressed, or from talkative to withdrawn -- look for possible reasons. Pain and poor care can dampen a strong personality. "Even the most well-adjusted person in the world isn't going to do well if the care isn't so great," Adler says.
4. Those with family nearby
Why: One of the truisms of assisted living, Gwyther says, is that residents with families nearby do better and receive better care. Even though many assisted living facilities try to provide stimulating activities for residents, having family buffers against isolation. Families can take their loved ones out for fresh air or a change of scenery, as well as talk about familiar people and places in a way that staff or new acquaintances can't.
What's more, families play a strong advocate role, which triggers better care. Gwyther says families of those in assisted living generally say they do more negotiating on behalf of their loved one about the type of assistance that's provided, deal with staff more, and provide more physical and practical support, such as financial management and shopping, compared to families of those in nursing homes. This is especially true when a loved one has dementia.
What helps: Interact often. Many studies show that family contact is one of the strongest predictors of life satisfaction, in all kinds of housing settings. In a nursing home setting, family involvement is linked to lower mortality, decreased infections, less hospitalization, and earlier hospital discharge, according to a 2005 critical review of the literature in Aging and Mental Health. These findings are thought to be relevant to other settings as well.
5. People who are attracted to amenities
Why: Older adults of modest means -- who may have been living in small houses -- often feel that they're "stepping up," Gwyther says, when they move to a well-appointed assisted living facility. (Her own grandmother so loved the court of tables with umbrellas in her facility's atrium that, combined with the lack of housework there, she believed she'd upgraded to a swanky spa.)
What helps: Pay attention to the amenities that will matter most to your loved one -- and to you. It's common for families to pick the setting where they can best imagine themselves visiting, Gwyther says. Because these families are then more inclined to visit, they tend to be more active advocates.
At the same time, be careful to choose the setting that's most appropriate, regardless of amenities. Well-appointed assisted living facilities often win out over nursing homes or communities with fewer amenities even when they're not the most appropriate choice, Gwyther warns. Before noticing amenities, be sure to find a place that ticks the right boxes concerning quality of care and best fit for your loved one.
6. Those with mild to moderate dementia (in a dementia-care assisted living facility unit)
Why: People with dementia tend to live in the present moment (or the distant past), so they're often not distressed to find themselves with others who are similarly confused. "They may not actively miss family or feel loss if they're lucky enough to be in a healthy, lovely place with good caregivers," Adler says.
It's critical, though, that a loved one with dementia live in a dementia-care unit, Paggi says. In general assisted living, there may not be enough medical supervision to make sure the person takes medications properly, for example.
What helps: Monitor how well your loved one is doing, perhaps with the expertise of an independent eldercare consultant or geriatric care manager, because the best type of placement depends on the individual's experience of the disease. Some people have what experts call "pleasant dementia" -- a more benign version of their former personality "" while others turn aggressive and/or paranoid. A high-needs patient will do best in a facility where the staff is trained in dementia care and the turnover is low.
Who Adjusts Less Well to Assisted Living
Here, 6 types who do less well in assisted living, or who might need extra support if they choose to move there.
1. Generally unhappy personalities
Why: Social scientists call them "neurotics" -- personalities that tend to traits like anxiousness, anger, self-consciousness, or guilt that are, in turn, associated with poorer mental health. The study by Wendy Mills of the University of Florida found that neuroticism was the trait most strongly linked to a poor adjustment to assisted living, which was defined as increased depression, poorer quality of life, and a lower sense of being at home.
If your loved one has a recent history of depression or is at high risk for depression, a move to long-term care could become a negative tipping point, without adequate support and treatment.
What helps: Make sure any older adult with signs of depression is treated appropriately before and during the transition. In an ideal world, Mills says, screening new residents for personality traits like neuroticism at move-in is helpful (though this doesn't always happen). Vulnerable personality types might receive extra staff attention to feel supported and become involved in community activities, she suggests. You can also take the initiative of alerting staff to your loved one's personality state (or depression diagnosis) so that you can explore added supports together.
2. Those who require careful monitoring or face complex medical challenges
Why: A nursing home or similar skilled nursing facility is a better choice for someone who needs continual monitoring (for, say, blood thinners for a heart condition), has complex medical issues, is more than mildly incontinent, or is at a high risk of falls, Duke University's Lisa Gwyther says, because assisted living facilities seldom provide skilled nursing or on-site high-level medical care.
Those who fall or soil themselves might not get immediate help, for example, in a community without close monitoring. Vulnerable people with challenging medical problems "tend to fall a lot and miss meals and are at risk of being closeted away," Pathfinder Medical's Linda Adler says.
Patients who need close medical monitoring are also at higher risk of becoming what Gwyther calls "frequent flyers" -- shuttling often from assisted living to the hospital for skilled nursing treatment. These same treatments could be provided without hospitalization if the patient lived in a nursing home that offered on-site skilled nursing. "Families often have the idea they'll import (into assisted living) home health services or other supplemental care as their loved one needs it," she says. "But in general I tell people that those with complex medical needs will be disappointed. These people need the security of being in constant touch with the doctor."
What helps: Find a different option. High-needs patients who can't live at home require skilled nursing care as provided by a nursing home or continuing care community.
3. Loners who dislike socializing
Why: By definition, group living puts you in contact with many people all day long. You may have a roommate. You'll take meals with others. A rotating cast of aides assists with daily needs. Someone who has never liked hanging out with others is unlikely to change this personality trait overnight.
"If someone was never a member of a book club or is the type who'd rather read a book at dinner, they won't feel as good in a group setting," consultant Kay Paggi says.
What helps: Participation in group activities helps determine positive adjustment to assisted living life, Mills found. An isolated loner risks losing out on this important coping mechanism. To offset this, consider hiring an elder care companion who can spend one-on-one time with a less social type and possibly win his or her trust enough to provide company and social encouragement.
4. Those who don't feel involved in the decision
Why: Those who neither see the need to move to assisted living nor feel involved in the decision face the highest risk of "relocation stress syndrome," a diagnosis first described in nursing circles in the 1990s.
Women in this situation may become "resigned resistors," crying or showing other signs of sadness and hopelessness. Men tend to become "forceful resistors," showing anger and distrust and possibly becoming aggressive or physically or verbally abusive. All these behaviors can be signs of depression. Whether the transition causes the depression or was a preexisting tendency is uncertain, researchers concluded in a 2007 Journal of Psychosocial Nursing report.
What helps: Mills found that the ability to make choices about things like daily schedule helped improve adjustment. So it's possible that someone who wasn't involved in the decision to move could gain some ownership over the transition by being able to control choices about activities, meals, or furnishings once he or she is settled in.
5. Those who don't accept that they're no longer independent
Why: Someone who's in denial about the very need for a move brings challenging emotional freight to the new situation.
"Someone who doesn't accept the premise of not being able to be independent puts up a lot of resistance," Adler says. He or she may actively fight offered help, available social activities, or the conversation or companionship of fellow residents "" an attitude that makes the transition to assisted living especially difficult.
What helps: Look for opportunities to keep some things the way they were. For example, Gwyther says, people who like to visit their regular doctor can continue to do this even after moving into assisted living. (Nursing homes, on the other hand, provide their own medical care.) Other previous activities, such as hair appointments or visits to old friends, might also carry on with the help of a geriatric care manager or elder companion who can skillfully provide subtle help in making arrangements.
6. Those without active family support
Why: Again, blame the truism that many eldercare advocates cite: Hands-on families trigger better care in long-term care facilities. Without someone to be the resident's voice, handle financial matters, represent the person to staff, and provide supplemental physical care, a vulnerable older adult risks getting "lost in the sauce" at a community facility.
Research shows that hands-on family members contribute not only to the personal care of loved ones in residential settings but to the preservation of their identity and overall quality of life as well. Someone without this kind of support because relatives are distant, nonexistent, or uninvolved is at a disadvantage, because they're less likely to have close monitoring and advocacy-level companionship.
What helps: Spend as much time as you can advocating for your loved one's well-being. Visit with your loved one and get to know the staff. If you can't be there in person, regularly call to check in. Another option: Enlist helpers. Geriatric care managers bill themselves as family substitutes; they check in on your loved one and assess what needs are going unmet (including advocacy and social needs) and then work to fill them. If you can't afford a geriatric care manager, the next-best option is to hire an elder care companion to spend time with your loved one for specified hours; they're less expensive because it's unskilled labor. Or you may be able to find a volunteer proxy, such as a church member, to provide regular social relief.