Lakeview ALF Inc.
Offers Assisted Living
3833 SW 33rd Street, Hollywood, FL 33023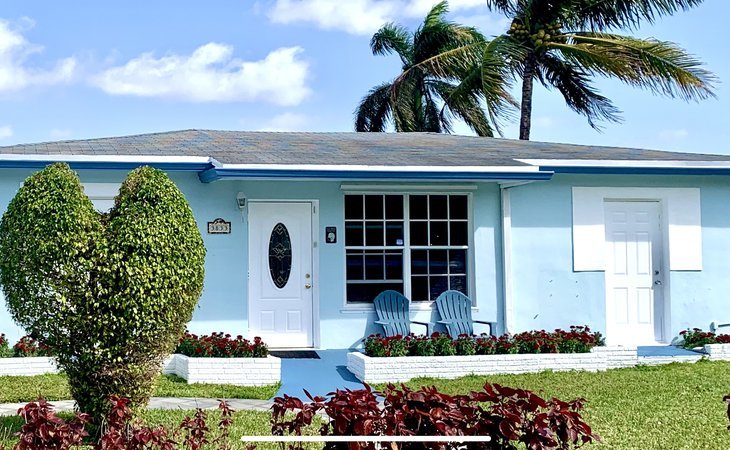 ---
Questions about Lakeview ALF Inc.
Describe the overall population of assisted living residents at Lakeview ALF Inc.. What is their average age? What are their favorite things to do?
The average age of residents here at Barnett Lakeview is 75-100 years old. Here at Lakeview, residents enjoy all sorts of activities such as Bingo, Mahjong, Scrabble, arts & crafts and many more.
What programs or activities does Lakeview ALF Inc. offer to enrich residents' well-being?
Lakeview residents can expect a hair dresser, manicurist, physical therapist, pet therapy and special "get young & healthy" classes.
What places are near Lakeview ALF Inc. or within walking distance for assisted living residents to enjoy?
Barnett Woodland is just about 5 minutes away from Hollywood and the Hollywood Circle, which is also close to Gulfstream!
What transportation services does Lakeview ALF Inc. offer to assisted living residents?
We currently do not offer transportation, however if needed we can arrange it for you.
What makes the chef or dining program at Lakeview ALF Inc. exceptional? What kind of menu can assisted living residents expect?
Here at Lakeview we have 2 different menus and a variation menu on top of that! We offer gluten free options, low sugar meal replacements, and on our variation menu it consists of restaurants to order out from.
What safety features or security measures does Lakeview ALF Inc. offer to assisted living residents?
Here at Barnett Lakeview we are very uptight on security. We have multiple locks/child locks on the doors and windows. Our alarm system alerts the police station that is only 1 mile away from the facility, and we have a brand new sprinkler system throughout the facility with doors in each residents room just incase of a fire. As for covid-19 precautions, we have been on lockdown, and have residents and all staff remain in masks through out the day with regular temperature checks and covid tests. We are also initiating covid vaccinations for residents at no cost.
How does Lakeview ALF Inc. keep residents' families informed about their loved ones?
Here at Lakeview we have "Fam Time", and what that means is that for at least and hour out of the day whenever the resident is up to it, they can facetime a loved one or use the computer to zoom call them. And of course for the resident families that live close by they can always come to the ALF within our hours of business to greet their family and hang out for a while.
What is the care staff-to-resident ratio at Lakeview ALF Inc. during daytime and nighttime hours?
We always have at least 1 nurse that is on duty 24/7. We also have aides that come in throughout the day to take care of specific residents. Here at Lakeview we specialize in 1 on 1 care, if a resident is in need staff will always be close by for any need. As for the nighttime we have baby monitors and cameras setup throughout the house that our nurses have access to. In other words, we are always there for you.
If Lakeview ALF Inc. accepts dogs or cats, what indoor/outdoor areas can they enjoy?
Here at Lakeview we do accept small dogs and cats. In face tthe ALF owner Scott Barnett, along with his two sons Shane, and Sawyer also have 3 dogs, and a cat they bring to visit the residents at least once a week.
What ongoing senior care training does the staff receive?
- ASSISTANCE WITH SELF-ADMINISTERED MEDICATION AND MEDICATION MANAGEMENT TRAINING - NUTRITION AND FOOD SERVICE TRAINING - A MINIMUM OF 6-HOURS OF SPECIALIZED TRAINING IN WORKING WITH INDIVIDUALS WITH MENTAL HEALTH DIAGNOSES - DO NOT RESUSCITATE ORDERS TRAINING - 1-HOUR IN-SERVICE TRAINING IN INFECTION CONTROL, INCLUDING UNIVERSAL PRECAUTIONS, AND FACILITY SANITATION PROCEDURES -MUST COMPLETE A ONETIME EDUCATION COURSE ON HIV AND AIDS
What safety features or security measures does Lakeview ALF Inc. provide to protect residents who wander?
Here at Lakeview we use baby monitors, and cameras along side bedrails and child locks to prevent wandering residents from going about. We conduct elopement drills on a regular basis, and are confident our staff team can handle any situation.
---
Services and Amenities of Lakeview ALF Inc.
Room and housing options
1-bedroom apartments
Companion Suites:

We Offer Companion Suites
General
Resident Capacity:

6

Minimum Age:

65

Pets:

No Pets Allowed
Costs
Assisted Living Starting At:

$3500/month
Get Costs
---
About Lakeview ALF Inc.
Nesteled between Lake Margaret and Lake Helen, Lakeview Assisted Living is a family owned and operated facility in the Space Coast region of Central Florida. Our 45 acre community boasts individualized senior care, homemade meals, weekly excursions, swimming pool, laundry service, housekeeping, and private or shared rooms, all while keeping our gated community safe with hurricane-proof rooms, generator, and two Certified Nursing Assistants. We are known for making the senior living experience enjoyable and stress-free. Our residents can enjoy amenities such as luxury style pool and hot tub, library, boating, gardening, fitness room, or any of our many daily acivities arranged by the event director. While taking advantage of these services, a registered dietician creates menu's specifically catered to your loved one's needs. By providing assitance with bill paying, banking, medication, and transportation, community members have more time to e njoy walking trails, sun deck, balcony, and so much more!
What Makes Us Special
Lakeview Assisted Living provides unparrelled independent living while making the wellbeing of our residents our number one priority.
Get Costs
---
Senior Living Communities near Broward County, FL
Senior Living Communities near Hollywood, FL
Other Senior Care in Hollywood, FL