Home Care in Brooklyn, NY
According to Caring's 2022 Senior Living Report, Brooklyn ranks 14th out of 302 cities rated nationwide and the best in New York State. Brooklyn appeals to seniors who value its dense, urban feel, wealth of restaurants, coffee shops, parks and diverse population. The average monthly fee for home care in Brooklyn is $5,529, which is more affordable than home health care as the latter provides light medical services in addition to personal care. The quality of medical care in Brooklyn is very high due to the multitude of high-respected facilities in the area, such as NYU Langone Hospital and Mount Sinai Brooklyn.
Below we've compiled a comprehensive directory of every home care provider in the Brooklyn area – complete with services offered and reviews from families who've actually used the service. In addition to our in-depth provider listings, we've compiled resources to help seniors and their families to access all the tools they need to age in place safely and gracefully.
Paying for Home Care in Brooklyn, NY
The Cost of Home Care in Brooklyn
The results of the 2021 Genworth Cost of Care Survey reveal that Brooklyn's seniors typically pay an additional $190 per month for home care compared to the state average of $5,339, and $572 when set against the national median of $4,957. However, Brooklyn isn't New York's costliest location, as many cities upstate are less affordable, such as Ithaca, at $6,101. Closer to Brooklyn, Kingston's seniors typically pay $5,148 for home care, while in Poughkeepsie, costs rise to $5,339, although they're still more affordable than Brooklyn's.
The Cost of Home Care vs. Other Senior Care Options in Brooklyn
In Brooklyn, home care costs an average of $5,529, while home health care, which focuses on medical care, typically costs an additional $200 per month. Adult daycare centers are more affordable, at $1,950, while assisted living facilities are in the same ballpark as home care agencies, at $5,750. The costliest type of senior care is within nursing homes, which typically charge $12,471 per month for a semiprivate room.
Nursing Home Facility (semiprivate room)
Note: Data for Brooklyn was unavailable, so data for the nearest city, New York City, was used instead.
Financial Assistance for Home Care in Brooklyn, NY
Given the high cost of in-home care, many people use one or more forms of financial assistance to cover the expenses. Below, we explain some of the most common sources of financial help for paying for in-home care. If none of these options are available to you, you can reach out to your Area Agency on Aging or Aging and Disability Resource Center to learn about local resources.
Free & Low-Cost Home Care Resources in Brooklyn, NY
Although living at home is normally the preference of most seniors, it can sometimes present challenges. Fortunately, there are many agencies and organizations that make aging in place affordable, comfortable and safe for Brooklyn's older citizens.
Determining Your Loved One's Need for In-Home Care
Aging can be a difficult process, and loved ones may not always ask for help – oftentimes it's up to their family to evaluate their need for help around the house. While no two situations are exactly alike, this checklist can help you and your loved ones determine when it's time to start the search for a home care provider.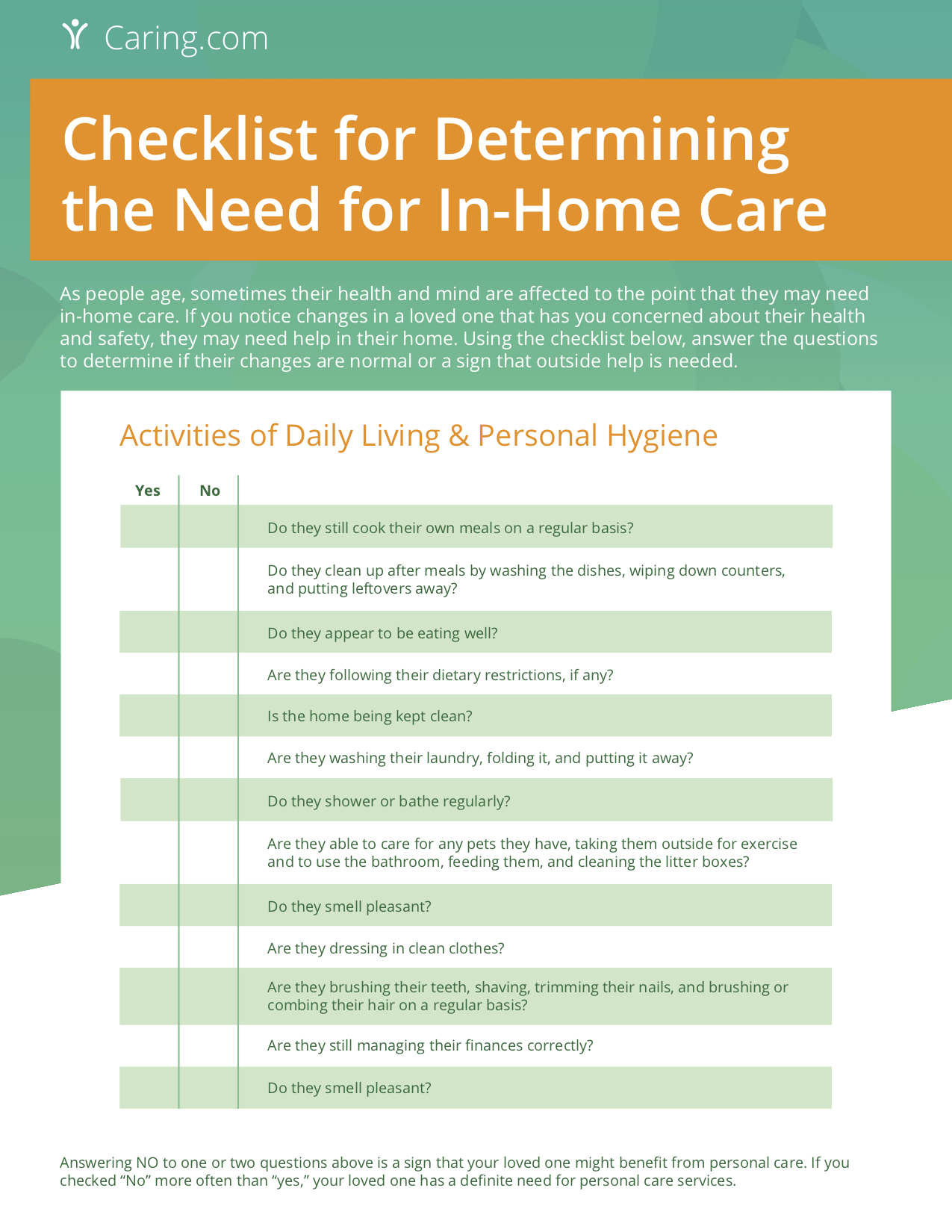 Guidelines for Talking About In-Home Care
If you've determined that your loved one needs the assistance of a care provider in their home, it may be time for a difficult conversation. Handled correctly, however, this process can bring a family together and ensure that everyone's concerns are addressed. Use this PDF as a starting point to help the conversation stay as positive and productive as possible.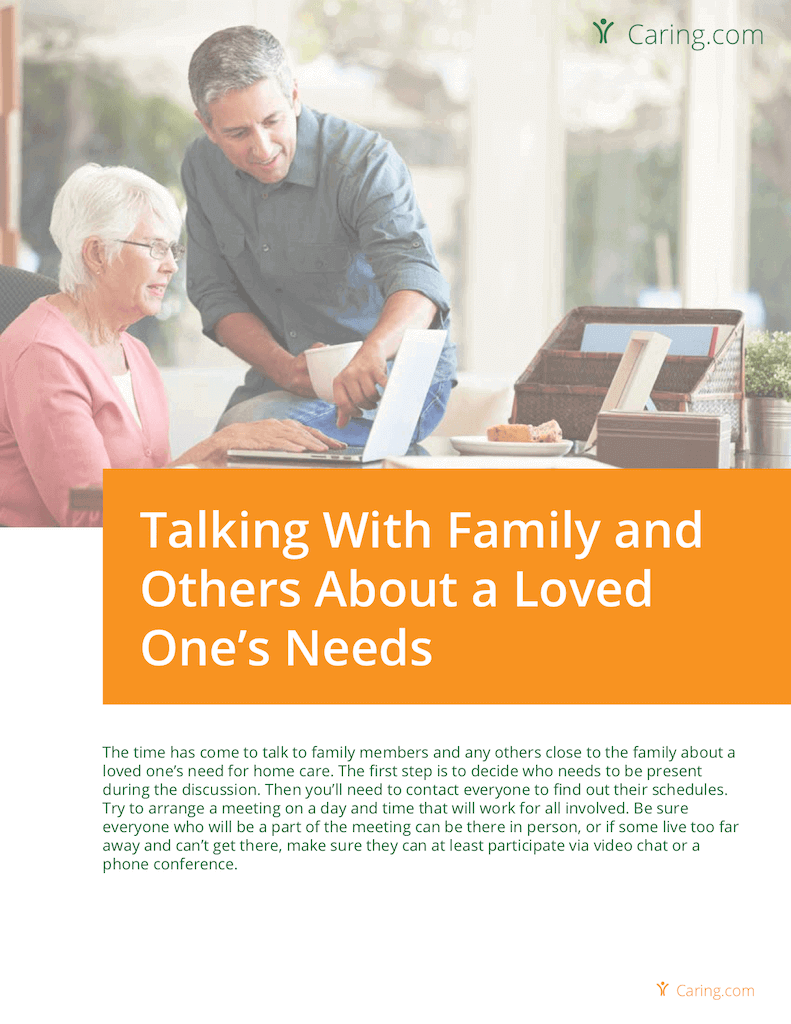 Frequently Asked Questions
What types of services can a home care agency in Brooklyn provide?

Home care agencies tailor their services to individual needs. They may include personal care, such as assistance with bathing, as well as collecting groceries or simply providing companionship. Some seniors require a 24-hour live-in caregiver, while others may only require someone to do light housekeeping and prepare their meals. 
What should I look for in a good home care agency near me in Brooklyn?

The first step should be to determine what care assistance you need and then concentrate on agencies that offer those services. If possible, get help from someone you trust as they can be your second set of eyes. When reviewing an agency, consider its credentials and pay close attention to its mission statement and review its recruitment and staff training policies. Question the agency's procedures, such as how it manages care plans and how it responds in emergency situations.
How many home care agencies are there near Brooklyn?

There are almost 90 home care agencies serving seniors in Brooklyn. Although there will be differences between them, all should offer the fundamentals, such as personal care, shopping and errands, light housekeeping, companionship and meal preparation. It's prudent to check the reviews of each on Caring.com and read reviews by their clients. Some reviews may refer to one-off concerns, so it's advisable to look for patterns: do several reviewers praise or complain about the staff?; is the agency flexible, or does it stick rigidly to the contract?
What are non-medical home care services?

Non-medical home care service focuses on helping seniors who struggle with everyday tasks, such as getting in and out of bed, bathing and hairstyling. Non-medical home care services may also include light housekeeping, collecting shopping, running errands and preparing meals in the senior's home. At the most basic level, the service providers companionship to combat feelings of loneliness. 
What is in-home respite care?

In-home respite care is a term used to describe temporarily replacing the primary caregiver. It gives the person some time away from their duties to catch up on personal needs they may have neglected or simply to provide them with relaxation time. Temporary caregivers take on all duties for a set period of time, which may be a couple of weeks or only one day. The 'in-home' description defines the place where care is delivered as some respite services temporarily relocate seniors to facilities specializing in senior care.