Serenity Manor Canton, MI
Offers Assisted Living and Memory Care
48410 Gyde Road, Canton, MI 48187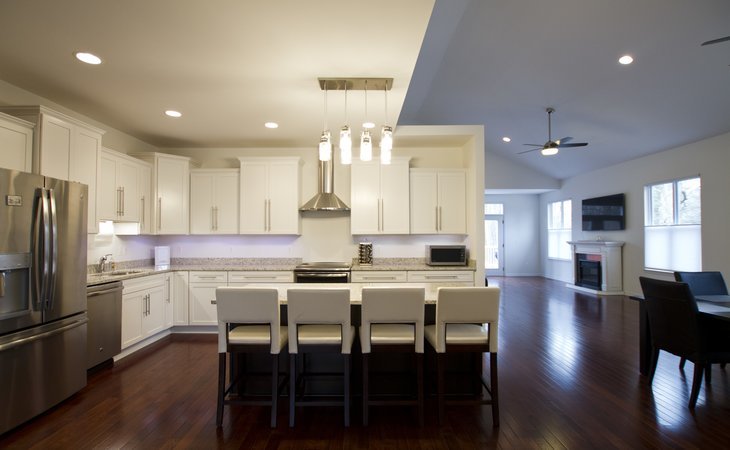 ---
Questions about Serenity Manor
Describe the overall population of assisted living residents at Serenity Manor. What is their average age? What are their favorite things to do?
Our resident population is composed of both male and female seniors, age ranging between 68 to 100 with varying degrees of physical and memory challenges. Their favorite activities are the classes that we offer to keep them physically and mentally fit. They look forward to our home cooked meals. They enjoy our large windows, the outdoor wild life, and their daily interactions with our family members. Weather permitting they also very much enjoy our large deck facing the forest.
What programs or activities does Serenity Manor offer to enrich residents' well-being?
Serenity Manor offers classes that challenge and entertain our residents to keep them from becoming physically or mentally isolated. Regardless if they are in the wheel chairs or not, the physical exercises focus on preventing muscle atrophy and memory loss. We also offer live music entertainment. We celebrate birthdays, holidays, and we have a very famous Christmas Party every year.
What makes the chef or dining program at Serenity Manor exceptional? What kind of menu can assisted living residents expect?
Serenity Manor's chef is spectacular because she cooks all meals in the home daily. The menu is designed and focused on being fresh, nutritious, and adjusted to our resident's various needs. This is a concierge service that no other place offers. Due to the numerous medications seniors take, our food is soft, easy to swallow, yet presentable and delicious. Fresh salads, fresh fruit, and varying soups, home-baked goods are included in the daily menu. We respect all diets including diabetic, hypertensive, vegan, and more. We also physically feed those who can no longer eat on their own.
What safety features or security measures does Serenity Manor offer to assisted living residents?
As our website implies, we are here 24 hours a day, seven days a week. We have the highest ratio of well trained employees per resident in Michigan. We have three employees per six residents. This means that our residents are NEVER left unattended. Serenity Manor has two sets of alarms. One alarm is for the doors when they open and it is hooked up to the entire home system. The other alarm is wireless and hooked up when a resident is in bed. This second alarm is mainly used at night or if someone is taking a nap. There are also wheel chair alarms and bed alarms in case someone tries to get up without notifying the staff.
How does Serenity Manor keep residents' families informed about their loved ones?
The home health agency or hospice nurses along withe the owners provide weekly reports regarding the well being of their parents. We do this through direct phone conversations, text messages, e-mails and regular mail as needed.
What is the care staff-to-resident ratio at Serenity Manor during daytime and nighttime hours?
As mentioned above our ratio of staff to resident is the highest compared to all sorrowing facilities. There are three employees on the premises during the "waking hours" meaning from 8:00am to 8:00pm. There is also one employee awake all night. The owners reside in the home upstairs. This means that if something happens, the owner is notified by the night worker via text and the problems are quickly attended to. This helps because should an evacuation be needed, there are a lot more hands on deck, on site.
What ongoing senior care training does the staff receive?
Everyone here is a Certified Nurse Assistant plus CPR certified. We also make sure that their yearly certification is reviewed. We conduct daily morning huddles to update the staff on any changes that occurred during the night with our residents. We also have regular staff meetings to review or update the initial training processes set in place. This is done to ensure a smooth continuum of care for our residents.
How many staffers are on duty in the daytime and overnight?
There are three staff on during waking hours meaning 8:00am to 8:00pm. One staff member is up all night, plus the owners reside on site as well.
What safety features or security measures does Serenity Manor provide to protect residents who wander?
We provide monitoring and observation of the residents by our staff.
What programs or activities does Serenity Manor offer to keep residents engaged? How does the staff engage residents' long-term memories?
Our activities are based on challenging the resident's minds. There are a high number of games that we play with them some are simple, and some are more complex depending on the group at the time. Some like to do puzzles, some Sudoku, some enjoy Bingo and so on.
Who assesses residents' health and cognitive functioning? How often is that assessment repeated?
We have a house physician that visits the residents monthly. She responds very quickly via text message when an emergency occurs. She even answers at 3:00am if summoned. We also have a high number of nurses who constantly visit and reassess the residents.
What techniques does Serenity Manor use to support memory care residents during mealtimes?
All our meals are served in our dining room at a very large table. All residents eat all meals here. We stay engaged with the residents during meal times by prompting and encouraging them to eat on their own as much as possible because the more they do, the better it is for them. As they decline severely and can no longer feed themselves, we do it for them with lots of coaching and tons of patients.
How does Serenity Manor keep residents' families informed about their loved ones' health?
As mentioned earlier, yes we keep the loved ones very informed about the progress or decline of their loved ones. Depending on what the family prefers, we inform the families by calling them directly, or text message, or e-mail .
Describe the neighborhood around Serenity Manor. Is it located in a residential neighborhood, a business district, a rural setting, or other type of locale?
Serenity Manor is located in a residential neighborhood, that feels like the country in the city. We are surrounded by a beautiful forest and lots of wild life. Our neighbors raise chickens, ducks and geese and rooster crows are more than welcomed here. It is very quiet and peaceful.
Is Serenity Manor affiliated with a hospital if more care is needed?
Serenity Manor is located centrally within just a few miles of a few major hospitals and 1/2 a mile away from the closest ER. We are located very close to Ascension Health's Providence Park Hospital, St. Mary's Hospital, University of Michigan Hospital, and St. Joseph's Hospital.
---
Services and Amenities of Serenity Manor
Costs
All Inclusive Rent
Assisted Living Starting At:

$5000/month

Memory Care Starting At:

$6000/month
Room and housing options
Companion Suites:

We Do Not Offer Companion Suites

Housing Extra:

2 Private Bedrooms, 2 Semi Private Bedrooms
General
Resident Capacity:

6

Minimum Age:

55

Pets:

No Pets Allowed
Licenses
State Licenses:

AS820391212
Get Costs
---
About Serenity Manor
We offer the highest quality senior care in Michigan! We achieve this high-quality care through two means: One we are very small, we only house six residents at a time. Second, we have the highest ratio of workers per resident which enables us to observe and resolve our resident's complex issues in a detailed and timely manner.
What Makes Us Special
We deliver our high-quality care in a loving, family-style atmosphere with dignity and respect towards our residents. Your loved ones literally become our family because they get to enjoy the same faces every day.  24 hour-7 days a week continuous supervision, nutritious home-cooked meals, fun activities, classes, doctors, nurses, various therapists, and more services are provided right here in the home.  We take over the care so you can enjoy a stress-free life knowing that your loved one is well cared for.
Get Costs
---
Senior Living Communities near Wayne County, MI
Other Senior Care in Canton, MI