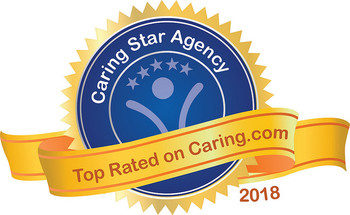 All Rights Reserved
As the population of elderly Americans grows, more and more families are considering home care for their aging loved ones. In-home caregivers can provide much-needed companionship, housekeeping and help with personal hygiene that allow older adults to stay independent and age safely in their home.
Oftentimes, families turn to home care agencies to find those reliable caregivers whom they can trust to invite to their home. These agencies do the crucial work of ensuring that caregivers have the right training, screening and supervision to assist elderly adults.
But with thousands of home care agencies in the U.S., it can be hard to know which ones to choose. That's why Caring.com has once again compiled our annual list of the best home care agencies in America, based on nearly 25,000 consumer reviews for home care agencies.
This year, we're excited to highlight more than 253 agencies in 34 states that have earned top marks from seniors and families who've used their services. To qualify for the recognition, agencies must have 10 or more consumer reviews on Caring.com and an overall average rating of 4.5 out of 5 stars, among other criteria. Families working with these agencies can have peace of mind knowing that their loved ones are in good hands.
SEE ALSO: Find In-Home Care Help Near You
Best Home Care Agencies By State
Click the state links below to see which home care agencies earned the Caring Stars distinction in your state this year.
| 1. Alabama 2. Arizona 3. California 4. Colorado 5. Connecticut 6. Florida 7. Georgia 8. Illinois 9. Indiana 10. Kansas 11. Kentucky 12. Louisiana | 1. Maine 2. Maryland 3. Massachusetts 4. Michigan 5. Minnesota 6. Missouri 7. Nebraska 8. Nevada 9. New Hampshire 10. New Jersey 11. New York 12. North Carolina | 1. Ohio 2. Oklahoma 3. Oregon 4. Pennsylvania 5. South Carolina 6. Tennessee 7. Texas 8. Utah 9. Virginia 10. Washington 11. Wisconsin |
Looking for top senior living communities? See our list of senior living community winners.
---
Best Home Care in Alabama -- 7 Caring Stars of 2018
Best Home Care in Arizona -- 9 Caring Stars of 2018
Best Home Care in California -- 28 Caring Stars of 2018
Best Home Care in Colorado -- 6 Caring Stars of 2018
Best Home Care in Connecticut -- 2 Caring Stars of 2018
Best Home Care in Florida -- 26 Caring Stars of 2018
Best Home Care in Georgia -- 4 Caring Stars of 2018
Best Home Care in Illinois -- 19 Caring Stars of 2018
Best Home Care in Indiana -- 6 Caring Stars of 2018
Best Home Care in Kansas -- 2 Caring Stars of 2018
Best Home Care in Kentucky -- 3 Caring Stars of 2018
Best Home Care in Louisiana -- 1 Caring Star of 2018
Best Home Care in Maine -- 1 Caring Star of 2018
Best Home Care in Maryland -- 8 Caring Stars of 2018
Best Home Care in Massachusetts -- 6 Caring Stars of 2018
Best Home Care in Michigan -- 7 Caring Stars of 2018
Best Home Care in Minnesota -- 1 Caring Star of 2018
Best Home Care in Missouri -- 8 Caring Stars of 2018
Best Home Care in Nebraska -- 1 Caring Star of 2018
Best Home Care in Nevada -- 5 Caring Stars of 2018
Best Home Care in New Hampshire -- 1 Caring Star of 2018
Best Home Care in New Jersey -- 11 Caring Stars of 2018
Best Home Care in New York -- 9 Caring Stars of 2018
Best Home Care in North Carolina -- 9 Caring Stars of 2018
Best Home Care in Ohio -- 11 Caring Stars of 2018
Best Home Care in Oklahoma -- 1 Caring Star of 2018
Best Home Care in Oregon -- 8 Caring Stars of 2018
Best Home Care in Pennsylvania -- 12 Caring Stars of 2018
Best Home Care in South Carolina -- 4 Caring Stars of 2018
Best Home Care in Tennessee -- 5 Caring Stars of 2018
Best Home Care in Texas -- 18 Caring Stars of 2018
Best Home Care in Utah -- 1 Caring Star of 2018
Best Home Care in Virginia -- 6 Caring Stars of 2018
Best Home Care in Washington -- 3 Caring Stars of 2018
Best Home Care in Wisconsin -- 7 Caring Stars of 2018
Best Home Care in Massachusetts -- 6 Caring Stars of 2018
Best Home Care in Michigan -- 7 Caring Stars of 2018
Best Home Care in Minnesota -- 1 Caring Star of 2018
Best Home Care in Missouri -- 8 Caring Stars of 2018
Best Home Care in Nebraska -- 1 Caring Star of 2018
Best Home Care in Nevada -- 5 Caring Stars of 2018
Best Home Care in New Hampshire -- 1 Caring Star of 2018
Best Home Care in New Jersey -- 11 Caring Stars of 2018
Best Home Care in New York -- 9 Caring Stars of 2018
Best Home Care in North Carolina -- 9 Caring Stars of 2018
Best Home Care in Ohio -- 11 Caring Stars of 2018
Best Home Care in Oklahoma -- 1 Caring Star of 2018
Best Home Care in Oregon -- 8 Caring Stars of 2018
Best Home Care in Pennsylvania -- 12 Caring Stars of 2018
Best Home Care in South Carolina -- 4 Caring Stars of 2018
Best Home Care in Tennessee -- 5 Caring Stars of 2018
Best Home Care in Texas -- 18 Caring Stars of 2018
Best Home Care in Utah -- 1 Caring Star of 2018
Best Home Care in Virginia -- 6 Caring Stars of 2018
Best Home Care in Washington -- 3 Caring Stars of 2018
Best Home Care in Wisconsin -- 7 Caring Stars of 2018