Willowbend Nursing and Rehabilitation Center
Offers Nursing Homes
2231 HIGHWAY 80 E, Mesquite, TX 75150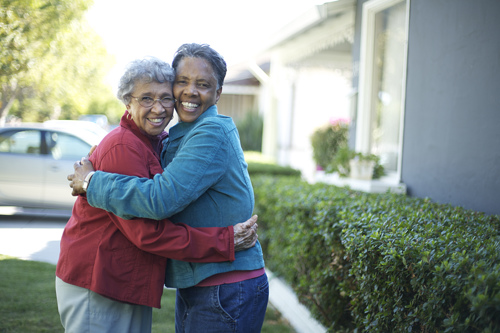 ---
Reviews of Willowbend Nursing and Rehabilitation Center
Nursing Home Reviews for Willowbend Nursing and Rehabilitation Center
July 30, 2019
I visited this facility
Excellent staff and care!!
March 11, 2019
I am a friend or relative of a current/past resident
My Aunt was recently in Willow Bend. We found the facility to be very clean and the odors were contained to only those who had incontinent episodes. The rooms were nice and had all the amenities she needed. My Aunt needed a great deal of care and the nurses and aides did a good job of seeing to her needs. Staff were friendly, but Moses on the day shift was simply wonderful...he was always very compassionate in trying to make sure she was comfortable. Therapy did a great job in trying to get her back to her back to walking again. Food was ok, but let's face it, nothing is like home cooking. I appreciate that the any questions or concerns were promptly addressed and they were able to discharge my Aunt home with home health. I would take someone there if they needed rehab or nursing.
March 21, 2018
I am a friend or relative of a current/past resident
BEWARE! DO NOT TAKE YOUR FAMILY MEMBER HERE! Strong urine small and puddles in the hallway, staff does not assist residents to restroom and my mother was not given a walker or wheelchair, someone left a rubber glove used as a turnikit on my mother's arm from 6am-1:45pm and a CNA told me "that's just what we do, it happens all of the time". The doctor was not scheduled to evaluate my mother within the regulated 72 hour time frame. I promptly demanded my mother be transferred out and she was. Rooms are old and dirty. PT Staff was very nice and helpful.
February 05, 2018
I am/was a resident of this facility
There are worse nursing homes and [I hope] there are better ones than Willow Bend. I am a stroke patient who is wheelchair-bound,and needs help getting in and out of bed, so I may require more assistance than the average patient. That almost certainly affected my experiences at Willow Bend. To my perception, there are a few stand-out aides and nurses, but otherwise most do pretty much the minimum. It is absolutely essential that a resident have an able-bodied, intelligent friend or family member to check on him/her regularly - daily is ideal. Don't expect for the patient to see a doctor often, either. I think you can request a visit from a doctor, though. IF the patient has a good "advocate" who's willing and able to visit him/her often, Willow Bend might be a decent choice. Otherwise, I'd check out other options.
January 07, 2018
I am a friend or relative of a current/past resident
WILLOW BEND IN MESQUITE, TEXAS HAS THE MOST RUDE STAFF AND NURSES! PLACE IS UNSANTIZIED AND BUGS CRAWLING EVERYWHERE! PATIENTS ARE USING BROKEN WHEELCHAIRS AND EQUIPMENT WHICH UNSAFE FOR PATIENTS HEALING FROM INJURIES! MEDS ARE NOT BEING PROPERLY GIVEN OUT TO THE PATIENTS THEIR DOCTORS HAVE PRESCRIPBED AND THE ONES THEY ALREADY TAKE DAILY! FOOD IS AWFUL! PLEASE MAKE PROFESSIONAL CHANGES FOR THE HEALTH OF PATIENTS IN THE HEALTH CARE OF WILLOW BEND!
December 18, 2017
I am a friend or relative of a current/past resident
My mother-in-law was in Willowbend Nursing and Rehab for two months. It was terrible. She was frightened, and I spent several nights there with her. The staff was incredibly uninformed. They ran out of her medication Thursday, but I found out on Monday that they hadn't been giving it to her because they haven't gotten their order yet. We would bring her food because the dining area was dirty, and she was on a special diet, but her food never came out correct. I cannot overemphasize what a difficult time we had there. For two months, there were maybe three staff people she was comfortable with. They need to look at their entire procedure.
February 16, 2017
I am a friend or relative of a current/past resident
I wouldn't leave a rat in this place. My mom was sent to Willow Bend from the hospital on 2/14/2017 to recover from a broken hip. They put her in the nursing home area, and when she arrived they didn't even acknowledge her. The EMTs put her in a bed, and after they left my brother and I were told she was in the wrong room and had to move. We waited and waited and finally I went to the nurses desk to see what was going on, the nurse just held up her hands and said "I'm sick, I'm going home" then started coughing all over me. We reluctantly left her there for the night. After I got home I received a call from my mother, she was crying and said the so called "aide" left her on the toilet and didn't come back. She cried out for help but no one came. She had to make her way back to bed alone and hurt herself in the process. I immediately went back there and had the staff call an ambulance. My mom had surgery just a couple of days before this and they didn't even bother to look at her paper work to see what she was there for. She went back to the hospital and the next day a liaison from Willow Bend came by her room to apologize for her treatment. It made my mom feel better but to me it seemed she was just making excuses. I feel very sorry for the people that are there.
July 06, 2015
I visited this facility
I was able to visit Willow Bend, and it was a very nice place. The staff was very accommodating, but my mother did not qualify. It's a beautiful place, and it's where I would like for her to be.
May 29, 2015
I am a friend or relative of a resident
My mom is in Willowbend Nursing and Rehabilation Center. The care of the staff and the rooms are great at the rehabilitation center, but the nursing home center leaves much to be desired. The rooms are of OK size. If I want to compare it to one of the smaller rooms, I would have to say it sits right in the middle, but it is still not as big as the one in the other place I visited. I hardly talk to the staff. They are not very needy of them. I do see one lady sometimes a lot more than I see others, but they can't tell me a whole lot about my mother. The food appears to be very good. She is eating, and I think that is probably a good sign. They do have quite a few activities. The reason I'm moving my mom is because it is crowded. I think they have less staff for the number of patients they have. Also, the smell is somewhat bad. The overall atmosphere is OK. For some people I guess it is fine, but for me it is Ok. I did talk to the manager, and he was able to help me resolve a couple of problems, so that is really good.
September 30, 2014
I am a friend or relative of a resident
My husband was at Willowbend Nursing and Rehab. He has a room and it is very nice. The residents all seemed very happy and the staff was very nice. The food was good. They have something going on all the time. They have Bible class, services, games, and they just have different things you can go to. They have a board up there with the list of activities going on all the time.
May 20, 2014
I am a friend or relative of a resident
My mother-in-law is in long-term care right now at the Willowbend Nursing facility. The facility is very nice and very clean. There is no odor. The rooms are fine. She initially shared a semi-private room. She is on a pureed food diet. The staff has been fine and is really nice to work with. They are very understanding and very sympathetic. She is at peace at this facility.
May 19, 2011
Friend or relative of resident
Willow Bend was a ridiculous daycare center for adults. My grandfather went there to be rehabilitated after a fall and ended up going back into the hospital due to their neglect. His wounds and bandages were poorly kept and not treated. He developed skin necrosis, which the nurses failed to identify and kept hiding it under bandages. If a family member had not recognized it, the necrosis would have advanced and my grandfather would have lost his leg. Other than the neglect of obvious symptoms, the nursing staff was rude and failed to change diapers without being asked to. My grandfather was scared to stay overnight by himself because he knew he would not be attended to. My grandfathers stay in this facility proved to leave him in worse condition and add stress to an already stressful situation.
See all Nursing Home reviews (12)
See fewer reviews
Get Costs
---
Services and Amenities of Willowbend Nursing and Rehabilitation Center
Medicare
Health:
Overall:
Quality:
Staff:
Medicare Provider Number: 675272
Ownership Type:

Government Hospital District

Date Certified:

10/01/2020
Get Costs
---
About Willowbend Nursing and Rehabilitation Center
Willowbend Nursing and Rehabilitation Center is a senior living provider in Mesquite, Texas that offers residents Nursing Homes. Contact Willowbend Nursing and Rehabilitation Center for more details on services and rates.
Get Costs
---
Map of Willowbend Nursing and Rehabilitation Center
---
Senior Living Communities near Dallas County, TX
Other Senior Care in Mesquite, TX