Burcham Hills
Offers Assisted Living, Independent Living, Nursing Homes, and Memory Care
2700 Burcham Dr., East Lansing, MI 48823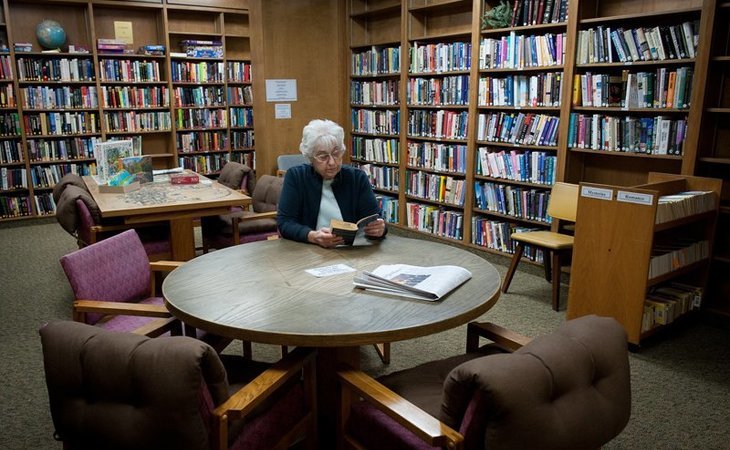 ---
Reviews of Burcham Hills
Assisted Living Reviews for Burcham Hills
June 02, 2021
I am a friend or relative of a current/past resident
The staff was very professional & informative in regards to the care & progress of my father.
April 27, 2021
I am/was a resident of this facility
BURCHAM HILLS: The BEST of all the rest!  If you want to continue to live an active and happy life, BURCHAM HILLS is the place to be!  A well trained and understanding staff provide support for your emotional and physical needs, individually, or in a group setting (such as an exercise class, or a book review).  My husband and I moved here 8 years ago.  He has since passed away, and I continue to enjoy my life here by participating in many of the activities and programs provided.  We are '2nd generation Burcham-ites' as both our mothers lived out their lives here.  To me, BURCHAM HILLS is the BEST and ONLY PLACE  to be!
June 23, 2020
I am a friend or relative of a current/past resident
My Grandfather was at Burcham in the 1980s and 1990's. My Grandmother was at Burcham in the early 2000's and lived until she was 104! Now my father has been living at Burcham Hills for a year and a half. The staff have all been friendly and very helpful. Although my father chooses not to participate in any activities I know there are many options to keep residents busy. He has a lovely room that housekeeping staff keep very clean. The meals are excellent and my father raves about the food all the time. We appreciate the care he gets there for various medical needs. I also have to mention the how Burcham has handled Covid 19 and keeping residents as safe as they can. We have been so thankful we have my father in a place that we trust and has a standard for their facility, that they continually strive for excellence and live up to.
May 15, 2020
I am a friend or relative of a current/past resident
As anyone knows, the past 2 months during the pandemic have been terrible. Burcham has been extraordinary in communicating with residents and families regarding policies and procedures taken to protect residents and staff. They provide a safe and enriched environment for residents who otherwise might feel isolated during quarantine. Kudos to those amazing staff!
April 24, 2020
I am a friend or relative of a current/past resident
We have had so many positives from our experience with Burcham. My mother is a current resident and we have been so impressed by the quality of care, the facilities, the activities, the food, that it is the first place that my husband and I have discussed the potential of it being a good place for us in our later years. The staff is incredible, attentive to the needs of the residents, and treating them like they are valued, important, and vital. They are great at communicating what's happening, even before Covid-19 times. I am so very grateful for their quality of care, their dedication to the safety and physical and emotional well-being of the residents. Being able to be a part of this community has been a game changer for my mom. She feels valued and heard, she knows she is safe, and she cherishes the friendships she's developed, many of whom are staff. The facilities are again, high quality, a trait that I have come to experience as synonymous with Burcham. They invest in their own community and it shows. This is not to say there isn't room for improvement at Burcham. There have been a few times that I haven't gotten the information I need or communication hasn't happened in the way I desired. But I will say those areas of improvement or experiences pale in comparison to the standards we've become accustomed to at Burcham - high quality of care is the norm and not the exception. I am so very grateful for this community!
April 06, 2020
Other
As a dietetic intern, I had the opportunity to work with the hospitality staff for my food service rotation. Right off the bat, I was thoroughly impressed with how the staff held each other and their residents in a high regard. From my personal experience, I felt a strong sense of unity throughout the Burcham community especially within Hospitality team. Even when the team faced challenging situations, everyone displayed exceptional teamwork and supported one another. My favorite phrase that echoed throughout the time of my rotation (not only with the hospitality team but with everyone at Burcham) was, "What can I do for you today?". In my opinion, this spoke to their professionalism and caring manner when taking care of the residents. Not only did they prioritize residents but they also strove for employee satisfaction. The staff's hard work did not go unrecognized. I often experienced this with my preceptor, the Hospitality Director, who consistently listened to every resident and employee, acknowledged each of their concerns, and was open to answering questions. The skills I learned during my time here included teamwork, project management, how to work with other departments, and customer satisfaction. Not only did my rotation teach me the skills needed for my internship, but it also rewarded me with a valuable experience working in such an uplifting environment.
June 15, 2019
I am/was a resident of this facility
This was my first time in rehab, after a week in the hospital. The staff went out of thier way to make me feel comfortable and welcome. The rooms were kept very clean and the food was excellent.
August 10, 2018
I visited this facility
I really liked Burcham Hills. It's beautiful, very clean, homey, and friendly. The staff during the tour was very personalized, very kind, considerate, and thorough. The dining area was very nice and more like restaurant style. It had very nice windows, and you can look out and see the gardens. They have a computer room, workout room, salon, and a lot of day activities.
Provider Response
We appreciate your positive review about your recent experience with us! We look forward to your next visit! Take care!
August 17, 2017
I am a friend or relative of a current/past resident
My Mother was a resident at Burcham Hills for over 5 years until her passing March 2017. As I visited her almost every single day during those years, I can attest to the fact that she was very happy, received extremely good care from all staff, loved the food and thoroughly enjoyed the friendships she established. She loved the tremendous variety of recreation in which she participated at every opportunity; both within Burcham and on various trips to local establishments and events. Throughout her time there she participated in the FIT program which helped strengthened her muscles to keep her on her feet. She also took advantage of Burcham driving her to doctor and dentist appointments at no charge. All along, but especially during our mother's last couple weeks of life, the Burcham Community (management and staff) as a whole were unbelievably supportive of not only my mother but our family. There is so very many special things to say about Burcham as a place where anyone would want their parent to reside. Our mother mostly lived in the Resident Center - Assisted LIving but also was in memory care and in Burcham's rehab center several times over the years. In all cases, I found management - including the Executive DIrector, all Administrators, Clinical Nursing Directors, and all department heads, ,to be very responsive and extremely approachable -- and they listened with heart. My sister and I have been so impressed with the care our mother received and how wonderful Burcham was to our family, that we now volunteer for events even though our mother has passed. Along with everything else that I grew to love about Burcham and staff, I realized that Burcham was the only place (that I know of) where my mother could have all levels of care as needed without leaving the building as they offer independent, assisted living, memory care, skilled nursing, and rehab. It truly is a great "Community". I can say all of these positive things about Burcham as I am a former nursing home administrator, social worker and school teacher.
August 14, 2017
I am a friend or relative of a current/past resident
Well where to start honestly this place needs some serious help it seems all the care about is the money. The works are sweet but honestly there is just not enough of them for all of the people there. I understand nothing is perfect but this place likes to lie and deceive the family that have loved ones there. Both my Grandparents where there and since have moved out because we just couldn't take all the miss treatment on top of that they want ALL YOUR MONEY. No matter what the problem is. Not to mention someone should not tell a resident that they need to "hold their bladder" because they don't want to came him to the bathroom. When you are paying over 6 thousand dollars for these people to take care of them because they are no longer able to care for themelse that is just not right. And also do not because a CNI and then say well It was to hard to feed her so I gave up or well it was to hard to bathe her so she hasn't been cleaned in 4 days. That is just not right. These are actually people treat them like it.
Provider Response
Hi, we appreciate your honest review. We set a high standard for ourselves, so we are disappointed to hear that your experience with us was not a positive one. If you'd be willing to provide more feedback, please reach out to us at (517) 351-8377 so we can assist you further.
April 20, 2017
I am a friend or relative of a current/past resident
My grandmother was there for rehab the staff was excellent when there was enough of them. I agree that this place is way too expensive for the kind of care she received. Some of the staff showed compassion while the others waited for payday! This place is really, very, very, way understaffed!!! Not safe at all! Where's state when u need them!!! Help!!!
February 08, 2017
I visited this facility
The rehab facility had a good reputation. However, they do not live up to it. The administration does NOT care about the clients only the bottom line. They do not follow through with rehab, they do a few exercises a few times a day, but after three weeks, they will throw the person out whether they are better or not. Do not expect any help in trying to find any other options from their case managers as they do feel that is their job. If the facility fills up to capacity, they do not have the staff to properly take care of the clients and make sure they get their meds. My mother was at this facility, she left with only half of the medications she was supposed to be taking and half of those were dated from previous days she was supposed to have taken them on. Their respite is nothing but a bed in a room, my mother was promised a phone, this was not installed until after I called and complained the next day. When they plan to discharge a person, they do not care if the person is truly better or not. Do yourself and your loved one a favor, find some place else to take them for rehab.
Provider Response
We apologize for your experience. Please contact us at 517-351-8377 and we would be happy to discuss this with you. Thank you for your feedback we look forward to hearing from you soon.
June 28, 2016
I am a friend or relative of a resident
My friend and his wife have moved into Burcham Hills. I think it's very well-suited to their needs, and they seem quite content. The staff is very caring, making sure everyone is comfortable and having their needs met. The rooms are clean and generously sized. It was very impressive and good. They have gone from regular portions to half portions because they don't want to gain weight since there's so much food and it's so good. They have everything from condos to assisted living to memory care. My friend's wife has Alzheimer's, and it's working for them at this point, so that's nice, but if in the future it doesn't, she won't have to move to a different facility. They also have a rehabilitation program there. They have musical programs and animals visiting. A girl came in the memory care unit and played the piano, and people were singing because she was playing these old songs that they all knew, so it's very nice.
June 10, 2016
I visited this facility
My parents are moving into Burcham Hills, a private non-profit. The reason we went with them is that they were the only ones that had a nice apartment-like setting with a bedroom and a living room. The other thing that Burcham Hills offered that the others didn't offer was we felt that the community was better for my father who is in a much better place than where my mother is at who needs memory care.
May 22, 2016
I am a friend or relative of a resident
My aunt is in Burcham Hills right now, which is a rehabilitation because she is undergoing therapy after her a stroke. She is doing so well. I don't have any complaints at all. They are wonderful and have therapy seven days a week. My aunt has an hour of physical therapy, an hour of occupational therapy, and an hour of speech therapy every day. They have a quilting class, bingo, and arts and crafts. I am very impressed with the dining room because they get a menu, so it's not like everybody gets corned beef hash. They accommodate you no matter your situation. They have registered nurses and a doctor on staff all of the time, except when he switches with a nurse practitioner on Saturdays and Sundays. The staff and everybody is totally polite and caring. I don't have anything negative to say at all.
December 13, 2015
I am a friend or relative of resident
Overpriced. Poor communication between residents' families and Burcham. Do not follow up with assessments of residents. Good food. Good maintenance staff.
March 17, 2015
I visited this facility
I had been to Burcham Hills quite a few times. I would say that was a very nice place, but it was at a higher price. They had a full assisted and partly assisted, so they had different levels of assistance. They had a lot of staff down from the hospital to home care. They also had a big rehab there. They had an indoor swimming pool. They took bus trips. They had full assistance, but it was about $1,500 a month more than what we could afford.
February 10, 2015
I am a friend or relative of a resident
I love Burcham Hills. I have been to several places, but this one stood out, and I am overall pretty pleased with them. Mom said the food is excellent. Burcham is the best of all the facilities I have visited.
July 31, 2014
I visited this facility
Burcham Hills was very nice, elegant and large. They have a beautiful garden walkway which was very peaceful. They accommodate 60 people and there are different units on each floor. The staff appeared to be friendly.
December 22, 2012
I am a friend or relative of a resident
I visited Burcham Hills to see my brother who suffers from dementia and Alzheimer's disease. We decided to take him here as long as he is fit to live unassisted until he has to be taken to a more restricted place. He agreed it was the right choice and this facility actually has many different options for different levels of independent to fully assisted living arrangements. The common area is beautiful and a great place for old and new friends to come and meet each other. The facility is quiet but has opportunities for larger more exciting social events for the residents. Burcham Hills employees were also very accommodating and always very interested in the personal lives of the residents. There is privacy also in the apartment spaces. I found most amazing was the cultural crossover Burcham Hills tries to utilize and instill. From the food selections to the activities they try to do things that many people will enjoy and serve many options to select from. Whether it's the food or the activities there seems to be a lot of choices. I would recommend this facility to others.
October 17, 2012
I visited this facility
I visited this facility many times over the course of several years. The facility is large which is good for its connections with local health facilities/hospitals when needed. The transit is good, too. It's size can sometimes give it an institutional feel. The staff is large which can be useful but difficult for residents who see so many different people. The large size is an asset because there are specialized care for folks with some diseases like Alzheimer's. I like the attempts to bring in things to interest residents like a large bird cage and visiting pets. I appreciated the way they worked with residents who had difficulty eating. Staff members treated residents with dignity even in situations that felt undignified like being spoon fed or having to wear a bib. The facility has more of a formal feel to it than a homey feel--like you are in a formal dining room rather than a cozy family room.
June 22, 2012
I am a friend or relative of a resident
The staff at Burcham Hills is made up of a wonderful, caring group of people. They helped us with any problems we ever encountered at any time of day. They got to know my grandparents very well and they all were more than just employees of the place to my family. The building is beautiful and kept very well. They continue to construct and update it to be the best and most modern that it can be. Family events were never a problem to hold in their meeting rooms, as they accommodated so well for us. My grandparents got wonderful treatment, and actually ending up living in their condos and moving to their apartments. My grandmother also stayed in their rehabilitation center while recovering from heart surgery. I couldn't have asked for a better atmosphere to have my grandparents' spend their last few remaining years at. Burcham Hills really cares for their residents and residents' families.
May 02, 2012
I am a friend or relative of a resident
The place appears to be somewhat clean at first glance, but I managed to spot 2 roaches in the room he was staying during our visit. The rooms are cramped, and they rely heavily on the patient to provide for themselves, in terms of entertainment. The staff was nice, so I'll give them that, I imagine working with belligerent old people all day long takes a toll, they appeared emotionless and efficient. There is no privacy in the rooms aside from a pull shade that's not set up at all in a decent fashion. In total, he was there for a month dealing with his infection, and I imagine it took a toll on him physically and emotionally. I didn't see too many people in the halls, it honestly felt like death was everywhere. I expected or hoped there would be at least people walking around promoting some form of exercise. The food looked horrible and I was told that it was tasteless. We brought him fast food, which probably wasn't the wisest idea, but I've honestly never seen anybody scarf down 3 burgers that fast. You could tell he was hungry.
April 19, 2012
I am a friend or relative of a resident
The facility is very nice. Its located in a secluded part of northern East Lansing, so it is a very safe area. We did not get a complete idea of the care that would be provided. For instance, they told us there is a nurse on staff 24/7 which is true. They did not tell us that she would not provide such basic services as listening to lungs of an asmatic patient, and would not necessarily respond when the caregiver would summon her for a nosebleed that wouldn't stop for my blind father. They stated a caregiver would respond with in five minutes when summoned...often it is ten and the last time I timed it it took 17 minutes. My father is blind and my mother has dementia...they really need the attention we were promised. My parents have both stated that the food is good and the staff is very friendly though. My only real qualm is the fact that the attention I feel they need is not being met in a timely manner.
January 09, 2012
I visited this facility
I visited Burcham Hills and was moderately impressed. The facilities are somewhat new and the location in Troy is great. The rooms I saw were all very clean, the staff was veryu friendly and answered all of the questions I had. I did not get a chance to look at all the activities but from what I saw during my visit, they were somewhat limited. Ultimately this was the reason my loved ones and I decided against assisted living in a nursing home. The quality of your loved ones' stay will depend much on the staff and I was confident in their service, the volunteers being another story. The food being served was fresh and the staff was seamless with all the patients' dietary concerns. I would recommend this nursing home based upon the facilities and excellent staff, which I have not seen at all of the nursing homes I have visited.
See all Assisted Living reviews (25)
See fewer reviews
Independent Living Reviews for Burcham Hills
February 05, 2021
I visited this facility
Upon my visit here, I met many wonderful staff members and the facilities are beautiful as well.
January 30, 2021
I am/was a resident of this facility
I am a resident in the Clusters, the independent housing located on Burcham Hills property. All residents had the opportunity to participate in the COVID-19 vaccination program. The vaccine was provided by and administered by Walgreens. The staff from Burcham Hills organized and managed this project and did an amazingly good job. We were notified well in advance of the day and each resident was scheduled for a specific time. Individual paperwork was completed prior to the day of vaccinations. We were checked in on time and had a place to wait which was a very short time. After being vaccinated we remained in the area for 15 minutes then were checked and excused. The whole process was smooth, fast, and pleasant; a credit to the staff and management personnel.
Provider Response
Good day Loren! Thank you for sharing your positive experience with us. We appreciate the opportunity to serve all of our residents at Burcham Hills. Stay Well! Burcham Hills
May 25, 2020
I am a friend or relative of a current/past resident
Living out of state complicates caring for family in MI. However they have lived in East Lansing for 60 years her network of friends, church family, and ministry 'kids' are in the area. In addition there are physician / medical services with have earned their confidence and trust in meeting medical needs. Burcham has met specific health living needs: culinary for a strict dietary needs, transportation to medical appointments, in-house Physical / Occupation therapies, numerous activities, and services like the beauty salon. All services are complimented by a staff who excel at caring, and meeting resident / family needs. The decision for Burcham is affirmed daily. Burcham meets excels meeting basic needs and incredible when dealing with the Covid19 crisis. Leadership has proven they are providing a comprehensive plan to meet needs - allowing the out-of-state family to rest. Dr. Perry's Medical Director has a MS in epidemiology, in addition to his MD his guidance is assuring. Burcham has a comprehensive processes, protocols that meet and exceed acute care facilities. For us, Burcham is a win-win and strongly recommend to those who live in the area, and the out-of-state family.
May 19, 2020
I am/was a resident of this facility
I live in a condo unit on the Burcham campus. Our condos are not in lockdown, but we are observing the social restrictions. Burcham has communicated often throughout the crisis. I am much impressed with the thoroughness and tone of their letters, the conduct of online meetings and leaflets they deposit in our mailboxes for recreational use. Condo residents feel in touch with the larger institution. We miss going up there for activities but we are not forgotten. The staff is so dedicated, if I ever had to be in a lockdown situation, I can't imagine a better place to go through it!
April 29, 2020
I am a friend or relative of a current/past resident
My father moved in 8 months ago and loves it. He loves I. 2 room apartment and the delicious three meals a day, They have movies and activities for him to participate in. They offer a personal trainer for a small fee and he also has use of the gym. The administration. Has always been prompt in our requests. The employees are very friendly as well as the residents. He feels right at home at 94 years of age! The facility is handling g the Covid 19 Pandemic in a excellent manner. I highly recommend Burcham Hills.
July 16, 2019
I visited this facility
I personally liked Burcham Hills very much. My mother felt it was like an institution because there were people in wheelchairs and one person had a neck brace, but these residents were very friendly. The dining room was not that huge, but I liked the activities and amenities they offered. I would have been very happy to have my mother there, but she didn't want anything to do with it. The person that met us was great. They have different room sizes available.
Provider Response
Thank you for taking the time to let us know how we did. We hope you have a great day!
July 26, 2018
I visited this facility
The tour at Burcham Hills was very nice, and there are a lot of amenities, but you pay for everything so the cost is very high. The rooms are smaller, and the cost is much higher. There are one-bedroom apartments and studios. The staff was very nice and friendly. They had a nice, big dining area, which was almost restaurant-style. They had an on-site barber and beauty shop and a workout area. It's a high-rise with no balconies or individual outdoor spaces.
Provider Response
Thank you for letting us know about your recent visit to Burcham Hills. We'd like the opportunity to discuss some of the items mentioned. Please reach out to us at your earliest convenience.
July 17, 2017
I visited this facility
Burcham Hills is an excellent, long-established organization with a continuum of care. The dining area is separate, and the rooms are set up to not have kitchens and cooking. There are open grounds and flowers.
May 28, 2015
I visited this facility
I like that Burcham Hills has detached homes for one thing, but they were smaller than what we wanted, and they did not have the two car garages that we were looking for. We had a complementary lunch, and we got to meet with some current residents. We were told about things like their exercise program, and we were given a tour of their facility for nursing care and assisted living. We were taken around to some of the areas where there were recreational activities. We didn't spend as much time there as we might have because they really didn't have the prime interest for us. It was a good looking community -- a little bit dated -- but it seemed very comfortable. It is a place we might have considered had they had the right facilities.
November 17, 2011
I visited this facility
This facility was absolutely glamorous. It was like walking into a 5-star hotel. The staff were so friendly and it didn't have the atmosphere of an assisted living facility. The only drawback for our family was that it was not Medicare funded. It was private pay only.
July 27, 2011
I am a friend or relative of a resident
The facility is very nice, but we didn't get a full picture of the services available. For instance, they told us there is a nurse on staff 24/7 which is true. They did not tell us that she would not provide such basic services as listening to lungs of an asmatic patient, and would not necessarily respond when the caregiver would summon her for a nosebleed that wouldn't stop for my blind father. They stated a caregiver would respond w/in 5 minutes when summoned...often it is 10 and the last time I timed it it took 17 minutes. My father is blind and my mother has dementia...they really need the attention we were promised.
See all Independent Living reviews (11)
See fewer reviews
Nursing Home Reviews for Burcham Hills
July 24, 2021
I am a friend or relative of a current/past resident
My husband was in Burcham Hills. He was there for rehab, but they've got assisted living, rehab, and other different services. We couldn't get inside to visit him, but he had a room with an outside window there. At that time, he was able to talk and had his cell phone, so we could actually go and stand outside his window, talk with him through those cell phones, and see him. The building part that I got to go into was very well-maintained, clean, and organized. They had an area where you could bring things for the residents. They would have to send them to that area because this was really when COVID was starting to take off, so everybody was really cautious about everything. The area I was able to go into to send things down to him was very clean, very well organized, and they got the things that we brought to him. The place is very pleasant and very inviting. It's comfortable inside, they let him have his things, like his pictures and cards around. It's really set up very beautifully.
May 28, 2021
Other
I am a hospice volunteer and have made numerous trips to Burcham Hills. The facility is very clean and lovely. The staff is always attentive and friendly. The care extended to the residents that I have seen during my visits has been exemplary.
February 09, 2021
I am a friend or relative of a current/past resident
This review is got Rehab. My poor dad is rotting in rehab and staff could care less. My mom calls nursing multiple times since they are not answering my fathers call light. The other day he requested his anti anxiety pills at 7:30 and got them at 9:30 even with two calls from my mother begging them to give him his pill. The amount of stress the staff have put my father through is criminal.
Provider Response
Good day Tracie, We value and consider all feedback and we would welcome the opportunity to speak with you further about your concerns. Please feel free to reach out to our Executive Director, Kari Rennie.
June 09, 2020
I am/was a resident of this facility
I was just discharged from Subacute Rehab after having open heart surgery. I am also a retired RN with experience in management of a skilled nursing facility. I can happily endorse the care and the team of professionals i encountered at Burcham Hills. Without exception, each staff member was focused on my needs and provided excellent, compassionate care with good humor, and integrity. I cannot think of a single aspect of my 2 week stay about which I was disappointed. Everything from the food provided, to the comfort of my room, to the nursing care, and the physical and occupational therapy were top notch. Attitudes were pleasant and team members clearly enjoy their work. Dr. Perry and Nurse Practitioner Betty were very responsive to my questions and quickly won my confidence in managing my medical care. Burcham Hills also has an excellent program in place to protect staff and patients alike in this time of COVID-19. I can enthusiastically recommend Burcham Hills when skilled nursing care is needed.
February 26, 2020
I visited this facility
I was impressed with this facility from the moment I walked in. The atmosphere is warm and welcoming. What struck me the most was how helpful and friendly everyone was. The staff are knowledgeable and professional and go out of their way to take care of patients and visitors.
May 30, 2019
I am/was a resident of this facility
Staff are always friendly, helpful and very knowledgeable. Excellent campus, scenery set in the hill top of East Lansing.
January 02, 2018
I am a friend or relative of a current/past resident
While Burcham Hills is a great fit for many residents, it is not necessarily designed for memory care. The facility itself is quite elegant with good food and some very caring providers on staff. However, the care is designed for a "one size fits all" patient rather than the more personalized care that a facility such as Shine House in Haslett provides.
June 01, 2017
I am a friend or relative of a current/past resident
My father was at Burcham Hills. The rooms were not very welcoming. I thought the food was good, but the staff members were not very attentive. I didn't feel like we were getting the attention that we needed. They were friendly when I spoke to them. The place appeared to be clean and well maintained.
February 25, 2015
I am a friend or relative of a resident
Burcham Hills is very clean with pleasant furnishings. I do not see any patients sitting around in wheelchairs or anything. I have seen the residents interact with the aides when I went there, and my husband gets along really well with them. He is in a private room, and it is spacious. It has a hospital bed, a closet, and a bathroom. He likes the food really well, and he tells me all the time that it is very good. The facility does not have any odor. It has been around for 40 years. They have several dining areas.
June 26, 2014
I am a friend or relative of a resident
My mother-in-law is at the rehab part of Burcham Hills. This facility is known to be a high-end facility. It's very clean and very new and modern. The staff that worked with her on a daily basis, from what we could tell, provided a very positive experience. The only problem that we had was that when it was time for her to be discharged, they discharged her with an inappropriate evaluation, and she was in a situation where within a month she had to be back in the hospital. It was an unsafe situation that they put her in.
February 29, 2012
I am a friend or relative of a resident
My grandma was a resident at Burcham Hills. She had fallen and hurt her wrists and hip. She needed more care than our family could give her. After she got out of the hospital she went to stay at Burcham Hills. Although she did not enjoy her stay very much, this was only because she is very independent, our family thought it was a very positive place. The staff was friendly and accommodating. The food seemed decent. The rooms were small, but they were clean and private which was nice. The other residents were friendly as well. I would say that though that the therapy took longer than expected. Both daily physical therapy and the estimated time she was supposed to be there took longer than originally thought. I don't know if this is common or if maybe this happened because there was not enough staff. When my grandma was doing physical therapy she was not one-on-one. It was always in a group which takes a longtime. But over all I was very happy with Burcham Hills. I would recommend to another family or friend.
September 30, 2011
I visited this facility
Burcham Hills is a wonderful community. From my experience the staff is professional and more importantly sincerely care about the residents. This being a for profit facility they do a great job keeping the facility in top condition. What really impressed me was the attention that is paid to nutrition. I have talked with numerous residents and never have I heard a complaint about the food. Every resident has the opportunity to work with a nutritionist that takes into consideration the needs of each resident. The community has a ton of activities to keep people engaged and active. As far as the staff is concerned they genuinely seem to care about each of the residents. That is the impression I left with after talking to many employees. When I asked 4 different employees about my family member that used to live there they each shared personal things about her. That was not unusual I found out, I was so shocked at the care they had for my family member that I inquired about others and they all knew lots of personal things that you would have to take time to learn. I would trust anyone I know to be cared for at this facility. Burcham hills is located in a very convenient location. Close to Michigan state university where they occasionally take the residents to different cultural events. Overall this is a great place with great people.
See all Nursing Home reviews (12)
See fewer reviews
Memory Care Reviews for Burcham Hills
February 22, 2021
I visited this facility
I visited this facility in preparation for my mother's future. I was initially impressed with how clean and beautiful the property is, inside and out. All of the staff were friendly and knowledgeable. I was also impressed by the food choices. Maybe m's not quite ready for the move, but when she is...I will be bringing her to Burcham Hills!
October 21, 2019
I visited this facility
Burcham Hills is too much cost-wise; I didn't want to pay for what they wanted. However, the place was nice. I liked it because all the amenities were there. It is also very busy because they're full. There were lots of people walking around. The rooms were a good size. There were lots of activities. They had a lot of people working in that place.
Get Costs
---
Services and Amenities of Burcham Hills
Room and housing options
1-bedroom apartments
Companion Suites:

We Offer Companion Suites

Studio Apartments
Condos Townhomes
Features
Beauty Barber Shop
Resident Transportation
Party Space
Garden And Patio
Cleaning services
Laundry For Linens
Housekeeping
Laundry For Clothing
Health services
Skilled Nursing
Medication Management
Physical Therapy
Nurse On Staff:

Yes
Activities
Offsite Activities
Religious Services
Fitness Room
Medicare
Health:
Overall:
Quality:
Staff:
Medicare Provider Number: 235236
Ownership Type:

Non Profit Corporation

Date Certified:

10/01/2020
General
Resident Capacity:

133

Respite Care
Minimum Age:

Yes

Pets:

All Pets Allowed
Licenses
Licenses:

HFA

State Licenses:

AH330236746
Costs
Assisted Living Starting At:

$5133/month
Independent Living Starting At:

$3580/month
Memory Care Starting At:

$5745/month
Get Costs
---
About Burcham Hills
Located on 38 beautiful acres, Burcham Hills is the only retirement community in the greater Lansing area to offer a comprehensive continuum of care. Burcham Hills is a not-for-profit community licensed as a Home for the Aged and as a Skilled Nursing Facility that has been serving thousands of Lansing-area elders and their families since 1974.
We strive to create a home that places a premium on relationships and honors the unique life story of each individual. Elders and their families are encouraged to share in our community events, to volunteer and to join in the dialogue that places the decision-making closer to the elders and those closest to them.
What Makes Us Special
Lansing's only not-for-profit Life Plan Community (ccrcr) -- East Lansing location and beautiful 38-acre setting -- Own and operate transportation -- Accessibility to local transportation, including CATA -- On-site Wellness Center, Lab and Outpatient Therapy Clinic -- Physician Services including nurse practitioners -- Access to continuing healthcare: short-term rehab, long-term care and outpatient therapy -- Availability of extensive on-site ancillary services and amenities -- Condominium living option
Get Costs
---
Senior Living Communities near Ingham County, MI
Other Senior Care in East Lansing, MI