Atria Park of Ann Arbor
Offers Assisted Living, Independent Living, and Memory Care
1901 Plymouth Road, Ann Arbor, MI 48105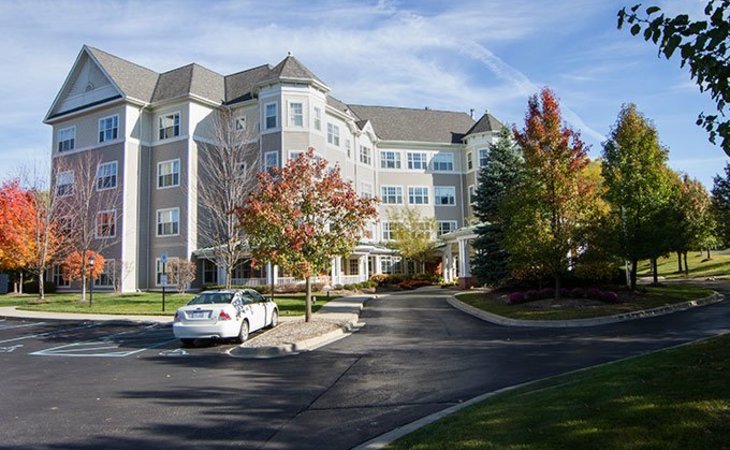 ---
Reviews of Atria Park of Ann Arbor
Assisted Living Reviews for Atria Park of Ann Arbor
February 09, 2022
I am a friend or relative of a current/past resident
THE STAFF IS VERY HELPFUL WITH RESIDENT PERSONAL NEEDS, SUCH AS TV AND PHONE SETUPS. ALWAYS ATTENTIVE AND CARING.
August 22, 2021
I visited this facility
I got to see the assisted and memory care at Atria Park of Ann Arbor. It was a very high-end, and a very nice facility. They had a chef that actually makes most of the food from scratch. They gave me a made-from-scratch hummus and pita bread as a gift. The director was incredibly honest too. She showed me everything I could possibly ask for before I even asked. She introduced me to residents, but since it was a very high-end place, it was very pricey. Even one of the residents said that it was very pricey, but said that the care was wonderful. It was definitely a beautiful place, but I'm afraid that due to my father-in-law's issues, it's not possible for him to be there. The amenities were very great as well. They had lots of different little garden areas, and ways of making the residents feel at home.
Provider Response
Jacquelyn, Thank you for sharing your feedback, and thank you for visiting us.
March 02, 2019
I visited this facility
Atria Park of Ann Arbor was very impressive. I was there in December, it was Christmas so it was well-decorated and a welcoming place. It's a beautiful new place, a very wow factor. I'd say I want to live there if it was me because it was so nice. I got all the information I needed. The people are very friendly. The staff who talked to me was very friendly and informative. I visited three senior living communities and Atria Park was probably the nicest of the three. They had a restaurant that you could go in at any time of the day, and sit down and order. They have daily specials for breakfast, lunch and dinner, if you go during designated meal hours. But if you don't, they have all-time items you can get, you can go in and get a salad and a bowl of soup any time, or a sandwich any time.
Provider Response
David, Thank you for visiting us at Atria Park of Ann Arbor. It is our pleasure to serve our residents and families each day. Your feedback and kind compliments are important to us at Atria. Thank you for taking the time to share.
May 13, 2018
I am/was a resident of this facility
I stayed in Atria Park until my wife died. The first three levels are assisted living and the fourth is total care. They had a routine to take care of the residents. The people coming in had major problems like dementia, but all the others were senior citizens. Each service you get, you get another charge. If you don't have long-term care, you're in deep trouble. The older staff was excellent, but they had trouble keeping the new staff. They classified our room as a 2-bedroom unit, which was ridiculous. What they did was they rented out one bedroom to one person, and the other bedroom out to the other person. That way they lower their rent and cut it in half. The meals were repetitive. There was no variety. Their meals are controlled by their headquarters in Chicago. They have a cook, but not a very good one.
June 01, 2017
I visited this facility
Atria Park of Ann Arbor was smaller than most retirement community. They were diverse and had different options on whether you wanted a one-bedroom apartment or a two-bedroom apartment, or if you wanted to share an apartment with another resident, you each had your own bedroom. It was a beautiful facility. They were licensed, and they were very protective of their residents. It was just a little bit pricier than the other place I visited, but it was very nice, very well maintained, and the people there were just so kind and so thorough.
May 31, 2017
I visited this facility
I toured Atria Park of Ann Arbor. They had 24 hour nurses on duty, and they could provide more assistance if you need it. The place was very impressive. It had a wonderful dining room, and the bedrooms were of good size. They had a fantastic chef and a wonderful food service. I liked the location because it was just a little ways from the senior resource center. It had fairly leveled grounds, so I could use my electric scooter to get around. It was a very nice place
January 02, 2017
I visited this facility
The facilities of Atria Park were much nicer than others and clean. The people were friendly. I thought it was a nicer facility; the dining room looked like a restaurant I could go to.
November 23, 2016
I visited this facility
Atria Park was very nice, the staff was friendly, and the rooms were kind of laid out funny, but they were the right size. The activities were great, they had exercise classes going on, and they had a whole list of activities.
November 22, 2016
I visited this facility
Atria Park of Ann Arbor was quiet and clean. It seemed like they had a couple of places to walk, be engaged, and meet people, which would be good for my mom. They served three meals a day plus snacks. The staff seemed to be very courteous and very open to questions. They had physical therapy. They had casual reading, and they had some books in a little library.
November 22, 2016
I visited this facility
I visited Atria Park of Ann Arbor. I liked the way they had their dining room set up. It was more like a restaurant. I liked their studio apartment better than the other place I went to. It was only 2 miles from my home. I liked the fact that they offered dancing on the chair as well as singing which my mother loved. Also, they were making pottery. They also took day trips to places. You could have 3 meals in a day, and they served it like a restaurant. They were open at 7 in the morning and closed at 7 at night. You could come anytime during the day to order your meals. They had doctors that came in every week. They had a podiatrist that came in, and they also had the 24-hour nurse there.
August 18, 2016
I visited this facility
I was impressed by the programs, the cleanliness of the place, and the attitude of the staff at Atria. They were all positive and had a full menu of activities. The surroundings were very nice.
February 10, 2016
I visited this facility
We visited Atria Park of Ann Arbor for my parents. This one stands out in my mind as something we like, and enjoy. When we were there, we did get to see someone playing guitar, and a lot of the people were down participating. It was very nice to see. Everybody was enjoying the activity. The rooms were nice. The menu looked great. You always have multiple options. We talked to one of the residents, and she said that she loves the food. The staff was very nice, and helpful. We actually visited there twice. Atria Park of Ann Arbor stood out in my mind the most, but it was still more than what we needed for help.
January 23, 2016
I am a friend or relative of a resident
Atria is very nice. I was able to see the rooms. I was pleased with the setup in terms of usable space, bathrooms, and such. The chef was very good, and actually prepared something for me to taste, and I thought that was a nice touch. The staff is very friendly, and interested in each individual. They take members offsite for entertainment, and they have a lot to offer. I chose Atria over the others because they offer religious services which is very important for my mom.
January 19, 2016
I visited this facility
I did not care for Atria Park of Ann Arbor. First off, I did not like the road it was on; trying to get in and out of there would be a pain in the neck. Also, I did not feel like they were that engrossed with their residents. When I went up and down in the elevator while being shown around, some of the residents would come in complaining about this, that, or the other thing, so I didn't like that. I did not see any activity really nor see anyone being involved. I only went and looked for a day, so maybe it was just a bad day. That place did not impress me. The rooms were small. The residents in the elevator didn't seem like they were very happy, but they were the only ones I saw.
Provider Response
Thank you for visiting our community and for taking the time to write this review. I'm sorry that Atria Park of Ann Arbor wasn't a perfect fit for your family at this time but hope that you'll visit us again in the future. If you'd like to share feedback with me directly, you can reach me at customerservice@atriaseniorliving.com
November 30, 2015
I visited this facility
The sales representative at Atria Park came out to meet us immediately. She was delightful, very well informed, very good communication skills. We looked at one of the apartments, but it was too small for us. The chef met with us and assured me that he could meet my dietary needs. They presented us with a gift of food. They invited us to come back for dinner. It was very informative. We were very pleased with it.
September 30, 2015
I visited this facility
Atria Park was quite nice, but it was too expensive. For the 2 of us, it was going to be $6300 a month. The rooms are smaller than other places because it's set up for assisted living. The staff was fine and very accommodating. We had lunch there; it was good. They have entertainment, and they do go on some trips like to the stores.
September 16, 2015
I visited this facility
We went to Atria Park of Ann Arbor, and it was very nice. I felt it was too fancy or too elegant. I did not think my husband would be comfortable in a place like that, but it was lovely.
May 29, 2015
I am a friend or relative of a resident
I am very pleased with Atria senior living (Atria Park of Ann Arbor). It is a very fine facility. They seem to be conscious of everybody that is there and what is going on with them. The rooms are very nice. It has a little more privacy than what you will typically find in a memory care. They have all kinds of specific activities for people who have dementia. They have things going on all day. The have a spa day. They have exercise, music, and a sharing time or kind of a news time. My parents are in their second month there and there's already been 3 or 4 outings. The food is very good with a wide variety. They have 2 options on every meal. They have fresh homemade soup every meal. They have 1 soup each day, but it is a different soup every day. The dining area has small tables of 4 -- which has cloth napkins and tablecloths -- and it is lovely. Every memory care has its own dining area so there are only 20 people. My parents are in the memory care, and they are on the 4th floor. They cannot go up and down on the elevator because it is a locked elevator. They are very good.
March 10, 2015
I am a friend or relative of a resident
My best friend said Atria Park was OK, but her comment was that she was disappointed in the way they were delivering medication or not delivering medication for her. In the beginning they were going to help her with the medication, and now they are not. She has a specialized health case; I'm sure that's probably one of the issues. Sanitation is OK, but the expectations that were promised weren't met. I would rate 4 for the staff, and the place is nice.
Provider Response
Thank you for sharing your best friend's concern. The input from our residents is very valuable to us and helps us continue to improve quality. If you feel comfortable sharing more about this, please contact us at customerservice@atriaseniorliving.com
December 01, 2014
I visited this facility
When I visited Atria Ann Arbor, it was called Sunrise. It was wonderful. It was very comfortable and homey. The staff treated me very well. They brought a lot of people into the facility to entertain the residents. They had very close relation with the girl scouts and a lot of volunteer groups. The apartments had living room, a kitchen, a separate bedroom, and a separate bathroom. They were very spacious. The dining room was small, but the food was very good. I was very pleased with the facility. I would recommend them.
September 22, 2014
I visited this facility
Sandy in Atria was absolutely fabulous. I would probably lean towards connecting with her again if we decide to move my mother-in-law. She really did a good job on educating me in reaching out again after I had visited. The facility was clean and well run; the rooms and the dining room was immaculate.
September 17, 2014
I am a friend or relative of resident
There is a high amount of turnover and frequent vacancy in administrative and other positions. Yes, the staff receives a lot of training (they are gone for many days) and yes, you will pay for that in the very high rates. A lot is invested in slick marketing and common area spaces to seduce relatives into feeling good about the placement of their loved one. Sadly, the spaces look nice but the care does not measure up. If you want good care, choose another facility. If you want a nice bistro and have a lot of extra money, this may be a good fit. What care there is does not feel personal nor does it seem that any of the staff are really invested in the facility or its residents, though during their short terms of employment they do try. Although this is "assisted living" all care is additional. If your loved one needs help bathing, dressing, finding their way around, etc., that will cost much more than the basic quoted rate. Care costs can be increased at any time - we left the facility after the monthly cost exceeded $8500/mo. The new facility is so much more caring, has a long time, stable staff, and costs much much less for memory care.
Provider Response
You're right that there has been some transition in our community; please know that we make these decisions with the best interests of our residents in mind. I'm sorry if you did not feel the care was adequate and encourage you to reach out so that we may connect with you on how you feel it could be improved. We take feedback from our residents and families very seriously as they can provide valuable insight as to how we can constantly improve the services and care we provide. If you are willing, please reach out via customerservice@atriaseniorliving.com including "Atria Ann Arbor" in your subject line so we may quickly include the appropriate directors in the correspondence. We wish you the best and hope to hear from you if we can be of further service to your family.
July 31, 2014
I visited this facility
The staff at Sunrise (now Atria Ann Arbor) was quite friendly, as far as the person that greeted me. I think I got to meet the director of the location. They showed me at least 2 different styles of rooms. They're very roomy, bright, and very nice. But honestly, the residents were bored. In fact, my family members didn't go there.
Provider Response
Atria has long been a leader in senior living with high standards and expectations and we have already made many positive changes to our community. Our residents are provided a daily schedule of activities delivered to their door each morning. Our schedule includes many planned outings and over 200 activities each month. We encourage you to reach out via customerservice@atriaseniorliving.com if you have any questions or feel we can be of further service to your family and if you include "Atria Ann Arbor" in your subject line, we can quickly include the right people in the correspondence. We are here to help and wish you the best!
May 20, 2014
I am a friend or relative of a resident
My boyfriend's mother was at Sunrise, and she really liked it there. It had a nice, homey environment. The rooms were really nice. It was fixed up like her own, so she really thought she was still at home and not like in the hospital. It had a big, nice porch too. They had all home-cooked food. She met a lot of friends there. I would recommend it, but it's not a modest place to live; it's quite expensive. It's all worth it if you can afford it.
March 18, 2014
I am a friend or relative of resident
I wouldn't recommend Sunrise to anyone. When our loved one stayed there for close to a month, the facility was in a major staff transition. Every leadership position, except for Maintenance, either turned over or was staffed part-time by someone from another Sunrise community. The bulk of the aides were provided by an outside agency due to their predecessors being let go in a mass firing. The Director blatantly told us that they were unable to provide even the level of care outlined in their literature. She could not answer basic questions, had to take the question down and ask her boss. We learned over consistent high turnover, and that the head of maintenance who had been there for something like 24 years recently left in disgust. Shocking that they remain licensed.
Provider Response
Thank you for your feedback and we're sorry that you did not have a positive experience with our community. Please contact us at Information@SunriseSeniorLiving.com to share additional details so that we may learn more. – The Sunrise Team
October 30, 2013
I am a friend or relative of a resident
We choose Sunrise for my Aunt because we like the lay out of the place and the cost is affordable. My aunt has her own room in the memory car unit and it is spacious. The staff is friendly and accommodating. I will recommend them to others.
May 15, 2012
I am a friend or relative of a resident
The rooms there are rather small and mobility seems to be a big issue, especially with the irregular shape of the building. The service there makes up for the design of the building. They have full-time employees day and night, more than enough to take good care of the elderly living there. The provide all kinds of activities and leisures for the residents. From pool to cards, from chess to exercising activities. The food there was spectacular, even better than some of the restaurants in Ann Arbor. The workers there care for the elders, not really out of caring but out of obligation. The price there is a little expensive but its not too bad. Its near University of Michigan so I could visit them whenever I wanted to. It was a little loud and crowded on Saturday's during our football game, all the streets would be deadlocked and the it was very loud but otherwise its quite a nice neighborhood.
January 09, 2012
I visited this facility
I think that Sunrise in Home Care, in Ann Arbor Michigan is an excellent choice for someone who is independent and who prefers to live independently in the privacy of their own home and who is looking for some outside supportive care and assistance with their activities of daily living for them self, a friend, or a loved one. They provide their patients with an array of supportive services and assistance such as; personal care with bathing, dressing, grooming, meal preparation, transportation services to medical appointments, light housekeeping and laundry services. They provide a skilled and trained team of health care professionals' nurses, cena's, therapist, physicians, and various other supportive services, assistance and medical equipment that is necessary to meet their clients individual needs as PRN. They provide companions, medication reminders and assistance with self administered medications. They also provide 3 hours to 24/7 hours on a daily basis for their clients needs as necessary to fit into their clients' individual plans of care that is assessed by their trained and skilled team of licensed Nurses. In general, I would rank the Sunrise in Home Care with a five stars rating for their excellence and expertise in home care.
See all Assisted Living reviews (28)
See fewer reviews
Independent Living Reviews for Atria Park of Ann Arbor
November 22, 2019
I visited this facility
Very strange set-up. We wanted a 2 bedroom and they have them except there is no place to put a couch and TV. We were told that most people set up the 2nd bedroom as a living room which of course eliminates the 2nd bedroom as a bedroom.
December 04, 2017
I visited this facility
Atria Park was very nice, but it did not meet what I wanted. The residents were not that active. Other than that, everything was very nice.
July 01, 2016
I visited this facility
My experience with Atria Park of Ann Arbor was very positive. I was impressed with the person that toured us around and all of the staff we talked to. We ate lunch there and were very impressed with the food. The dining area was very nice. There were three of us, and we sat in a private dining room, ordered from a menu, and had a very nice lunch experience. What impressed me was the approach the Atria company chose to have toward their residents, how they like to engage them on all levels socially, physically, and intellectually. They also seem to take great interest in the individuals. They want to appreciate what each one's interests are.
Get Costs
---
Questions about Atria Park of Ann Arbor
Describe the overall population of assisted living residents at Atria Park of Ann Arbor. What is their average age? What are their favorite things to do?
The overall population is moderately independent with average age 80 years old. The most popular activity is walking club, wheel of fortunate, exercise classes, live music twice weekly.
What programs or activities does Atria Park of Ann Arbor offer to enrich residents' well-being?
Exercise classes, walking club, and One Day University seminars.
What places are near Atria Park of Ann Arbor or within walking distance for assisted living residents to enjoy?
Downtown Ann Arbor, U of M hospital, lots of shopping and dining.
What makes the chef or dining program at Atria Park of Ann Arbor exceptional? What kind of menu can assisted living residents expect?
We serve at least two specials and an alternative menu daily. Regional menu favorites such as Coney dogs, International cuisine, and a spectacular meatloaf!
What safety features or security measures does Atria Park of Ann Arbor offer to assisted living residents?
Doors are secure from 8a-8pm with a concierge during those hours.
How does Atria Park of Ann Arbor keep residents' families informed about their loved ones?
We have a Atria App that allows secure access to vitals, events, menu, and activities.
If Atria Park of Ann Arbor accepts dogs or cats, what indoor/outdoor areas can they enjoy?
We do welcome Dogs and Cats in Assisted living.
What ongoing senior care training does the staff receive?
We have monthly Care staff training above state requirements.
What programs or activities does Atria Park of Ann Arbor offer to keep residents engaged? How does the staff engage residents' long-term memories?
Full time Life guidance specialist that devoted all their time to engaging residents.
Who assesses residents' health and cognitive functioning? How often is that assessment repeated?
Residents Service Director and Life Guidance Director
What techniques does Atria Park of Ann Arbor use to support memory care residents during mealtimes?
High contrast dishware with visual food display option. We also cue and assist in feeding.
How does Atria Park of Ann Arbor keep residents' families informed about their loved ones' health?
The Atria App that provides vitals, events, menu, activities daily.
Describe the neighborhood around Atria Park of Ann Arbor. Is it located in a residential neighborhood, a business district, a rural setting, or other type of locale?
Close to Downtown Ann Arbor, shopping and dining options.
---
Services and Amenities of Atria Park of Ann Arbor
Costs
Rent Plus Care Fees
Entry Fee
Assisted Living Starting At:

$4795/month

Independent Living Starting At:

$4495/month

Memory Care Starting At:

$8395/month
Room and housing options
1-bedroom apartments
2-bedroom apartments
Companion Suites:

We Offer Companion Suites

Studio Apartments
Dining options
In Room Kitchenette
Dining Room Shared Meals
Dining Extra:

Private Dining Room Available For Special Occasions, Dining With Table Service And Fresh, Chef Prepared Menu Selections, Accommodations For No Salt Added And No Concentrated Sweet Diets
Features
Beauty Barber Shop
Resident Transportation
Party Space
Garden And Patio
Resident Parking
Cleaning services
Laundry For Linens
Housekeeping
Laundry For Clothing
Health services
Skilled Nursing
Medication Management
Physical Therapy
Nurse On Staff:

Yes
Activities
Offsite Activities
Religious Services
Fitness Room
Guest services
Guest Parking
Guests At Mealtime
General
Resident Capacity:

98

Respite Care
Minimum Age:

60

Pets:

Yes
Licenses
State Licenses:

AH810272018
Get Costs
---
About Atria Park of Ann Arbor
Atria Park of Ann Arbor provides older adults with an active lifestyle filled with daily opportunities for fitness, fun, personal growth and connecting with others. This welcoming, thoughtfully designed community offers charming wraparound porches and beautifully landscaped grounds with walking paths and a private lake. Inside, you'll find comfortable amenities and an abundance of inviting common spaces and dining venues for gathering with neighbors.
Residents also take part in off-site excursions, enjoying the wealth of cultural, entertainment, dining and shopping venues in and around the area. Conveniently located just across from the University of Michigan's North Campus and only minutes from downtown, it's easy for family and friends to visit.
With discreet, personalized support from a 24-hour staff, residents can live more independently - and enjoy an active lifestyle filled with opportunities for fun, connection and personal growth.
For individuals with Alzheimers or other forms of dementia, Atria Park of Ann Arbor offers Life Guidance&reg - innovative memory care in a secure, structured environment.
Atria Senior Living is a leading operator of independent living, assisted living, supportive living and memory care communities in more than 200 locations in 28 states and seven Canadian provinces. We are the residence of choice for more than 20,000 seniors, and the workplace of choice for more than 12,000 employees. We create vibrant communities where older adults can thrive and participate, know that their contributions are valued, and enjoy access to opportunities and support that help them keep making a positive difference in our world.
Get Costs
---
Map of Atria Park of Ann Arbor
---
Senior Living Communities near Washtenaw County, MI
Other Senior Care in Ann Arbor, MI