Sunrise of Overland Park
Offers Assisted Living and Memory Care
12500 West 135th, Overland Park, KS 66221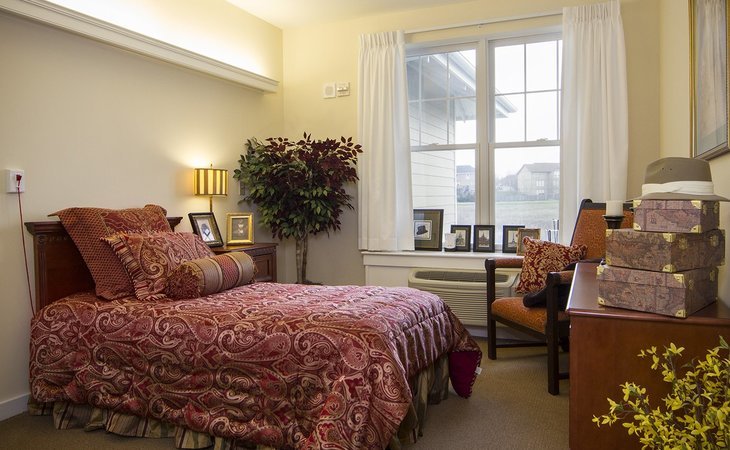 ---
Reviews of Sunrise of Overland Park
Assisted Living Reviews for Sunrise of Overland Park
October 09, 2018
I visited this facility
Very nice facility. Comfortable, welcoming reception. Knowledgeable and friendly staff.
July 23, 2018
I visited this facility
Sunrise of Overland Park was very nice, but it was a large community, so it didn't really feel very home-like. The staff members were great, personable, and very good. Among all the communities we have visited, we rank this one as the second. Most of the rooms were studios.
November 06, 2016
I visited this facility
We got a tour of Sunrise Overland Park and made sure there was a room that was available. They were very nice. We actually gave them a $200 deposit, and they said that if we decided not to bring our mother there that they would return it within the day. We saw the room -- which was very nice -- and the people were very nice. It was a very nice, fairly new facility. The staff was friendly. They took us on a tour and were able to answer all our questions. They told us the cost, they had a few add-ons here and there, and it was probably about $1,000 more a month than where my mom is. We saw the dining area where they would eat and sort of a lounge where they would have get-togethers or social things, and where they would do crafts and different things. I would have put my mom in this facility. It is just that it would be a little more expensive. It didn't have quite a homey feel because it is brand new.
July 10, 2016
I visited this facility
Sunrise of Overland Park was warm and inviting, and the staff was engaged. I really liked it. They had some guys play a little bit of putt putt golf in the living room and there were some ladies playing some cards and somebody playing the piano, which was really nice and relaxing. They had a little cafe where you can go and have coffee or soda. I really liked the staff as well; they were friendly. The accommodations were nice.
January 25, 2016
I visited this facility
Sunrise of Overland Park was a beautiful facility, and the staff was absolutely fantastic. My uncle was there for like four years, and it was wonderful. I know they used to play Bingo, and they had a pet dog that lived there, my uncle loved that. And the staff was so caring; they took such good care of my uncle.
May 15, 2015
I visited this facility
The Sunrise of Overland Park was laid out a little nicer and a little more room for the money. They had walking trails and a little garden in the back if you wanted to do gardening. They had a lot more stuff to do inside, and the rooms were bigger. There was absolutely nothing I didn't like about them, and their menu was phenomenal. That's where I wanted to move my father. For the money, it was incredible.
August 21, 2014
I am a friend or relative of resident
Mom has been there for almost 5 years. There has been recent staff turnover and I hoped with this last round that things would improve, but that hasn't happened. The new management and staff talked a good story, but the actual care has not matched the rhetoric. I asked about inspection deficiencies and was told there were none, but I'm not sure how that happened. The nursing staff are neglectful and do not follow up on specific requests. Her doctor had to change "as needed" pain meds to twice daily because they did not monitor her pain correctly. They let the residents isolate in their rooms. Activities are poorly attended. The expense is relatively high. I had the opportunity to move her to a smaller room to save some money, but chose to move her to another facility instead because the care is so dismal. The outside, the hallways, and rooms look pretty good and upscale. But don't be fooled, the attention to detail and care given to the resident are both remarkably lacking. You can do better than this.
Provider Response
Thank you for your message and please know we take all concerns seriously. We would like to learn more about your experience with Sunrise. Please email us at Information@SunriseSeniorLiving.com so we can follow up with you. Thank you, Sunrise Team.
December 01, 2013
I visited this facility
We were impressed with Sunrise. I don't have anything negative to say about it. They have what seemed to be a good staff. The facility was laid out very well. There were small apartments for accommodations. I would recommend this place, we were pretty much impressed with it.
November 20, 2013
I visited this facility
Sunrise was amazing and it's like walking into somebody?s house. The staff was extremely warm, very welcoming, very professional and know the residents by name. The facilities are beautiful and are well maintained. They are up to date in terms of style but they're comfortable. The only thing was the rooms which were available at the time were small. It has on site medical care. They have an aide assigned to your loved one personally to get them acclimated to the facility and check in with them once a day. The director is very warm, personable, and easy to talk to. She had a lot of information and gave us answers that made us feel our grandmother would be taken care of the way we will take care of her. I wanted to move in.
September 26, 2013
I am a friend or relative of a resident
We liked everything about Sunrise of Overland Park. The reason why we chose this facility for my father-in-law was because their price was right. They have individual dining rooms on each floor and they do have a menu that you can choose from everyday and they can also bring the meals to you. We loved everybody that we've seen there. It's a small community and the people there pretty much knew everybody. Since we come and go there, the staff knew us by name. They cater to the needs of Alzheimer's patients and we are very happy with that. I would definitely recommend this facility to others.
July 24, 2012
I visited this facility
We visited this home looking for a place to move my Mother in Law. We had not decided if assisted living was necessary or if semi-independent living was sufficient. This home is very pretty, and in a high end neighborhood. However, it looks like a fancy nursing home. It is a red brick building with white porches and rockers out front. But there were no residents enjoying the outside. The home has underground parking. As it was not an issue for us, we did not inquire if it was for residents or employees. There was limited parking available for guests. The home was much more expensive than any others we toured. It had the usual amenities, library, hair salon etc. The library was a room with high book cases, and a couple of easy chairs. It was very cozy. The rooms reminded me of hospital rooms. There was no personality within, and the rooms seemed very clinical. The home was nice enough, just not what we were looking for. They were willing to help obtain long term care insurance if Mom had not already had a policy.
See all Assisted Living reviews (11)
See fewer reviews
---
Services and Amenities of Sunrise of Overland Park
---
About Sunrise of Overland Park
Step into the senior living community of Sunrise of Overland in Overland Park, Kansas, and you can't help but feel at home. We stop at nothing to make your experience warm and inviting, from our homelike exterior architecture and comfortable community areas, to our choice of suites, exceptional outdoor gardens, and landscaping. Look around and you'll notice fresh flowers throughout the residence, and you may even spot our dog or cat. And of course, there are always the friendly smiling faces of our staff to ensure that each day spent at this assisted living community is a welcome one.
Sunrise of Overland is built upon a commitment to our residents and their families. We believe no two people are alike, so the assisted living services and attention we provide should never be exactly the same. That's also why we offer a variety of lifestyle, service and care options. By providing these choices, we not only offer solutions for today, we provide the security of knowing that there are options for tomorrow.
In addition to offering senior housing in Kansas, Sunrise of Overland also boasts Alzheimer's care, assisted living, respite care, and short-term care.
What Makes Us Special
Sunrise is ranked "Highest in Customer Satisfaction among Senior Living Communities" in J.D. Power's first ever Senior Living Customer Satisfaction Study. In addition to earning the highest overall customer satisfaction in J.D. Power's study, Sunrise achieved the highest score in five out of the six study factors. Sunrise ranked highest among its peers for caregiver/staff, which examined customer experiences with responsiveness, concern for needs, professional skill and appearance. Sunrise also ranked highest overall in senior services/activities; resident setup/orientation; rooms, building, and grounds; and food and beverage.
---
Map of Sunrise of Overland Park
---
Senior Living Communities near Johnson County, KS
Senior Living Communities near Overland Park, KS
Other Senior Care in Overland Park, KS