Azalea Manor Marietta, GA
Offers Assisted Living
557 Waterman Street SE, Marietta, GA 30060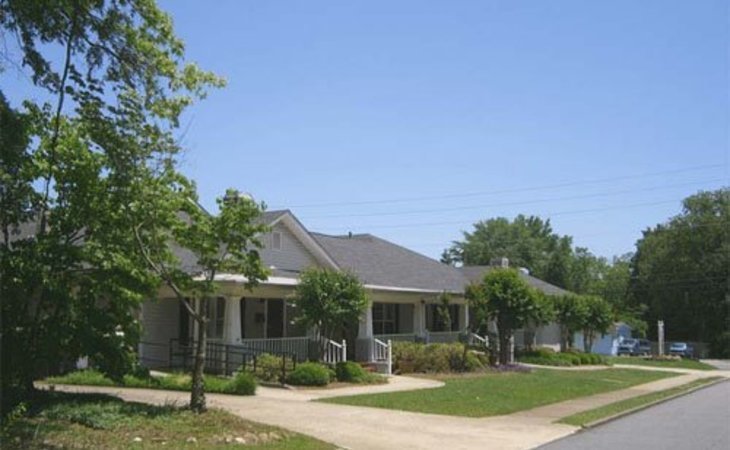 ---
Reviews of Azalea Manor
Assisted Living Reviews for Azalea Manor
May 19, 2018
I visited this facility
Very nice facility. I will be back!
January 10, 2018
I am a friend or relative of a current/past resident
My grandfather moved in to Azalea Manor just over a year ago in August 2017. It took him a few months to get use to the change. He is now in his 100th year and loves the staff and has made some friends. He can be challenging at times, not wanting to take his medication etc. but there is always some one on staff that knows how to smile, be patient, and help him out. I visit him two or three times a week and he is usually snoozing in his recliner, hanging out in the common area, or sitting on the front porch.
March 21, 2017
I am a friend or relative of a current/past resident
Azalea Manor is a very good facility, although a little dated compared to some of the newer facilities. My Mom was there for 2 years before she passed, but it has been a few years ago. She had been in a much nicer, newer home, but had complained a lot about the way they did some of the things there, especially the meals, and also would not take advantage of some of the activities they offered like day trips, even though she was able. We were also unhappy about the way medications were given, and when the costs continued to increase annually and with each new mod of Assisted Living, we decided it was time for a change. And, a friend recommended looking into Azalea Manor. I made an appointment, checked it thoroughly, and decided that was where Mom needed to be. The staff at that time was very good, and she always received excellent care and attention. She was mobile at that time with the use of a walker, and could do a lot of things herself. I saw where someone had complained that there was only the hallway bath, but at that time, many of the rooms had their own full bath room, and during the time Mom was there, she and did have a full bathroom with her room. But later they assisted her with showers, medications, etc., and used the very large bath facility in the hall at that time. The facility always seemed clean to me, and I would drop in at unexpected times during the time she was there. There did not seem to be a lot of organized activities, but they did have religious services regularly, and some activities for the patients. At that time, there were also a couple of churches that visited regularly, and did various activities with the patients if they desired. The meals were very good, nutritious, and plentiful. As someone stated, they were, and I guess still are, mainly southern style cooking, which Mom was accustomed to. They also served an adequate evening meal. At the other facility, the evening meal was very skimpy, consisting mainly of 1/2 a sandwich, a small cup of soup, and a small salad of some type. I thought they I had read that Azalea Manor had changed ownership, but maybe wrong, since the other reviews and description sounds like it is still a family owned facility.
November 17, 2016
I am a friend or relative of a current/past resident
Azalea Manor is a good place. It's got a lot of issues, but they also have a lot of stuff that they're getting better at. It was really awesome before they started having a high turnover in staff. The people care, and they do the best they can with what they're given, but they don't have a lot of resources to work with. In the main part of the building, my friend lives in an apartment downstairs where there are 2 men in one room, she has another room, and they both have their own bathrooms, a living room, and a kitchen, and it's really beautiful, but the staff never comes down there to clean unless I start complaining about it. But upstairs, they do it really well, so I don't know what that's about. Some of the food is super delicious, but it depends on which cook is there, so it gets kind of boring because they tend to have the same thing over and over again. It's nutritious, but boring and not very flavorful. But it's starting to get a little better, and some of the CNAs that were mostly a problem are gone.
October 05, 2016
I visited this facility
Azalea Manor appears to be an excellent facility. The staff seemed to be caring.
June 17, 2016
I visited this facility
I didn't like Azalea Manor because I didn't think they had good security at the front door. The furnishings were old, and their showers were in the hallway. The salesperson was nice, and I thought they were very welcoming, and the location was good.
March 31, 2016
I visited this facility
Azalea Manor was really terrible. I walked in and nobody even looked at me. I could have walked into any senior's room and have done anything I wanted. There wasn't any security. It was a terrible facility. Nobody acknowledged that I was there for like 10 minutes. I didn't see any rooms, and I stayed out in the main area. It was weird.
July 08, 2013
I am a friend or relative of resident
I visited a number of facilities in Cobb County. My father was almost bed bound from tuberculosis and my Mom has dementia. It is difficult to find a facility that would take Dad even with physical therapy because he could not "stand and pivot" to the toilet without assistance. If they would take Dad it seemed they would not take Mom - the combination of their ailments was proving difficult to place them both in one facility. Azalea Manor took them and Dad recovered. Now Mom is worse but they are still together and loved by the staff. They are kind and gentle and southern and they try to work with all kinds of older folks that can no longer care for themselves.
October 29, 2012
Other
I called the location in Marietta to inquire about setting a appointment to view the facility for my mother. The call seemed like it went to guys cell phone number (Mark). He answered the phone rudely and was very short and defensive with just basic questions. If they answer the phones and treat potential future customers they way I was treated... I would think twice about leaving a loved one in their care. (I don't know maybe I caught them on a bad day).
August 18, 2011
I visited this facility
This facility, which offers assisted living, memory care, day healthcare and short term care, is very quaint and cute, with a nice porch. But inside, it looks like an old nursing home that has been modified into assisted living, with the plastic floor tiles still remaining. It's located in a busy area, where many buildings are being refurbished, close to the town square that has shops and boutiques and restaurants for residents and visitors. But one concern is that the building is not locked or secured. It is small""with a total of 18 rooms, some of them shared. About 75% of the residents are in wheelchairs; about half have memory care issues. Because it is small and privately owned, there may be a better chance of resolving issues more quickly than in a place owned by a large chain. In the memory care unit, there is a wing with more nurses' aides, with a better ratio to residents, but no more safety features or specialized activities. Residents don't seem appropriately stimulated or engaged. No engaging activities are offered for those in assisted living, either. The staff schedule is posted daily, so residents know what to expect. The one dining room is crammed with wheelchairs during meals. The food there is served is "southern style," featuring a lot of fried and boiled selections. There is one cook for the whole place, serving three meals a day. The cook is there while they eat""which is a benefit. While some residents complain the cost is too high, a number of services such as help with bathing and hygiene, medication management, housekeeping and laundry is included in the basic price.
June 30, 2011
I visited this facility
Azalea Manor is a licensed facility, and one of the things that makes me feel very safe about my aunt living there is the fact that WellStar Kennestone Hospital is less than two miles away. Should any major health issue arise, I know that my aunt is very close to a major hospital. Azalea Manor has a great health care system in itself, but it gives me an extra peace of mind to know that if there is any emergency that my aunt is so close to the hospital, just in case. I really enjoy the southern hospitality and the generous way that people respond to my aunt at Azalea, and the way that they speak to her an interact with her. They speak to her with respect, and do not speak to her like she is a child. Although some people may need to be spoken to in a simpler manner of speech, my aunt is quite sharp in her mind and can quickly catch on to people who are patronizing her and speaking down to her. She is a very spirited lady, she just needs help with everyday tasks, cooking, cleaning, and her diabetes treatments. One huge reason that my aunt was open to being cared for at Azalea is because they have a great day care, or respite program. We started using Azalea when I had to travel out of town for work, and my auntie was able to spend three days and two nights at Azalea. After that, we got really involved in the program because she enjoyed the socialization. Whether your family will need long term care or maybe just some assistance after a surgery, or care during the day, Azalea is a really great place. While their care is serious and professional, they deliver it in a lighthearted, fun way. It does not feel like nursing home or "the end of the road." My aunt does not feel trapped or unhappy at Azalea, and that is worth gold. The people who run this facility do it with an open heart and we are blessed to be able to give my aunt this type of care.
See all Assisted Living reviews (11)
See fewer reviews
---
Services and Amenities of Azalea Manor
Room and housing options
Companion Suites:

We Do Offer Companion Suites.

Housing Extra:

Private And Semi Private Rooms
General
Resident Capacity:

42

Minimum Age:

65

Pets:

No Pets Allowed.
Licenses
State Licenses:

033-03-003-1
Costs
Assisted Living Starting At:

$2800/month
---
About Azalea Manor
24 Hour Staff Supervision and Assistance
3 Meals Daily plus Snacks and Special Orders
Handrails in Hallways
Emergency Call System in Resident Rooms
Wheelchair Accessible Rooms, Baths & Entry
Carpeted, Private and Semi-Private Rooms with Baths
TV, VCR, Stereo Entertainment Areas
Piano for Planned Activities or For Use by the Residents
Smoke Detectors and Fire Sprinkler System
Beautician and Barber Services
Cable TV
Telephone Connections in all Rooms
Pet Therapy, Regular Religious Services, and Other Activities
Much More!
Outside Services Available To Residents
Azalea Manor residents are provided many services from outside agencies including on-call pharmacist, medication evaluations and on-site physician visits, on-site rehabilitation therapies, on-site medical and nursing care, and more.
Residents Are Assisted With.....
Bathing & Personal Hygiene
Incontinence Care
Dressing
Ambulation
Medications and Insulin
Eating and Nutrition
Daily Housekeeping, Laundry & Linens
Much More!
What Makes Us Special
We are a family owned and operated business, with a combined 25 years of experience within the medical, healthcare, and hospitality industries.
---
Senior Living Communities near Cobb County, GA
Senior Living Communities near Marietta, GA
Other Senior Care in Marietta, GA