Inn at the Pines Assisted Living & Memory Care
Offers Assisted Living and Memory Care
18122 Claridon Troy Rd, Hiram, OH 44234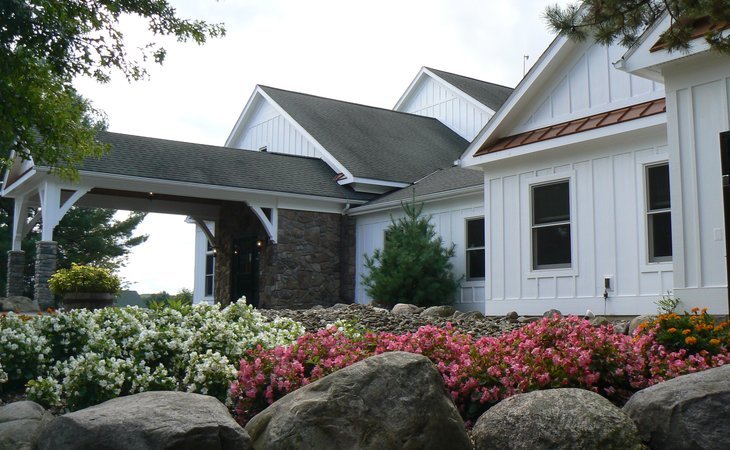 ---
Reviews of Inn at the Pines Assisted Living & Memory Care
Assisted Living Reviews for Inn at the Pines Assisted Living & Memory Care
September 16, 2021
I am a friend or relative of a current/past resident
Very kind staff! Great leadership, and they take great care of my uncle!!
September 16, 2021
I am a friend or relative of a current/past resident
The staff is friendly and treats mom like part of their family vs just another resident/number. If you want to avoid all the institution type setting Inn at the Pines is the place to look.
Provider Response
Thank you Amy for your review. It's nice to be in a home where everyone knows everyone by name, just like family!
September 15, 2021
I am a friend or relative of a current/past resident
The Staff is very friendly and patient with our mother who can be difficult. Her room is kept clean and tidy. She loves the food, aways has something good to say about her meals.
Provider Response
Thank you for the positive review.
September 07, 2021
I am a friend or relative of a current/past resident
At my aunt's request, we found ourselves at Inn of The Pines, and that's where our journey began. We were immediately greeted by the community liaison, and all of our questions were addressed immediately. The staff made arrangements first to take my aunt in and then my uncle going above and beyond their duties. Their professionalism was complemented with care and compassion. Living 2 1/2 hours away has not been a problem with the help of the staff. Everyone has been willing to help on our journey and we could not be more grateful. I could not recommend the staff and community more.
June 16, 2021
I am a friend or relative of a current/past resident
I have visited many assisted living facilities over the past years. Inn at The Pines has far exceeded any expectations I have had in respect to the care of my aunt. The compassion, care and time they take with her are priceless! I would recommend to all!
Provider Response
Thank you Michelle
May 11, 2021
I visited this facility
I did a virtual tour of Inn at the Pines Assisted Living & Memory Care, and I have been there in person within the last three years as well. It's across the board a wonderful community. The food menu was fine and healthful. The facility was very easy to navigate, very homey, comfortable, and clean. The rooms were efficient, sunny, and comfortable. It's a pretty great facility. When I was there, it was a different management and ownership than it is now. The staff seemed very attentive and well trained. It's nothing fancy, but it's really nice.
December 30, 2020
I am a friend or relative of a current/past resident
My wife is a resident of the Inn at the Pines. It's excellent. It is difficult with the Covid, but I think they're doing a great job. They're doing everything they can within the rules. The staff is excellent. Every person I met has been cordial and professional. They got young girls and they got older people there. I think the staff is about as consistent as you can get. They are all pleasant to my wife; they are all pleasant when I'm visiting there. When you're in Covid lockdown, you can't visit, but they do awesome Zoom meetings. I just had a Zoom meeting with my wife an hour ago. They scheduled them, they set them up, and they do everything. All I do is open an email. I'm comfortable with my wife's care down there. I asked her regularly how things are going. She is now comfortable there. She likes the food, too. They make good meals there; they do a great job. We looked at three other places before we picked The Inn. It's way more home-friendly for people than walking into a hospital where all the rooms and halls are exactly the same. Also the rooms are really big. I was shocked at how big the room was. They got bathrooms and showers in them. They have big rooms. Even the maintenance staff had gone out of their way to help us move things. Because of Covid, we can't take things in. Normally, you have to move your own furniture in. However, the maintenance staff have not hesitated, and they were, 'You get it here and we'll get it in here. No problem.' The nurse is great, too. If my wife needs any medications, she always gives me a lead time, and she doesn't wait until they're out. I'm just happy with everything there, but I'm just not happy with Covid. I have no reservations with anybody in the staff. They're busy, but they're all smiles and they say hi. They're cordial. There's no one that doesn't seem cordial or professional there. My wife likes the food. You could have breakfast or dinner there. I had dinner and breakfast there, and I thought they're both great. However, because of Covid, all of those stops. It was sad. They had a great Thanksgiving dinner. They never had to have Thanksgiving dinner like they did now. Most people went home for Thanksgiving. Family people would pick them up, but now they couldn't take them. They had to do the whole Thanksgiving thing themselves there. They had a Christmas dinner. They're doing things that they never ever had to do before. These are all new. And when it comes to opening presents, they set up Zoom meetings for my whole family. My whole family was there. My wife got to open her presents while we're watching her on Zoom. They just have gone out of their way. They're doing a great job. Inn at the Pines is a beautiful building. The rooms are huge. It's also in the country. My wife can see farm fields and woods, it's just beautiful. It's like a park out back there. We went to three other assisted living places and my wife didn't like any of them. When you first walked in, it looked like our cabin in Pennsylvania. The Christmas decorations are excellent. We could visit during Christmas until they had a Covid case. They had beautiful pine trees and there were all kinds of Christmas decorations. They had a lot of stuff there. I hope my wife never had to go anywhere else. I dreaded having her to go somewhere else. I just hope she can stay there. No parking problems; no traffic problems. There's a Dollar General right next door. Let's say my wife needs some Pepsi, I just pick it up, it's only right next door.
See all Assisted Living reviews (7)
See fewer reviews
Get Costs
---
Services and Amenities of Inn at the Pines Assisted Living & Memory Care
General
Resident Capacity:

55

Minimum Age:

55

Pets:

No Pets Allowed
Get Costs
---
About Inn at the Pines Assisted Living & Memory Care
Come visit Inn at the Pines where "It's all about living!" Our assisted living continues to redefine the concept of senior living, with regular updates and enhancements designed to meet the ever-changing needs of our residents.
The Ohio Department of Aging 2018 Resident Satisfaction Survey ranked Inn at the Pines #1 in Geauga County!
The Inn at the Pines offers a modern, western reserve style campus with private Assisted Living and Memory Care apartments guests can customize and make their own. Our campus sits on 10 private tranquil acres nestled into the picturesque Geauga County countryside, just off Route 422 between Cleveland and Warren. With easy access to shopping, medical care and entertainment.
Services & Amenities at Inn at the Pines
Assisted Living
The Inn at the Pines Assisted Living provides our guests with the highest level of independence by providing the personal care services you desire from supervision, to more customized levels of care and monitoring.
Inclusive Services
24-hour nursing staff and resident companions
24-hour mobile medical and safety response call system
Medication Management and Pharmacy Services for your peace of mind
Wellness programming focusing on mental, physical and social well-being
Activities of Daily Living assistance to enhance independence and optimize physical function
Weekly Housekeeping and Laundry Services
Life enrichment, cultural and off campus programming
Amenities
Various apartment sizes personalized to meet your desires with individual temperature controls
loquently finished private bathrooms and showers with safety assistance features
Large windows with country views
Salon and certified stylist services on-site
Grand great room with vaulted ceilings
Tranquil country setting
Basic satellite television
Wi-Fi throughout
State of the art transportation services
Memory Support
The Inn at the Pines Memory Care caters to those guests who require more hands-on assistance with memory support. Trained staff provide hands on care and therapeutic activities for those with Alzheimer's disease, similar dementias and memory challenges. We provide 16 private suites in a modern, western reserve style setting that provide a safe environment and high-quality care for our guests. Our accommodations include a large comfortable living room with fireplace, well-appointed dining room, and a screened country porch overlooking our surrounding meadows. These features with our inclusive care services combine to provide a unique rural setting that our families come to value.
Respite Care
Inn at the Pines Respite Care provides short-term temporary care for those who are cared for around the clock at home. We understand the need for an occasional break from the stress and responsibility that comes with being the primary caregiver for a family member. Our program provides quality care and peace of mind that your family member is safe and comfortable. We have designed our program to allow caregivers time for vacation, travel for a special event, a long weekend, or any other matter that needs attention. The all-inclusive care program provides comfortable housing, pleasant surroundings, nutritious meals and enriching activities.
Adult Day Care
For the primary caregiver of a family member staying in their home, adult day care can be the lifeline that allows for completion of the most routine tasks, such as grocery shopping or a doctor appointment. At Inn at the Pines, we understand that some days, you just need help. Our adult day care program provides short-term care for those who need that time to run errands, work a shift or tend to a personal health need. We also provide the peace of mind that your family member is well cared for and is enjoying their time with us all in a simple hourly rate. At Inn at the Pines we provide lots of opportunity to socialize, as well as taking part in our social programming or enjoying some entertainment. Our guests always enjoy their time with us, whether they attend for an hour or two, or for the whole day.
Get Costs
---
Map of Inn at the Pines Assisted Living & Memory Care
---
Senior Living Communities near Portage County, OH
Other Senior Care in Hiram, OH