The Waterford on Highland Colony Ridgeland, MS
Offers Independent Living
619 Highland Colony Parkway, Ridgeland, MS 39157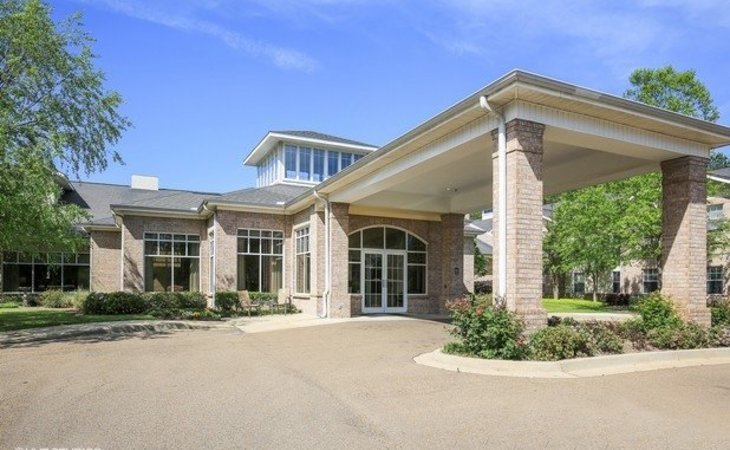 ---
Reviews of The Waterford on Highland Colony
Independent Living Reviews for The Waterford on Highland Colony
September 03, 2016
I visited this facility
Very nice, mgmt. very interested in providing needed info. would be a good choice when I finally decide
June 17, 2016
I visited this facility
The Waterford On Highland Colony was very nice and newly redone, so it looked really good. The staff was fine and nice. The dining area was very nice and clean. It wasn't very inexpensive, but it wasn't too high either. The activities seemed very nice.
May 10, 2016
I am a friend or relative of a resident
I moved my mother into The Waterford On Highland Colony. We?re very happy with it. It?s affordable, and she likes it a lot. They?re very friendly and very helpful. They answered all of my questions and went out of their way to do everything they could. The location and everything are great. The community is very clean. It is newly remodeled with fresh carpet in the rooms. Everywhere has been completely redone, and it is very well maintained. They have new granite countertops, new sinks, new toilets, and new showers. They?re very good. The dining area is nice, clean, and very airy. The windows are open. It smells good and clean. The food and wait staff are good.
January 25, 2016
I visited this facility
The Waterford was a nice facility, but it was a little bit more expensive than my dad was in a position to afford. The only room that was available for showing was a studio apartment, and it was very small. The staff is very considerate, friendly, and very nice. We looked at the menu, and it wasn't bad. They mentioned several different activities like a game room as far as playing cards or checkers, and chess. They did mention a bible study. They mentioned they had a birthday party for any of the residents who had birthdays that month.
January 15, 2016
I visited this facility
GREAT STAFF , GREAT FOOD CLEAN PLACE
September 30, 2015
I visited this facility
The Waterford on Highland Colony is gorgeous. It's in a green space with forest. They have a lake there and benches out beside the lake. The rooms were pretty small, but they were larger than the other place we visited, and they were updated. It's all central air. They will paint them any color that you want. They wanted me to be on the first floor because I have a dog, but I can't afford $2000 a month. They have a party once a week, and they serve wine and hard liquor with a live band. It's a very elegant place like someone's home, and it has a gorgeous library.
August 13, 2015
I visited this facility
The Waterford was a beautiful property, but it was lacking the homey feel, and I know a lot of these elderly people are lonely. Waterford just struck me as kind of a lonesome place. It is independent living, but I just didn't get the warm feel. It was more beautiful, more modern, and more of my personal style, but I didn't get a warm feel for that time in your life or you might be lonely. They were helpful. It just seemed like it needed a warmer feel; it is hard to explain it.
July 12, 2015
I visited this facility
We are looking into The Waterford. It was great, there were lovely people there, and the residents were really nice. We really liked the whole facility. They had cards and different things set up for different weeks. They serve three meals a day. There were several different rooms that we looked at and several different sizes. My sister said the food is fantastic.
April 14, 2015
I am a friend or relative of resident
My mother lives at The Waterford. I would give it 5 stars but the 5th star wont let me click on it. The staff is wonderful, the food is great, residents are friendly. They go over and above in everything to make sure great for her and for all the residents. You owe it to yourself and to your family to check out The Waterford before going anywhere else. You become part of a family and part of a community when you move here. I cant recommend it highly enough! We have been beyond pleased!
See all Independent Living reviews (9)
See fewer reviews
---
Questions about The Waterford on Highland Colony
Describe the overall population of independent living residents at The Waterford on Highland Colony. What is their average age? What are their favorite things to do?
Our residents include men and women ranging in age from 62 to 98! The average age is around 80. It is truly a family atmosphere here, where our residents care for each other and enjoy each other's company. They enjoy playing Bingo, Pokeno, Bridge, Canasta, dominoes and many other games. Some garden around the exterior of our building and enjoy the woods which surround us on 3 sides and the lovely lake that sits in front of our building. Many still drive and keep their cars in our spacious parking lot. For those who don't still drive, we offer courtesy transportation M-F. Everyone loves the delicious food our chef serves daily.
What places are nearby for independent living residents to enjoy?
Even though we are tucked back off the street and surrounded by woods, we are conveniently close to major roads, shopping, restaurants, banks, and professional offices.
What transportation services does The Waterford on Highland Colony offer to independent living residents?
We provide courtesy transportation Monday through Friday. We have both a car and a bus with a wheelchair lift.
What makes the chef or dining program at The Waterford on Highland Colony exceptional? What kind of menu can independent living residents expect?
Our residents enjoy 3 meals a day that are absolutely delicious! Breakfast on M-F, our residents can order eggs, bacon, sausage, biscuits, pancakes, waffles, fresh fruit, yogurt, pastries, oatmeal and cereal. Lunch is the largest meal of the day. Our residents have a choice between 2 entrees, multiple side dishes, bread and dessert. There is a salad bar available as well. Supper is the lighter meal of the day. Our chef keeps the menu varied and interesting, but brings bad the favorites, like fried chicken and meatloaf more often. He also is open to trying new recipes that residents suggest.
What common areas are available for independent living residents?
The Waterford has a large lobby, an intimate library, an activity room, an exercise room, a game room, an arts & crafts room, gathering areas on each residential hallway, and 7 outdoor patios.
What safety features or security measures does The Waterford on Highland Colony offer to independent living residents?
There is an employee in the building at all times. Our building is tucked back off the road and sits behind two other office buildings, and surrounded on 3 sides by woods, so we are quite secluded and private. We have cameras at each entrance so we can see people coming and going. Our front door is locked manually in the evening and unlocked in the morning. The other doors lock automatically upon exiting. The city of Ridgeland police department does a wonderful job of keeping a watchful eye on our property.
If The Waterford on Highland Colony accepts dogs or cats, what indoor/outdoor areas can they enjoy?
Yes, we are pet-friendly! If you have a kitty or small dog (25 lbs and lighter), they are welcome. We have a large exterior grassy area for them to enjoy.
Does The Waterford on Highland Colony work with an agency or registry to provide nursing and medical assistance as needed?
Even though The Waterford is an independent living community and does not provide any medical care, Covenant Caregivers, an enhanced care agency is onsite and can be contracted separately. They may be reached by calling 601-856-5660.
---
Services and Amenities of The Waterford on Highland Colony
Room and housing options
1-bedroom apartments
2-bedroom apartments
Studio Apartments
General
Minimum Age:

62

Pets:

Small Pets Allowed
---
About The Waterford on Highland Colony
At The Waterford, you'll find the freedom to create the lifestyle you've always wanted. Each morning you'll awake to a colorful palette of possibilities from which to paint your day. Enjoy the quiet, muted tones of solitude in your spacious apartment, knowing friends and an attentive staff are close by. When you're ready, join in on the exciting, vibrant tones of the camaraderie of your community. You'll always have a wealth of things to do right at your fingertips keeping you as active as you want to be.
The Waterford proudly presents a staff of experienced, detail-oriented professionals at your service. From our executive director to our culinary chef, to our housekeepers and wait staff, you'll find warm and friendly people truly concerned about you.
The Waterford offers you flexibility and options so you can paint your days with the colors of life.
---
Map of The Waterford on Highland Colony
---
Senior Living Communities near Madison County, MS
Other Senior Care in Ridgeland, MS