Lexington Square of Lombard
Offers Assisted Living, Independent Living, and Memory Care
555 Foxworth Blvd., Lombard, IL 60148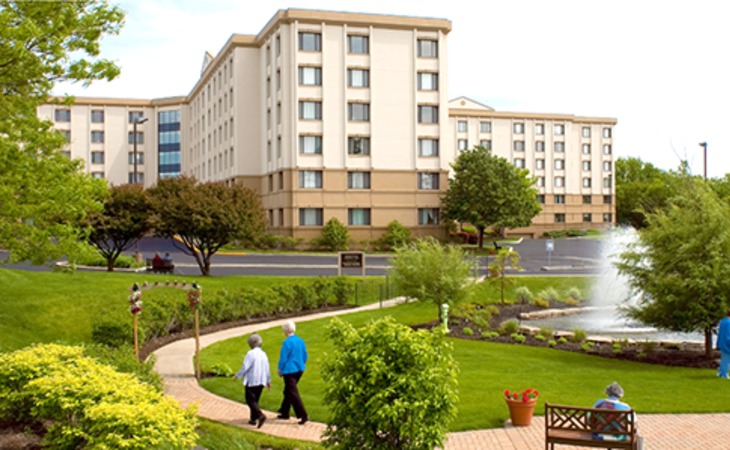 ---
Reviews of Lexington Square of Lombard
Assisted Living Reviews for Lexington Square of Lombard
January 08, 2018
I visited this facility
Staff was very friendly, residents also seemed very happy. Good relationship between staff/residents
August 21, 2017
I visited this facility
We are going to move to Lexington. It's a lovely, friendly place, and it seems like it's going to work very well. The staff we met was wonderful. The apartment we got is a two-bedroom, two-bath, with kitchen and living room. The price is within our budget.
March 15, 2017
I am a friend or relative of a current/past resident
My mother was at this facility for a few weeks until she passed away. She was paid up for an additional nine days beyond the date of her death. The financial coordinator told me that they would send me a prorated refund. More than a month later - no refund. I called and left a message and received no reply. I called the next day and was told to expect a refund in one or two weeks. It sounded like they had taken no action until I asked for the refund. Mom received good care there, but the business practices are lacking.
May 26, 2016
I visited this facility
The first time I visited Lexington rehab was with my father. The physical therapists were wonderful. They pushed him to get stronger each day they were with him. HOWEVER,, this review is not on my Fathers stay but my Mother's. She had a broken hip and needed to get the leg moving again. Again, the physical therapists were wonderful, they pushed my mother to her limits every day. My complaint is with the administration and possible the nurses who administer there drugs. After a full 10 days or so, we had a meeting with the administration staff. At that meeting we talked about Goals that would be met. My mistake was not asking for a second meeting to see if goals were being met. In my eyes, it was clear they were not and I trusted the staff did too. All of a sudden after about 3 weeks, my mother was discharged. I tried to appeal the decision with Medicare and Lexington sighting that goals had not been met and in fact 2 physical therapists said she was not ready for discharge. Medicare did not step up and neither did Lexington. Medicare said that my mother would stay at Lexington while the appeal was going through. Again, I thought they were taking care of this, only to find out, that her stay was out of pocket,, so be careful reader, what your promised, ask questions. The last week or so my mother was at Lexington, she was sleeping a lot. When we talked, she was looking through me, not at me. I truly believe something was going on with her drugs. Let's face it, how hard is it to take care of an old woman when she sleeps the day away. Of course I have no proof of this, but it is strange that within 24 hrs of coming home, my mom was pretty much herself again. Physical therapists 5 stars Case worker/admin. 1/2 star for just showing up. Averages 2
April 24, 2014
I visited this facility
My mother-in-law was at Lexington. She had her own apartment. She was only in the assisted living the last couple of weeks before she passed. We were very happy with everything there. The rooms were clean. They were a good size. The staff was very good. I like how they treated my mother-in-law. They were wonderful to my mother-in-law, and they were wonderful to our family. She was happy with the food. It was very nice, and we had a bridal shower there. Once a week or twice a week, they took them shopping if they wanted to go. They had entertainment, exercise classes, cards, and clubs. They would do field trips to different places.
November 21, 2013
I visited this facility
We visited Lexington and the staff seemed nice and informative, but the rooms were small. I was not able to see much of the activities.
March 13, 2013
I visited this facility
Lexington is very nice and neat. Everything was good, but they're probably the most understaffed.
December 03, 2012
I am a past client of this provider
My husband was in Lexington Health Care for six weeks. The place was clean, there was no smell, it's very well kept. The only thing I wasn't really happy with was they moved my husband from one room to another three times and I was never notified of his move until I got there. That just didn't fit well with me. They have to keep the family more informed and open to family members. Also, they never actually asked my husband to be involved with the activities. He was pretty much left on his own in his room. However, I'm satisfied with their services.
September 26, 2012
I visited this facility
I have observed both the rehabilitative services and long-term assisted living and hospice services at Lexington. Rehabilitative Services: My grandmother spent two weeks at this facility recovering from a broken hip. She was assigned to a double-occupancy room and had a roommate for about 2/3 of her stay. She felt the physical therapy sessions were difficult but productive and enabled her to work towards a quicker-than-anticipated recovery. Her sole complaint was the lack of fresh fruit in the meal service. Long-term/hospice care: My (other) grandmother spent the last year of her life at Lexington in the long-term care. I visited for approximately one hour, once a week, which enabled me to get to know the staff and experience many mealtimes. Residents are typically given a choice of a salad with the option of soup, along with main entrees like salisbury steak, grilled cheese, and breaded chicken. Side dishes include veggies like green beans, macaroni and cheese, or mashed potatoes. The desserts range from brownies to jello with fruit inside, often accompanied by a dixie cup of chocolate or vanilla ice cream. Based on the smell and appearance, this food seems above average for a cafeteria-type dining environment. The staff are friendly and while they don't jump at every yell or ring of a page, they respond to requests and emergencies at an adequate speed. The facility is clean, including common areas. The grounds are nicely landscaped and provide many benches to relax outdoors with residents. Lexington's activities director arranges daily activities such as bingo or sing-alongs, as well as seasonal parties for holidays. The summer celebration includes a moon bounce for guests and hot dogs, among other treats. You can tell they're trying to engage residents and their loved ones based on the variety of activities.Overall, this is not a "luxury" facility but it is a considerable leap above state-run long term care facilities. The residents are treated pleasantly and it is apparent that the staff is doing the best with what they've got. I would not hesitate to live or arrange for a loved one to live at this facility.
April 19, 2012
I visited this facility
This facility was not something I would recommend. My grandmother stayed here while suffering from Alzheimer's Disease. It seemed many of the workers did not understand much about her condition, or how to take care of her. While staying here she developed both MRSA and C.Diff which can often be prevented by proper sanitation procedures. This facility had many unsuitable features.
See all Assisted Living reviews (10)
See fewer reviews
Independent Living Reviews for Lexington Square of Lombard
January 10, 2017
I visited this facility
Lexington Square was a wonderful place, but it's a bit expensive. It had a swimming pool and many activities, and the rooms were bigger.
December 27, 2014
I visited this facility
Lexington is a much larger building. They have everything from a studio to one-bedroom. There was a choice in room size. I went to one room, and it was unfurnished.
August 27, 2014
I visited this facility
I took my mother back to Lexington Square so that she could see it. She really liked it. It was a very nice community. The staff was all very pleasant and very informative. They followed up to see if we have any more questions, so I was very impressed with them. The rooms were a very nice size. We only saw one of the 1-bedroom apartments, but it was very nice and it seemed big enough. We also looked on a studio which was a good size. The dining room was very nice, and they had a nice little room towards the back of it that looks like a private area. If you want to have your family come you can arrange that, and I think it can hold 15 people. So that was very nice. They have exercise classes, like water exercise class, planned outings, and a library. One floor was the library, another floor was the workout room, and then another floor was I think the game room. It just seemed like a comfortable place. It's very clean, too. My husband made a comment that, when we walked in the front door, it was like walking into the lobby of a 5-star hotel.
October 24, 2012
I am a friend or relative of a resident
The staff at Lexington are generally very friendly and kind, although the dining staff can be rude and most of them do not speak English well. The facility has many activities for its residence to take part in. There is also a library, workout room and swimming pool which are open to all residents. The workout room is a little small, but from what I have seen it is rarely busy. The residents also have the ability to have doctors appointments on site with a specific doctor who visits regularly. A small grocery store in the basement as well as a hair salon make it easy for residents so they do not have to leave the building if they do not want to. The outdoor spaces are located directly next to the parking lot, so while residents do have space to get outside, it's not in a very serene setting. The building itself is also right next to an expressway, although the noise isn't a problem. Overall the facility isn't exactly a paradise, but for an assisted living facility it's not bad.
December 12, 2011
I visited this facility
Lexington is a corporate chain with notable difference between their facilities. This is one of the least appealing Lexingtons. The building is set in a quiet, safe residential neighborhood. It is a large facility and often the parking lot is very full and difficult to find a spot without driving around waiting for someone to leave. There are some outdoor areas off the first floor for residents and families to use but these are minimal. There are common areas on each floor but they are either designated activity areas or small sitting areas that are generally small and do not afford any privacy. Rooms are of average size and most are shared. They do have large window that allow natural light. The food is average with some meals that appear appetizing and otherse that certainly do not. The staffing most often seems tight to short, with not enough staff to meet resident needs much of the time. Frequently "agency" nurses are encountered who do not work for the facility directly and have little knowledge of residents as a result. While some direct care staff is very kind and compassionate, there is also variability when there should not be.
See all Independent Living reviews (5)
See fewer reviews
Memory Care Reviews for Lexington Square of Lombard
June 13, 2019
I am a friend or relative of a current/past resident
My mother-in-law spent the last few months of her life at Lexington Square. The staff was attentive, caring, and wonderful! They really went above & beyond for my MIL and our family. The facilities were clean. I highly recommend Lexington Square!
Provider Response
Thank you again for taking the time to leave us a positive review. Our Lexington Square staff is amazing. We will share your kind words with them. Have a great day.
---
Services and Amenities of Lexington Square of Lombard
Costs
All Inclusive Rent
Fee Structure Extra:

Memory Care Is All Inclusive Assisted Living Is Rent + Care Costs

Assisted Living Starting At:

$4139/month

Memory Care Starting At:

$5600/month
Room and housing options
1-bedroom apartments
2-bedroom apartments
Companion Suites:

No

Studio Apartments
Housing Extra:

Memory Care Has Studios And 1 Bedrooms
Features
Beauty Barber Shop
Resident Transportation
Garden And Patio
Resident Parking
Pool
Cleaning services
Laundry For Linens
Housekeeping
Laundry For Clothing
Health services
Skilled Nursing
Medication Management
Physical Therapy
Activities
Offsite Activities
Religious Services
General
Resident Capacity:

283

Pets:

Small Pets Allowed
---
About Lexington Square of Lombard
Assisted Living at Lexington Square is a licensed floor and is part of our care spectrum that is ideal for residents who don't want to, or shouldn't, live alone. Our beautiful home becomes theirs, with an important difference – we feature support, companionship and professional services geared toward fostering and maintaining quality of life for seniors.
We take great care to customize assistance that reflects close attention to each resident's needs and preferences. Every plan is individualized and flexible. As wants and needs change, we adjust accordingly.
Assisted living residents enjoy thoughtfully designed services and amenities, including:
Specialized daily activities / Three meals per day in Assisted Living dining room
Twenty-four hour care staff dedicated to Assisted Living Residents
Pendant emergency button
Weekly housekeeping
Weekly flat laundry and linen service
Personal laundry as needed
All utilities including cable TV and telephone
10% discount off the semiprivate room rate at any of the Lexington Health Care Centers when services are needed – for rental residents only
What Makes Us Special
Lexington Square is also in the vicinity of many excellent attractions that our residents love to visit. Popular shops and restaurants are nearby in Yorktown and Fountain Square, allowing opportunities for long days of dining and shopping. Our senior living communities are also near the Good Samaritan Hospital for peace of mind.
---
Map of Lexington Square of Lombard
---
Senior Living Communities near DuPage County, IL
Senior Living Communities near Lombard, IL
Other Senior Care in Lombard, IL