The Phoenix at Tucker
Offers Assisted Living and Memory Care
2060 Idlewood Road, Tucker, GA 30084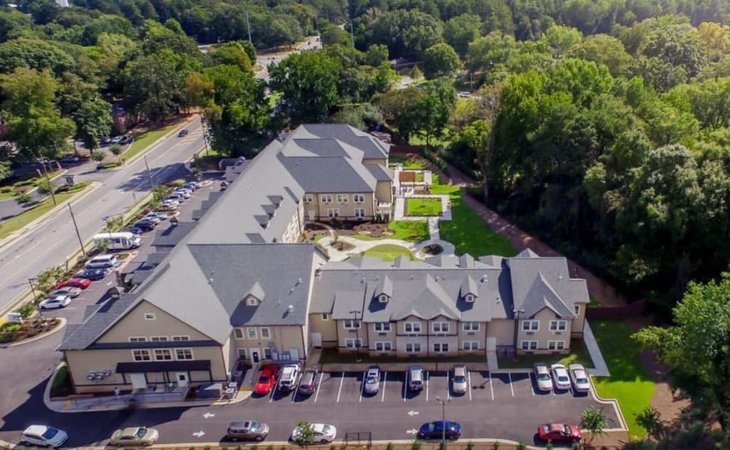 ---
Reviews of The Phoenix at Tucker
Assisted Living Reviews for The Phoenix at Tucker
August 12, 2017
I am a friend or relative of a current/past resident
Everytime I visit I am more impressed. Great staff, beautiful building and amazing food.
June 10, 2016
I am a friend or relative of a resident
My mother is at The Orchard at Tucker, and we are really very happy. It was close to where I live, which was the main attraction. I also really like the way it was laid out because it encourages social interaction. The place is brand new. I like the staff. It's very clean, and I feel that it is really well run. My mom participates in almost all of the activities that they have, and she has never done that before so that is good. They go on trips, play bingo, do exercises, and have social events.
August 22, 2015
I visited this facility
The Orchard at Tucker was very nice. The people who gave the tour were very professional. They were very pleasant. The rooms were very nice. It would be an ideal place for one of our family members. It was a great place. It had a great location.
---
Questions about The Phoenix at Tucker
What ongoing training does the staff receive in dementia care?
Our staff are certified dementia practitioners.
Describe the overall population of assisted living residents at The Phoenix at Tucker. What is their average age? What are their favorite things to do?
Our average age is 77.
What programs or activities does The Phoenix at Tucker offer to enrich residents' well-being?
We offer daily exercise, brain exercise, as well as educational seminars
What places are near The Phoenix at Tucker or within walking distance for assisted living residents to enjoy?
We are near Publix, Kroger, Walmart, Target
What transportation services does The Phoenix at Tucker offer to assisted living residents?
Weekly trips include shopping, errands, church, out to lunch, doctor's appointments
What makes the chef or dining program at The Phoenix at Tucker exceptional? What kind of menu can assisted living residents expect?
Residents can choose from two menus, one menu is of the daily specials, and the other menu are items available daily. Everything is cooked to order. We use fresh produce.
What safety features or security measures does The Phoenix at Tucker offer to assisted living residents?
Every resident gets a pendant to wear. We also have pendants.
How does The Phoenix at Tucker keep residents' families informed about their loved ones?
We have a one call system that notifies families of pertinent announcements
What is the care staff-to-resident ratio at The Phoenix at Tucker during daytime and nighttime hours?
Our ratios are substantially over the state requirement anywhere from 1 to 7 to 1-10
If The Phoenix at Tucker accepts dogs or cats, what indoor/outdoor areas can they enjoy?
Residents can have 1 pet. We have 20,000 square feet of garden space
What ongoing senior care training does the staff receive?
Our staff are certified dementia practitioners. The entire staff participates in a monthly in service training.
How many staffers are on duty in the daytime and overnight?
3 staff members during the day and 2 at night
What safety features or security measures does The Phoenix at Tucker provide to protect residents who wander?
We have a secure invironment.
What programs or activities does The Phoenix at Tucker offer to keep residents engaged? How does the staff engage residents' long-term memories?
Our memory care residents go on a trip every Tuesday. We have a specially designated memory care activity coordinator.
---
Costs for The Phoenix at Tucker
---
Services and Amenities of The Phoenix at Tucker
Costs
Rent Plus Care Fees
Entry Fee
Fee Structure Extra:

All Inclusive In Memory Care

Assisted Living Starting At:

$3600/month

Memory Care Starting At:

$5350/month
General
Resident Capacity:

90

Respite Care
Pets:

Small Pets Allowed
---
About The Phoenix at Tucker
The Phoenix at Tucker offers premier assisted living and memory care with excellence in personalized care and a dedicated, trained staff. Situated in Tucker, GA, but convenient to many communities, our state of the art community offers luxury style accommodations with a relaxed, small town feel. Phoenix Senior Living is a company built on love that spans generations, offering ideal assisted living options for seniors and specialized services for those diagnosed with Alzheimer's and various forms of dementia. The leadership of Phoenix Senior Living, collectively, has been serving seniors and their families in the Southeast for more than 30 years. We believe that transitioning a senior into their new home at The Phoenix at Tucker welcomes a new chapter in their life as well as the lives of their entire family — a life where seniors live, love, learn.
All seniors at The Phoenix at Tucker have access to the community's wide range of services and amenities. Seniors enjoy a superb culinary experience, personalized care assistance, professional housekeeping services, and excellent transportation options, to name just a few.
Every resident has the ability to call for immediate help via our Ecall system located in all bathrooms and bedrooms, as well as by way of personal mobile pendants provided. Our leadership team and trained, dedicated caregivers are committed to serving your loved one, recognizing each resident is uniquely different. When it comes to your loved one, it all matters, and it matters to the entire team at The Phoenix at Tucker.
Live, Love, Learn Signature Wellness Program
Medication Management
Vibrant Activities and Programming
Continence Management
Personal Care and Grooming Services
Courtyard with Relaxing Walking Trails
Home-Like and Inviting Environment
Restaurant Dining
The Phoenix at Tucker specializes in caring for seniors who experience Alzheimer's and the many forms of dementia. We understand the toll memory loss can take on families as well. The Phoenix at Tucker can help manage the various stages of living with someone with Alzheimer's or dementia. Our Memory Care Neighborhood is designed to simulate a comfortable home-like environment. Relevant mementos and furnishings are carefully designed to create a peaceful and familiar environment, coupled with active reminiscing daily. When living with memory loss, cultivating a successful day isn't always easy. Our caregivers proceed with patience, compassion, and respect in all circumstances. Each day, The Phoenix at Tucker enforces the philosophy that every senior can live a purposeful life – no matter his or her current stage of memory loss.
---
Map of The Phoenix at Tucker
---