Maryland is an attractive location for older adults who are considering in-home care. Residents can enjoy a high quality of life with easy access to beaches, historic sites, major East Coast cities and the nation's capital. Seniors benefit from world-class medical facilities, including Johns Hopkins Hospital the University of Maryland Medical Center. Plus, health care costs are slightly lower than the national average. The state also has several licensed home care and home health agencies. The median cost of in-home care is $5,148 per month, which is slightly higher than the national average. Agencies that provide medical care and skilled therapy in addition to help with chores and personal care may charge slightly more.
If you want a location that's well-connected and offers plenty of amenities, look no further than Maryland. The Old Line State provides everything that its almost 1 million seniors need to thrive. In this guide, you'll find information about long-term care prices in Maryland and the state's Medicaid benefits for home care. We've also included information about the latest regulations for home care providers and a directory of statewide resources to help you age in place.
The Cost of In-Home Care in Maryland
In-home chore assistance and personal care costs $5,148 per month in Maryland, according to Genworth Financial's 2021 Cost of Care Survey. This study estimates that seniors require 44 hours of care per week. Prices in Maryland are typical for the mid-Atlantic region. Seniors in Delaware and Washington, D.C., pay several hundred dollars more at $5,339 and $5,577, respectively. West Virginia is the cheapest option at $3,527. With a median of $4,767, Virginia is $381 cheaper than Maryland. Home care prices in Pennsylvania are on par with the national average, which could save you $191 per month.
Home care prices in Maryland's largest cities are all even with or lower than the state median. California is the most affordable location, with an average of $4,576. Prices rose to $4,957 in Baltimore, Cumberland and Salisbury. Prices are even with the state median in Hagerstown at $5,148.
In-home care provides maximum flexibility when it comes to the level of support that you receive. You might request help a few hours a week or have someone come in every day. The median cost for 44 hours of weekly home care or home health care is $5,148. Adult day health care costs less than $2,000 per month. Programs may include meals, recreational activities and physical therapy. Assisted living costs $4,900 per month, including room, board and personal assistance. The cost for nursing home care jumps considerably to $10,342.
Does Medicaid Cover Home Care in Maryland?
Maryland provides State Plan home health care services to certain seniors and low-income adults. The state also provides home- and community-based waiver services. These programs have higher income limits in some cases, but applicants must be disabled or require a specific level of care.
Home Care Waiver Programs in Maryland
Maryland's Medical Assistance program provides a group of community-based waivers that are available to individuals who meet financial criteria and require help with daily activities due to a medical or functional need.
How to Know if You're Eligible for Medicaid in Maryland
Medicaid is an income-based program, so there are strict limits on how much income you can have and how much property you may own. Maryland caps applicants' yearly income at $4,200 for individuals or $4,704 for couples for regular Medicaid and some Aged, Blind and Disabled programs. Other ABD programs have income limits of 200% or 300% of the Federal Poverty Level. Assets are limited to $2,500 for individuals or $3,000 for couples.
The government offers spousal income allowances and property exemptions, in some cases. Additionally, there are medically needy qualification pathways for seniors who spend the majority of their income on medical or long-term care.
2022 Medicaid Income Limits for Seniors in Maryland
Income Limits*
Asset Limits
*Per year
To qualify for Medicaid home care, you must:
Be a Maryland resident
Be a U.S. citizen or qualified immigrant
Be aged, disabled or in another priority group
Be willing to provide a Social Security number
Meet income and asset limits
Meet medical eligibility requirements (for some services)
How to Apply for Medicaid in Maryland
If you want to apply for Medicaid, you can complete the process online at MDTHink, a public benefits portal operated by the Department of Human Services. You can also apply in person or by mail. You'll need to locate your county's Department of Social Services or Department of Health and Mental Hygiene. Individuals in Baltimore and several counties may visit the Bureau of Long Term Care for assistance.
What Information You Will Need
According to the state government, it takes most individuals 20 to 45 minutes to apply for Medicaid. You can save time if you have the following documents on hand. If you're required to provide documentation, send copies as originals can't be returned.
Name and date of birth
Social Security number
Residency information
Any other government benefits you receive
Address or place of residence
Medical and financial needs
Assets sold or transferred in the past find years
Monthly expenses
Financial obligations
All sources of income
Federal Tax returns
Financial statements
Legal documents, such as power of attorney
Health insurance information
Life insurance policies
How to Get Help Applying for Medicaid
If you need help applying for benefits or accessing the services that you're entitled to, contact the following agencies for assistance.
Does Medicare Cover In-Home Care in Maryland?
In general, Medicare does not cover the cost of non-medical home care. That being said, there are situations in which Medicare provides some coverage for medical home care, referred to as "Home Healthcare." There are several eligibility restrictions for coverage, including that individuals must be homebound and have a referral from their doctor specifically for home healthcare services.
Below is an overview of some of the skilled medical professionals whose in-home services are typically covered by Medicare – for more in-depth information, refer to our Guide to Home Healthcare.
Physical Therapists: Physical therapy is used to help patients recover from injuries (broken bones, knee injuries, etc.), treat ongoing conditions such as arthritis, and assist in recovery from surgeries and procedures such as a knee or hip replacement.
Visiting Nurses: Licensed nurses can provide a number of medical services for those who don't need to stay in the hospital, but do need regular medical services such as wound care, changing feeding tubes, etc.
Occupational Therapists: Occupational therapists help seniors regain or maintain the ability to accomplish normal, daily tasks, such as bathing, dressing, eating, and other daily activities.
Speech Therapists: Speech therapists help seniors who are struggling to adequately communicate due to a stroke, dementia, or any other cause regain the ability to functionally communicate using a variety of means. Additionally, speech therapists help to keep seniors independent by modifying diets, teaching special techniques to swallow safely, and retraining associated muscles.
As mentioned above, in-home care is distinctly different from home healthcare. But, there can be some overlap in services between the two types of care. So, while Medicare doesn't cover non-medical in-home care, there are in-home care services that may be covered in special circumstances when they're provided in conjunction with home healthcare (such as an occupational therapist helping with eating or dressing)
Other Financial Assistance Options for In-Home Care in Maryland
While the above programs help many people finance in-home care, they will not cover all costs for everyone. There are other ways to pay for in-home care, including out-of-pocket arrangements with siblings, annuities, reverse mortgages, private insurance and more. Read Caring.com's Guide to In-Home Care Costs to learn more about these alternative payment options.
Free and Low-Cost Resources for Seniors in Maryland
Seniors in Maryland can get help as well as free information and referrals through the following agencies and programs. Many additional resources are sponsored by the state government and local nonprofits.
COVID-19 Rules for In-Home Care Providers in Maryland
The Centers for Medicare and Medicaid Services recently issued a memorandum requiring home health care workers and other medical providers to be vaccinated. This rule applies to all agencies that accept Medicaid or Medicare benefits. Maryland also has its own vaccination requirements. However, workers may opt to get tested in lieu of vaccination. Workers may also be able to request an exemption from these requirements.
For specific information, ask your home health agency about its policies for vaccinations, testing, masking and personal protective equipment. Your provider may be able to address your concerns or accommodate your requests. For updates on regulatory changes made after April 2022, contact your Area Agency on Aging.
In-Home Care Laws and Regulations in Maryland
Residential service agencies that provide nonmedical in-home care to seniors are licensed through the Maryland Department of Health and Mental Hygiene, Office of Health Care Quality. The OHCQ is also responsible for conducting scheduled and unannounced inspections of RSAs to ensure compliance with state regulations, and investigating complaints made against agencies. The following table offers an overview of the regulations under which Maryland RSAs operate.
In-Home Care Laws and Regulations in Maryland
Scope of Care
RSAs may provide a number of nonmedical in-home services to clients, including assistance with daily living activities and personal care. Noncertified staff may also provide medication reminders, perform light housekeeping duties, prepare meals, shop for groceries and accompany clients on errands and appointments.
Care Plan Requirements
An RN must assess the care needs of each client, and then help agency staff formulate a personalized care plan and assign appropriate personnel. This plan must detail a client's needs and short- and long-term care goals, the specific services the agency will provide and their frequency.
Medication Management Requirements
Noncertified RSA staff members who provide nonmedical in-home care may assist clients with self-administration of prescribed medications. Only licensed or certified staff may administer medications.
Staff Screening Requirements
Direct care workers must pass a criminal background check, TB screening and skills assessment.
Staff Training Requirements
Staff providing in-home care must receive training in personal care, how to identify changes in clients' physical condition, record keeping, infection control, CPR and abuse and neglect prevention.
Reporting Abuse
Suspected abuse, neglect or exploitation of a vulnerable Maryland senior may be reported anonymously by calling the state's
Adult Protective Services
abuse hotline at 800-917-7383.
Frequently Asked Questions
Are There Programs to Cover Home Modifications in Maryland?
Interest-free, 30-year deferred loans are available through the Maryland Accessible Homes for Seniors program to help address necessary modifications. Various Medicaid programs and waivers that cover in-home care also pay for essential accessibility and safety upgrades.
How Much Does In-Home Care Cost in Maryland?
According to the Genworth Cost of Care Survey 2019, seniors in Maryland pay an average of $4,481 per month for in-home care. This is about $100 less than the monthly average for home health services, which include nursing care, and almost $200 above the national median.
Are There Transportation Assistance Programs in Maryland?
What Are Activities of Daily Living ?
Activities of daily living are the actions related to self-care that an individual completes on a day-to-day basis. These routine activities include personal hygiene and grooming, bowel and bladder functions, dressing and undressing, eating and mobility.
What Types of Services Does a Home Care Aide Provide?
In Maryland, home care aides may provide various nonmedical services, including helping with personal care tasks, such as bathing or showering, dressing, grooming and eating. They may also offer medication reminders, prepare meals, perform light housekeeping chores and accompany seniors on errands and appointments.
Does Maryland Pay For In-home Care?
Can Family Members Get Paid for Caregiving in Maryland?
Family members can't get paid for caregiving in Maryland. However, the state offers several options for financial assistance for adult family members who provide in-home care for their parents, grandparents, or adults living with disabilities. While the eligibility requirements vary, there are some programs and waivers that offer support to family caregivers who live in Maryland. Read More
How to Find an In-Home Care Provider in Maryland
Whether you are looking for yourself or a loved one, finding a quality home care provider can be a stressful process. When you hire an in-home care aide you're placing a lot of trust in the hands of the person by inviting them into your home, so you'll want to be diligent in your search. At Caring.com, we're here to help – we've created a helpful checklist below that can help guide you through the process of both determining your needs and finding a home care agency that will provide the best care possible.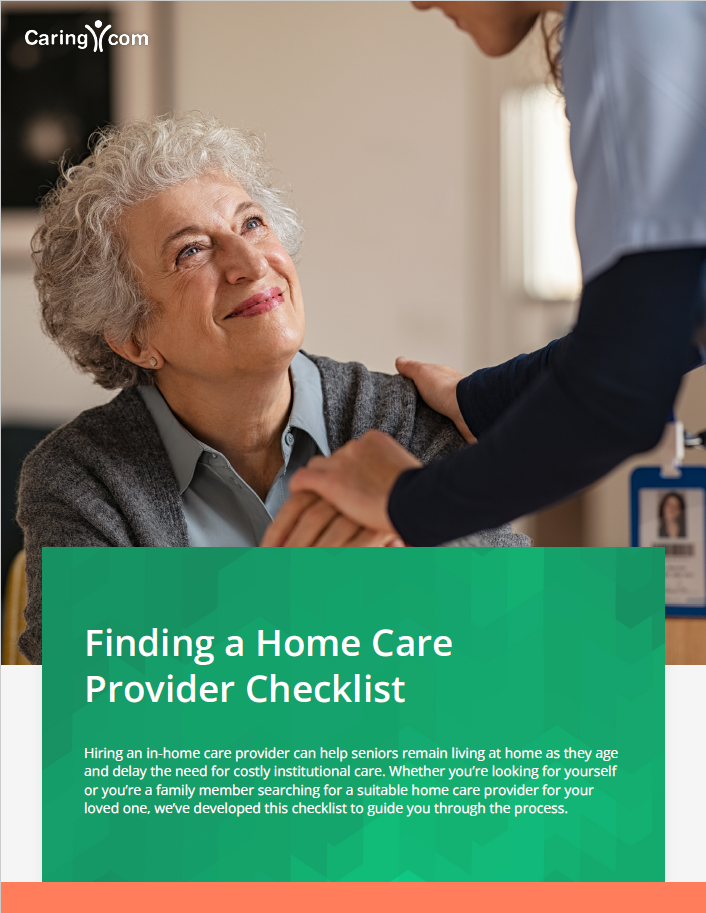 Find Home Care Agencies Near You
To find quality home care providers near you, simply input the zip code or city where you would like to start your search. We have an extensive directory of home care agencies all across the nation that includes in-depth information about each provider and hundreds of thousands of reviews from seniors and their loved ones.
Home Care Services in Maryland (326)