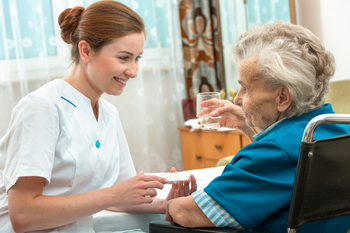 All Rights Reserved
Nursing homes or convalescent homes are also known as skilled nursing facilities, or SNFs (pronounced "sniffs"). Skilled nursing facilities are defined as live-in facilities that provide medical treatment prescribed by a physician. These nursing care facilities cater to several types of patients: some patients require short-term rehab while recovering from surgery; others require long-term nursing and medical supervision. In addition, some SNFs offer specialized care programs for Alzheimer's or other illnesses, or short-term respite care for frail or disabled persons when a family member requires a rest from providing care in the home.
What to Expect From Skilled Nursing Facilities
Skilled nursing facilities provide twenty-four hour nursing care; rehabilitation services such as physical, speech therapy and occupational therapy; assistance with personal care activities such as eating, walking, bathing and using the toilet; coordinated management of patient care; social services and activities.
Paying for Skilled Nursing Facilities
People typically pay for skilled nursing facility care with Medicare, Medigap and Managed Care, Medicaid, long-term care insurance policies (LTCI), veterans benefits or private payment. Most skilled nursing care at a facility is covered initially by Medicare. After Medicare coverage stops, your options are LTCI, Medicaid, private payment or a combination thereof.
Medicare
What is Covered
First 20 days in a Medicare-approved skilled nursing facility
Days 21-100: Medicare pays for all covered services except for a daily coinsurance amount which adjusts annually; 2007 coinsurance is $124/day, 2008 coinsurance is $128/day
Doctors' visits
Nursing care
Semiprivate room rates
All meals (including special diets)
Physical, occupational and speech therapies
Lab and X-ray services
Prosthetic devices
Prescription drugs
Some medical supplies and equipment
Conditions and Limitations
There are strict limitations to Medicare coverage in skilled nursing facilities.
Beneficiary must be in hospital for 3 consecutive days, not counting day of discharge.
Must be admitted to skilled nursing facility within 30 days of hospital discharge
Services must be related to condition that was treated in hospital
Must require daily skilled nursing or rehabilitation services
Must be determined that services can only be provided on an inpatient basis
Doctor must specify need for daily skilled care services; and
Doctor must re-certify need at day 5 and day 14 after admission, and every 30 days thereafter
Medicare must review and approve continued need for skilled care services
Skilled nursing facility stay must be 100 days or less; and
Medicare must approve the length of stay (100 days are not automatically granted)
Medigap
What It Covers
Eight of the ten basic Medigap policies (Medigap Plans A-J) completely cover days 21-100 skilled nursing coinsurance; Medigap Plans K-L cover a portion. Three states have their own Medigap plans. In Massachusetts, the core plan does not cover skilled nursing facility coinsurance, but a supplemental plan does. Skilled nursing facility coverage is provided in Minnesota both with the basic and extended basic plan and in Wisconsin with the basic plan.
Managed Care
What It Covers
Managed Care policies cover everything that Medicare covers (see Medicare). Sometimes there is a co-payment, however, for days 21-100, that is usually about half the cost. In addition, no prior hospital stay is required.
Conditions and Limitations
Skilled nursing facility must be Medicare-certified; and
Resident must get authorization from the insurance company for services
Medicaid
Medicaid recipients must give a portion of any social security income towards payment of skilled nursing facility services.
What It Covers
All costs of skilled nursing services and medical equipment that a doctor deems necessary (usually an individual will need assistance with at least two activities of daily living)
To hold a bed for a finite amount of time, usually a one- to two-week period, if a resident requires temporary hospital care
For leaves of absence of up to 18 days per year for visits with family or friends
Long-term Care Insurance
What It Covers
Facility Only and Comprehensive policies pay benefits in a skilled nursing facility, but the amount of coverage depends on the individual policy.
Veterans Benefits
What It Covers
The Department of Veterans Affairs (VA) provides skilled nursing care to eligible veterans through VA and Community Contract facilities. Veterans who do not meet the conditions and limitations outlined below may still be eligible for nursing care when space and resources are available.
Conditions and Limitations
Veteran must meet the eligibility criteria for VA benefits
Require skilled nursing care for a service-connected condition; or
Have a service-connected disability rating of 70% or more; or
Have a service-connected disability rating of 60% and be considered unemployable
Skilled nursing care for non-service connected veterans is limited to 6 months
Finding and Assessing Nursing Homes
Caring.com provides national nursing home listings along with information on how to assess nursing homes so you can find a skilled nursing facility that will best fit your needs.