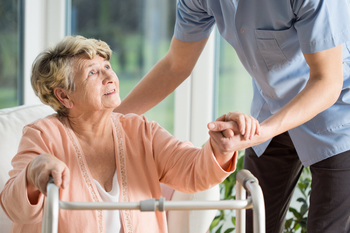 All Rights Reserved
Moving into a skilled nursing facility for long term care can be one of the most difficult decisions for you and your loved ones, but it also can bring great benefits. There are two main types of stays in a skilled nursing facility:
Long term care. A skilled nursing facility is an option when an individual's daily care needs are more than family caregivers or assisted living facilities can provide.
Moving into a skilled nursing facility on a temporary basis to recover from an injury or hospitalization. This type of nursing home stay is a less difficult decision than selecting long-term care. This is because the need is usually very clear and a doctor or medical facility will recommend skilled nursing to achieve a specific goal for health and wellness.
Families and caregivers can find the question of when to move to longer term care in a skilled nursing facility to be more difficult. "This decision was heartbreaking," says Lisa Marie Chirico, a 49-year-old who started Nursinghomeology.com and serves as a coach and a resource for families making this decision. She recalls the wrenching decision to find skilled nursing care for her father, who had lived with Alzheimer's disease at home for a decade. By then in his 80s, he eventually lost mobility and had medical and feeding needs that were beyond what Chirico and her family could provide, so they decided to find a nursing facility for him.
If you're having a hard time determining whether it's time to talk about a move to a skilled nursing facility, consider going through the day with your loved one (either in person or just thinking through what you have observed) to find out how well they're managing.
"Start with the morning," advises Mimi Cundieff, LNFA, administrator at South Place Rehabilitation and Skilled Nursing in Athens, Texas. "Are they getting up, getting dressed, cooking a balanced meal, and managing their medications at different times throughout the day?"
Continue looking at how your loved one manages with activities of daily living such as bathing, dressing and eating, as well as how much help they currently need from a caregiver. In an assisted living facility, staff will also be noticing any changes through the day.
When to Consider a Skilled Nursing Facility
What follows are some key signs that your loved one may need to move into a skilled nursing facility to get the care that he or she needs.
1. They require more medical attention through the day.
When your loved one needs 24-hour medical care and their current living situation does not allow for that, it's time to consider a skilled nursing facility.
2. They're not mobile.
In an assisted living facility, staff will notice if your loved one is unable to get around as freely, even with help. For someone who lives at home, look for signs that include:
Newspapers, mail, packages, or other outside items not being brought in.
Not showing up for appointments or regular activities, such as social or church events.
Inability to tidy up their house.
Inability to manage transfers to or from a bed or wheelchair.
Unsafe or impaired use of transportation, including their own vehicle or public transportation options.
3. They're not eating well.
Signs of problems with food, nutrition and eating include:
Not having food in their home.
Skipping regular meals, including not attending meals at their assisted living facility or other community center.
Being unable to eat solid foods or lacking appetite to eat.
Storing or preparing food in unsafe ways.
Unexplained weight loss.
4. They're not caring for themselves physically.
"Are they clean?" asks social worker MaryHelen Clausing, on staff with Rose Villa Senior Living in Portland, Oregon. Inability to carry out activities of daily living such as brushing one's hair, bathing, brushing one's teeth, toileting, tending to sores or bug bites and keeping clothing or bedsheets clean indicate a need for greater care.
5. They can't keep up with medication schedules.
If your loved one often forgets whether they've taken medications or you notice that the counts of medications are not what you would expect, these are signs that doses are being missed or repeated. Other signs that medications are being skipped include symptoms or health tests, such as blood sugar testing that doesn't match up with expected results.
6.They need frequent specialist care.
Skilled nursing facilities provide access to specialists, such as wound care specialists, social workers, and physical therapists, that might be difficult for family to take a loved one to see regularly.
7.They suffer frequent falls.
Unusual and frequent bruises, fractures, sores, or broken bones suggest a need to move to skilled nursing.
8.They experience significant changes in wellness, routines and behavior.
"Often the trigger for a higher level of care is a series of small things," points out Vassar Byrd, CEO of RoseVilla. There will be people who need skilled nursing, but who may not exhibit easy-to-pinpoint changes. You have to know your loved one. Small signs might include behavior changes such as refusing to let anyone into their residence, paranoia or delusions, ongoing poor health or pain, or significant confusion or disorientation.
Listen to Your Loved One's Care Community
If your loved one has been in an assisted living community, you can ask community staff, neighbors, and others at the facility if they've noticed any significant changes. Or, the staff might bring up their concerns to your loved one and to you.
If your loved one has been living at home, you might have to do a little digging. Talk to the people who interact regularly with your loved one, including the mailman, neighbors, newspaper delivery person and any others who could notice change on a daily basis.
Heller points out that some communities have a Gatekeeper Program which trains community members to be aware of the changing needs of older adults living nearby. Programs like these, as well as Meals on Wheels or other groups that may be delivering food or items to your loved one can also be good sources of information.
There can be many reasons for all of the signs and symptoms that suggest a need for skilled nursing care, so it's important to get a complete medical evaluation if you have questions about the decision.
Tips to Ease the Transition
Talk about skilled nursing options sooner rather than later. Cundieff and her family began talking to her mother about a move to a skilled nursing facility before she actually needed it. "Then when she had to come into the facility, she understood she was no longer able to take care of herself at home. She did not want to be a burden to us," recalls Cundieff, who recommends visiting facilities with your loved one as you do your research.
Seek your loved one's input. "It's really important that your loved one remain in the driving position," says Byrd. But, also do your research. Skilled nursing facilities with a greater star rating in Medicare's Nursing Home Compare database have slightly better outcomes for their residents, according to data published in the Journal of the American Medical Directors Association in 2013.
Stay involved. Whether because of distance, busy schedules, or guilt, caregivers might find it difficult to visit a loved one at a skilled nursing facility. However, stresses Cundieff, it is important to keep visiting or making regular phone calls when you can't visit. Many residents of skilled nursing facilities also can go out for meals or visits with family or friends.
Connect with the staff. Get to know the people who will be caring for your loved one. Send thank you notes, give gift cards at holidays, or show up occasionally with cookies or fruit trays to let them know you appreciate the care they provide.
Work with the ombudsman. Any concerns you or your loved one have about care once they are in the skilled nursing facility can be brought up with an ombudsman, who will help facilitate a resolution.
"We are all on the same side, which is making sure your loved one is well taken care of," says Cundieff. "There's no doubt that this can be a tough and personal decision for your family, but you'll feel better as you explore your options and gather more information about the situation."