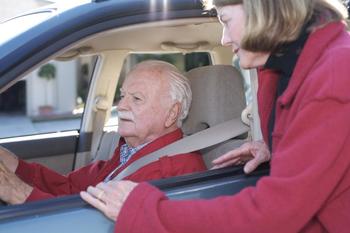 All Rights Reserved
Help keep an older adult safe behind the wheel
It's likely the day will come when someone you're close to has to give up the car for good, but in the meantime, you can take steps to help keep him safe behind the wheel. Here are ways to keep him on the road -- and prepare him for the day he has to give up the keys.
Suggest a refresher course. Encourage the person to brush up on his driving skills and keep abreast of recent changes in traffic laws by taking a refresher course. AARP and the Automobile Association of America offer refresher driving courses for seniors, as do many commercial driving schools.
Make sure his vehicle is suitable. Check that his car is well adapted to his needs and abilities. Power steering, automatic transmission, a dashboard and speedometer that's easy to see, a height-adjustable seat, a steering wheel that can tilt and telescope, and large, glare-proof mirrors to reduce blind spots and glare -- all are features that make driving easier and safer for an older driver.
Encourage him to exercise. There's evidence that keeping fit can help older adults maintain or even improve their driving ability. A recent Yale University study found that those who participated in regular physical conditioning and exercise routines for three months showed better driving performance. The AAA Foundation for Traffic Safety features exercises to improve flexibility, or the person's physician can suggest an appropriate exercise routine.
Help prepare him for the day he can't drive
When you realize that an older adult is becoming less comfortable on the road, you can help ease his transition to the time when he can't drive.
Help him figure out how to limit his driving. If an older adult is having minor driving problems, you might want to suggest some interim measures that will keep him safe and on the road. He may be willing to avoid night driving or driving on wet or icy roads, for example, or agree to limit driving to essential errands and familiar driving routes. In some cases, the Department of Motor Vehicles (DMV) will give an older motorist a license that includes certain restrictions if he has problems with a routine driving examination. The DMV issues restricted licenses to people with vision and other physical problems, and may require the individual to drive with assistive devices, such as special lenses or mirrors, or may forbid night or freeway driving.
Explore other transportation options. Even while the person is still able to drive, it's a good idea to begin exploring other transportation options, so he'll be familiar with them when the time comes. If he's apprehensive about using public transportation, offer to take the bus with him the next time he has a doctor's appointment. Ride the train together to the city for a shopping trip. Suggest that he ride with friends to parties or outings. Find out if there are local senior transportation services, and encourage him to try them.
Make it clear that you'll be there for him. Older adults often dread the loss of their car because they fear isolation and further diminishment in a life that seems to grow smaller every day. It's important to let an older adult you're close to know you'll be there to support him through this transition. You can begin to communicate that message now, so it won't seem like such a scary prospect when the day comes around that he needs to stop driving. Offer to take him to his doctor's appointment and out to lunch when you have a free afternoon, for example, or pick up groceries for him when you are going shopping yourself. Join him in activities that don't require a car, like a walk in his neighborhood or dinner at a restaurant around the corner. If you live far away, check in frequently by telephone, and take time to visit as often as you can. Making yourself available in small ways will let your friend or relative know that whether he has to give up his keys now or in several years, you'll be there to take the journey beside him.