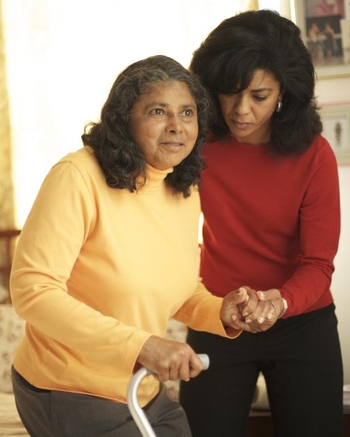 All Rights Reserved
If someone is over age 65 and requires only a short-term stay in a skilled nursing facility after a hospitalization, then Medicare should pick up the costs for the first 20 days and any costs over $128 per day for days 21 through 100. If he needs to stay in a nursing home for the long term, he may be eligible for coverage under Medicaid, but only if his assets fall below a certain level.
If he has long-term care insurance, skilled nursing may be covered. Otherwise, you'll need to find a way to cover the expenses, which average upwards of $200 a day.
What Are Nursing Homes? | Kinds of Nursing Homes | Nursing Home Reports | Medical Care in Nursing Homes | Visiting Nursing Homes
What Are Nursing Homes?
If the person in your care is no longer able to function independently, you'll need to consider the options, including a nursing home. What makes a nursing home different from other eldercare choices is the fact that a patient will be under the 24-hour care of licensed or registered nursing staff (in a skilled nursing facility) or of certified nursing assistants (in an intermediate care facility).
In addition to nursing care and room and board, a nursing home also provides assistance with what's known as "activities of daily living" -- dressing, bathing, grooming, toileting, walking, and so on. Physical therapy and activities are usually included. But make sure you're clear on exactly what services are provided before signing the contract.
Kinds of Nursing Homes
If the person you're caring for has a medical condition that requires continuous monitoring -- anything from a feeding tube or respirator to an ongoing need for physical or occupational therapy -- he'll likely need to be in a skilled nursing facility. If his main need is for ongoing help with activities of daily living, then an intermediate rather than a skilled facility may suffice.
Sometimes patients transition from the hospital to skilled nursing and later to intermediate care. Some facilities have both skilled and intermediate wings. Each facility will have intake planners who can help you evaluate his needs and find the right level of care.
Narrow down your nursing home choices
If a patient is going to a nursing home after a hospitalization, the hospital will have a social worker known as a discharge planner who can help you find a facility. But there's no substitute for doing your own legwork.
One quick way to find nursing homes in your area is through Caring.com's Nursing Home Directory.
Nursing Home Reports
Each nursing home is required to keep copies of state licensing reports on-site and to show them to you at your request. Once you think a home is a good possibility, take a close look at it. You can also call your state or local long-term care ombudspersonand ask if there have been any substantiated complaints against the home you are considering. (An unsubstantiated complaint in itself, with no other red flags, may not be reason enough to steer you away, as complaints are fairly common.)
Medical Care in Nursing Homes
In most nursing homes, a doctor is on call and makes rounds periodically but isn't on-site at all times. By law, the minimum required frequency of doctor's visits to patients in nursing homes is once a month during the first three months and once every two months after that.
If you want the person you're caring for to be under the supervision of his private physician, you can ask her to visit him in the nursing home -- but if she sees patients only in her office and you're in the area, you might also consider bringing him out for appointments.
What should I do if something seems wrong? If you suspect or know of a problem with the nursing home's care, the first thing you'll want to do is talk to the nurse assigned to the person in your care. If that doesn't solve the problem, go up the chain of command to the charge nurse, then the director of nursing or the nursing home administrator.
If you still have serious concerns, you may need to contact your local or state long-term care ombudsperson file a complaint. And of course, if your concerns have reached this level, it may also be time to think about looking into another nursing home.
Visiting Nursing Homes
Above all else, try to spend time -- with the person in your care if possible -- at a place you're considering, and trust your instincts. Remember that, even if a patient needs round-the-clock nursing supervision and a nursing home seems to be the only way to go, this is a difficult step for many older adults to take. The sight of other elderly and ill residents, often in wheelchairs, may evoke depressing feelings of being "put in a home."
Staff at a good facility will be aware of these feelings and treat him with care and courtesy. Do they address him by name from day one and ask him about his preferences rather than seeming to treat him as "just a number?" Do the long-term residents look well-groomed and animated? Are there little touches like well-tended plants that make the place seem less institutional? Small things like these can ease a challenging transition.
What else can I expect the nursing home to provide?
Besides nursing supervision, meals, and assistance with personal care, a nursing home should offer laundry and housekeeping; linens and towels; personal hygiene items; activities; physical, occupational, and speech therapy; dental care; and mental health services. A dietician is usually on staff. All of this should be spelled out in a contract you receive upon admission, along with a detailed list of basic and additional charges.
The nursing home is required to assess a patient within two weeks of admission and to review his condition every three months after that. This information should be used to develop a care plan, which should be shared with you in care plan conferences. If you don't get invited to one of these, ask! This is your chance to pose any questions you've been saving up and to share important details about the needs and preferences of the person you're caring for.