Driving & Transportation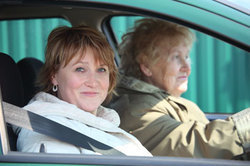 Many caregivers worry about their loved ones driving safely -- but it's not always easy to know what to do about it. Here you'll find insight and practical tips for staying on the road safely, knowing when it's time to stop driving, helping a loved one give up the keys, and finding alternative ways of getting around town.
Tip: Resources for Tuning Up Driving Skills
Older drivers can assess and brush up on their driving skills to ease their minds -- and yours. The AARP regularly offers driving classes for seniors....
read more