Driving & Transportation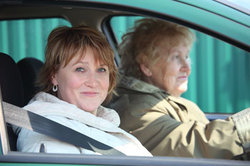 All Rights Reserved
Many caregivers worry about their loved ones driving safely -- but it's not always easy to know what to do about it. Here you'll find insight and practical tips for staying on the road safely, knowing when it's time to stop driving, helping a loved one give up the keys, and finding alternative ways of getting around town.
Tip: Getting Around When Driving Isn't Possible
For advice on how to help your elderly parents cope with life when driving is no longer an option, check out the AAA Foundation for Traffic Safety's w...
read more