Lewisville Estates
Offers Assisted Living and Independent Living
800 College Pkwy, Lewisville, TX 75077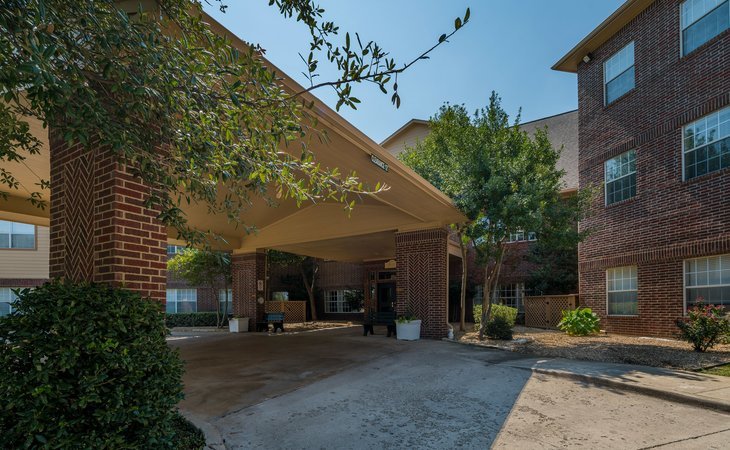 ---
Reviews of Lewisville Estates
Assisted Living Reviews for Lewisville Estates
June 08, 2018
I am a friend or relative of a current/past resident
Caring, attentive staff. Great safe environment for my mom.
June 08, 2018
I am a friend or relative of a current/past resident
Lewisville Estates is wonderful! I would highly recommend. They help keep your mind at ease knowing that your loved ones are well taken care of. The staff has excellent communication and they are super friendly! Great activities! Feels like home!
May 03, 2018
I visited this facility
The staff is warm and friendly and genuinely care. It is clean and the residents seem happy and interactive every time I go in!
May 02, 2018
I am/was a resident of this facility
I love Lewisville Estates because everyone is friendly and caring (looking out for and checking on each other). I like all the activities and our choice to participate and the monthly main event party. Thank you for caring.
April 13, 2018
I am/was a resident of this facility
I like Lewisville Estates because of the many staff members who do their best to make this retirement center a good place to live.
April 13, 2018
I am/was a resident of this facility
I like all the faculty and some are special like Patty, Hilda, Lisa, Jacob, Tessie and my cleaning lady. I really like living here at Lewisville Estates.
April 13, 2018
I am/was a resident of this facility
Everything is so convenient! Everything and where I go is at my fingertips.
April 13, 2018
I am/was a resident of this facility
I have lived here for nearly 3 years and for a retirement facility, it meets nearly all the requirements needed. The officials are very caring and if you have a personal problem here, there is always someone to listen and correct it. For living out the years, I am thankful for this!
April 13, 2018
I am a friend or relative of a current/past resident
In the 11 years I have been here, there have been many changes, but we have been able to keep personnel who are outstanding (Erin, Patty, Hilda, Coco, Casey and others I am sure). I love that I am comfortable and "taken care of." This is my HOME.
April 13, 2018
I am/was a resident of this facility
I love Lewisville Estates because of the caring & respectful staff.
August 21, 2017
I visited this facility
Lewisville Estates was an older facility, but very nice. They had a huge activities room. They had most anything that you would want to do like Bingo, cards, puzzles, crafts, and bible study on a weekly basis. Their dining room was beautiful. Their staff was great. They also had a walking trail around the building and it's pretty nice. The facility was very clean. The apartments were probably not quite as spacious as some of the other ones we visited, but they were sufficient. There was a library and a movie theater. They were friendy.
February 07, 2017
I visited this facility
Lewisville is just down the street from where we live. It's an older facility, and it's limited on the amenities. The rooms and the apartments are very small. In fact, they didn't have any first-floor accommodations.
November 24, 2016
I visited this facility
Lewisville Estates was a very nice place. The staff was excellent; the food was absolutely delicious. It was A-1. It had lovely grounds and very good people. The dining area was wonderful. The chef even came out to talk with us. I don't eat any dairy, so he made sure that I didn't get anything like butter or cheese in my dishes.
November 14, 2016
I visited this facility
I liked Lewisville Estates, but it wasn't as convenient to my home. The dining room was nice, the apartments were very nice and decent-sized, and there was plenty of room. There was a kitchenette, living room, and bathroom, and I liked it. The price was reasonable.
November 01, 2016
I am a friend or relative of a current/past resident
The food at Lewisville Estates is home-cooked, very adequate, and had small portions that would be appropriate for the seniors. The rooms were very acceptable, and they were to my mother's expectations. Every time a new resident moves in, they repaint the rooms and put in new carpets; I think it was fine. They can improve on the way they check on someone who didn't come to a meal. If they had fallen, there is a wall string that they can pull, but if they aren't close to that, I don't see how they can get immediate attention. They do check and see if they've left their room, but there's no way to check on them immediately.
September 13, 2016
I visited this facility
The Lewisville Estates was very nice. There was a lot of staff, and there was a lot of interaction between the staff and the residents. They were having church service, and there were a lot of residents involved in that church service. But they were expensive; their fee was higher compared to everyone else. And they had a waiting list. We got to see people's rooms because there was no empty room. They seemed big and enough room for their stuff and the rooms were bright. We really like bright rooms because we don't want to put our mom in like a cave.
June 10, 2016
I visited this facility
Lewisville Estates was very nice. The common dining area was very nicely set up and had people waiting on the senior citizens who were eating. They were using real plates, utensils, and glasses as opposed to paper products. It was very nicely set up and very nicely structured. I went into one of the assisted living places, and the room was very nicely structured with a sink and a microwave, a little refrigerator, and an island. It was a big, open room, so they wouldn't have to worry about going through any door, except the one in the bathroom which had nice handicapped showers. The staff people were all very friendly. The thing that impressed me the most was how open and airy it was walking down the halls and the other areas. They had a kitchen with a cookie oven, and a table for doing crafts and stuff like that. The one thing that I was looking for because my father has dementia and drives around in a scooter is I would want the facility to be able to keep him in and not let him get out. They are not structured to keep the people in but do prevent unwanted people from coming in with a keypad to come in but not to go out.
March 22, 2016
I am a friend or relative of a resident
We placed my parent in Lewisville Estates. The staff is very professional and very caring. I like the rooms because they're bigger. There are many activities, so there's something to do every day.
May 12, 2015
I am/was a resident of this facility
Right now, I am at Lewisville Estates, and I like it a lot. It has been really good. I have been here for about six weeks or 2 months now. The food is really good. There is always a lot of stuff going on every day like bingo.
April 19, 2015
I visited this facility
We went to Lewisville Estates. The staff was very nice. The facility was as nice as the other facility. The only difference was that they had A and B car,e and the patients who needed the further care were in a separate building. The apartments were very nice. They have very much the same sort of activities at the other facility. Security and safety was great. My father got neuropathy, and he really enjoys having himself a hot tub. If they have some sort of therapeutic bath or walk-in tubs or something like that that would be great; that's the only thing that was on list that they didn't have.
February 20, 2015
I visited this facility
I chose Lewisville Estates because it is close to my home and my work. It meets my mother's needs. The staff was very nice and wonderful. She hasn't moved in there yet. I just visited the place. The rooms are very nice. She got a one bedroom so it has more room. They are basic rooms, but it is nice and clean. They have yoga there. They have trips to the museum, gambling, and to Wal-Mart. They take them to the doctor when they need to go. I would recommend this place to other people.
October 06, 2014
I am a friend or relative of resident
I recently moved my mother to Assisted Living. All the new upgrades of the facility were really nice and the building is very clean. My mother loved the kitchen in each apartment which allows her to eat in her room or go to the dining area. The staff is accommodating and they have helped make a smooth transition for me during a difficult time! I would highly recommend to others!
February 26, 2014
I am a friend or relative of a resident
We liked the way Lewisville looked. It was very nice and very clean. It had a beautiful cafeteria. The staff has been nice. Mom has a one bedroom apartment with a kitchen, a little bathroom and a living room. They have all sorts of activities like movies and field trips.
December 13, 2013
I visited this facility
After 2 yeas of searcing for an Assisted Living Facility that would foster a sense of community, accommodate my religious beliefs, provide me with a kitchen, and large enough workspace, have stimulating programs, encourage collaboration between sub groups, have a staff that is willing to go the extra mile to help you work out your various problems, inclulding insurance, I have chosen Lewisville Estates. At their suggestion I have chosen Independent Living with special arrangements for assistance. My Long Term Care Health Insurance is still not completetly on board, but there is some hope. I am mentally very active, but physically disabled, not yet in a wheelchair. Thank you L.E. for your generous help. It is nice to know that I am really wanted.
November 20, 2013
I visited this facility
I like everything about Lewisville Estates. It was a very nice facility. The person who walked us around was very pleasant and showed us all areas. They had both independent and assisted living. They have a furnished apartment there that they could show you just so you could see what it would look like with furniture in it. There were little gazebo areas outside where residents can go to plant plants and grow them out there. There were also residents playing Wii games. They also have resident ambassadors that help new residents get involved and connected. My concern was the incontinence that my dad was developing; that's not the usual thing they deal with but that could be handled.
August 28, 2013
I am a friend or relative of a resident
My mom is a resident of Lewisville Estates. She has been there for two months. We are extremely happy with this place. We live in Lewisville so this one is close to us. What I like best about this facility is that it is small and intimate. They only have 50 people. We are happy with the staff. The food they serve is first class. The price is just right for us. Everything is just great with Lewisville Estates.
March 13, 2013
I visited this facility
The food, the staff, and the community all together is amazing!
February 23, 2013
I am a friend or relative of resident
The property and the staff are wonderful! My gram is so happy there now. New management is dedicated, and fun and has really improved the property. Gram loves her home! Thanks Lewisville Estates!
September 17, 2012
I am a friend or relative of a resident
The facility appeared to be clean. Each resident has their own room which is decent in size for an assisted living. The rooms were not newly renovated but were in average condition.The meals were poor. The food served appeared to be simply clumps of mush. My grandmother, along with many of the other residents, was complaining about the quality of the food. The provided many activities during the week and several religious groups came and offered bible studies and church services. The staff were always very attentive to my grandmother while I visited. My grandmother always noted how kind the staff was to her. However, one night my grandmother had an open bleeding wound on her back. The staff informed me they would treat the wound and call her doctor the following morning. In the morning, my grandmother called sobbing. She stated no one had come to help her and the wound had simply bled all night. I went to see her immediately and took her to the hospital. She was admitted to the hospital with a staff infection due to the wound not being treated. Needless to say, when she finally got out of the hospital 2 months later, she did not return to Lewisville Estates.
See all Assisted Living reviews (29)
See fewer reviews
Independent Living Reviews for Lewisville Estates
June 08, 2018
I am/was a resident of this facility
I liked Lewisville Estates before and that is why I am back again. I enjoy the employees, other residents, and the beauty salon. The activities are wonderful! We also have guest speakers that are very informative. There is also a podiatrist that visits, so I don't have to go out. The bus service is also great because they take me to the grocery store and to my doctor's appointments.
December 04, 2017
I visited this facility
Lewisville Estates was very nice. If I were going to be moving to that type of facility, I would certainly consider that one. It was wonderful. The people I had contact with were wonderful. Everything about it was A+. They showed me the entire complex, and I had lunch with them. Their dining room was excellent, their chef was top notch, and the food was very good. The rooms were very nice and had kitchenettes with meals provided.
February 11, 2017
I am/was a resident of this facility
I am in the independent living of Lewisville Estates. I'd hate to leave because I really like it. They fix your meals, the doors are wide, and they have bars in the bathroom that you can grab onto. You can stay in independent living if you are in a wheelchair and can still dress yourself and your mind is OK. They have a lot of entertainment and good food. I love the staff. I have made a lot of friends here. The only reason I am going to try to leave is because the price has gotten a bit too high for me. It is beautiful, and I really wish I could stay.
August 15, 2016
I visited this facility
Lewisville Estates was modern, clean, and smelled nice. The person who took me around knew what she was talking about. The rooms were very attractive.
February 22, 2016
I am a friend or relative of a resident
Lewisville was the closest place that we liked. Everything was really very nice, very welcoming, and comparable in pricing. The food is pretty good, and Dad is content with it. They have an activities calendar with coffee chats, cards, outings, movies, and all sorts of activities.
December 31, 2015
I visited this facility
I didn't like much about Lewisville Estates, unfortunately. For some people it's probably OK because it sure looks like a high-rise apartment, but I didn't like that. It didn't feel homey; it felt like I was putting my mom in an apartment, and I was worried about her getting from the car into the facility because there isn't any covered parking. Everything was kind of ala-carte. If you wanted a meal, that was an add-on charge, or if you wanted parking, that was an add-on charge. Actually, so many things had add-on charges. If they said, "This is your cost and it covers everything," that's just so much easier for a family. For our loved one, we are already trying to figure out their taxes and car insurance and keep up with all those things, so I don't want to also have to keep up with things like ordering her meals or knowing how much her cleaning will be a month. I don't want to worry about all those add-on little things. I just want it to be an all-in-one packaged price. The facility was nice, and the people were nice.
September 30, 2015
I am a friend or relative of a resident
We choose Lewisville Estates for my grandmother because it is the best location, and it a top facility. She is in the independent living. The amenities are new. The apartments are nice. I like the fact that it has an assisted living as part of it. I have not eaten there, but there are a variety of choices of food every day. They did have a nice exercise room, and they have lots of activities. I like the overall facility as well as the proximity and price.
August 21, 2015
I visited this facility
I like the staff best at the Lewisville Estates. They were very nice. They were very good and very competent. They answered a lot of questions, and they offered a lot of information. They're very nice people. The facility was clean. It was more like a hotel to me, so the rooms were a little bit smaller, but I think the care was probably a little bit better. The facility was very clean and very nice, but overall, it was smaller.
May 01, 2015
I am a friend or relative of a resident
The staff at Lewisville is wonderful. My brother is there, and they have accommodated him. They either take his meals to his room if he is not there, or they can pick him up. The food was very good too. They have homemade bread every day, and they offer three meals a day. He had some physical therapy, and everyone is great. It is a very clean facility as well. They have tons of activities everyday.
April 10, 2014
I visited this facility
I went out to Lewisville Estates and ate lunch there. I really liked it, except for the fact that I need help. I have a brace that I wear on my legs, so I need help with that, and they didn't have any way to get that on me every day. So it was very independent living. Other than that, I really liked the place. The apartments were fantastic. The meals were great, and the activities were great. They had a theater room with theater chairs, and you can watch football games in there as well as movies. I still work, and they had a business center there that I could have worked out of. The staff was really nice. They will bend over backwards. I've called them a lot of times, and they really want to work with me to get me in there. They have people who were more of my own age there, too.
December 28, 2013
I visited this facility
I chose Lewisville Estate because it had the continuity of care that I need. I would be at their independent living facility, but if I need assisted living it would be just in the building. I only need to go to a different floor. They also have nursing care there. The good thing about this is that I would know the staff if I move around. They are also not as expensive as some of the others we've looked into. I will have two bedrooms, two bathroom apartment and I can stay there as long as I'm able to take care of myself. I have not eaten in their dining room, but everybody tells me that they have a varied menu. They have all kinds of activities. I think it would just be limited on what you want to get involved in. They have an exercise room and they have cards and they have a beauty salon. I only dealt with one staff member and she was very nice and she has followed up a couple of times with my daughter. From what I've seen it looks like a very nice facility and the residents seemed happy there.
September 11, 2013
I visited this facility
Lewisville Estates looked clean and nice. It also looked fairly open. I visited this place for my parent. Food was good. The staff was very nice and pleasant.
See all Independent Living reviews (12)
See fewer reviews
---
Costs for Lewisville Estates
---
Services and Amenities of Lewisville Estates
Costs
All Inclusive Rent
Rent Plus Care Fees
Entry Fee
Assisted Living Starting At:

$3300/month

Independent Living Starting At:

$2395/month
Room and housing options
1-bedroom apartments
2-bedroom apartments
Studio Apartments
Dining options
Dining Room Shared Meals
Room Service For Meals
Dining Extra:

All Residents Have In Room Kitchenettes
Features
Beauty Barber Shop
Computer Room
Resident Transportation
Party Space
General Store
Tv Room
Garden And Patio
Resident Parking
Spa
Cleaning services
Laundry For Linens
Housekeeping
Laundry For Clothing
Technology and entertainment
Health services
Medication Management
Physical Therapy
Activities
Offsite Activities
Music
Games
Stories
Religious Services
Lectures Discussions
Book Clubs
Wii Sports
Fitness Room
Gardening
Arts And Crafts
Guest services
Guest Parking
Guests At Mealtime
Overnight Guests
General
Minimum Age:

Minimum Age: 55+

Pets:

Small Pets Allowed
---
About Lewisville Estates
Our facility offers both Independent and Assisted Living. Our Independent community features studios, one bedroom and two bedroom apartments and is pet friendly. Our Assisted community features studio apartments and 24/7 med techs and caregiver services. Lewisville Estates is 15 years old this year. We are in the process of remodeling so come see us soon! Right in the heart of Lewisville, TX you'll find peace and serenity along with an active lifestyle for those seeking a socially fun all-inclusive community with a staff that goes above and beyond to make Lewisville Estates home.
At Lewisville Estates, we offer a resort style retirement unlike any other. Our maintenance- free, senior community provides you with the lifestyle you deserve at a price you can afford. With restaurant style dining, daily events and activities and a friendly neighborhood community, Lewisville Estates represents active senior living at its best.
Life at Lewisville Estates gives you the opportunity to enjoy the freedom to do the things you want to do, when you want to do them. The choices are yours to make every day. Participate in daily activities and social events. Make new friends and memories that will last a lifetime. Get involved in as much or as little as you want - it's your lifestyle.
Lewisville Estates offers a fully licensed Assisted Living Community on premises. We understand that each individual's needs are personal and unique. At Lewisville Estates Assisted Living, we strive to work with our residents on a personal basis to ensure specific needs are addressed and appropriately met. Residents of our Assisted Living Community are afforded as much independence as preferred with the comfort of knowing that personal care and support services are available within our community as needed.
Apartment Features
Temperature Controls, Kitchenette, Emergency Call System, Private Bathroom
Community Features
Activities/Recreation, Beauty/Barber Shop, Chapel Services, Internet Access, Private Dining Room, Fitness Room/Gym, Gardens/Outside Patio, Facility Parking, Private Laundry, On-site Rehabilitation Center (physical, occupational and speech), Overnight Guest Room, Guest Meals, Room Service, Pharmaceutical Service, Separate Therapy Room, Transportation, Pet Permitted
What Makes Us Special
Our Community is considered "cruise ship" style living. Everything you need under one roof to have the freedom and lifestyle you deserve!
---
Map of Lewisville Estates
---