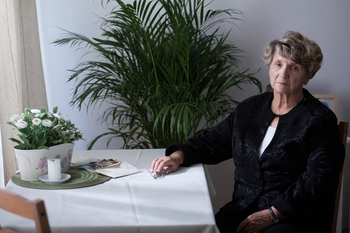 All Rights Reserved
Who would pass away first? Who would be left to pick up the pieces?
I know these questions troubled my mother Jan and stepfather Jim. Friends for 60 years and married for over 12, they were still in love when he passed away last September at 91.
On a cool September evening, I woke with a resigned start at 2:30 a.m. when I got the call I'd been expecting from hospice. I grabbed my already-packed suitcase, with a black suit and enough clothes to last several days, and raced three hours south from my home in Washington, D.C. to their assisted living community near their former home in Virginia. I'd moved them into this new community a year before he died, once we'd realized that staying in their home was no longer an option.
As much as logic and Jim's myriad illnesses over a four-year period indicated he wouldn't be around long, Mom couldn't – and is only now starting to – accept his passing. He may have had limited vision, hearing and will to live, but she wasn't ready to let him go. In her eyes, he was still a vital man.
I didn't know what to expect when I showed up at 5:30 a.m. to see my mother dressed and made up, sitting next to Jim's bed, guarding his body like a sentry dog. She was publically stoic but privately weepy over the next few days of visitations and funerals. By the fourth day, I wondered if mom, 87, would rebound from his death and spring back into life. Or would she sink into depression and lose her mojo in late-life widowhood?
Six months after his death, my mother remains devastated, but there are glimmers of her rebound in laughs that bubble forth easier, an eagerness to go out for a drive, even if just for coffee, and engagement in activities with her fellow assisted living residents.
In fact, it's more common than I once thought for widows and widowers to bounce back after the death of their spouse. "Research documents that when a spouse is caring for a dying partner day in and out, the death of the spouse can actually lead to more optimal physical and mental health following the death," says Dr. Nicholas Turiano, an assistant psychology professor at West Virginia University. "The stress associated with the caregiving role is no longer there."
Since Jim died, I've learned to step outside my assumptions and into my mother's reality so I can help further her progress. I've wracked my brain trying to offer grief support and ways to gently push her back into her own life.
Here are six lessons I've learned about how the death of one parent informs the remaining years with the surviving one, and what a son or daughter can do to help a widowed parent reclaim their life.
1. An older parent's grief is specific.
The five stages of grief help you understand what anyone may feel around death. But the loss of a spouse late in life isn't the same grief you experience at any other stage in life. Mom faced Jim's passing with an uneasy eye toward her future, wondering, "Is there a next chapter for me?" Should I even bother? Her identity is so wrapped up in his. As she got older and Jim's health declined, her world shrunk. Her purpose became taking care of him. Faced with her own cognitive and physical decline, her grief is amplified and less elastic. The specifics of her grief help me understand why she's not bouncing back as fast as she has in previous times.
2. Don't let them neglect the basics.
Mom seems less interested in her health, in eating or getting a good night's sleep. I looked at her a few months ago and wondered, "why isn't she tending to the basics?" My guess is that the answer was three-fold: depression, cognitive decline, which made her forget to eat, and difficulty letting go of her laser-like focus on him.
So now I'm helping her remember the ABCs of health: diet and regular meal times, staying active and sleep. I'm also helping out with her finances, medical appointments, and all the little things that make her life exciting – getting a newspaper delivered daily, reminding her about activities and calls from friends. Things she used to do for herself. "Having a sense of purpose after the loss is important as well," says Dr. Turiano. "It is good to make both short and long-term goals and then try to meet them."
3. Help them craft their narrative.
As a teacher of memoir writing, I focus a lot on narrative. How can I help students shape their narrative arc when telling a story? What is their story about? What's the deeper meaning? I have brought those same principles to bear with mom. She is plagued with normal doubts. Did she do enough to keep him alive? Did Jim - and everyone else - know how much she adored him? I tell her that yes, she did. I remind her how magical it was that a friendship of (at the time) fifty years sparked into a late-life romance straight out of a movie.
"How many people get that in life, mom?" I asked.
"You're right, not many," she replied. "I guess I'm lucky."
"You are so lucky," I tell her until she internalizes and starts sharing it with others.
Your parent who outlives their spouse needs their own story of the life they created and led with their departed loved one. Being "lucky" is part of mom's story now.
4. Give them as much choice as possible.
Choices equal dignity. As a newly single person, your grieving parent may feel like so much choice has been stripped away. Friends and family may think they know best and weigh in on what your parent "should" do now. But your grieving parent may still be struggling with complicated events; not ready for simple solutions. They couldn't choose when to say goodbye to their partner. That was outside of their control.
Your parent can't stop the hands of time, which often mark them with memory challenges, a hard time walking, an an end to driving. What says "freedom" more than steering your wheel down the road of your choice? I've learned to make a point of giving mom choices, limited as they may be to dinner menu items, or where to grab that caramel macchiato, when to take a trip, or which TV show to watch.
5. Accept that they may not want to change.
It's easy for a busy adult child of a grieving parent to want to "wrap it up" after one parent dies and you're left with the arduous care of the other. Did we clean out dad's closet? Did we put the house up for sale by spring when the market is strongest? A grieving parent's schedule is not on such an expeditious timeline. I talk to my mother about moving from her assisted living community to live closer to me. She hesitates and I accept that she's not ready. Not yet, at least.
At the assisted living community where she and Jim lived before he died, they know my mother by her married name. They knew "her Jim." She's acutely aware that if she moves somewhere new, she's just another single little old lady. His clothes remain in their closet six months after his passing, but she wants it that way. So I slow down, readjust my timetable and ask myself what's the rush?
6. Their sudden independence means more dependence on you.
Perhaps the biggest way the death of one parent influences the rest of the other's life is in the transference of dependence. Maybe your father clung to your mother like a life raft during the turbulent waters of their last years together. Now she's gone, and guess who's about to get drafted as lifeguard? Are you ready to dive in?
If you've never been enmeshed with a parent's daily routine, taking on the responsibilities of their life as well as your own and your family's is daunting. Your surviving parent, who's seen you in the child's role, may resent your help at times, further adding to the burden. Helping your parent live their best life after a spouse dies is a tricky balance between leading the way and knowing when to step aside. In the first four months after Jim's death, I felt like I was on call. Multiple daily phone calls and numerous visits. But now that gotten back into her life more, mom calls less, and I'm relieved to know that, while she still needs me, it's not in the way she did immediately after Jim's death.
The dance of interdependence between parent and child continues, as my stepfather's death becomes more a memory in the rearview mirror. I see her slowly reclaim her own identity after forging a joint one with him for so long.
Yesterday, we hung two pictures - one of her, one of him – side by side in her living room. Then she smiled, kissed me goodbye and headed to dinner with new friends.