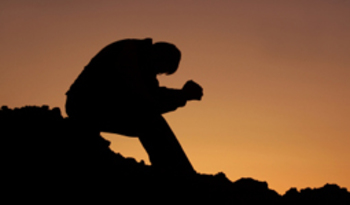 All Rights Reserved
Vigils and rituals for dying and grieving
For many people, religious or spiritual guidance, practices, and resources offer both great comfort and practical help in the face of death or grief. A number of established and emerging practices are outlined here, along with information on how to locate them.
Vigils and rituals can be powerful ways of connecting a dying person to a faith tradition.
What they offer: Religious vigils generally have a goal of offering a spiritual presence for someone who is dying. They may include praying, reading, talking, singing, and performing other rituals.
In the Roman Catholic tradition, for example, rituals often include unction of the sick or praying the Litany of the Saints. Some Protestant traditions also practice anointing before a death. In Jewish tradition, dying people often recite the prayer of confession known as the vidui. In Muslim tradition, the dying person and others present may recite the two Articles of Faith known as the Kalimas to reaffirm a commitment to Allah. Hindus typically follow an elaborate cremation and burial rite immediately after death to return a soul to the afterlife. And practicing Buddhists, who stress the importance of death as an awakening of the soul, help a dying person achieve a peaceful state of mind by reciting scriptures and mantras.
For more information: Information about vigil programs for the dying and their caregivers and survivors is available from the Sacred Dying Foundation.
To see an annotated list of resources about the rituals and traditions of diverse denominations, visit the Duke Institute on Care and the End of Life website.
Religious support for dying and grieving
Clergy. Religious leaders, especially those who've been trained and educated about death and dying and about care at the end of life, can provide meaningful support and guidance for dying people and their families and caregivers. They will typically visit home, hospice, and hospital as needed.
What they offer: At the end of people's lives, clergy can:
Represent the congregation in conveying a community of support.
Offer trained theological support.
Administer communion and other religious rituals.
Help families plan funerals or memorial services.
Help individuals discuss their feelings and beliefs about death.
Offer grief counseling and support.
For more information: Contact local clergy or hospice groups to find out more about the possibilities of visits.
Chaplain services. Offered through most hospitals and hospices, these services offer pastoral care for patients, family, and staff. Such care is given regardless of religious affiliation. Affiliated chaplains are given special training in dealing with end-of-life medical issues, such as how to navigate hospital waiting rooms and emergency rooms and how to talk to someone who is dying.
What they offer: Trained hospital and hospice chaplains typically offer:
Advice about common issues about death and dying.
Prayer or spiritual counsel.
Religious rituals or sacraments.
Discussions about an individual's relationship with God or any need for spiritual guidance and direction.
Spiritual support for patients undergoing medical or surgical treatment.
Resource information about community religious congregations.
Grief counseling and support (often for a full year or more after a death).
For more information: Contact a hospital pastoral care office or patient services representative for more information. If a patient is receiving hospice care, the care coordinator should be able to provide direction to chaplain services.
Faith communities. Many communities use one-on-one models of congregational care for dying and grieving members. Others with large congregations often use the "support team" approach. Support teams are groups of volunteers organized to provide support for people nearing the end of life. They pool their talents, creativity, and time to offer much more support than one volunteer can provide alone.
What they do: Volunteers are usually matched with members who need a variety of types of assistance. Their activities often include a combination of:
Practical support, such as help with transportation, respite, meals, errands, household tasks, and yard work

Emotional and social support, including visits, calls, and check-ins

Spiritual support, such as prayer, communion, spiritual conversation, and fellowship

Quality of life support, including transportation to social outings, gardening, help with hobbies, computer access, art projects, pet care

Advocacy and resource support, such as tapping community resources, help with problem solving, accompanying patients on doctor visits, and organizing records and bills
For more information: Additional information on creating and locating end-of-life support teams is available from Project Compassion.    
Doulas for Dying
Doulas. Just as midwives and doulas offer emotional, spiritual, and skilled support during the birthing process, doula programs now operating across the country offer similar support for people as they go through the dying process.
What they offer: Trained doulas, most of them volunteers, don't provide medical care but do give the dying patient and family members whatever practical, emotional, spiritual, and social support they need most. Typically, doulas:
Provide companionship
Offer advocacy with medical practitioners
Help with navigating medical bills
Create spiritual rituals
Witness cremations
Care for children who are present
For more information: Visit The Shira Ruskay Center.
Hospice Sabbath. Often observed during National Hospice Month in November, hospice Sabbath recognizes people who are near the end of life. Usually, hospices and coalitions of spiritual, religious, and community groups organize hospice Sabbaths. These may be single interfaith services that bring the community together in one place; or they may form partnerships with faith communities, encouraging them to recognize patients and families during selected "worshipping weekend" services.
What they offer: During hospice Sabbath, faith communities are organized to pray for hospice patients and families and all people facing serious illness. Some hospices and coalitions also provide sample prayers and poems and offer staff and volunteer speakers.
For more information: To find out whether such a service exists in your area, contact local hospice agencies or the Hospice and Palliative Care Center.