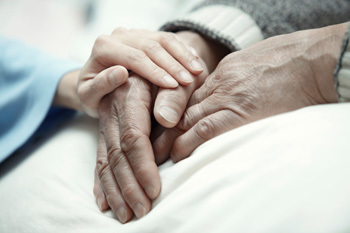 All Rights Reserved
What It Is
To palliate means to ease discomfort by treating symptoms of an illness. Palliative care promotes the patient's comfort by addressing any and all issues causing physical or emotional pain or suffering. Also known as end-of-life care, hospice is palliative care designed to help the patient through the last stages of a terminal illness. The goal is to keep pain and suffering to a minimum, not to cure the illness-by this point, the patient's doctor has determined that the patient can no longer benefit from regular medical treatment. Although hospice care is usually administered in the patient's residence, it can also take place in a hospice facility. When necessary, hospice services can be called into assisted living facilities and skilled nursing facilities, as long as those facilities carry a hospice waiver.
What to Expect
Hospice agencies provide many services, some of which include: nursing, physical and occupational therapy; speech language therapy; medical social services; home health aides; medical supplies and appliances; drugs for symptom control and pain relief; physician services; psychological, spiritual, and nutritional counseling; group and bereavement counseling; caregiver support groups; and grief support.
Paying for Palliative and Hospice Care
Medicare is the principal provider of hospice care in the U.S., but Medicare Part A only pays for hospice care provided by a Medicare-certified program. Some Medicare supplemental insurance (Medigap) plans cover hospice care. Medicaid, long-term care insurance policies (LTCI) and Veterans Benefits pay for palliative-hospice care. Learn more about the cost of hospice care and how to pay for it.
Medicare
What It Covers
Hospice care is currently given in benefit periods. A benefit period starts the day you begin to get hospice care and it ends when either your 90-day or 60-day period ends. Medicare allows for two 90-day benefit periods with an addition of an unlimited number of 60-day benefit periods. At the beginning of each period, a hospice doctor or hospice medical director must certify the terminal illness again so that hospice care can continue.
Medicare pays for most hospice services, including:
Nursing services
Durable medical equipment such as wheelchairs and walkers
Medical supplies
Prescribed drugs
Short-term hospital care, including respite care
Home health aide and housekeeping services
Physical, occupational and speech therapies
Social worker services
Nutritional counseling
Grief counseling for patient and family
Conditions and Limitations
Doctor and hospice medical director must verify that the patient has a terminal illness and probably has less than six months to live. Patient must sign a statement choosing hospice care instead of standard Medicare-covered benefits (Medicare will continue to cover health problems unrelated to terminal illness.)
Important Note: Hospice agencies sometimes charge more than Medicare pays. In these instances, the patient is responsible for the balance. Before providing care, the hospice must advise the patient how much of the bill Medicare will pay and inform the patient, in writing, of any items or services not covered. The bill is sent directly to Medicare.
The patient may be charged for:
Treatments designed to cure a terminal illness
Treatments or services not related to comfort care
Room and board (except respite care)
Managed Care
What It Covers
Managed Care policies cover everything that Medicare covers (see Medicare section above).
Conditions and Limitations
Most policies cover hospice care and services provided by Medicare-certified hospice agencies that are designated by the individual insurance company.
Medicaid
What It Covers
RN visits for pain management and symptom control
24-hour, on-call RN
Medical social work visits
Certified home health aide visits
Chaplain visits
Trained volunteer visits for support, companionship and errands
Bereavement support for 13 months following the death of a loved one
Authorized medications
Durable medical supplies and equipment
Coordination of hospital or skilled nursing facility admissions
Respite care (limited to a 5-day stay)
Hospital inpatient admission for symptom control
Conditions and Limitations
States establish and administer their own Medicaid programs. Each state determines the type, amount, duration, and scope of services within broad federal guidelines. They are required to cover certain "mandatory benefits," and can choose to provide other "optional benefits" through the Medicaid program. Hospice benefits are considered optional state plan services. Before Medicaid will approve coverage for hospice care, you must:
Receive a doctor's certification that the individual has a terminal illness and probably has less than 6 months to live
Sign a statement choosing hospice care instead of standard Medicaid-covered benefits (Medicaid will continue to cover health problems unrelated to terminal illness)
Note: Medicaid pays for hospice care provided by a Medicare-certified agency.
LTCI
What It Covers
Homecare Only and Comprehensive policies usually cover costs of hospice care, while Facility Only policies generally do not.
Conditions and Limitations
Policies vary. Because of potential limitations on hospice care coverage, it is important to carefully compare policies when selecting long-term care insurance. For information on how to determine what kind of LTCI policy suits your needs, visit our blog.
Veterans Benefits
What It Covers
Veterans Benefits cover hospice care.
Conditions and Limitations
Veteran must meet eligibility criteria for VA benefits, and
Demonstrate need for this type of care