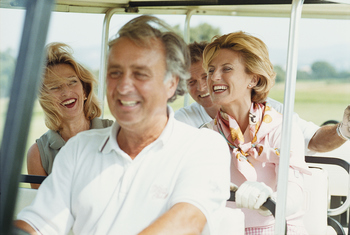 All Rights Reserved
What is a continuing care community, and who should move there?
How does a continuing care community work? Also known as a life-care community, a continuing-care community is the "one-stop shopping" of the retirement world -- a campuslike setting (or an urban high-rise) that offers everything from independent living units through assisted living and nursing home care , all in one place.
Generally, a continuing-care retirement community (CCRC) will expect an older adult to move in when he's still healthy enough to live independently. As residents age and their needs change, they can get a greater level of care without having to uproot themselves. They can also stay within the community and receive short-term nursing care if they need it after an illness or injury, then move back to independent or assisted living once they recover. If they move in as a couple, even if one becomes ill and requires much more care than the other, they'll be able to remain near each other, if not in the same apartment.
Meals, housekeeping, activities, and some medical care are usually included in the contract (although this varies from one community to another, so be sure to check).
Who should move there? A CCRC is a good option for people who value security. Knowing that no matter how their health changes down the line, their needs will be met and they won't have to move can bring great peace of mind. If the person you've been caring for is becoming socially isolated as he ages and would welcome an opportunity to make new friends and share in group activities, this can also be a great choice.
If, on the other hand, your friend or relative values independence over security, continuing care may not be his best option. To join such a community, he'll likely be handing over a large chunk of his assets to secure a spot, and CCRC administrators will play a big role in deciding when he needs to move from one level of care to the next.
You can request a list of accredited CCRCs in your area from the Commission on Accreditation of Rehabilitation Facilities at (520) 325-1044 or www.carf.org . A geriatric care manager can also help you explore options in his area.
What will a continuing care community cost, and how do you choose the right one?
Payment systems for continuing care. Continuing care payment arrangements vary quite a bit from one community to another, and these systems can be complex. In most cases, residents pay a large entrance fee -- or, in some CCRCs, they will purchase the unit they move in to -- and then a monthly fee after that. Continuing care is an expensive option; costs vary widely, but your friend or relative will likely be looking at upwards of $100,000 to move in and $2,000 or more a month after that. But if he can afford it, he can generally be confident that his needs will be met for the rest of his life once he moves in.
If he purchases a life-care contract, everything including housing, meals, medical care, and skilled nursing care will be covered, and the monthly fee shouldn't go up as he moves from one level of care to the next. He can also choose a modified or fee-for-service contract; this is generally less expensive at first, but additional fees will be charged as more care or services are needed. Costs will also vary based on the size of the unit he chooses.
Reading and understanding the contract is important in helping an older adult choose any kind of housing option, but when it comes to continuing care, it's a must. In fact, because a CCRC represents both a long-term commitment and a significant financial investment -- and because contracts can be long and complex as they detail what will happen as your friend or relative moves from one level of care to the next -- it may be worth it to him to have an elder law attorney go over the contract once he has selected a community or communities to consider.
Choose wisely. First, ask to see licensing reports. This will give you an idea of how any given community has fared on past inspections and whether there have been any substantiated complaints. Look at the activity calendar and see whether it matches your friend or relative's interests, and make sure you visit all three wings or areas -- independent living, assisted living , and skilled nursing -- to get an impression of whether they're clean and pleasant, whether residents seem content, whether enough staffers seem to be present for the number of residents, and so on.
As with any retirement or care community you and someone you've been caring for are looking into, there's no substitute for spending time there, joining residents for meals, and talking with them about their experience. (If administrators discourage you from talking to current residents, this may a red flag.) Th e whole idea behind continuing care is that this is a place your friend or relative will spend the rest of his life, so invest some time in getting to know a community and making sure he feels comfortable there before making a commitment.