New Haven Assisted Living
Offers Assisted Living
709 S. Pine Street, Tomball, TX 77375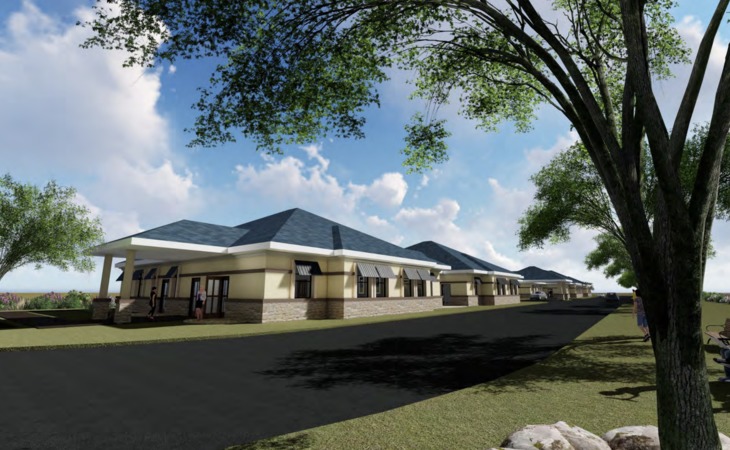 ---
Questions about New Haven Assisted Living
Describe the overall population of assisted living residents at New Haven Assisted Living. What is their average age? What are their favorite things to do?
New Haven serves the senior population of 55 and older. Hobbies and interests range from Bingo, gardening and exercising. Our open community allows residents to be as active as they want or as private as they choose.
What programs or activities does New Haven Assisted Living offer to enrich residents' well-being?
One thing is certain once you move to New Haven: you'll always have things to do and friends to do them with. Daily life is full and rich here, whether you're a resident in assisted living or memory care. We have many on-site amenities to take care of your basic needs, and we keep a busy schedule of activities and social events thanks to our on-staff Life Enrichment Coordinators. Because our communities are small, we can tailor our programming and activities to the interests of our residents.
What places are near New Haven Assisted Living or within walking distance for assisted living residents to enjoy?
New Haven is nestled in the heart of downtown Tomball. Close to restaurants, shopping, medical offices, grocery stores and churches. We are just minutes from Tomball Regional Hospital.
What transportation services does New Haven Assisted Living offer to assisted living residents?
We provide transportation within a 15 mile radius. We offer weekly outings and shuttle services to appointments.
What makes the chef or dining program at New Haven Assisted Living exceptional? What kind of menu can assisted living residents expect?
A day at New Haven is built on delicious home-cooked meals. We have a chef at each location who prepares nutritious and dietitian-approved meals three times a day, and our residents dine together in the spirit of fellowship and fun. Most of our residents say it's the best part of living here.
What safety features or security measures does New Haven Assisted Living offer to assisted living residents?
Each resident has a personal pendant linked to our emergency response system. No one is far from help whenever he or she needs it. Our hallways are lined with safety rails as well as our restroom and showers. Additional individualized safety measures can be implemented if needed by our Wellness Director.
How does New Haven Assisted Living keep residents' families informed about their loved ones?
Our management team understands the importance of keeping our families and residents up to date. Our team communicates any changes in physical or mental conditions, as well as any medication changes or concerns. Our Life Enrichment Directors host monthly resident council meetings to discuss concerns, news or upcoming events. We hold a monthly family night for families and residents to visit and stay up to date on newest happenings. Our management team is available 24/7 and happy to stay connected with our families and residents.
What is the care staff-to-resident ratio at New Haven Assisted Living during daytime and nighttime hours?
Our staff ratio is 1:8 during the day and 1:12 at night. Our staff is readily available and always near 24/7.
If New Haven Assisted Living accepts dogs or cats, what indoor/outdoor areas can they enjoy?
New Haven is a pet friendly community. We have a large campus where our furry friends can enjoy the outdoors. Designated pet areas will be identified around community.
What ongoing senior care training does the staff receive?
There may be many reasons you'd like to check out New Haven and what we offer, but our staff are the reason you'll decide to stay. They're warm, compassionate, and dedicated, and it won't be long before they feel like family to you. Our staff members are highly skilled thanks to the multi-phased training they receive over the course of their employment here—they understand the challenges you're facing and they're prepared to help. All our staff are hired after thorough background checks and undergo periodic drug screening.
What safety features or security measures does New Haven Assisted Living provide to protect residents who wander?
New Haven Assisted Living offers a Memory Care home just steps away. We understand the disease progression and will implement safety measure if our residents should wander. Our dementia program allows our staff to offer re-direction and promoting daily. Our Wellness Director will assess whether or not your loved one is able to remain in Assisted Living environment safely or if transitioning into our Memory Care next door is appropriate.
---
Services and Amenities of New Haven Assisted Living
General
Resident Capacity:

28

Pets:

Small Pets Allowed
Costs
Assisted Living Starting At:

$4000/month
Get Costs
---
About New Haven Assisted Living
Welcome to New Haven Assisted Living in Tomball Texas
Tomball is our thriving and compassionate Assisted Living and Memory Care community right in the heart of the beautiful town of Tomball. Serving the local community and the greater Houston area to provide nursing care, coordination of medical care and amenities for aging clients and their families.
What makes New Haven of Tomball special?
We've organized each residence around a central kitchen. It's a place to gather, eat wonderful meals and snacks, and find friends easily.
We've included guideposts throughout our residences for those with memory loss. Built-in visual cues stir recognition and help our memory care residents feel safe.
We've kept our communities intentionally small. Each building accommodates a maximum of only 16 residents, so there are much less anxiety and stress about having to find a place in a large group. Fewer residents also mean our staff can be more attentive to each senior's needs.
Our family is now growing with an expanding 28 apartment world-class assisted living community right next door! Providing a better type of aging with expert personnel. New Haven Tomball AL Expansion.
Activities & Care
Music and Memory are available to all residents of our communities.
Coordinated care and managed medical healthcare services
Personalized care – customized to the individual needs of every resident
Daily activities and chef and dietician prepared meals
Thank you for your interest at New Haven Assisted Living in Tomball Texas. Please give us a call to schedule a free tour.
Get Costs
---
Map of New Haven Assisted Living
---
Senior Living Communities near Harris County, TX
Senior Living Communities near Tomball, TX
Other Senior Care in Tomball, TX