Bernadette Home Care Camarillo, CA
Offers Assisted Living
1982 Lathan Avenue, Camarillo, CA 93010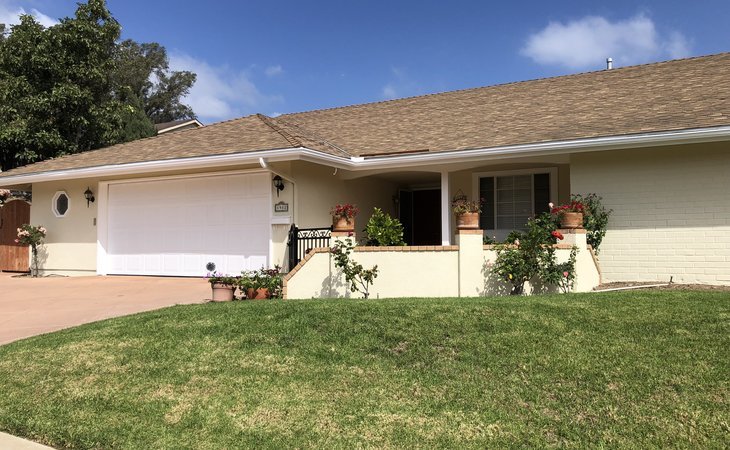 Top Nearby Assisted Living
---
Questions about Bernadette Home Care
Describe the overall population of assisted living residents at Bernadette Home Care. What is their average age? What are their favorite things to do?
Bernadette Home Care is licensed by Department of Social Services, CCLD as Residential Care Facility for the elderly to provide care and services to residents age 60 and above. This community is licensed for 6 beds, with 1 approved bedridden waiver and 6 approved hospice waiver. The average age of residents is 75. Activities for the residents vary according to their likes. Activities include, but are not limited to, exercise, socialization, watching movies, going to the park, and games.
What programs or activities does Bernadette Home Care offer to enrich residents' well-being?
Bernadette Home Care offers the following programs or activities: 1. Morning activity: Rise and shine, shower, dress, grooming 2. Breakfast in the dining room 3. Morning news activity (television and newspaper) 4. Arts and crafts/ board games in the dining room 5. Exercise class in the living room 6. Lunch in the dining room or outside patio 7. Shopping at grocery store 8. Walking to the park with caregiver 9. Afternoon nap or independent time 10. Gardening in the backyard 11. Dinner in the dining room 12. Movie time in the living room 13. Listening to music. 14. Music therapy as scheduled 15. End of day activity: Prepare for bed, dressing, grooming.
What places are near Bernadette Home Care or within walking distance for assisted living residents to enjoy?
The community has a nearby park- Foothill Park, 436ft away and 1 minute to walk from the place. The residents enjoy going to this park during weekends to watch children playing. Other family members bring foods and have picnic time in this park. Our community is 1 mile away from the Community Center Park. It can be reached by 3-minute drive by car or 20-minute walking along Carmen Drive. This park is home to many of special events and programs- Christmas Parade, Easter Eggstravaganza and Craft Fair, Halloween in the Park, age 50+Expo, Ventura County Wii Bowling Tournament, Military/Veterans Expo, Community Rummage Sales, Camp Funtastic, Camarillo Community Band, Breakfast with Santa and more
What transportation services does Bernadette Home Care offer to assisted living residents?
Bernadette Home Care offers free transportation within a 10 mile radius at least 4 times per month. This facility utilize the Camarillo Area Transit ( CAT) to help get around the city safely and efficiently. CAT Dial- A Ride is available to all residents and visitors within the City of Camarillo. Majority of our residents go to their appointments using this transportation. This community assists on making reservations.
What makes the chef or dining program at Bernadette Home Care exceptional? What kind of menu can assisted living residents expect?
Bernadette Home Care staffs prepare the food for the residents. Meals are served in our dining room, and of quality and in quantity necessary to meet the needs of our residents. Our community serves 3 meals per day along with between-meal snacks. Special diet is also observe if prescribed by a doctor. Residents and their responsible family member are invited to provide input into their likes and dislikes in the menu planning. Meal times are: breakfast 8am, lunch 11:30am, dinner 5pm. Residents that are not feeling well will be provided tray service in their room. Food service staffs are trained on proper hygiene, food safety and contamination practices.
What safety features or security measures does Bernadette Home Care offer to assisted living residents?
Safety procedures are being observe at Bernadette Home Care. This includes, but not be limited to: 1. Ranges, heaters, wood stoves, inserts and other heating devices are inaccessible to the residents; 2. Knives, matches, firearms, tools and other items that could be dangerous to the resident are locked up or not allowed in the community; 3. All prescriptions, OTC medications, nutritional supplements or vitamins, alcohol, cigarettes and toxic substances are locked up. 4. The community outdoor area is completely enclosed by a fence with self-closing latches, gates or walls in order to protect the residents; 5. All community exit doors are alarmed with an auditory device such as an alarm or buzzer; 6. Staffs/Caregivers are well trained to redirect residents who wish to exit.
How does Bernadette Home Care keep residents' families informed about their loved ones?
Resident's families are welcomed to visit their loved ones daily. The community telephone service is open to be used by residents and family members. Observation for changes in resident's physical, mental, emotional and social functioning will be notified to resident's family by the administrator of the community.
What is the care staff-to-resident ratio at Bernadette Home Care during daytime and nighttime hours?
Bernadette Home Care staff-to-resident ratio is 1:3 during daytime and 1:6 at nighttime. Our community has 2-3 staffs on duty at daytime and 1-2 staffs duty at nighttime.
If Bernadette Home Care accepts dogs or cats, what indoor/outdoor areas can they enjoy?
The community has large backdoor area where pets and residents can stay and enjoy. Bedroom #5 has direct exit to the back area and this could be the best room for residents with pet.
What ongoing senior care training does the staff receive?
Bernadette Home Care requires all staffs to have 40 hours training prior to working in the community , and 20 hours renewal annually. Staff trainings includes Dementia Care Training, Medication Training, Cultural Competency, Personal Care Services, Physical Limitations and needs of the Elderly, Psychosocial Needs of the Elderly, Residents Rights, Building & Fire Safety, Appropriate Responses to Emergencies, Postural Supports, Restricted & Prohibited Health Conditions, Hospice Care Training, and OSHA Training.
What safety features or security measures does Bernadette Home Care provide to protect residents who wander?
Staffs/ Caregivers are well trained to redirect residents who wish to exit. If attempts fail, then the staff will accompany the residents outside until they are able to redirect them back into the facility. Staffs have mobile phone with them when accompanying the residents outside the premise. The community exit doors are alarmed with an auditory device to notify the staffs that someone get in and out of the facility. If the resident or their conservator agrees in writing, an egress alert device, such as a wrist band, may be worn by the resident as long as this does not violate the rights of the residents.
---
Services and Amenities of Bernadette Home Care
Get Costs
---
About Bernadette Home Care
Bernadette Home Care is a senior living provider in Camarillo, California that offers residents Assisted Living. Contact Bernadette Home Care for more details on services and rates.
Get Costs
---
Map of Bernadette Home Care
---
Senior Living Communities near Ventura County, CA
Senior Living Communities near Camarillo, CA
Other Senior Care in Camarillo, CA