West Shores
Offers Assisted Living and Independent Living
2607 Albert Pike, Hot Springs, AR 71913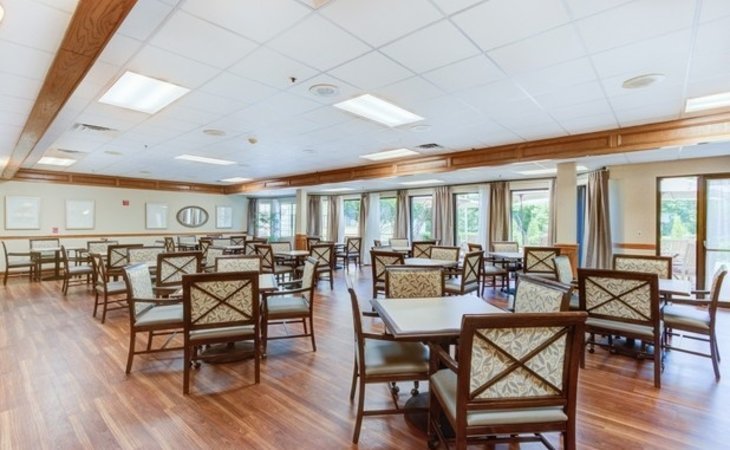 ---
Reviews of West Shores
Assisted Living Reviews for West Shores
August 03, 2022
I am/was a resident of this facility
I have been impressed with the staff and facility. The food is very good!
June 08, 2022
I visited this facility
We toured West Shores and I was impressed. As soon as we walked into the community it felt like home not the typical senior living community you would think. From the residents to staff and the receptionist it was a great feeling. We saw a 1 bedroom. It was nice and cozy. It was clean and the view was very pretty. Spacious! We loved the intercom for the residents which made us feel as though our mom won't miss out on anything. We loved the billiards room and how they have in-house therapy as well as transportation. The Sales Director Cecilia was very informative and made sure we didn't leave without any question unanswered. She was very inviting and spunky. It showed how much she cared and how she took the time to make sure we were taken care of before leaving. I would recommend West Shores to anyone.
June 07, 2022
I visited this facility
We toured West Shores. It was nice. The rooms were big and spacious. I like the rooms. They had a big walk-in closet, and they had a pretty view of the bay. The floor we saw was the ground floor, and it had a bay window and a view of the garden. The little garden area that they had was really pretty. They have a pool table and a library. They have in-house physical therapy and a hair salon. The upkeep was nice. They were doing a good job. The staff were nice, knowledgeable, and acted as they care. They were even willing to come in on their day off. The dining room was nice. They had an outdoor seating area, too.
September 16, 2021
I visited this facility
We toured West Shores. I was very impressed with it, but I'm not sure that it would agree with us. For one thing, the bathroom didn't seem to be big enough the way it was arranged for my son. I was very impressed with the room that the staff showed me that we would be using, the one-bedroom deluxe and the one-bedroom, both of them were very impressive. Then, she showed me around the dining room and the other facilities. It's more like a hotel and I don't like the size of it that much. I'm sure it would be good for a lot of people, but I'm not sure about us yet. I wasn't sure about the size of the bathroom. The staff members were very polite and very informative. They have a lot of things going on with games and things to entertain you, and they do a lot of outside activities if you're interested in them. I went through the dining room. The salad bar is open most of the time, but they have a certain time for the meals.
August 21, 2021
I am a friend or relative of a current/past resident
My mother lived at West Shores in Hot Springs until she passed away in December 2019. It has independent and assisted living; my mom stayed in assisted living. She had a 1-bedroom apartment, and they did the housekeeping weekly. She was a dialysis patient, and she was going to dialysis a lot of times during the meal times. I would leave a note to remind them to save her lunch because when she got back, she's usually very hungry and worn out. They were very good about that. I did not eat there with her a lot, but she did not like the food at all. That was her main complaint. She just did not like the food. She just thought it was all too bland. The attendants that would help during the meals were great. The actual chef, I would not rate him highly at all. He just didn't work on the menus or try to make them more appealing to the residents or anything. He just put food out there. I don't know about his staff. I just knew that the chef at the time was responsible, and he did a very poor job. The atmosphere was very nice. Of course, this was before COVID. They had a lot of socials in the afternoons, and everyone would come to the main meeting area. They're very good about entertaining the residents. They always were bringing in music and just different forms of entertainment for the residents. They had different social forums or different holidays. They had cake, punch, cookies, or whatever just to get the residents to come out of their rooms and socialize. I thought they did a good job of socialization and involving the residents. The main thing that drew my mom to West Shores was the security because she felt safe at night, and she knew that someone came in to check on her. At night when they gave her medicine, they would check her blood pressure and things like that. The security, the social activities, and having transportation to places with the opportunity to go on the bus with a group for outings were the main draws for her. They had a chapel, and they had church every week; she really liked that. They would bring in different pastors that are retired from different churches, and she really liked that because she missed going to her church. They had many kinds of costume parties where she would dress up. They had a day where they had the Fourth of July, and they had to dress patriotic. For Halloween and St. Patrick's Day, they'd give them costumes. Just anything that they could use to get the residents involved, they were very good about that.
July 15, 2021
I am a friend or relative of a current/past resident
My mom just came out of West Shores. We like it and she likes it, she's just very unsociable. She never ate in the cafeteria, she always had her trays brought into the room, but other than that, it's a nice place. There were a couple of staff members that she liked. From what I saw, the meat part could have been a little better, but they had good vegetables, desserts, and side dishes.
May 25, 2021
I visited this facility
My mom and I visited West Shores, and we absolutely loved it. We got to see both the assisted living and the independent living facility. The one who accommodated us was Amy. She was wonderful. She was very informative, knowledgeable, and she was very empathetic. She was great. I thought the place was clean and homey. It was well maintained and very conducive to the needs of seniors. The rooms were nice especially the ones with a cove and a window. There were nice rooms. The ones we saw had nice views, and they looked like they were clean and orderly. Their location was good, but pulling in and out of their driveway can be treacherous. That is the only thing that is negative about it. There were restaurants nearby. We saw the dining room and some people were eating. It was all clean, but we did not get a chance to eat.
September 08, 2020
I am a friend or relative of a current/past resident
The facility and staff are wonderful! This is an amazing place and we are so happy with it. Couldn't ask for more.
September 06, 2020
I am a friend or relative of a current/past resident
The staff at West Shores is extremely caring and helpful both to the residents and their families.
January 04, 2019
I visited this facility
I went to West Shores, but they turned it down, because if I would provide 24/7 care, they would take my friend in assisted living, but I could take her home, provide it there, and save on rent. I was very well handled at West Shores, and she gave me a recommendation for a rehab place, which turned out to be plain wonderful. The place was fine, the apartment she was going to have was excellent. There was no problem there, but it didn't work out because they've done an evaluation and found that she's going to require too much care. They have various social activities. We've been to some of them over the years, and the food was all very good. The staff members have always been very friendly and very open.
December 26, 2017
I visited this facility
I'm really impressed with Wesh Shores and I may go there. It was all very nice. It's a beautiful location. They have assisted and independent living. The staff members were all friendly, nice, and clean. I saw them helping others that needed assistance. The rooms were very nice. They also have rooms for different games and exercises. We had a night meal, which was a buffet, because it was a special occasion. We also had breakfast. Their food was very good, the services were nice, and they were all polite and nice.
November 06, 2016
I am a friend or relative of a current/past resident
The staff of West Shores is good; they are fine. If I call to give them a message, they do not give it to my brother like they should. His room is clean and big, and they help him with that. He seemed to be happy there. He said the food is good.
August 12, 2016
I am/was a resident of this facility
I have a one-bedroom apartment at West Shores. Every week, they change the linens, towels, and clean the apartment. Unfortunately, I do not like the Southern food here. They try to bring entertainment once or twice a week. The staff is excellent, especially the lady who cleans my apartment. They try to help as much as they can, and there's somebody to drive you to the doctor.
December 16, 2015
I visited this facility
They are doing some upgrades at West Shores. It was lovely. They had a movie room, a billiards room; they have activities in the main lobby. They provide three meals a day, and their dining room is nice.
February 11, 2015
I visited this facility
The staff at West Shores was wonderful. They had bingo and daily crafts; they really had a lot of stuff going on. The rooms were of nice size; everything was clean. It was great.
See all Assisted Living reviews (15)
See fewer reviews
Independent Living Reviews for West Shores
June 08, 2022
I am a friend or relative of a current/past resident
It's a very friendly and facility, the guests and staff make you feel very welcome. We are pleased with his apartment and the services they provide.
June 24, 2021
I visited this facility
I liked pretty much everything about West Shores. The layout and the accommodations were nice. The hallways were wide enough, and the staff were very, very nice. They do lots of activities, like card games and exercise. It's a nice place to live, and the prices are reasonable.
May 25, 2021
I visited this facility
I toured West Shores, and when you walk in, it is like walking into a very exclusive hotel. There was a grand piano. It was just very, very impressive. They were very nice, and there weren't any smells at all. The staff were very, very nice, and they knew what they were doing -- they were experts in their field. We had lunch, I believe they had stuffed green peppers, and it was very, very good. It was not really modern, but it was very nice. They had everything that you would need.
February 11, 2020
I visited this facility
I would like to give my review of the West Shores Independent Living "experience." I recently had the fortune of taking the tour of the West Shores Independent Living facility while visiting family in Hot Springs, Arkansas. My adult children seem to think that although I am still independent and am working full-time, the time might be near that I think about the opportunities available to me in case the time comes that I DO need to have less responsibility. Their concerns are that I have care, attention, a social life, and that the amenities I have had access to in my life are awaiting me in an independent type of facility. So, I took their advice and I drove myself to West Shores. What a pleasant and wonderful surprise awaited me as the Director of Marketing and Sales, Ms. Hall, showed me the floor plans of the rooms and the choices I had, based on my needs and my income; and she introduced me to several of the residents and the staff. I was totally in love with the friendliness of the staff, the opportunities for socializing, and the amenities that I have accessed in my private lifestyle, were certainly available to me as a resident at West Shores. I loved the baby grand piano, being a music lover, myself; and I was amazed at what offerings.... from church to shopping, books to games and internet, parties and social functions~~~ they have thought of everything. And of course the food was delicious. I loved everything about it.
June 19, 2019
I visited this facility
West Shores sounded like you're going to be living in a hotel. Your apartments are inside on different levels. Every apartment has a window, so you get lots of sunrise, and it is in a pretty area. The apartments are smaller than a little house would be, but you don't have to have a big kitchen. They have a small refrigerator and a microwave, so if you want to make snacks or some TV dinners you can have those in your apartment. If you want to go to the doctor's, then you make arrangements for a bus to go. The staff was very pleasant. We ate lunch there, and the food was good. They had a salad bar, too. Everything was all clean and nice.
June 30, 2018
I visited this facility
West Shores was very friendly, clean, and extremely nice. It was a very suitable place to consider. The person who toured us around was extremely nice, very accommodating, and answered all the questions we had. The dining area looked very nice and some of the people who were there looked very happy.
March 13, 2018
I visited this facility
We toured West Shores, and I think everything was very nice. They have a library, they playe cards, and they play all sorts of things. The staff and the food were both very good.
July 17, 2017
I visited this facility
The staff at West Shores was excellent, very friendly, and made sure that I followed everything. We had a delicious lunch and discussed different types of arrangements and rooms. The grounds were very clean, which was so impressive. We toured the game room, and there were people playing cards and sitting around chatting. There was a bus that picked up some people to go somewhere. I felt like I was part of the crowd.
See all Independent Living reviews (8)
See fewer reviews
Get Costs
---
Questions about West Shores
What programs or activities does West Shores offer to enrich residents' well-being?
Social clubs from Veteran Club, card clubs and monthly social hour. Community has a new resident welcome club. Church services are available for non-denomination. Community has a walking club and a monthly pool tournament.
What places are near West Shores or within walking distance for assisted living residents to enjoy?
The community has shopping close by with transportation provided.
What transportation services does West Shores offer to assisted living residents?
The community provides transportation to appointments and also to off premises activities.
What makes the chef or dining program at West Shores exceptional? What kind of menu can assisted living residents expect?
Community offers a salad bar and an outdoor patio dining area. Homestyle cooking with an array of desserts are offered daily.
What safety features or security measures does West Shores offer to assisted living residents?
Community offers a pendant style emergency system. Community has 24 hour security.
How does West Shores keep residents' families informed about their loved ones?
Community offers routine care plan meetings for families to know about their loved ones. A change of condition is communicated to the families. Community offers routine family nights.
What is the care staff-to-resident ratio at West Shores during daytime and nighttime hours?
Day time and night time ratios exceed state requirements.
If West Shores accepts dogs or cats, what indoor/outdoor areas can they enjoy?
Yes, the community accepts cats or dogs. Grounds are large enough for dog walking.
What ongoing senior care training does the staff receive?
The staff have ongoing training curriculums on nursing care, dietary services, dementia care, abuse and neglect, medication management and safety.
What places are nearby for independent living residents to enjoy?
Shopping is nearby with transportation provided. Hot Springs in known for retirement aged activities.
What are some recent off-site events that the community activity director at West Shores has organized?
Outing to Oaklawn race track, restaurant of choice outings, Petit-jean state park lodge during fall season change, Christmas Parade
What transportation services does West Shores offer to independent living residents?
Transportation to appointments is provided and to Resident outings.
What common areas are available for independent living residents?
Pool room, café room, multiple open TV rooms, chapel, activity room, private dining rooms, art and craft room, beauty parlor and atrium room.
What safety features or security measures does West Shores offer to independent living residents?
pendant system and 24 hour security.
If West Shores accepts dogs or cats, what indoor/outdoor areas can they enjoy?
Yes community accepts both cats and dogs and has large grounds for dog walking.
Does West Shores work with an agency or registry to provide nursing and medical assistance as needed?
The community an internal IL plus program to IL residents for an additional charge. The community with multiple home health agencies and has a partnership with Kindred at Home for Hospice and Home health services to include therapy services.
What safety features or security measures does West Shores provide to protect residents who wander?
The community does not provide memory care services.
---
Services and Amenities of West Shores
Costs
All Inclusive Rent
Rent Plus Care Fees
Fee Structure Extra:

Community Fee $1500

Assisted Living Starting At:

$2295/month

Independent Living Starting At:

$2155/month
Room and housing options
1-bedroom apartments
2-bedroom apartments
Companion Suites:

No

Studio Apartments
Housing Extra:

None
Dining options
In Room Kitchenette
Dining Room Shared Meals
Room Service For Meals
Dining Extra:

None
Features
Beauty Barber Shop
Computer Room
Resident Transportation
Coffee Shop
Party Space
General Store
Tv Room
Garden And Patio
Resident Parking
Spa
Features Extra:

Community Wifi, Monitored Security System, On Site Therapy Services, Library, Activity Center With Games, Billiards Table, Shuffle Board, Grand Piano, Covered Parking Available, Chapel With Church Services, Private Dining Room, Walking Trail, 24 Hour Staffing
Cleaning services
Laundry For Linens
Private Cleaning Services
Housekeeping
Laundry For Clothing
Technology and entertainment
Cable In Rooms
Wifi
Technology Extra:

None
Health services
Hospice Care
Medication Management
Physical Therapy
Nurse On Staff:

Yes
Activities
Offsite Activities
Games
Stories
Religious Services
Book Clubs
Wii Sports
Tai Chi
Fitness Room
Yoga
Gardening
Cooking
Arts And Crafts
Activities Extra:

None
Financial guidance
Financial Guidance Extra:

None
Guest services
Guest Parking
Guests At Mealtime
Overnight Guests
Diet
Diabetic
Vegetarian
Diet Extra:

None
General
Resident Capacity:

150

Minimum Age:

62

Pets:

Yes
Range of services
Personal Care Assistants
In Home Health
Physical Therapy
Occupational Therapy
Range Of Services Extra:

None
Payment options
Credit Card
Check
Payment Options Extra:

Long Term Care Policy, Veterans Aid & Attendance
Licenses
Licenses:

ALF 2 088

State Licenses:

FAC #9439
Get Costs
---
About West Shores
West Shores Senior Living Community is a full service independent and assisted living community located on Albert Pike Road, in Hot Springs, Arkansas. Here at West Shores, we offer our residents a variety of quality accommodations and services. Our goal at West Shores is to enrich the daily lives of our senior residents by providing an environment that stimulates them physically, mentally, and emotionally.
West Shores continues to provide a place where our residents can choose from a variety of large beautiful apartments. We want our residents to remain as independent as possible, for as long as possible, while providing assistance when they need it.
We are staffed 24 hours a day, under the direction of a full time executive and assisted living director. Residents have an emergency pull cord system which enables them to request help any time of the day or night. West Shores provides transportation to doctor and dental appointments, grocery stores, banks, and shopping centers in our West Shores Bus. A full time Activity Director arranges a variety of activities to help keep residents active and stimulated. Residents' apartments are cleaned weekly by our housekeeping staff and they are served three nutritious meals a day in our spacious dining room.
What Makes Us Special
West Shores sits in the middle of 17 acres of wooded property with concrete sidewalks for walking and spending time with friends, or alone. You may begin your stay at West Shores in Independent Living and as the need arises, begin receiving our Assisted Living Services without changing apartments. We are celebrating our 28th year of business in the Hot Springs area of providing high quality Senior Care.
Get Costs
---
Senior Living Communities near Garland County, AR
Senior Living Communities near Hot Springs, AR
Other Senior Care in Hot Springs, AR