Monarch Senior Care
Offers Home Care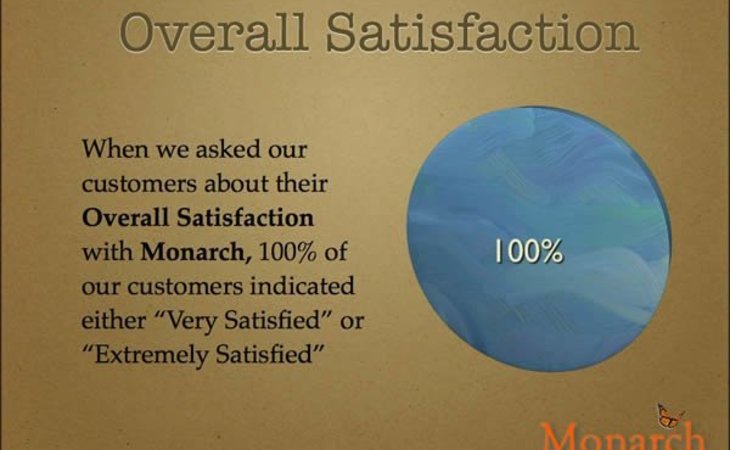 ---
Reviews of Monarch Senior Care
Home Care Reviews for Monarch Senior Care
June 17, 2016
I am a past client of this provider
Excellent as well as dependable.
December 18, 2015
I am a past client of this provider
Joe was very helpful and caring in setting up care while my dad was on hospice at home. Our caregiver Rose was wonderful. She's helpful, caring and always up for whatever she was needed for. I couldn't have a better company to work in my dad's last weeks.
June 27, 2015
I am a current client of this provider
I have employed Monarch home care for approximately 2 months. The people in charge and the caregivers themselves are all excellent. I could not be more pleased with the service they are providing.
January 23, 2015
I am a current client of this provider
Monarch Senior Care has been the best company I dealt with. They're very concerned about my situation and very cooperative. I only have one caregiver. She's been so fantastic. I don't have to tell her what to do. She sees what should be done and works on it. I'm so pleased with Monarch Senior Care.
August 19, 2014
I am a past client of this provider
We used Monarch Senior Care for my mother. We had some very good caregivers and some that we needed to let go. The ones that were very good were all wonderful. There was one particular person who was there every Tuesday and Thursday for the last month of my mother's life. She was there literally when my mom took her last breath. I kept telling her she was sent from heaven because she took good care of my mom. She was also very involved emotionally. It was more than just a job to her. For her, it was a purpose. I didn't really have complaints about the management. They were there when I needed help. When I call them, I was able to speak with someone immediately. Sometimes, I left a message and they would return the call in an hour. I would say that they were excellent. Most of all, they have taken care of my needs too.
June 02, 2014
I am a current client of this provider
We were very pleased with the level of service that Monarch Senior Care provided for my mom. We didn't have any problems or issues with them. It's the first time that we used an agency. We started with them in January of this year.
January 16, 2014
I am a current client of this provider
Monarch Senior Care been very good. The girl that they provided us has been very, very good. She's been with us for over a year. She's excellent in all areas of her job. She takes very good care of my wife. She helps us with her meals and does the laundry.
April 22, 2013
I am a current client of this provider
I was impressed by their professionalism. They were good in identifying candidates to work with my father. They work with him 4 days a week. He is diabetic and overweight and limited with his mobility. He is a very intelligent person. We've had tough situations in the past where he's not compatible with most of the people he's tried to hire. With Monarch Senior care, their interview process works really well and they ended up finding somebody who works great for him. The caregiver is compassionate, capable and was able to win my father's respect. They were able to improve his quality of life. He doesn't like people move his stuff around but in this case they were able to get his place in order and keep things clean.
March 08, 2013
I am a current client of this provider
The caregiver from Monarch Senior Care is fabulous. We are thrilled for her. She comes in twice a week, 3 to 4 hours a day. She'd take my mom to doctors' appointments, fixes her lunch, and she does little things around the house. She helps her in any way she can. We've been working with them since January.
September 13, 2012
I am a past client of this provider
They were fabulous! They made sure that someone was there even in bad weather. The other providers were a little more reluctant helping my mom with personal hygiene but with Monarch Senior Care they helped her with her shower and things like that. They were very careful and made sure she didn't fall. So I think they were just more than willing than other providers to do what mom needed. The caregivers were very positive. They fell in love with mom and she really enjoyed them. They had nice conversations. They let her know that they were there to help her. Whatever she needed they were willing to do.
September 12, 2012
I am a past client of this provider
We liked their personalized care. They were also local to where my mother-in-law was. They were very professional but also very personable. They were always there. You could call them at any time and they would be more than willing to help if we needed somebody to be there or if we needed somebody in general. They were so accommodating. They just went above and beyond. If it's her birthday or mother's day, they always make something special for her. They just went a little extra mile for her and so we just thought that it was more personal almost like a family member was there for her. The caregivers we had were all excellent and very caring toward my mom. They just took care of her well with her food needs or companion needs. There wasn't one of them that we had that we didn't like. They were all very good. During the time that my mother in law was home, we had 3 or 4 caregivers. Initially we had them there part time then to full time because she needed somebody there more after she had hip replacement surgery. She was in a walker and eventually in a wheelchair and then eventually she lost more of her ability to handle things on her own. Karen and Joe are very professional and very caring people. They are very understanding to any needs that we had. We really like both of them very much. The people they hire are are also very caring and we like that about them.
September 10, 2012
I am a current client of this provider
They've been very positive about a lot of things. The caregivers are very kind, attentive and flexible. We're very pleased with Monarch. My mother in-law has been under their care for about one year now. They help her with showers and making sure she takes her medicine and also for companionship. We're very very satisfied with their service.
September 10, 2012
I am a current client of this provider
I received a referral from a friend of mine who knew Joe of Monarch Senior Care. They had always been reliable. They provided all the care I needed. In a reliable way, they hired good people. I had an experience with another caregiving agency that did not provide good people so I know the difference. Monarch has always been absolutely great. We've had several caregivers. Mostly they're intelligent and caring people. The caregivers help my husband by preparing meals, doing some house work, making his bed and keeping his bathroom clean. My husband is very independent minded and resists a lot of help that they could give him. We had a few that had not worked out as well as others but in general the ones that had done caregiving for us had been excellent people.
August 24, 2012
I am a past client of this provider
I chose them and got Darlene, our first caregiver. It was a matter of emergency at that time. My daughter this kind of work. She knew of them and thought they were quite referable. I called them that day and before the day ended they already had a caregiver for me. They have done a very good job with that. The caregivers were very good, compassionate and considerate. They took good care of Grace, my sister in-law and I really think they're very nice to work with. They kept the house clean and prepared her good meals. They did a good job. Grace was on electric chair. It was not easy to take care of her but they've done a very good job. The best they possibly could. They were with her all the time. I couldn't be happier and satisfied.
August 24, 2012
I am a past client of this provider
Monarch Senior Care is located in our area, so the co-owner came and spoke with us and our children. We liked what he said they provided. They were very very good. We were very pleased with them. The caregivers are all wonderful. They would do anything I would ask them to do. They would take the initiative and look around for something that is needed to be done and helped wherever they were needed. They help my husband in any way they could. Besides that they also did household tasks. We weren't over burdened with that too. They are very attentive and hardworking people.
See all Home Care reviews (15)
See fewer reviews
Get Costs
---
About Monarch Senior Care
Help at Home So You Can Stay at Home.
Monarch Senior Care Caregivers are some of the best-trained, most thoroughly screened caregivers in the industry. Our caregivers are mature, thoughtful and caring individuals with a true love for the work. Here are just a few of the ways we think you'll find us different from our competition:
Our initial training nearly doubles the state's requirement and continues throughout their career.
All our Caregivers are our employees. That means we take care of taxes, Worker's Compensation, Insurance and so on. We take care of all this, so you can relax.
We drug screen candidates before employment and employees are subject to random drug screening.
All our employees are either CNAs, CSAs, CCAs or are in the process of attaining one of those certifications.
You will have an opportunity to meet your Caregiver before the engagement begins.
In a recent survey, 100% of our clients would recommend Monarch Senior Care to friends or family.
Monarch Senior Care is licensed by the Illinois Dept of Publice Health
Caregiver Information
Caregiver Skills Include:
Ethics, Patient Transfers, Family Communication, Communicating with Dementia Patients
Caregivers employed, bonded and insured: Yes Caregivers available 24 hours a day: Yes Available to assisted living facility: Yes
Get Costs
---
Senior Care Services near Mchenry County, IL
Senior Care Services near Woodstock, IL
Other Senior Care in Woodstock, IL