The Lighter Side of Caregiving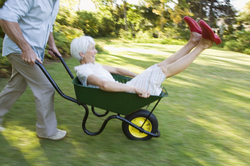 Caregiving can be pretty serious business -- which is why it's so important to make time each day to find a little humor and inspiration.
How can we help?
Make Me Smile
What Makes You, as an Alzheimer's Caregiver, Laugh?
Joke of the Day for Alzheimer's Caregivers
Give Me Some Practical Tips That Really Work
Caregiving at Home
Long-Term Residential Care
Tip: Tip: A Bad Time of Day for a Drink
Many caregivers find restoration in the relaxing powers of a glass of wine or a cocktail. But are you timing your drinking in a way that undermines your health? Find out.
read more